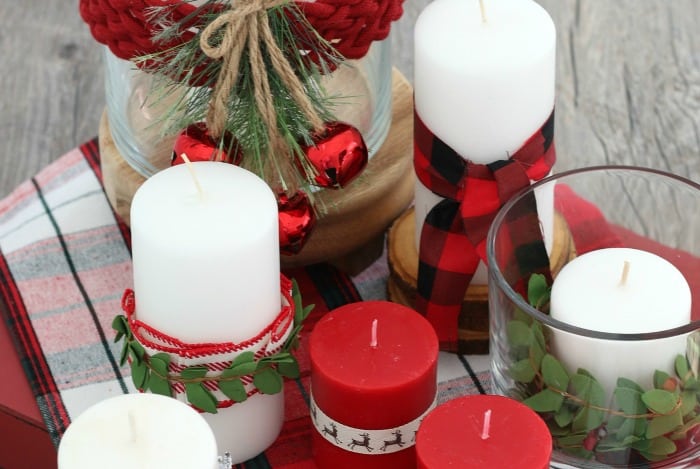 Decorating your home doesn't have to take a lot of time or money. These DIY Decorated Candles go together in minutes, use only a few supplies and are great as gifts as well.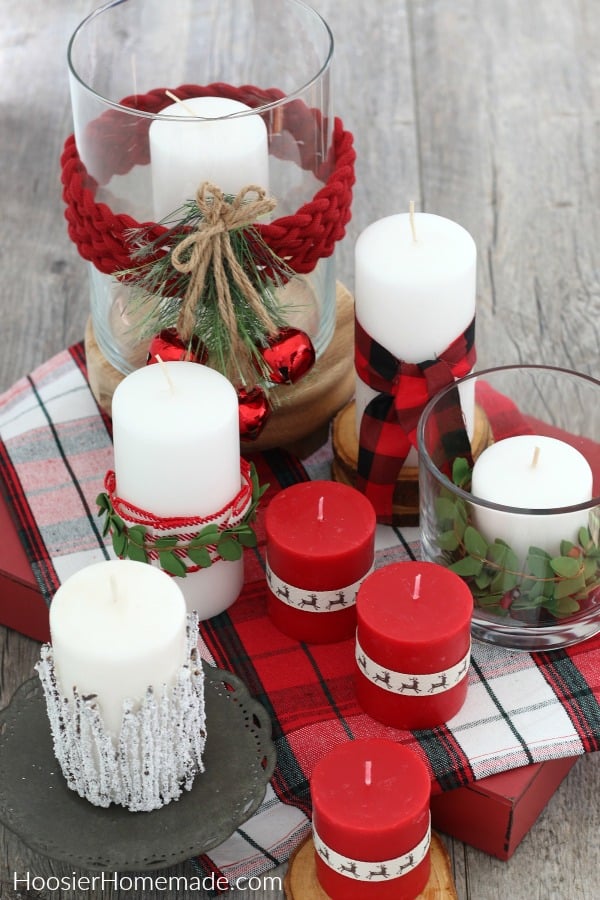 Welcome to Day 37 of the 100 Days of Homemade Holiday Inspiration! Each day we will be inspiring you with recipes, decorating ideas, crafts, homemade gift ideas and much more!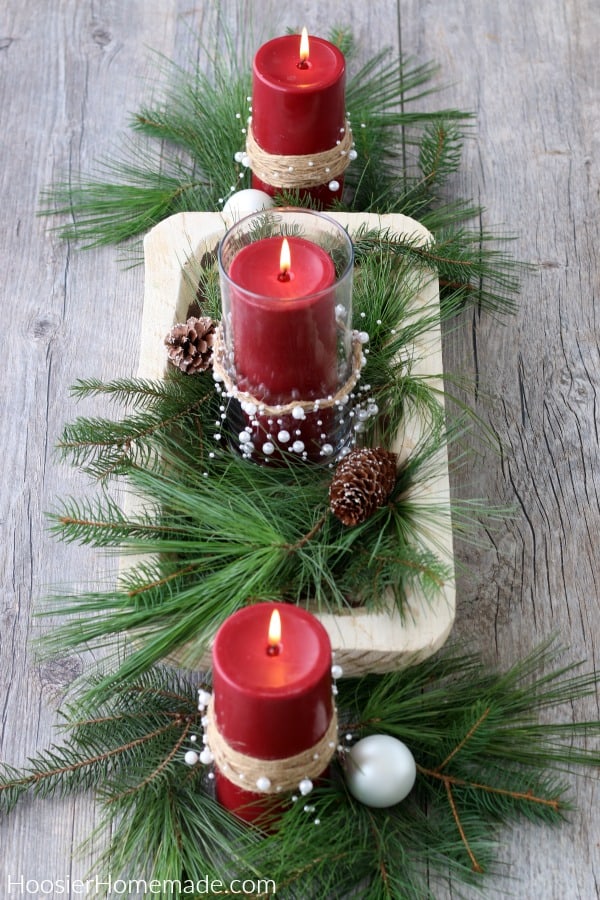 This gorgeous centerpiece can be put together in minutes using a wooden bowl, the decorated candles, fresh greens, small pine cones and mini ornaments for a pop of color.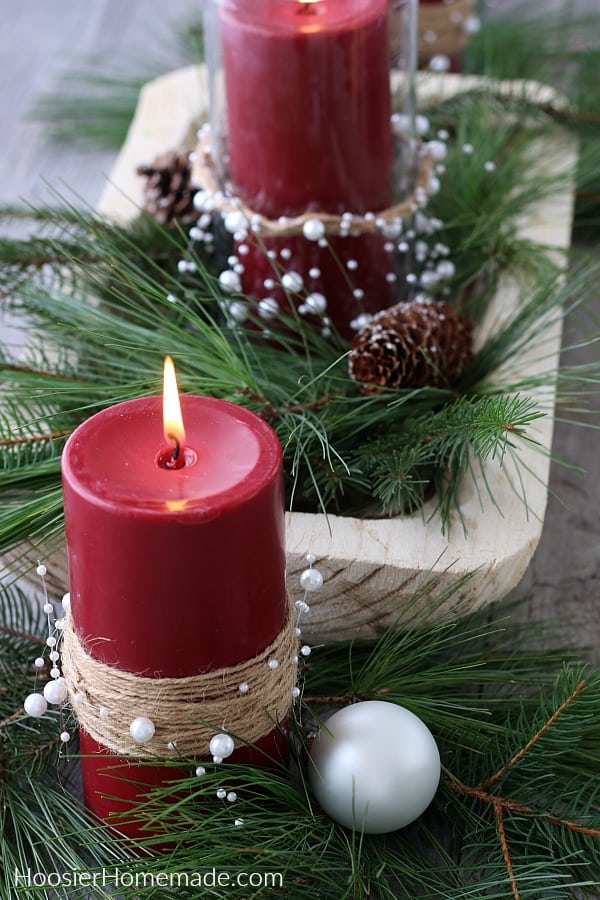 DIY Decorated Candles for Centerpiece
Supplies
Candles – pillar candles work best, any color you like
Glass Hurricane – optional
Twine
String of Beads – the ones I used are from the wedding section at Hobby Lobby
Glue gun
Instructions
Candle in Hurricane
Measure twine to fit around hurricane, then add about 1/2 – 1 inch more
Measure 5-6 lengths of the twine
Wrap the beads around the twine
Glue onto the hurricane
Position the beads where you like them to lay
Candle without Hurricane
Wrap twine around candle, secure with a dot of glue
Feed the beads through the twine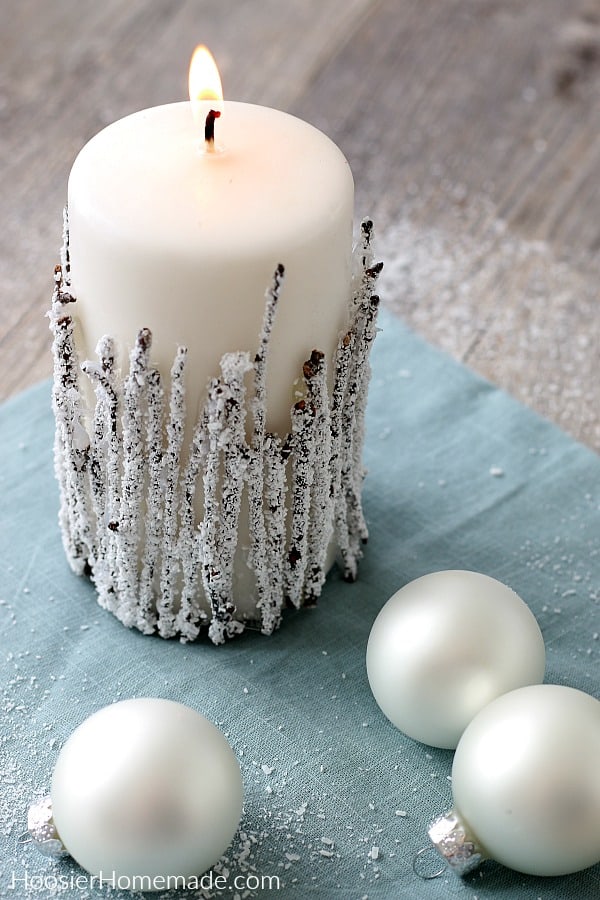 This decorated candle would be pretty to have out all winter long. With just a few supplies, you and the kids can create this beautiful candle with twigs.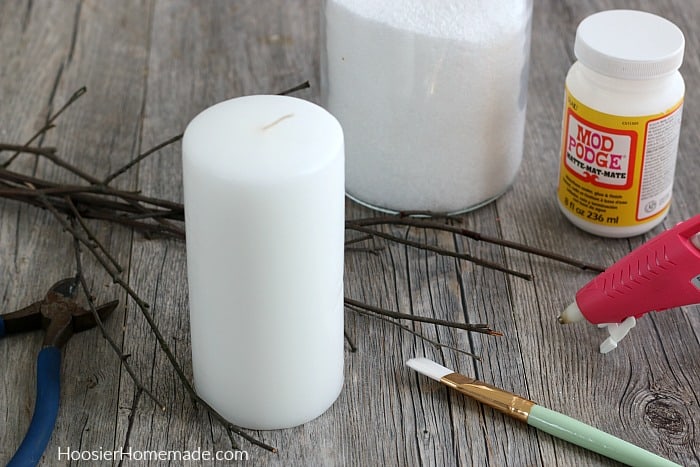 DIY Twig Candle
Supplies
Candle – pillar candle is best
Twigs – you can pick them up in yard or along the street
Epsom Salt
Mod Podge
Paint Brush
Heavy Scissors or Wire Cutters
Glue Gun
Paper plates
Container with styrofoam or something to hold the twigs for drying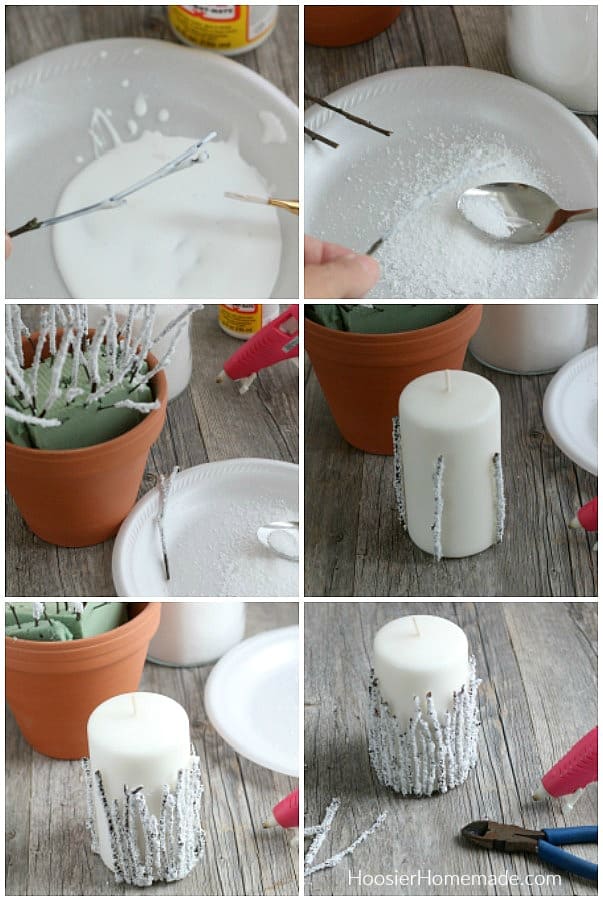 How to make a twig candle
Cut the pieces of twigs and coat them with Mod Podge using a paint brush. They don't have to be the length you need them yet.
Immediately sprinkle twig with Epsom salt
As you coat the twigs, place them to dry in a container that has styrofoam
Trim the twigs to fit the candle, then begin by attaching the larger twigs with the hot glue around the candle. I worked in quarters
Then fill in with medium size twigs
And finish with the narrow twigs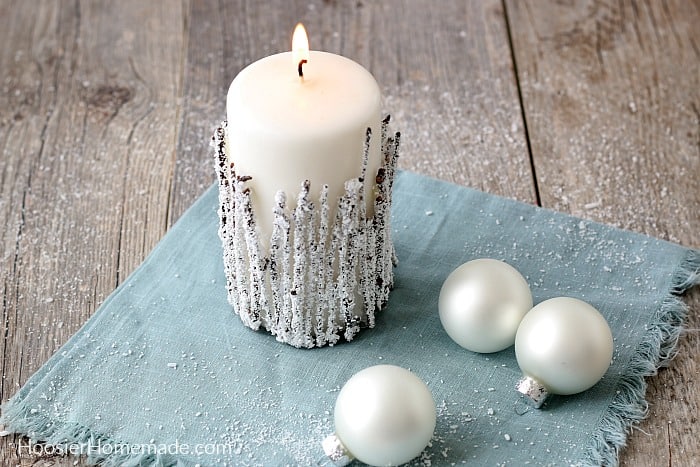 When you have all the twigs glued in place, you can go back and add a small amount of Mod Podge and sprinkle on more Epsom salt if you have spots that are bare.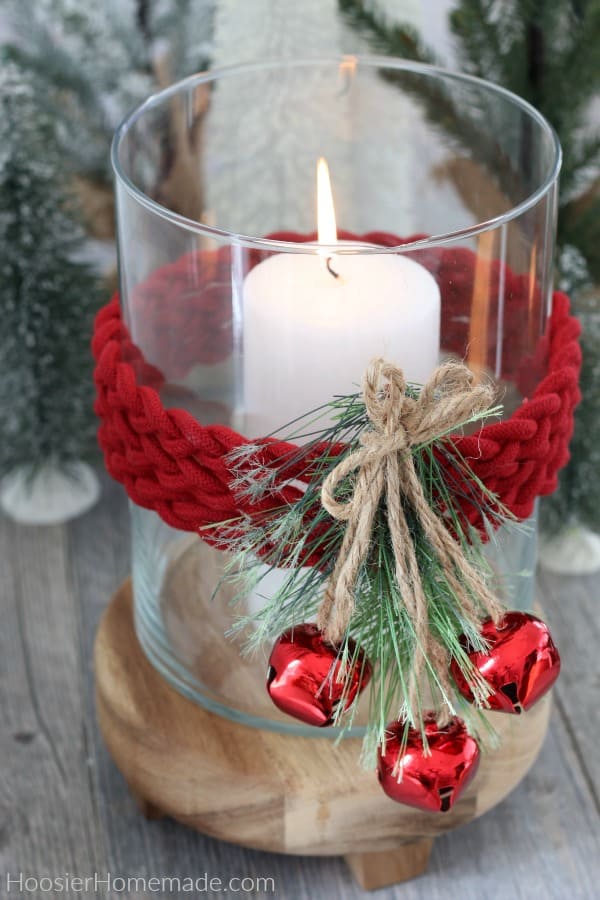 This large hurricane is decorated with simple braided cord, a piece of greenery and metal jingle bells.
Begin by measuring the cord around the hurricane, and glue it in place. I used 3 separate lengths of the cord. The cord and hurricane are from Hobby Lobby.
Then glue on the greenery and bells.
The options are endless for decorating a glass hurricane. I spent about $10 total for this, and I've seen some similar at stores for $30-$50, not including the candle.
This decorated hurricane would also make a great gift.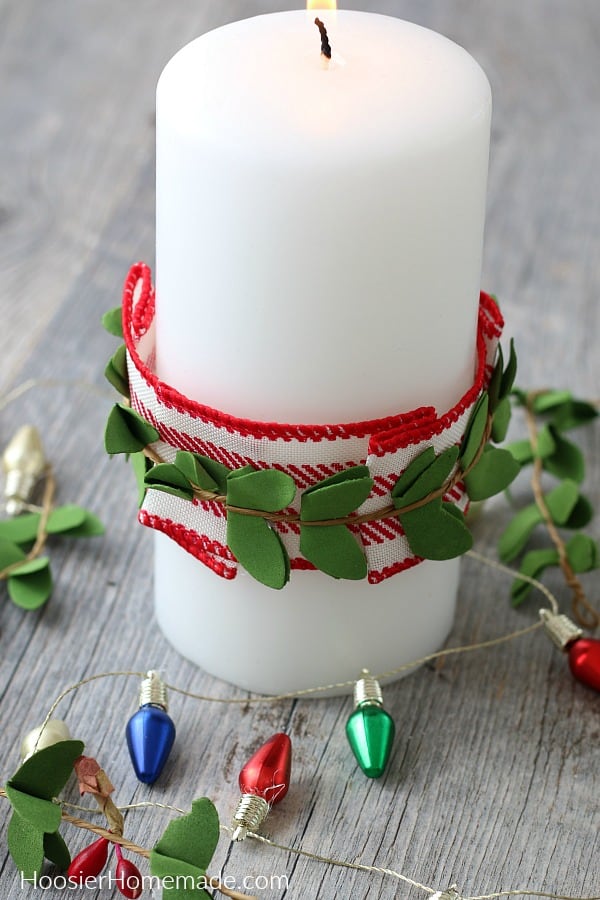 Next is this super simple decorated candle. All you need is ribbon and some greenery.
The ribbon should be the kind with wire on the edges. Then fold it every couple of inches, wrap it around the candle and secure with glue.
Then add the greenery around the ribbon and secure with glue.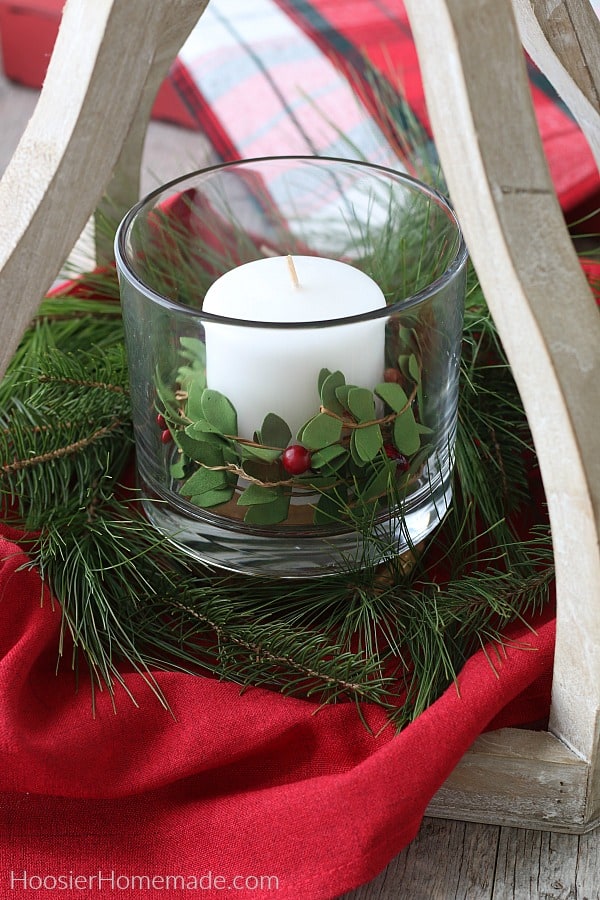 Another super easy decorated candle for you to use in your home or give as a gift. The short glass hurricane is great for centerpieces.
Simply add a short candle and add greenery around the candle.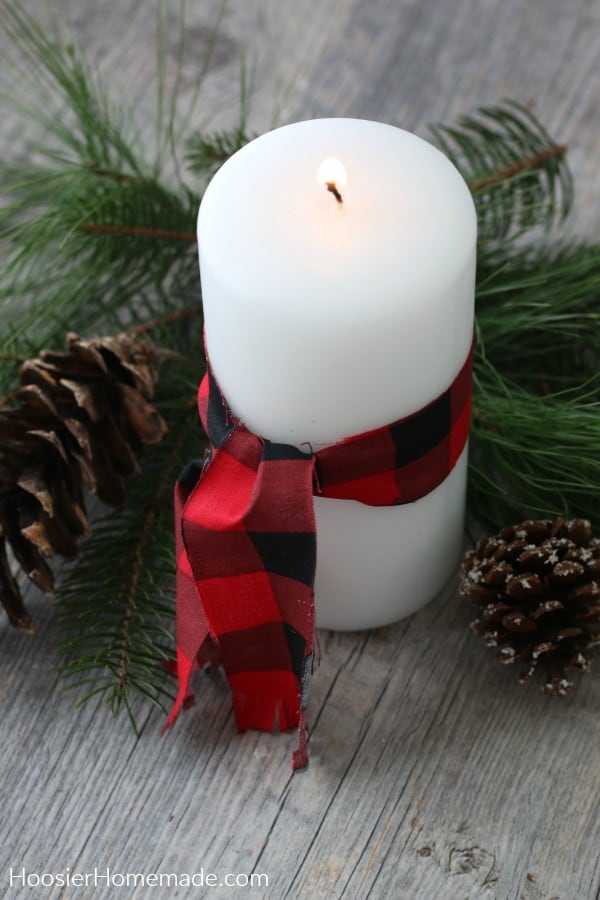 Buffalo check is super popular right now. Cut a piece of fabric, then tie it around the candle. Then snip the ends to look light a scarf.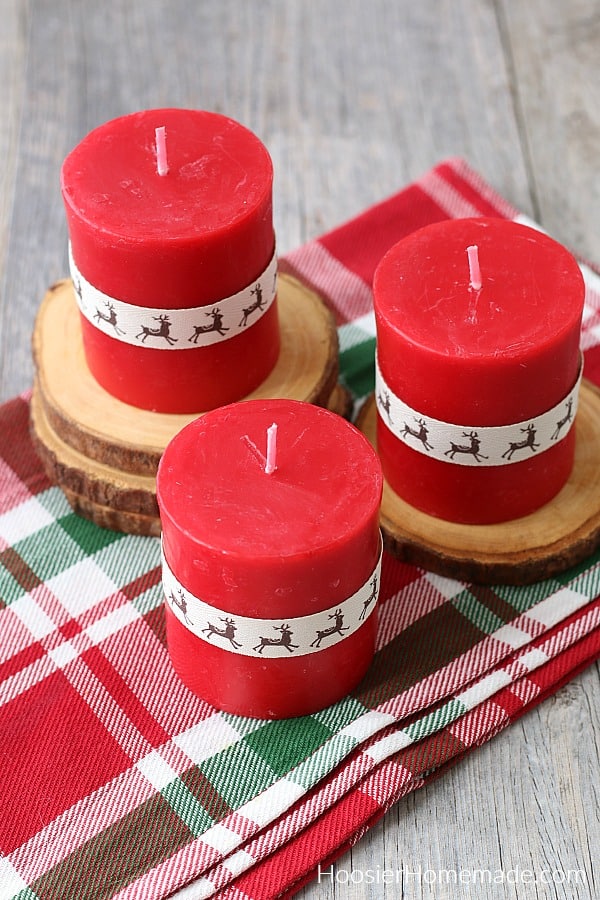 The last set of decorated candles are very simple. Simply glue ribbon around a short candle and you are done.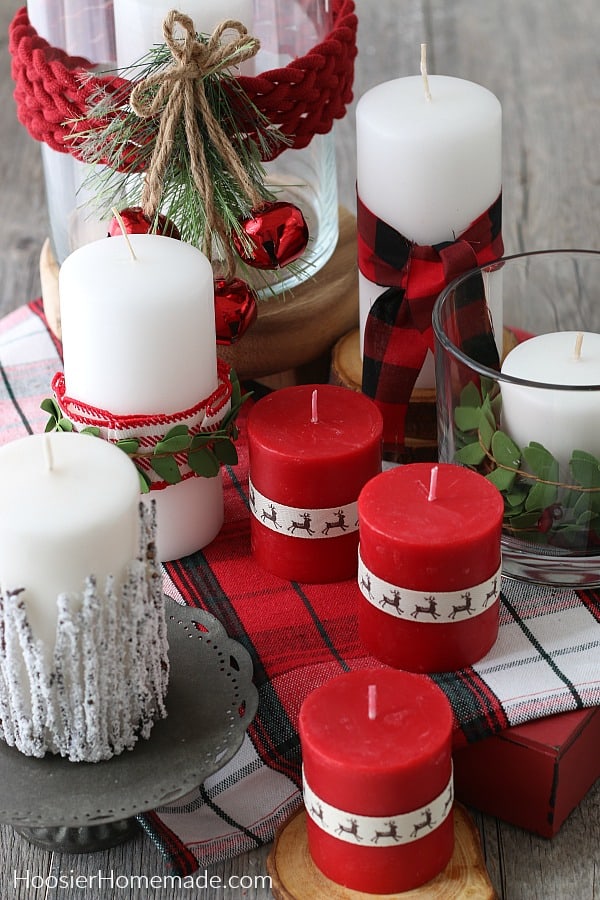 Which one is your favorite?
Follow along with the 100 Days of Homemade Holiday Inspiration for more simple recipes, easy crafts, homemade gift ideas, decorating tips and much more!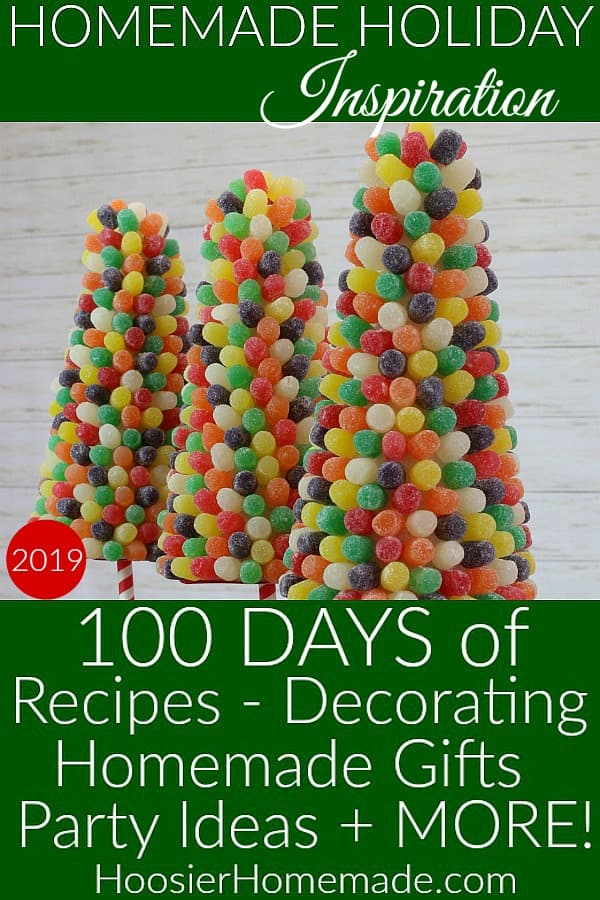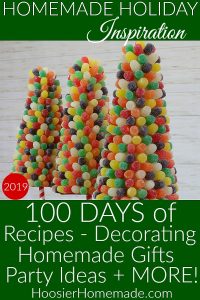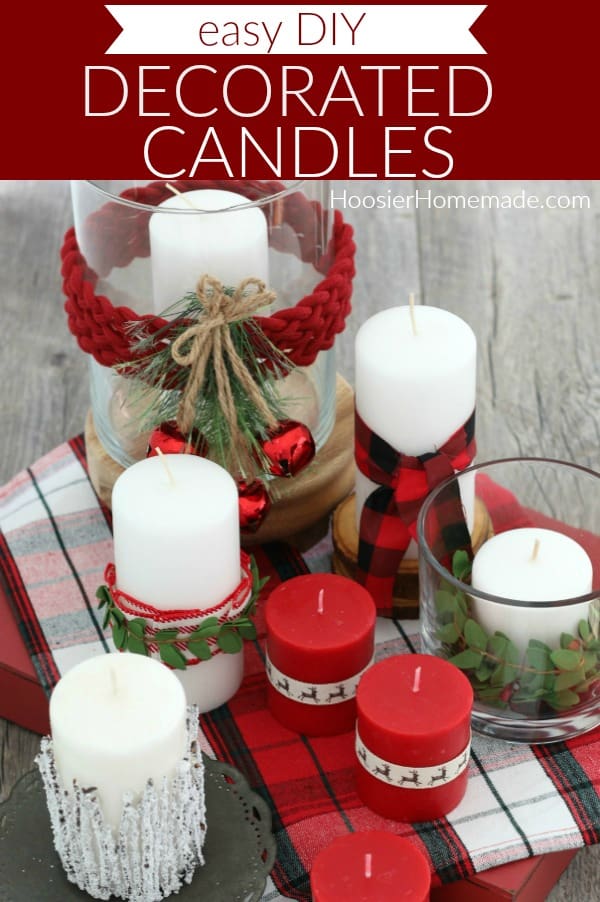 Looking for more Easy DIY Decorating ideas? Click on the photo for instructions.