Christmas is right around the corner! Do you still have gifts to make and no time to make them? Maybe for neighbors, teachers, friends or even have a fun little take home gift for guests.
Well, I have the perfect no bake…whip it up in under 15 minutes…totally delicious and addicting…treat for you to make…Christmas Candy Crunch!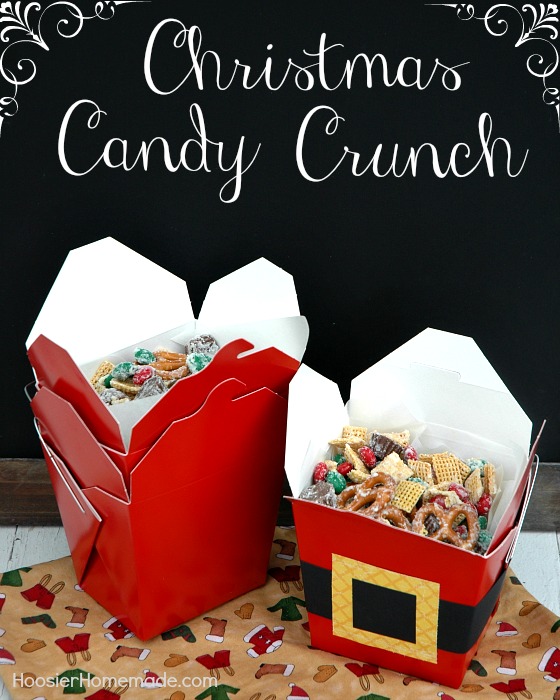 Inspired by the Candy Corn Crunch I made for Halloween and the big box of Hershey's goodies I received in the mail, Christmas Candy Crunch was created!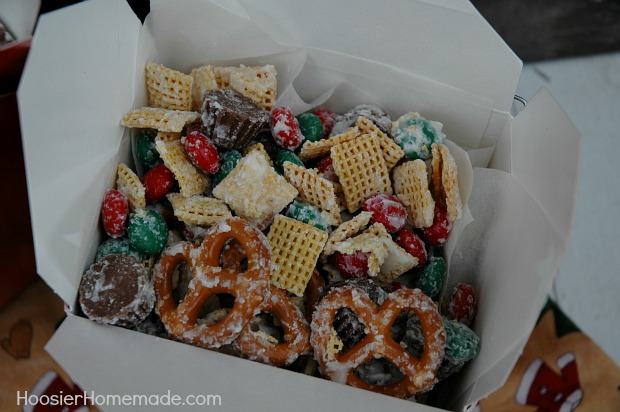 One of the best things about this snack mix is that you can use whatever ingredients you like. Here is what I used…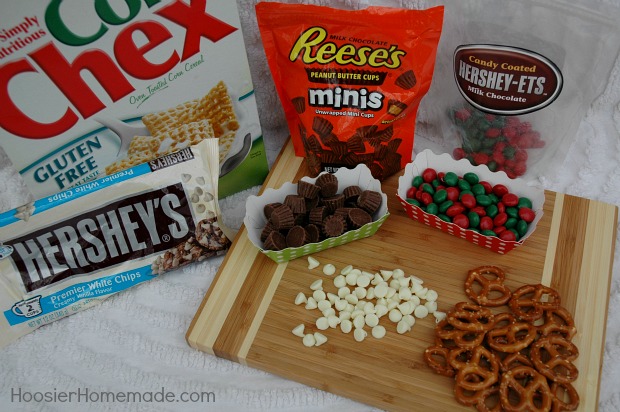 Christmas Candy Crunch Ingredients
Chex Cereal
Pretzels
Hershey's Hershey-ets
Reese's Mini Peanut Butter Cups
Hershey's Premium White Chips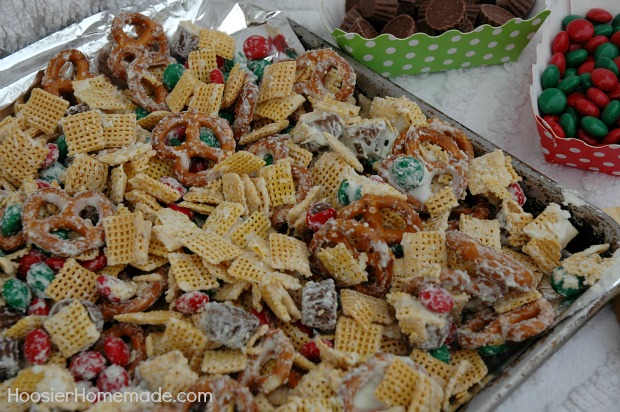 Melt the Hershey's White Chips in the microwave, mix the other ingredients in a large bowl, pour the melted chocolate over the mixture and spread it out on a pan for about 10 minutes until it's set…that's it!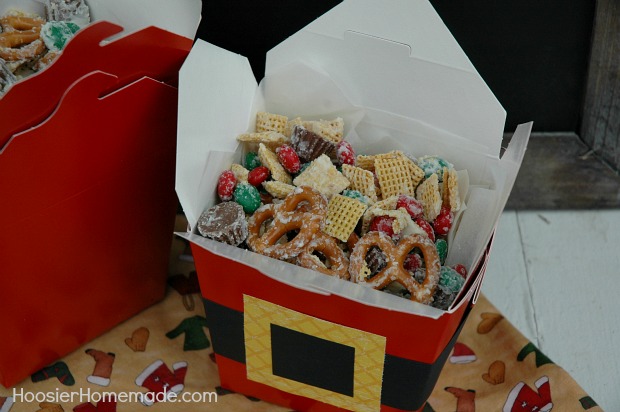 The gift giving ideas are endless, this time we used red take-out boxes and decorated them. You can see how we decorated all of the boxes over on Pocket Change Gourmet.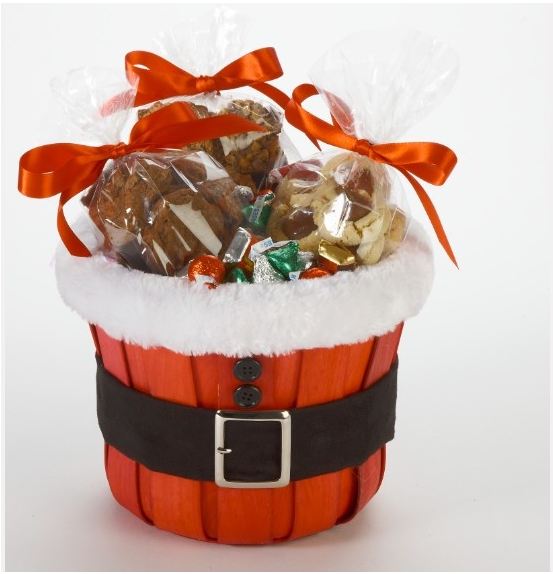 Remember when I told you about going to Hershey's and creating a fun Santa Bucket? Well, the directions are now available on Hershey's website! I was super excited to see my creation come to life and shared as part of the Baker's Dozen.
These Santa Buckets would also be great to hold the Christmas Candy Crunch…don't you think?
Christmas Candy Crunch
Quick and tasty treat that is perfect for gift giving. Recipe from HoosierHomemade.com
Ingredients
4 cups Chex cereal, rice or corn is best
2 cups Pretzels, mini twists are best
½ cup Reese's Mini Peanut Butter Cups, more if you like
1 cup Hershey's Hershey-ets
1 cup Hershey's Premium White Chips
Instructions
Line a cookie sheet with foil or wax paper
Combine all ingredients except White Chips in a large bowl and toss
Place White Chips in a microwave safe bowl and heat about 30-40 seconds, stir until smooth
Pour melted chips over mixture and stir well until coated
Spread mixture onto cookie sheet and let set about 10 minutes or until set
Break into pieces
Notes
The extra ingredients added are very versatile, add as many or as little as you like. The more you add, you may need to increase the amount of melted chocolate to hold it together though.
Disclosure: I'm honored to be part of the Hershey's Baker's Dozen program. I was provided compensation and product. As always, the opinions are my own.
Linking to…Gooseberry Patch