Luck of the Irish Party Mix for St. Patrick's Day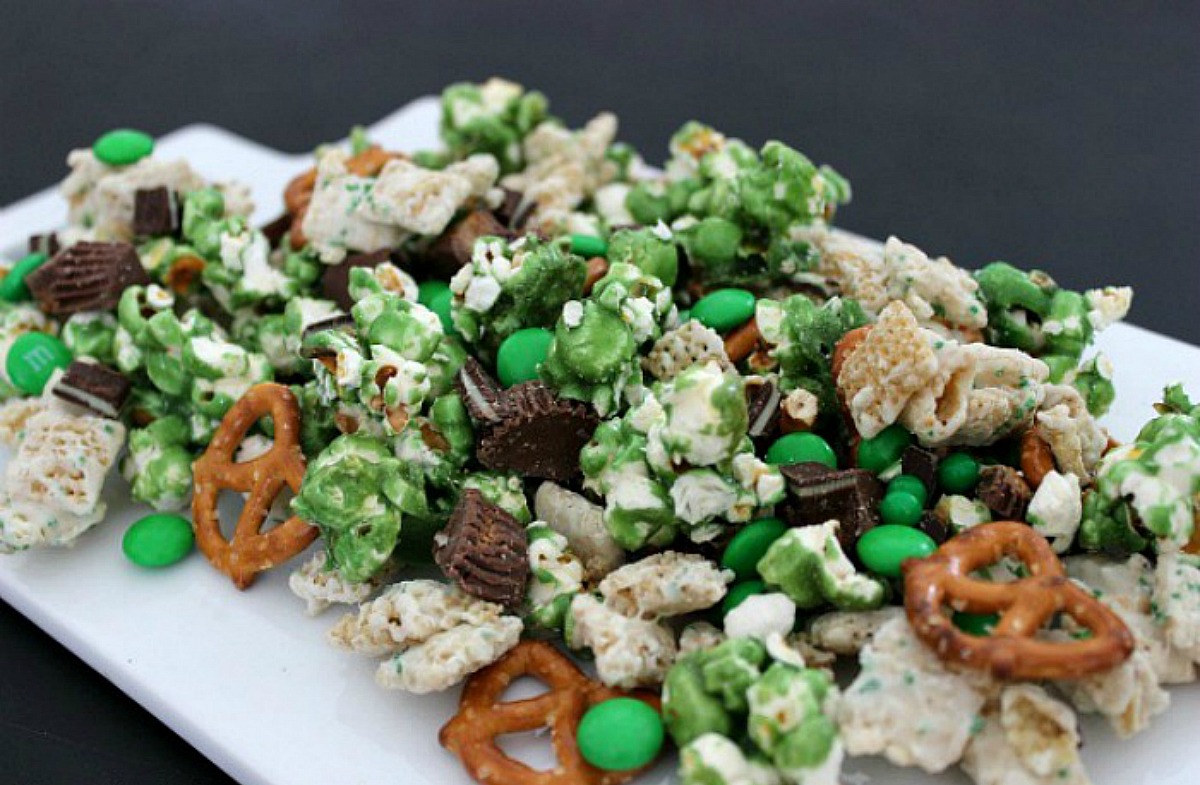 Today I have a delicious treat that is super easy to make and sure to be a hit for St. Patrick's Day! Luck of Irish Party Mix is perfect for parties, to enjoy at home or even give as gifts! With Green Caramel Corn, Chocolate Chex Cereal, Pretzels, Candy and more…you can't go wrong!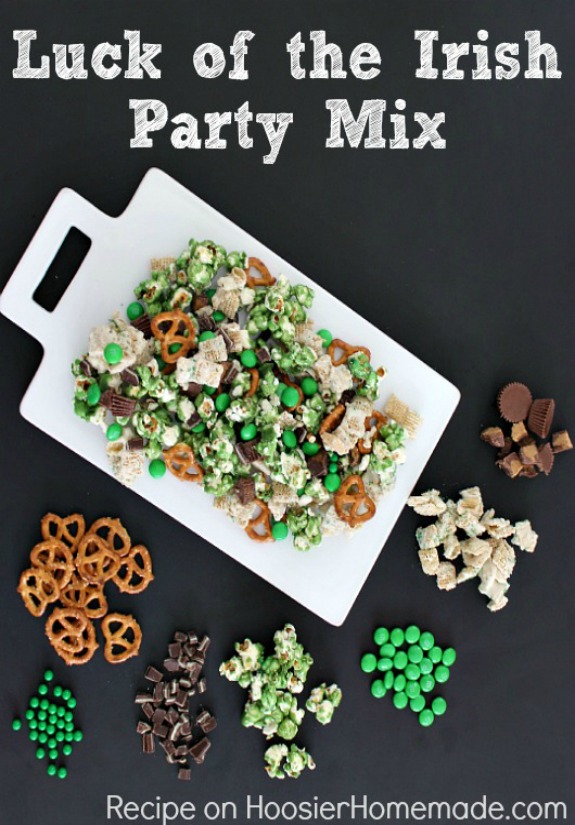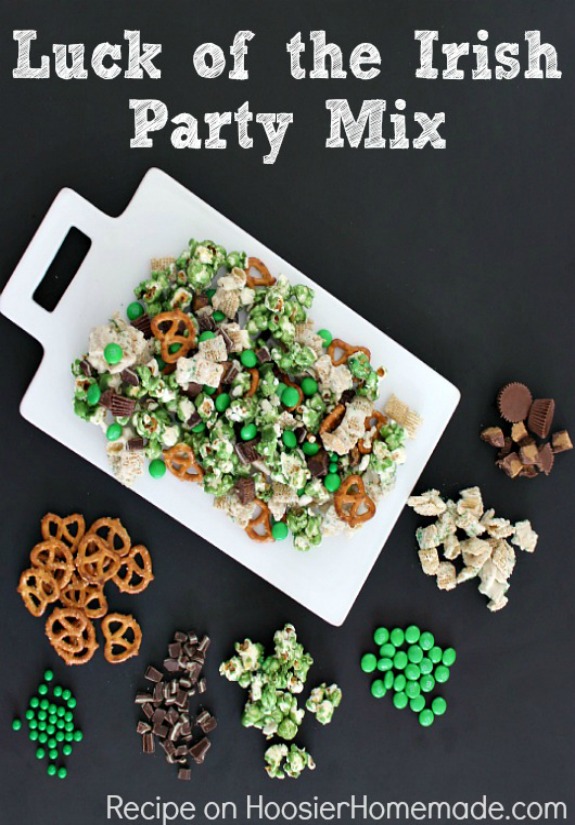 The nice thing about this Luck of the Irish Party Mix is you can add whatever you have on hand. I literally opened the cupboards and searched through my candy drawer to find ingredients to add.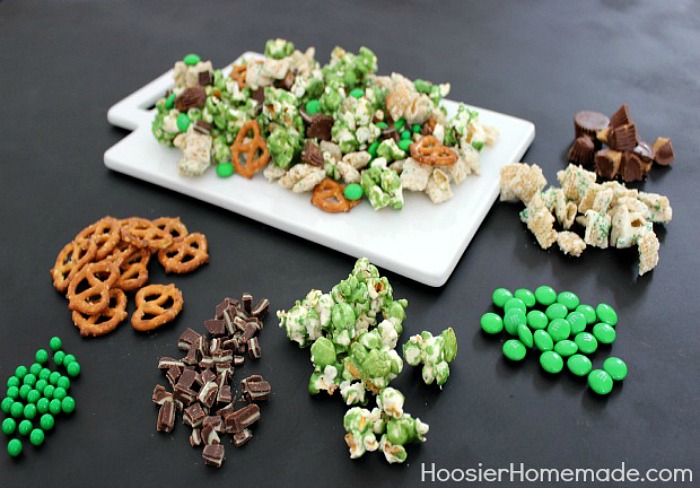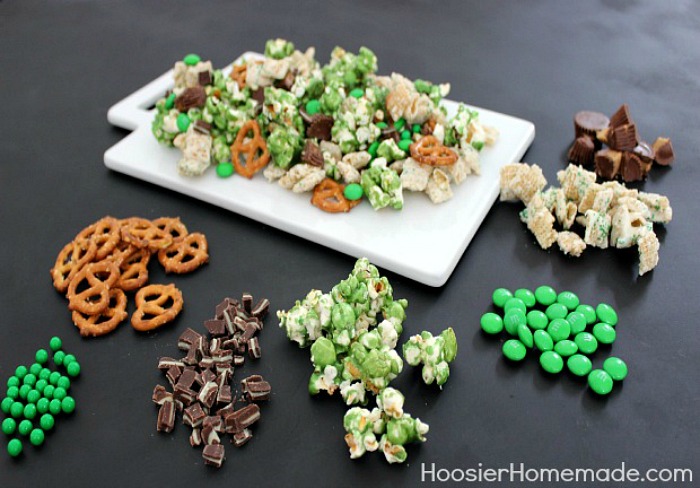 I started by making a batch of Homemade Caramel Corn and added green coloring to the coating. Then Chex Cereal was mixed with melted white chocolate and a good sprinkle of green sugar. While those cooled, I chopped the Reese's Peanut Butter Cups and Andes Mints.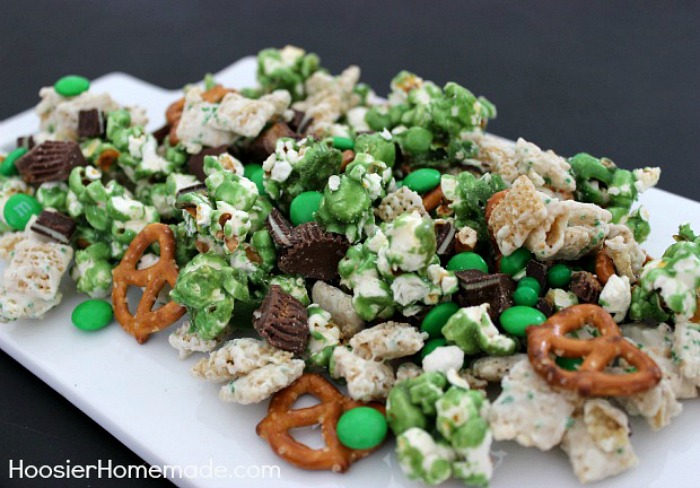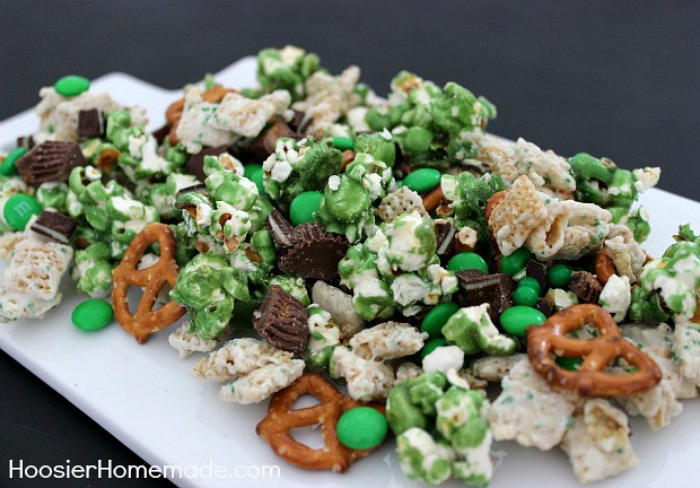 All the ingredients were tossed in a large bowl, then green M&M's and green candy sprinkles were added. Now you can certainly drizzle over a bit more melted chocolate to hold all the ingredients together like I did in my Christmas Candy Crunch and Candy Corn Mix, but this time I decided to keep it a bit more simple since there was already plenty of chocolate.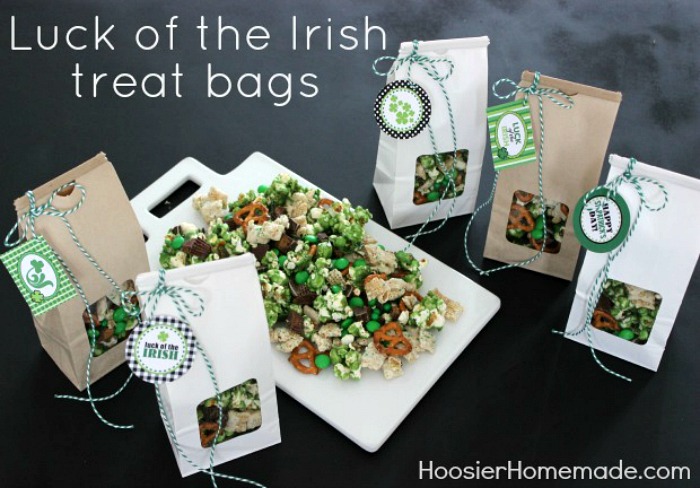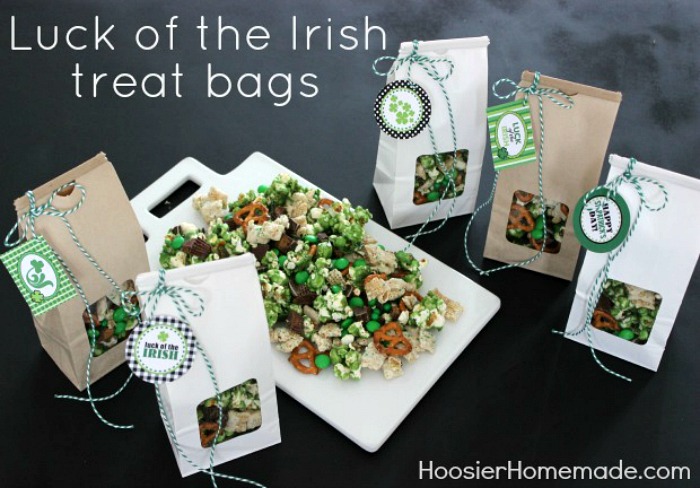 And since you all know how I LOVE the holidays and creating fun and simple gifts to give, how about adding the Luck of the Irish Party Mix to a bag and adding a little tag?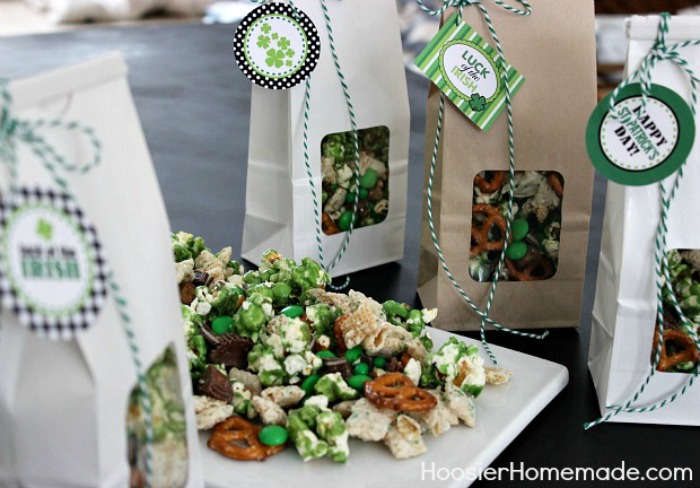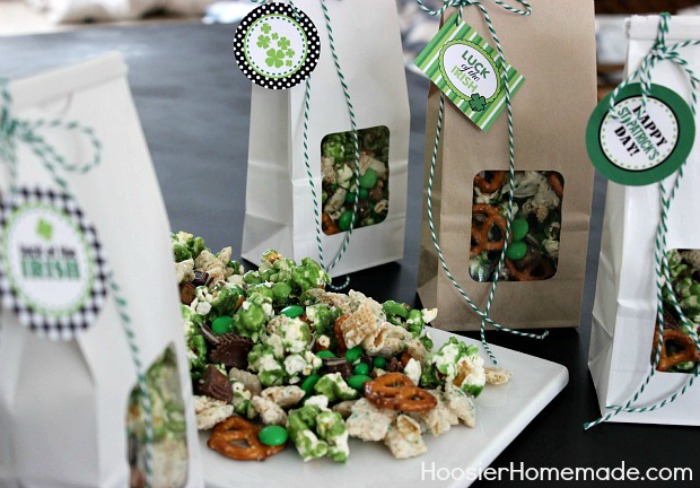 So cute! Who wouldn't love to receive this little treat? I added the St. Patrick's Day Cupcake Toppers and tied the bags with green baker's twine!
Cupcake Toppers aren't just for cupcakes anymore!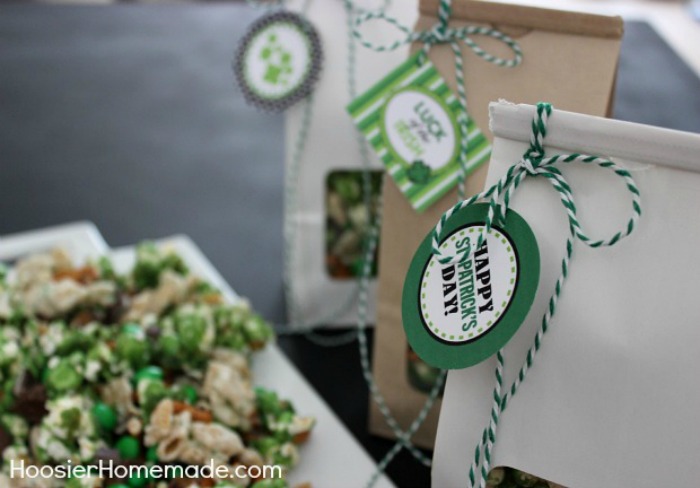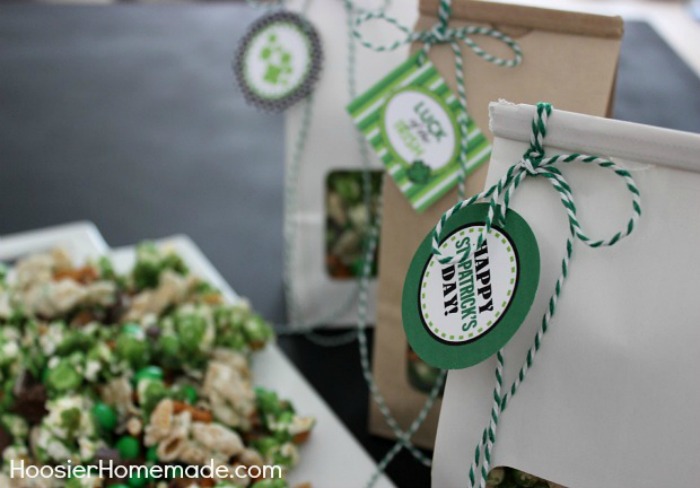 St. Patrick's Day Cupcake Toppers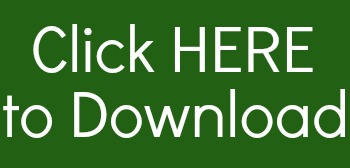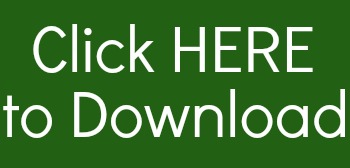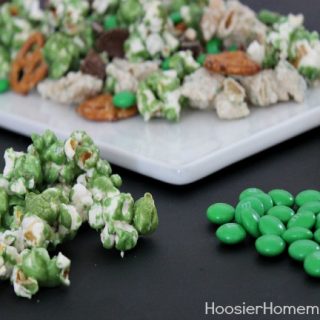 Luck of the Irish Party Mix
Delicious treat to enjoy at a party, home or give as a gift. Recipe from HoosierHomemade.com
Ingredients
Green Caramel Corn
8 cups popped popcorn, about 1 cup of kernels
3/4 cup brown sugar
1/4 cup butter
3 tablespoons corn syrup
1/4 teaspoon salt
1/4 teaspoon baking soda
1/4 teaspoon vanilla
4-6 drops Wilton Kelly Green Coloring
Chex Chocolate Mix
3 cups Rice Chex Cereal
1 cup white chocolate chips
Green Sugar
Add Ins
Pretzels
Mini Peanut Butter Cups, cut in quarters
Andes Mints, chopped
Green M&M's
Green Candy Sprinkles
Instructions
Caramel Corn
Cook popcorn on stove or in popcorn maker
Pour into bowl and set aside
Preheat oven to 300 degrees and spray a cookie sheet with cooking spray
In a saucepan, combine brown sugar, butter, corn syrup and salt
Cook until butter is melted
Continue cooking for 3 minutes without stirring
Add baking soda, vanilla and green coloring, stir to combine
Pour over popped corn and stir well
Spread evenly onto cookie sheet
Bake for 15 minutes at 300 degrees
Cool completely
Chex
Melt chocolate chips in the microwave for about 30-45 seconds, stirring after every 15 seconds
Pour cereal in a medium bowl and pour melted chocolate over
Add Green Sugar
Stir well and spread evenly onto a cookie sheet, set aside until set
Party Mix
After the Caramel Corn and Chex are cooled and set, break into pieces and add to large bowl
Add pretzels and other ingredients, stir to combine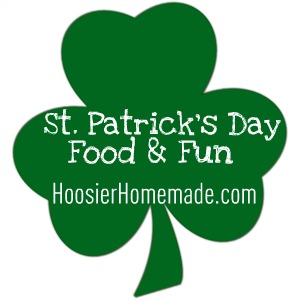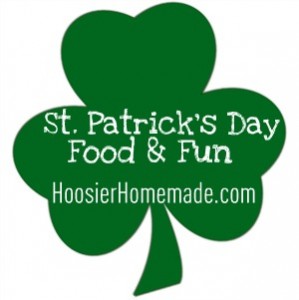 Affiliate links used.