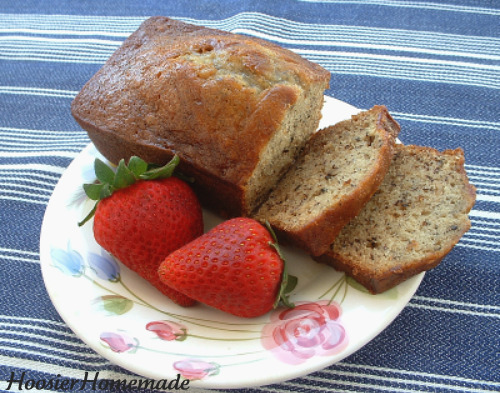 Banana Bread is a favorite at our house. Lately I've had to hide a few bananas just to be able to bake the Banana Bread. Seems like the boys go in spurts, first I have tons of leftovers bananas, then they are eating them up like crazy.
It's funny how things in life usually come full circle. My middle son, Nick, had a very good friend, Tyler, growing up, our families enjoyed spending time together quite often. Then the boys got older and both of our families got busy and grew apart. Now the boys are playing baseball together on the High School team. This recipe is from Sherry, Tyler's Mom.
Banana Bread
Use up your ripe bananas with this delicious Banana Bread recipe on HoosierHomemade.com.
Ingredients
2 c. less 2 T. Flour
1 c. Sugar
1 t. Baking Soda
½ t. Salt
½ c. Oil
2 Eggs
3 Very Ripe Bananas
1 t. Vanilla
½ c. Nuts (optional)
Instructions
Sift and mix together dry ingredients.
Add oil and eggs, one at a time.
Beat after each addition.
Add mashed bananas (I put my bananas in the food processor) and vanilla.
Fold in nuts, if desired.
Pour into pans, bake at 350 degrees, 1 hour for large loaf and about 40 minutes for mini loaves.
I buy bananas at Aldi's, they are .39 cents per pound, so most of the time the bag usually costs me less $1.
If you have lots of bananas, and need some more recipes, Amy from The Finer Things in Life has a great post with lots of yummy recipes and ideas on how to use up your bananas.
Linked to…Ingredient Spotlight