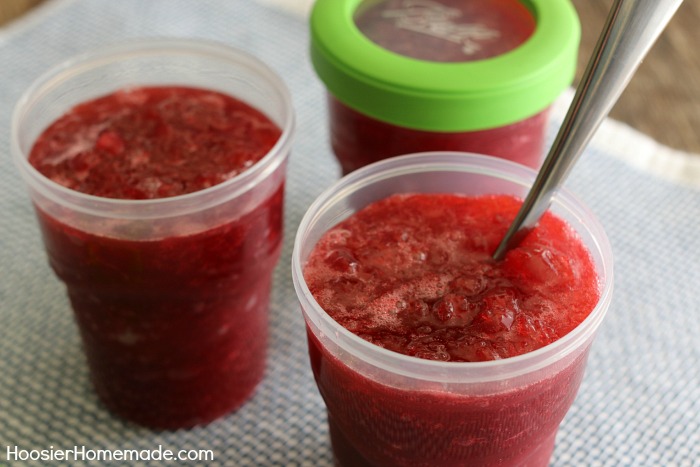 You are only 3 ingredients away from the best homemade jam you will ever make! This Rhubarb Freezer Jam goes together quickly and is delicious.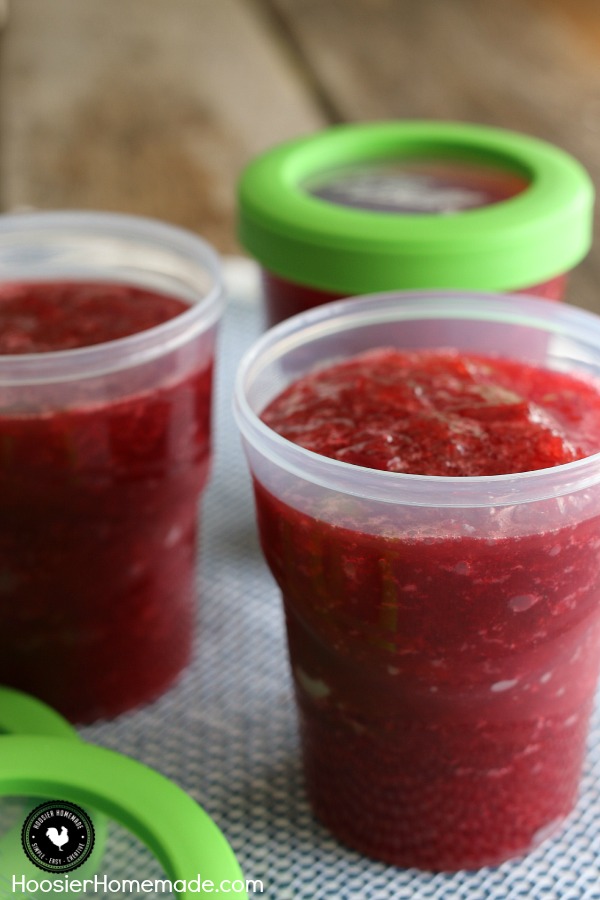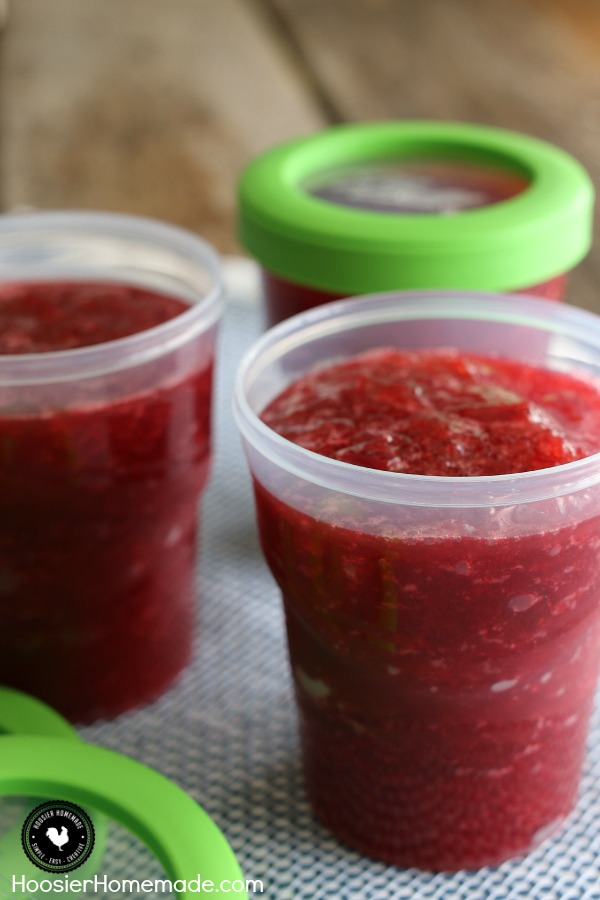 When I was young, I really didn't care much for the rhubarb. I think maybe because of it's tartness and seeing my Dad pick a stalk and eat it fresh just like celery, kind of made me cringe. However, later on, when I began baking, I quickly realized that when you pair strawberries with the rhubarb, the taste is like nothing else.
I haven't baked or cooked with Rhubarb a lot, but each time I do, I'm reminded how much I love it. After making the Strawberry Rhubarb Almond Crumble Dessert last month, I knew I needed to try another recipe.
Then while browsing through my Mom's recipe box, I came across a recipe for Rhubarb Jam – perfect!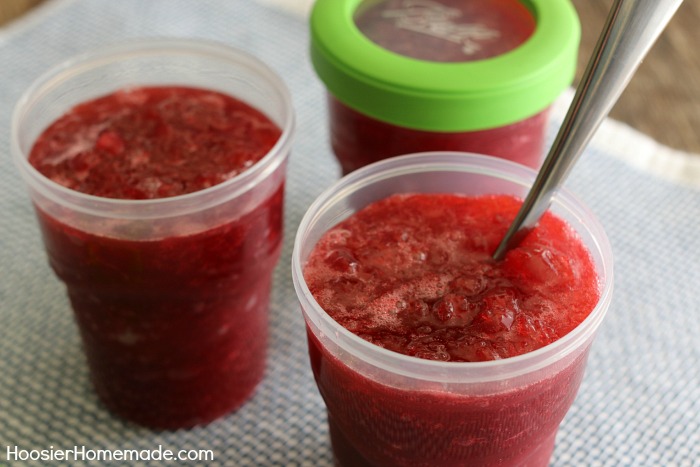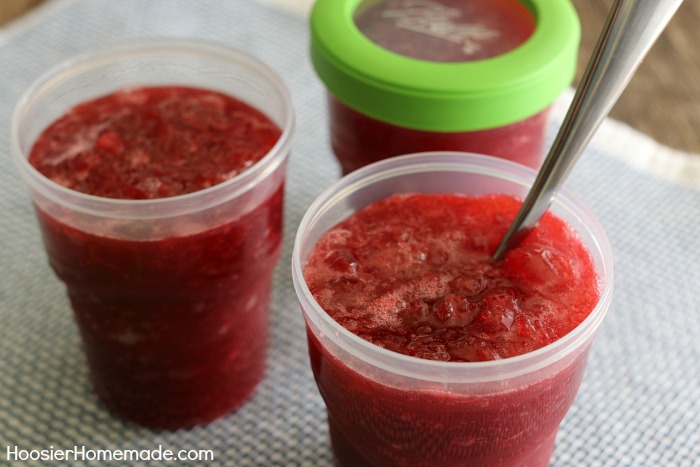 Rhubarb is grown locally around here and is available in the late Spring. We often find it at Farmer's Markets or the grocery store. Recently, after mentioning Rhubarb on my Facebook page, after receiving a comment, I realized that not all parts of the country grow it. We found the Rhubarb we used this time at Meijer grocery store. (they have a wonderful produce section, by the way)
Stalks of Rhubarb look similar to celery, but it has a strong, tart taste if eaten raw. Rhubarb used to be considered a vegetable, but in 1947 a court decided to call it a fruit. Rhubarb is also often grown in greenhouses, making it available throughout much of the year, however, we typically only see it in the Spring and Summer here in the Midwest.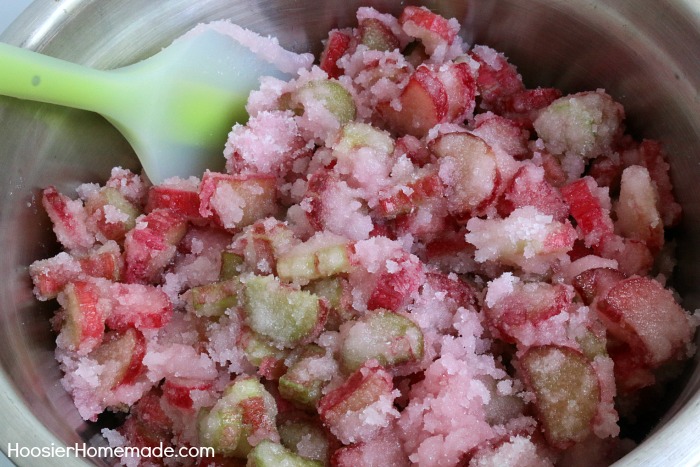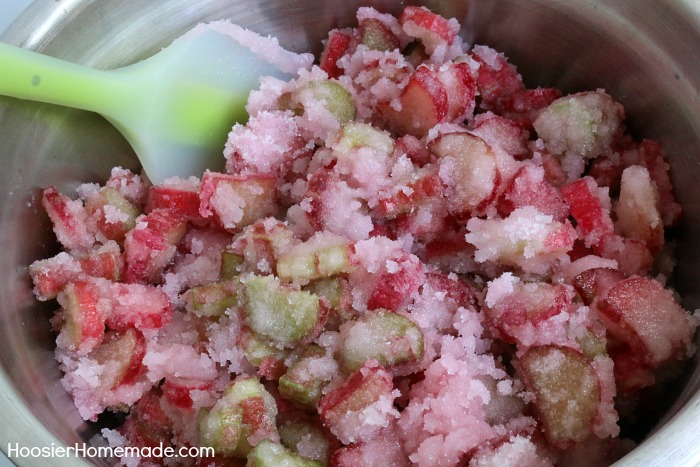 Making freezer jam is super easy, and this Rhubarb Jam has only 3 ingredients – rhubarb, sugar and strawberry jello.
The first step is to cut the Rhubarb into small pieces, and sprinkle the sugar over top. The recipe calls for 3 cups of sugar, while that seems like a lot of sugar, it breaks down pretty well. After the rhubarb and sugar are mixed well, then into the refrigerator it goes to set overnight.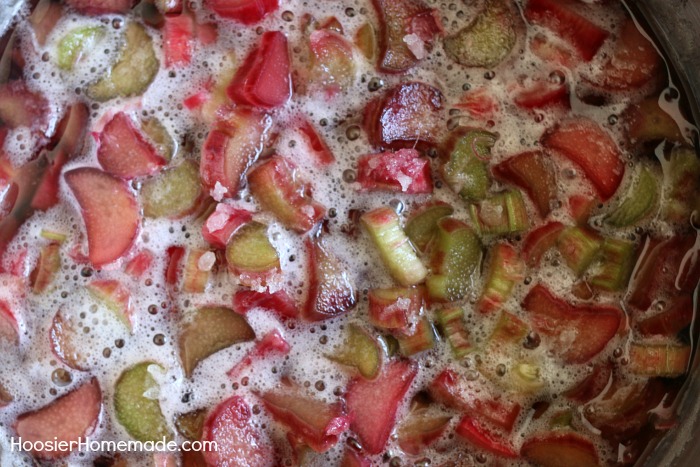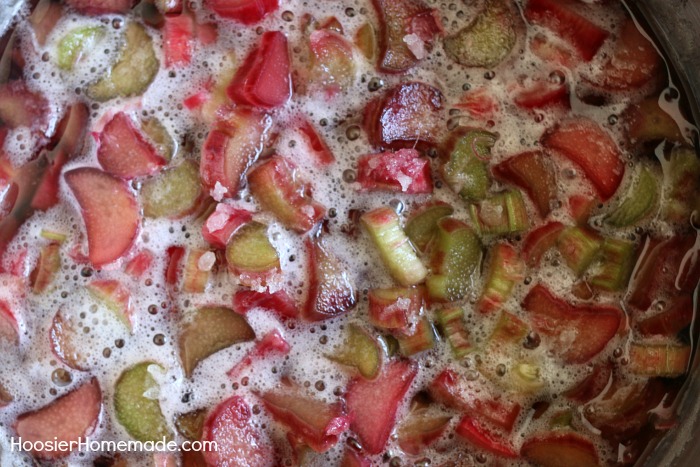 Then the next morning, pull it out of the fridge. You can see how the sugar combined with the juice from the rhubarb to make a nice syrup. Add the rhubarb to a large pot and sprinkle it with 2 packages of strawberry jello. Bring it to a boil and cook for 10 minutes. Then cool before adding it to freezer containers.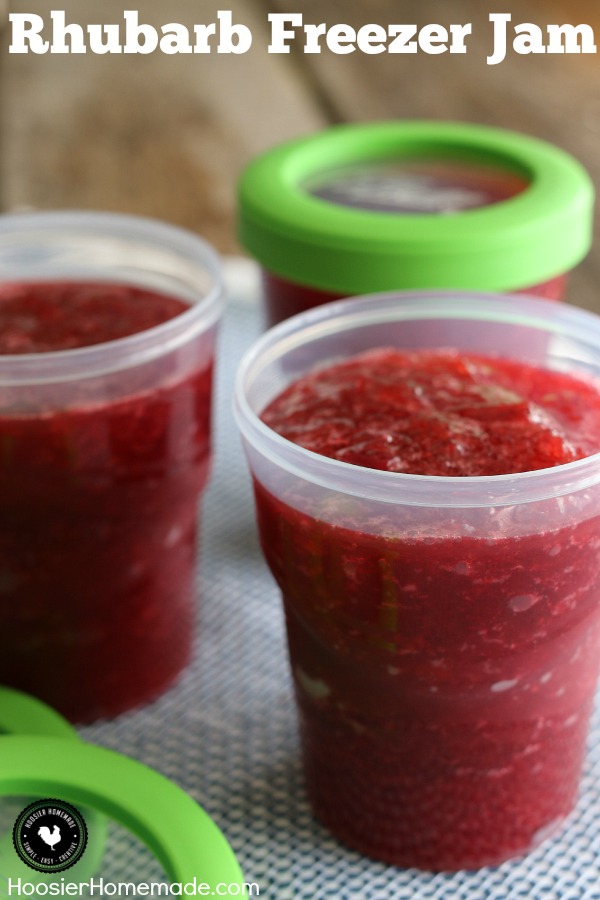 There are several options when it comes to freezing jam. We have used glass jars before and they work fine. You can read all about the safety issues with using glass jars to freeze in.
This time we used plastic containers from Ball, the recipe filled 3, 8-ounce containers, with a little leftover to enjoy right away.
The jam will last in the freezer for up to 1 year. After thawing, store in the refrigerator for up to 6 weeks.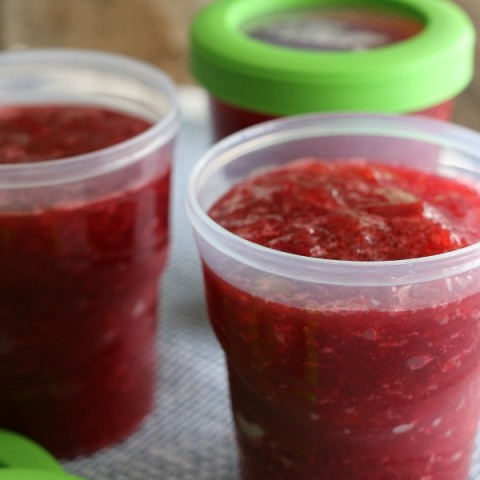 Rhubarb Freezer Jam
Yield:
3, 8 ounce containers
You are only 3 ingredients away from the BEST homemade jam you will ever make! This Rhubarb Freezer Jam goes together in a snap and is SO delicious!
Ingredients
5 cups fresh rhubarb, cleaned and cut into small pieces
3 cups sugar
2 (3 oz) boxes strawberry jello
Instructions
Clean and cut rhubarb and place in a large bowl
Sprinkle with sugar and mix well
Place in refrigerator to set overnight
Remove and add rhubarb to a large pot on the stove
Sprinkle with strawberry jello and stir until mixed
Bring mixture to a boil and cook for 10-12 minutes
Cool completed
If you have large chunks of rhubarb still, use a potato masher to gently break them down
Spoon jam into freezer containers
Freeze up to 1 year
Thaw in the fridge, store in fridge up to 6 weeks