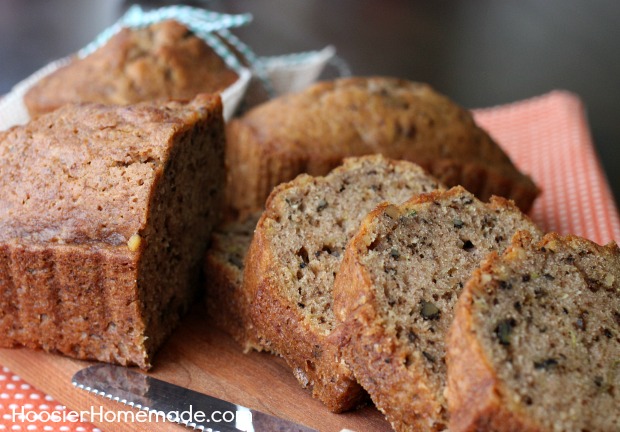 This basic Zucchini Bread Recipe is one that I have been using for many, many years. It's packed with flavors from the zucchini, walnuts and cinnamon. Perfect to enjoy along with a cup of coffee in the morning, as an afternoon snack, dessert, and makes a great gift from the kitchen.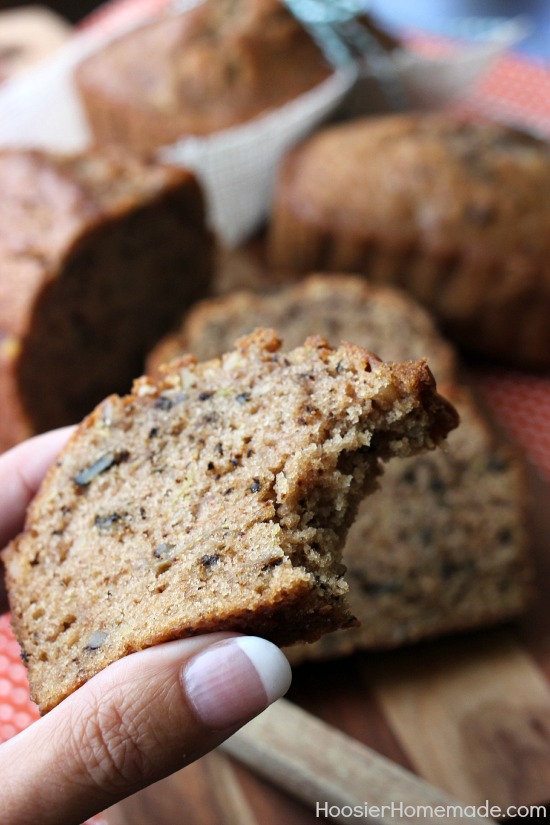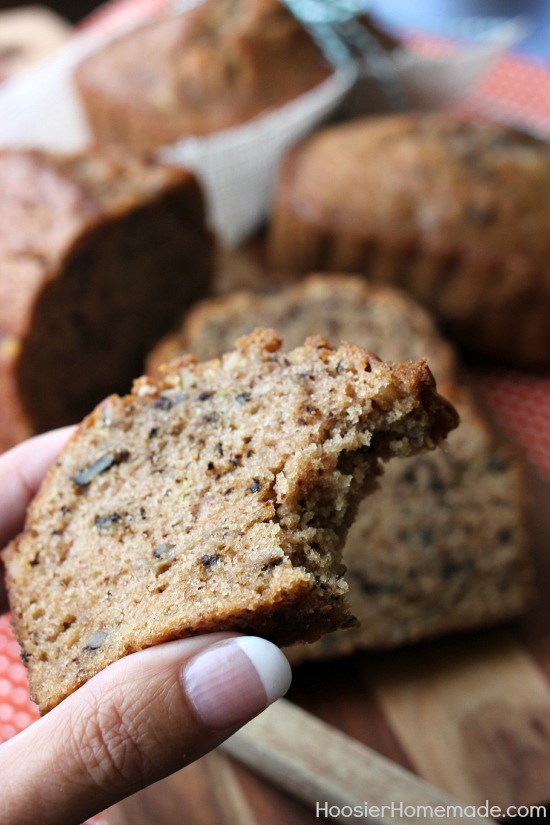 This recipe comes from my Aunt, my Dad's sister, and her neighbor lady, who was a wonderful baker. They are no longer with us, but I have very fond memories of visiting her and enjoying this delicious Zucchini Bread recipe.
For as long as I can remember my Dad had a huge garden, and every year he would plant 12 Zucchini plants. Well, if you have ever grown Zucchini, you know that they produce lots and lots from just a single plant. He would share the produce with neighbors, friends and family, since there was always way more than my Mom could use.
We planted just 2 plants in our own garden this year, and have had plenty to enjoy. I also like to freeze the zucchini to use during the Winter months.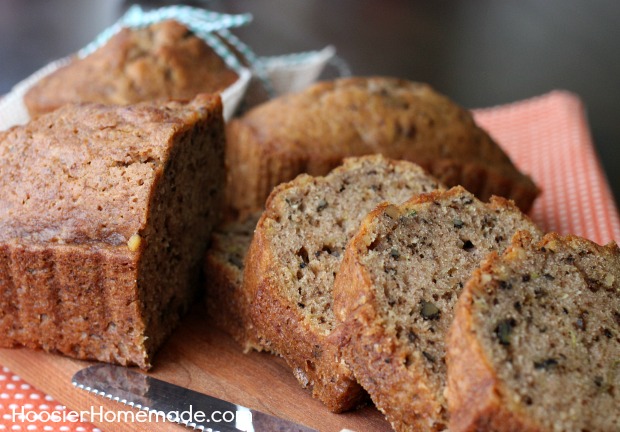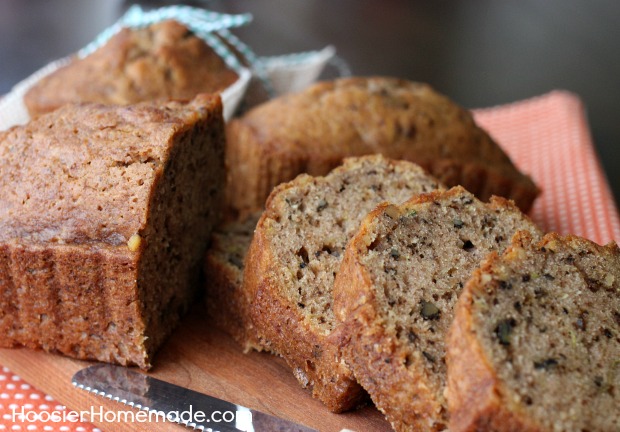 To learn how I freeze zucchini, and other fruits and vegetables, head on over to Pocket Change Gourmet. If you are using frozen zucchini in this recipe, or any other recipe, simply defrost it in the fridge overnight or if you forget to pull it out, like I did, just defrost it in the microwave a few minutes, then add the zucchini to your recipe, including the liquid.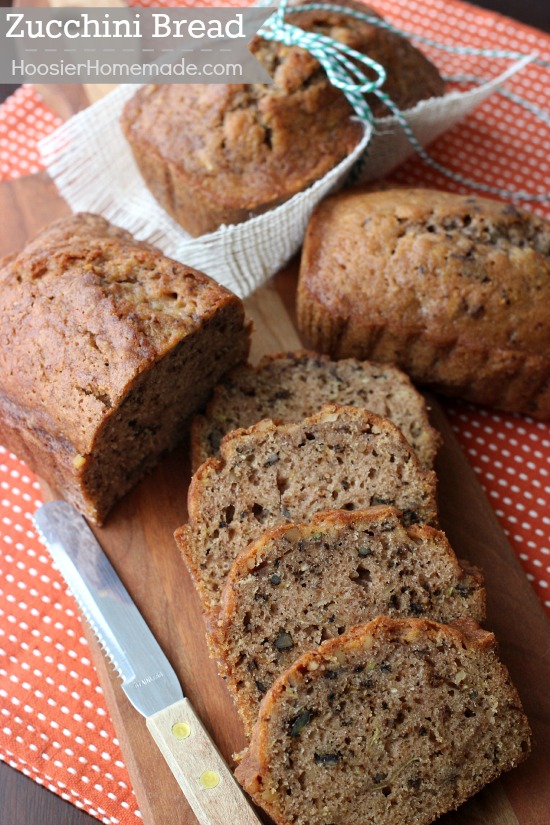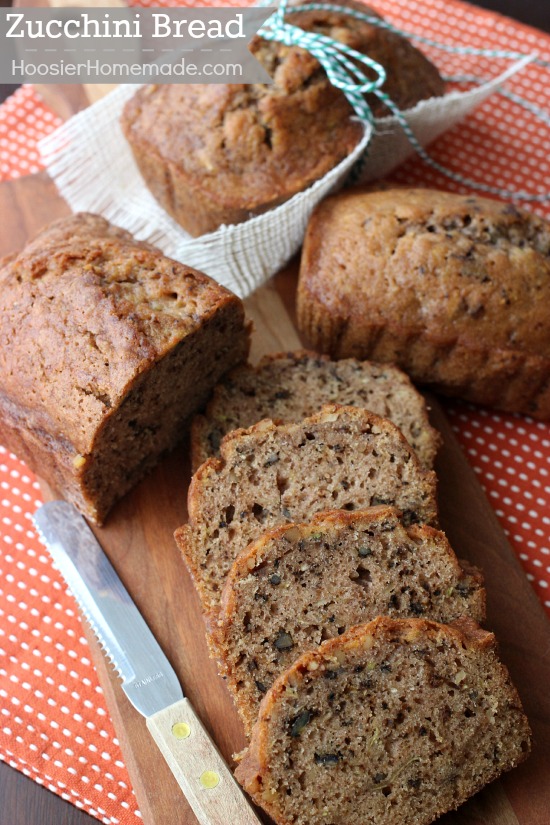 You will get 6 mini loaves from this recipe. I use foil bread pans to make the mini loaves. I like the size because it also freezes well and is the perfect size to share with friends.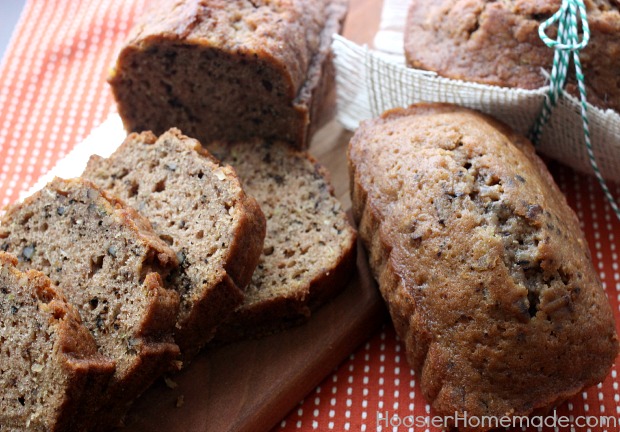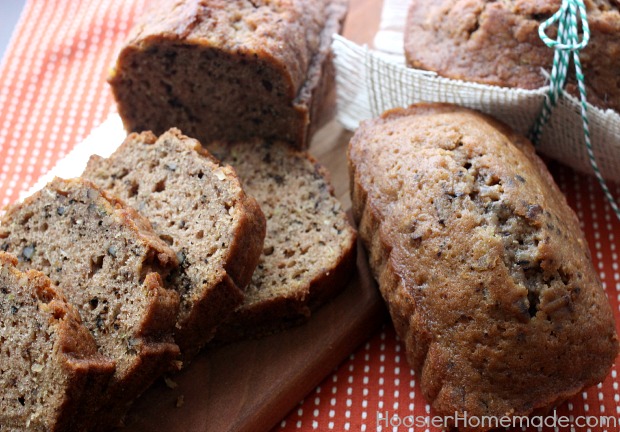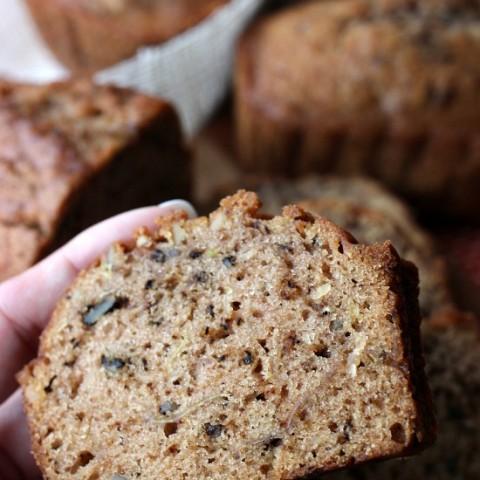 Zucchini Bread
Yield:
6 small loaves or 2 large
A recipe passed down from my Aunt. Recipe from HoosierHomemade.com
Ingredients
3 eggs
1 cup white sugar
1 cup brown sugar
1 cup oil
1 teaspoon vanilla
1 teaspoon cinnamon
1 teaspoon salt
1 teaspoon baking soda
1/4 teaspoon baking powder
3 cups flour
2 cups zucchini, grated
1 cup nuts, chopped (I use walnuts, but any are fine)
Instructions
Preheat oven to 350 degrees. Lightly grease and flour bread pans. This recipe will make 6 small loaves, or 2 large loaves, or a combination of the two.
Beat eggs in large bowl, until foamy.
Add sugar, oil and vanilla, mix well.
Add cinnamon, salt, soda, and baking powder. Mix well.
Add the flour and zucchini alternately, mixing well after each addition.
Fold in nuts
Bake for about 30-40 minutes for mini loaves, increase time, depending on the size of your loaf.
Notes
if you freeze the zucchini, just defrost and include all the liquid in your recipe as well.
Nutrition Information:
Yield:

48
Serving Size:

1
Amount Per Serving:
Calories:

124
Total Fat:

7g
Saturated Fat:

1g
Trans Fat:

0g
Unsaturated Fat:

6g
Cholesterol:

12mg
Sodium:

86mg
Carbohydrates:

15g
Fiber:

1g
Sugar:

8g
Protein:

2g