Teachers are one of the most important people in our lives. Let's show them just how much they mean to us with these Teacher Appreciation Gifts!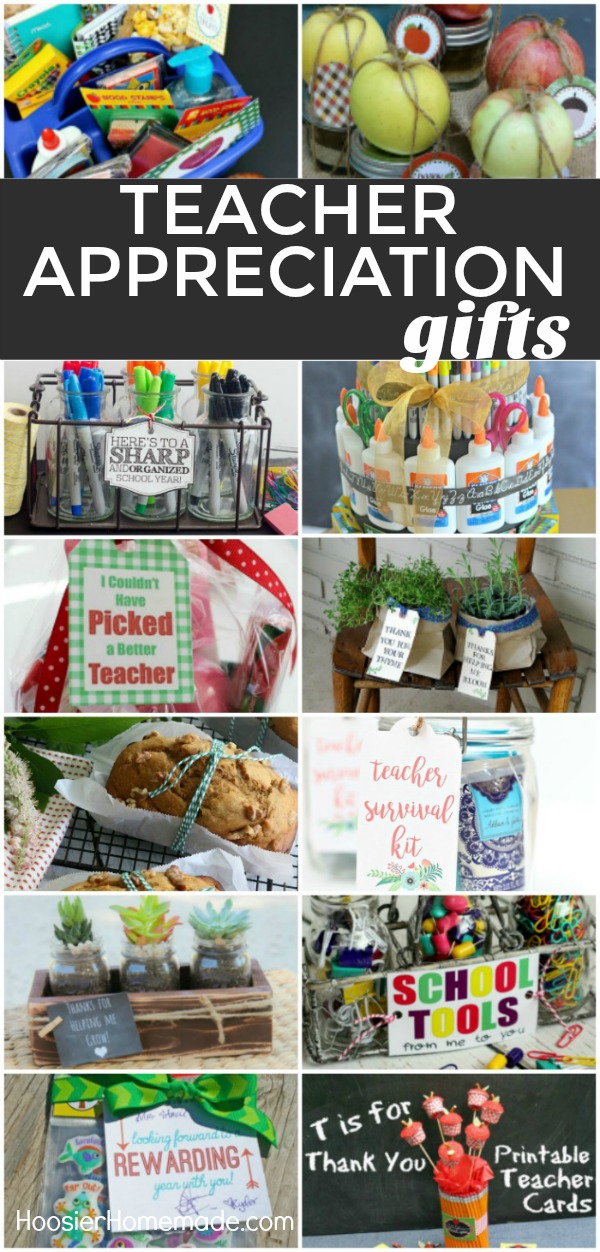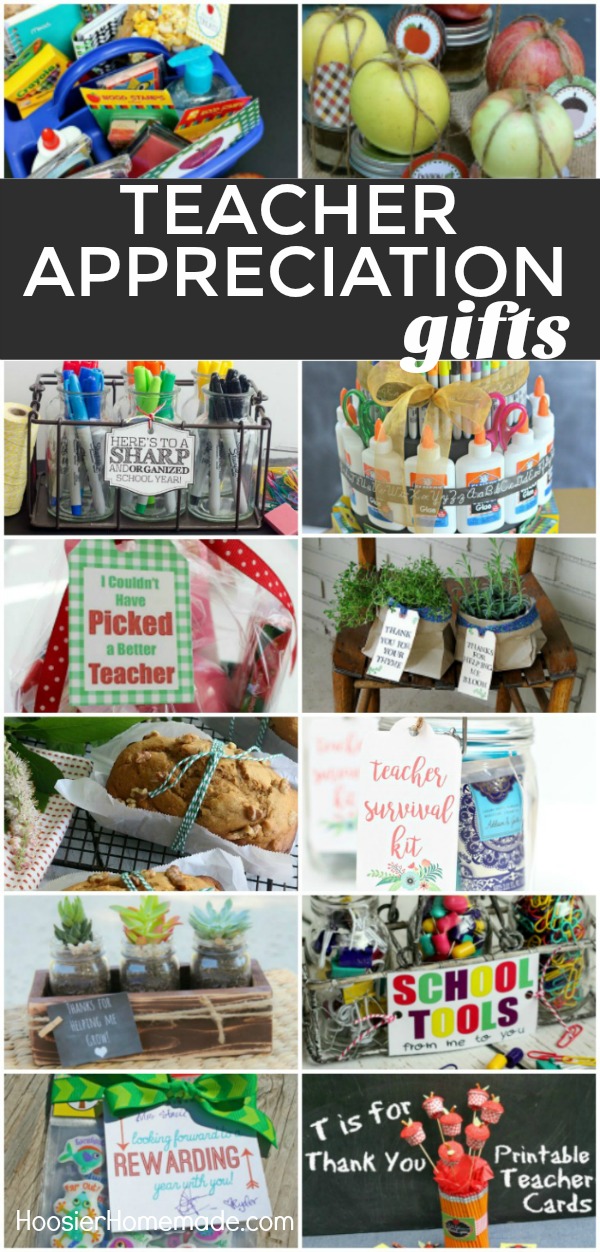 I have heard over and over again about how much money teachers spend on supplies. And often times, there are children in their classroom that just can't afford the supplies they need, so the teachers purchase extra.
Whether you give them a bucket of supplies, something personal, or even bake them special, every teacher deserves to know that they are appreciated.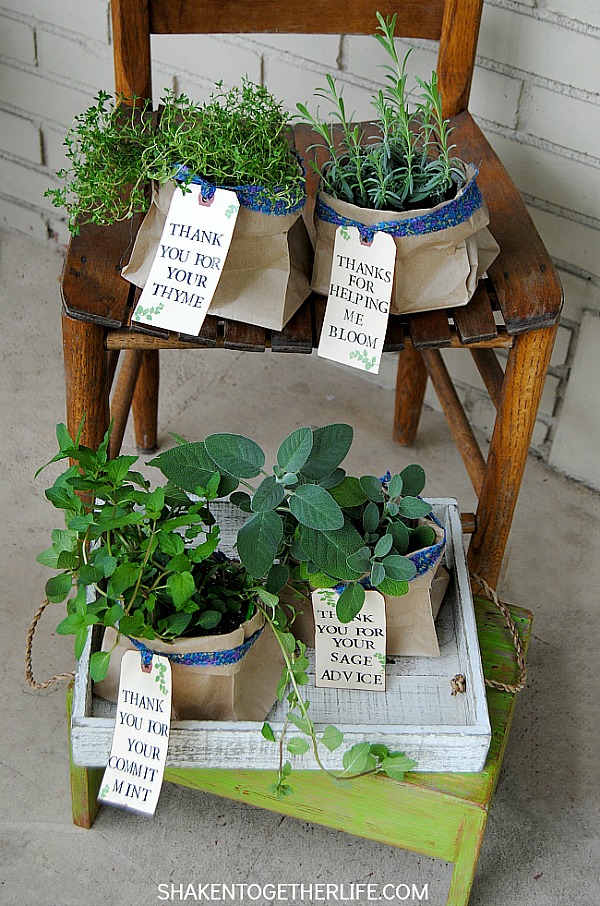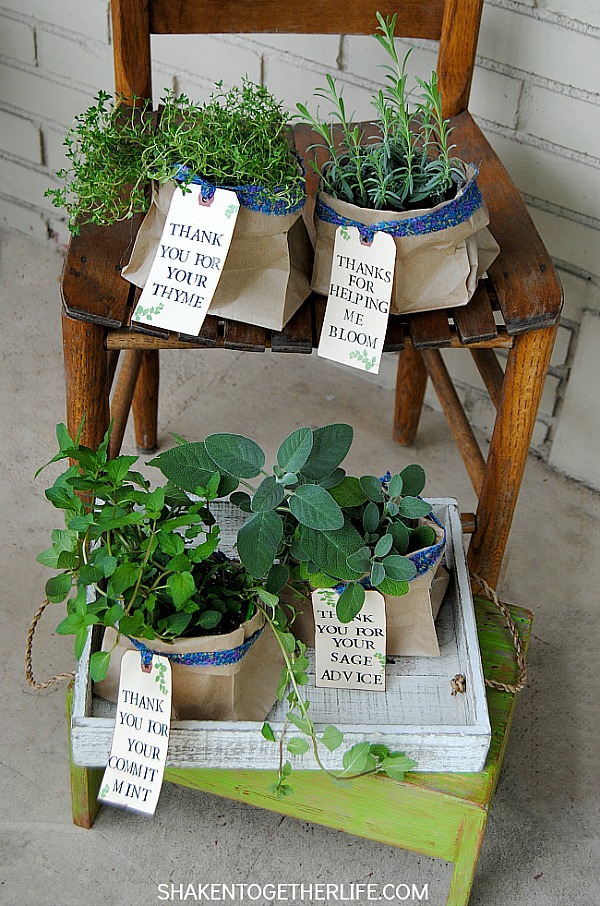 These little bags filled with herbs are so simple yet so fun. I love the rustic feel of them, and the cute little tags too. A Night Owl Blog shows you how to make them.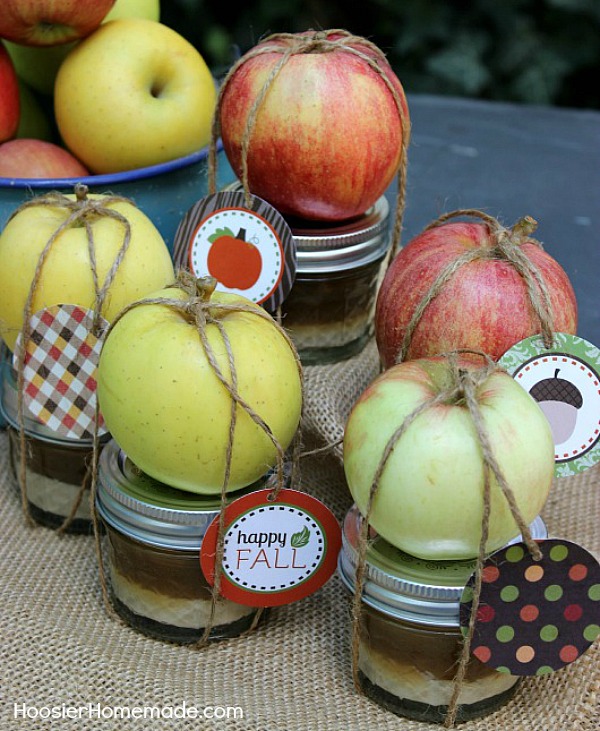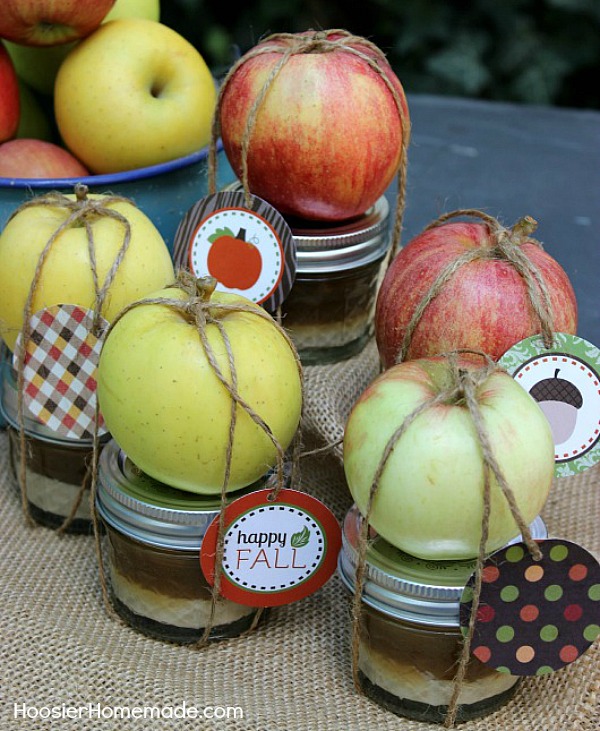 These jars filled with Caramel Apple Cream Cheese Dip are perfect for all the teachers and staff at the school. Change out the printable tags to the Teacher Thank You Tags and you are set to go.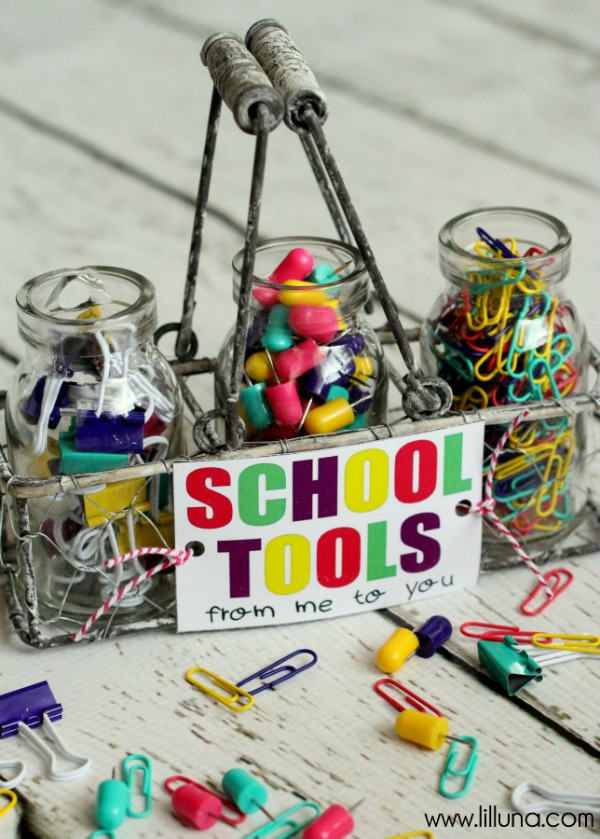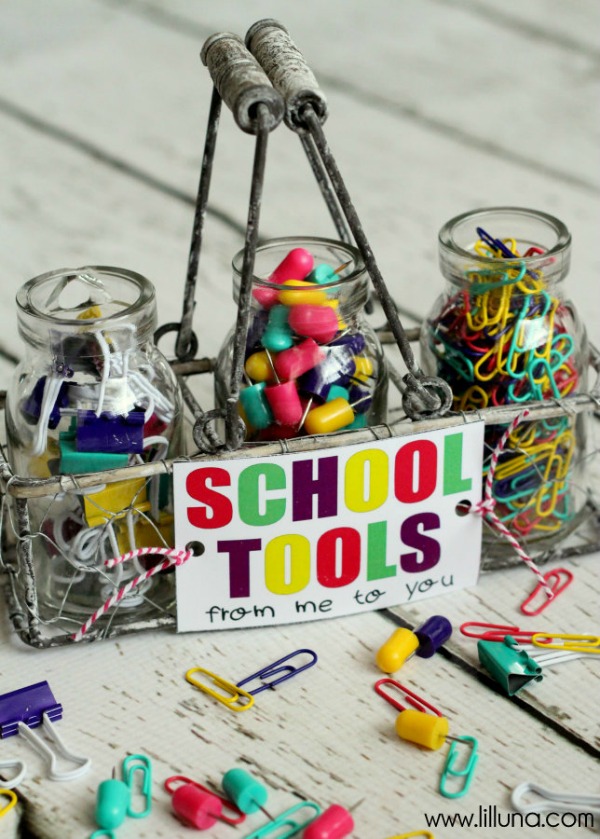 A jar caddy keeps school tools nicely organized and makes the perfect gift too! Fill with fun colored paper clips, push pins and more! Thanks to Lil' Luna for this cute idea!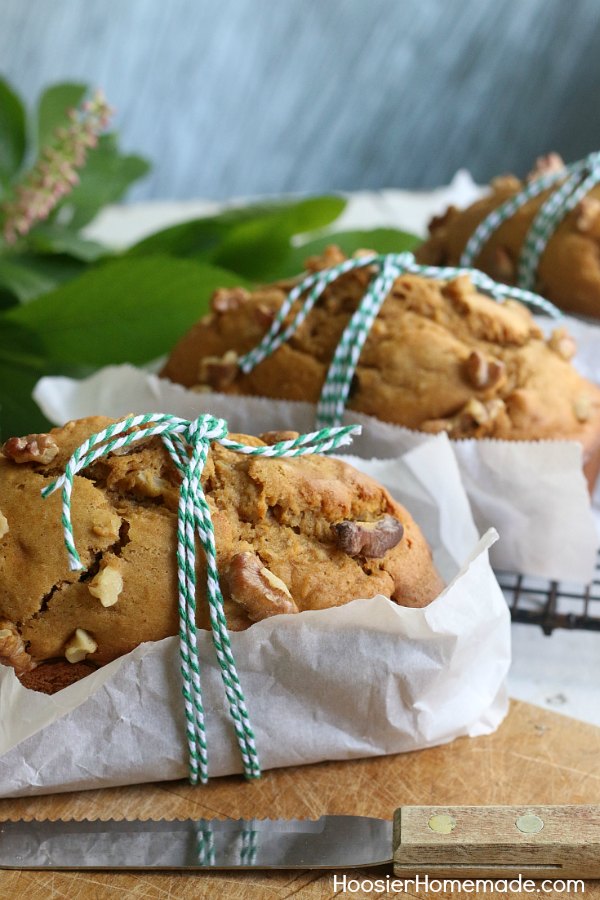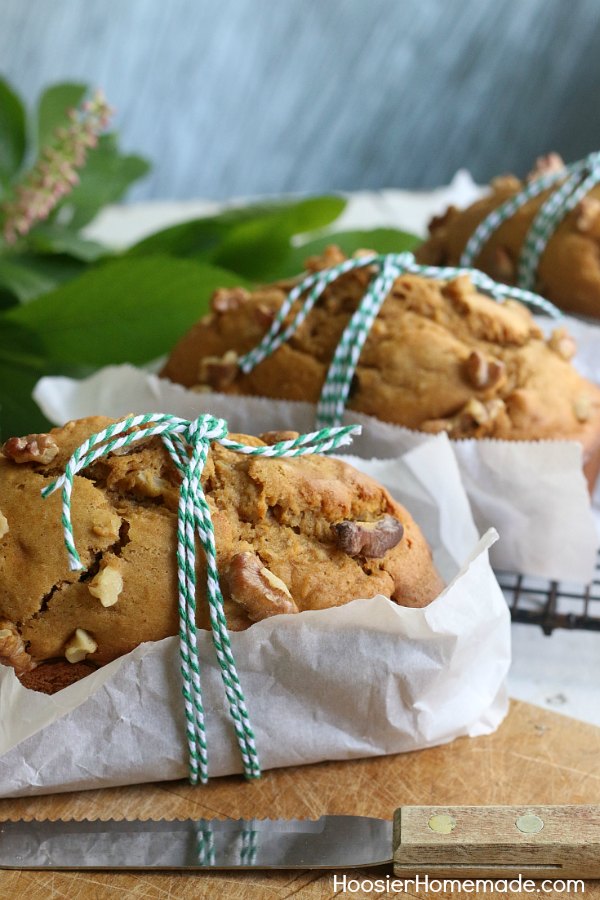 I never met a teacher – or anyone else for that matter – that didn't love receiving a load of freshly baked bread as a gift. Wrap them in parchment paper and tie with twine for an easy gift. Here are four of my favorite quick bread recipes – Sweet Potato Bread – Banana Bread – Zucchini Bread – Blueberry Orange Bread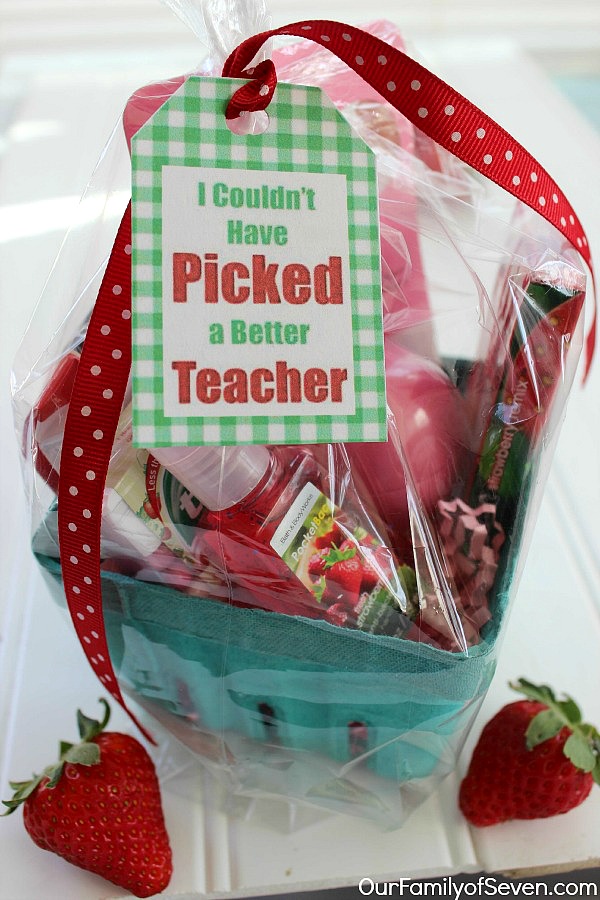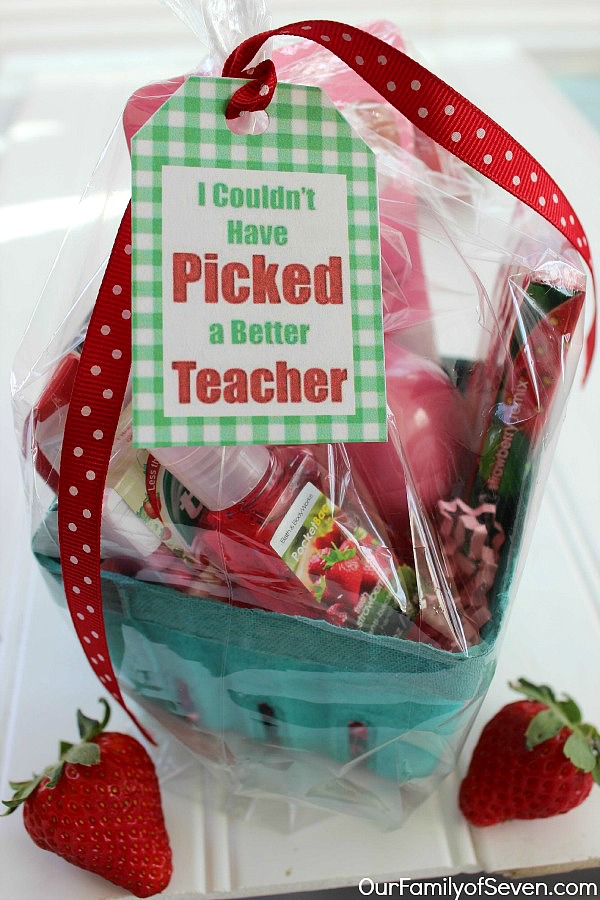 This Berry Basket Teacher Gift from Our Family of Seven is so sweet. I love hunting the store, like a scavenger hunt, to find all the same color gifts. And adding them to a strawberry basket is super cute.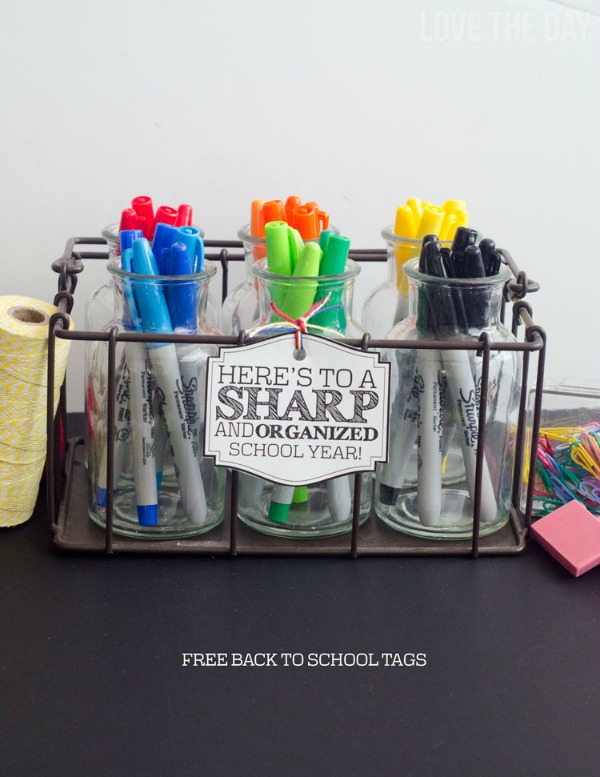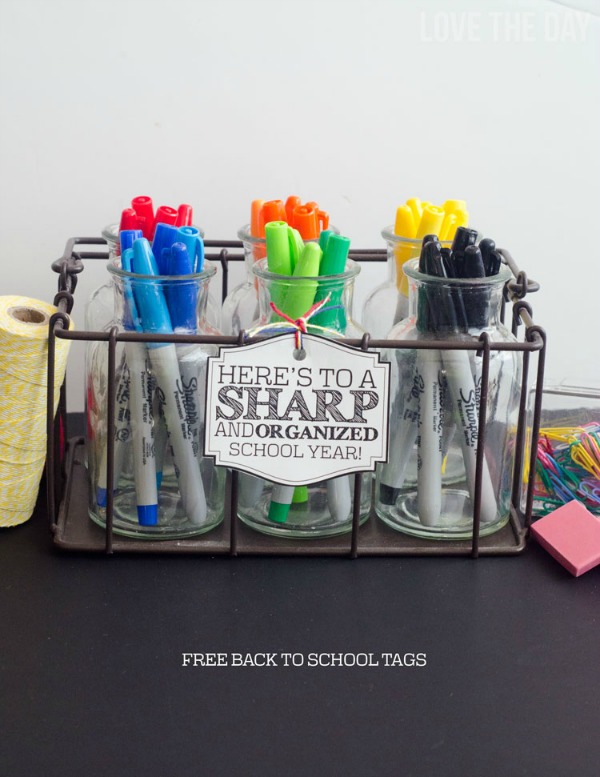 Okay I admit – I'm a Sharpie addict! I have a ton of markers and love using them for everything. Recently while school shopping, I came across some new ones, and my son even said "do you think you really need another Sharpie?" Why yes – yes I do.
This cute caddy is filled with Sharpies for the teacher and comes with free back to school tags too! Thanks to Love the Day for sharing!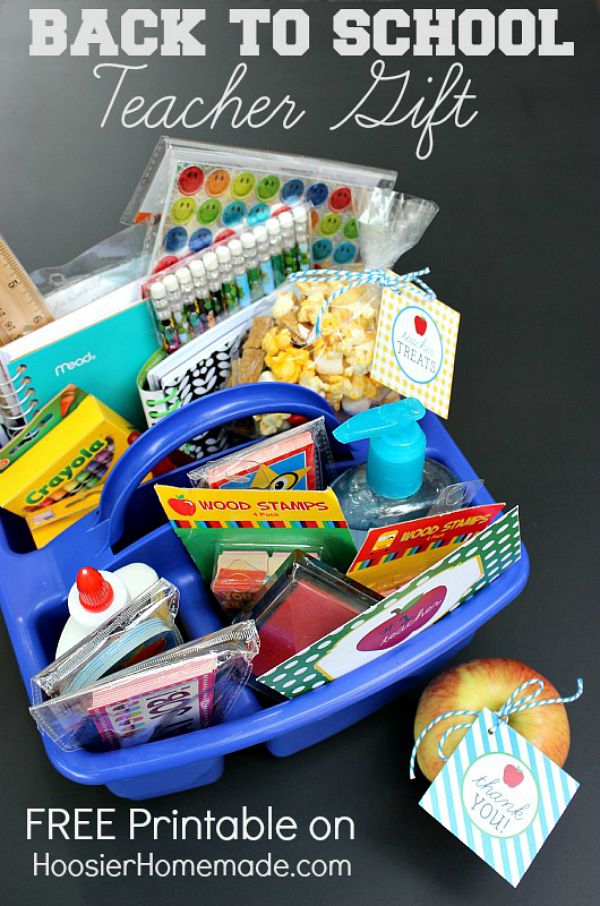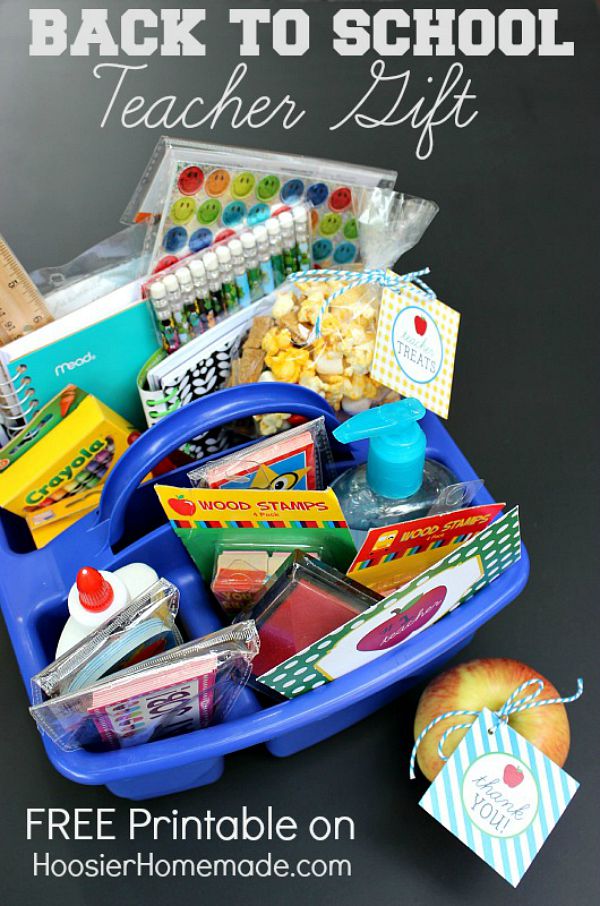 Like I mentioned earlier, a teacher can never have enough supplies. Fill a bucket with crayons, glue, stamps and more for the teacher. This teacher gift is also nice throughout the year, not just at the beginning. Don't forget the free printable tags too!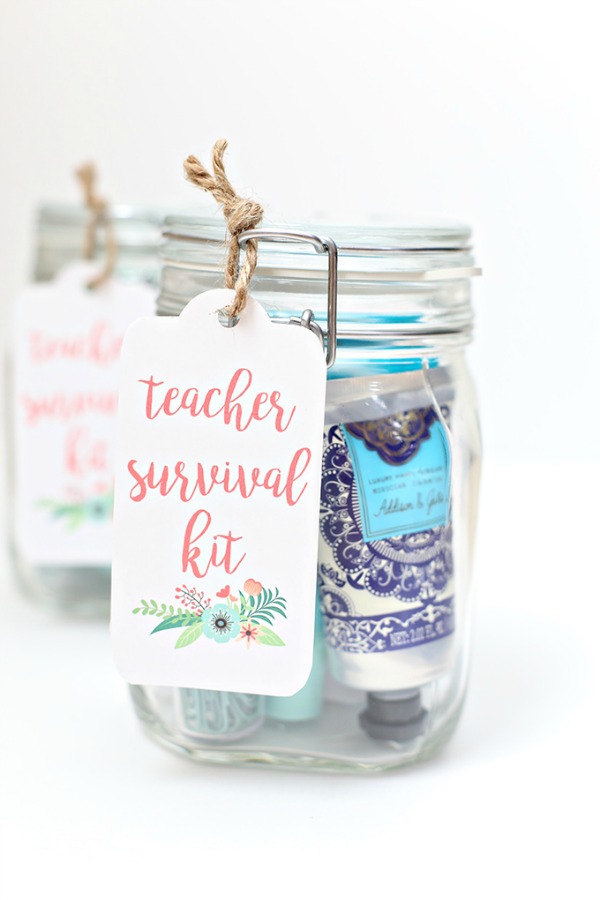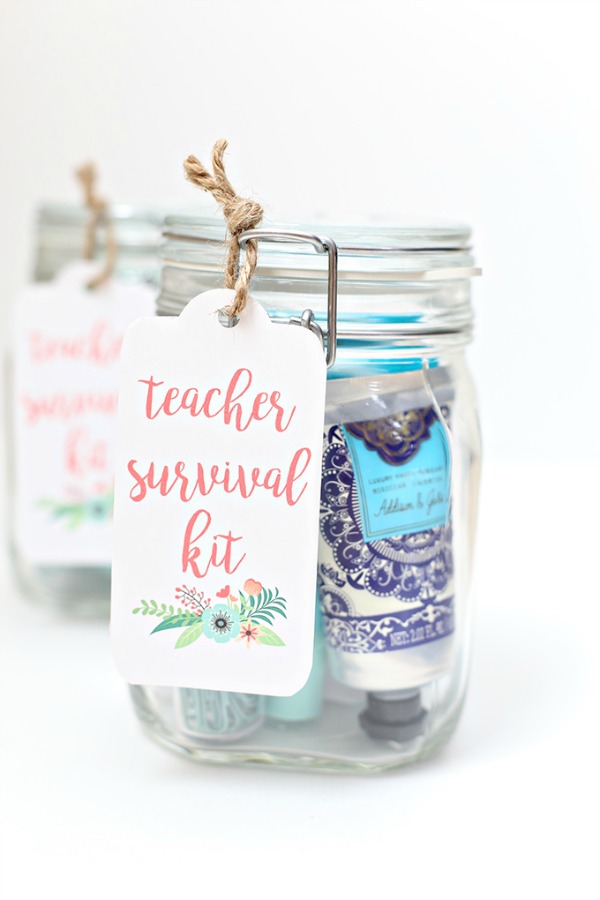 Teachers need a little help during the day too! This Survival Kit from See Vanessa Craft is filled with small items that are often forgotten like Band-Aids, Tissues, Shout Wipes and more! Grab the free printable tags too!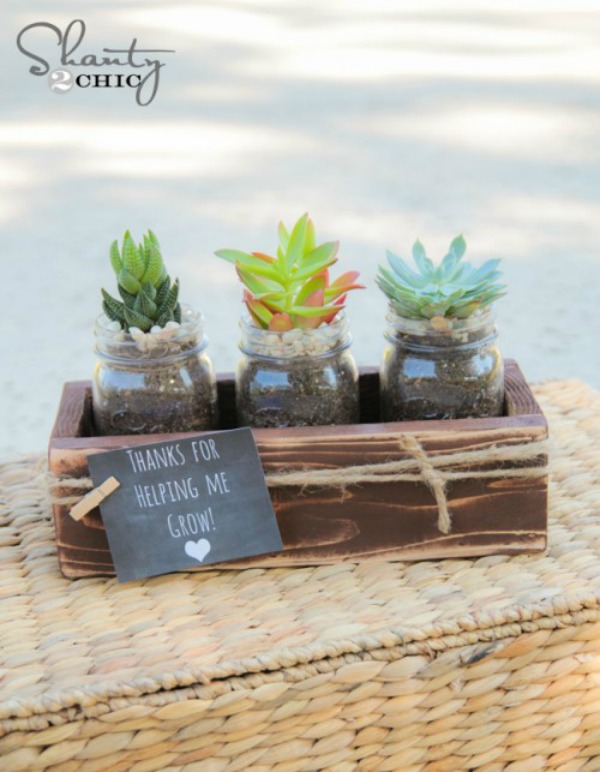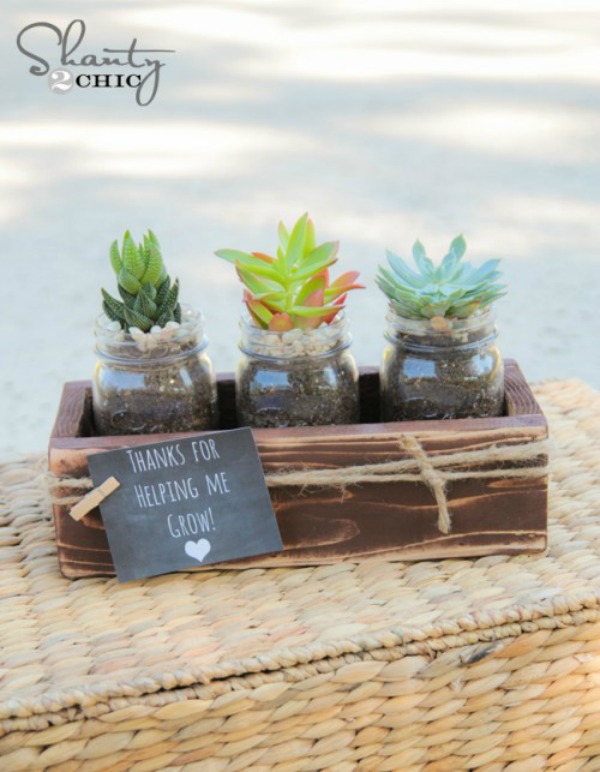 Wouldn't these succulent jars look so pretty on the teacher's desk? They are super easy to make and would be perfect anytime of the year, even as Christmas gifts. Thanks to Shanty 2 Chic for sharing!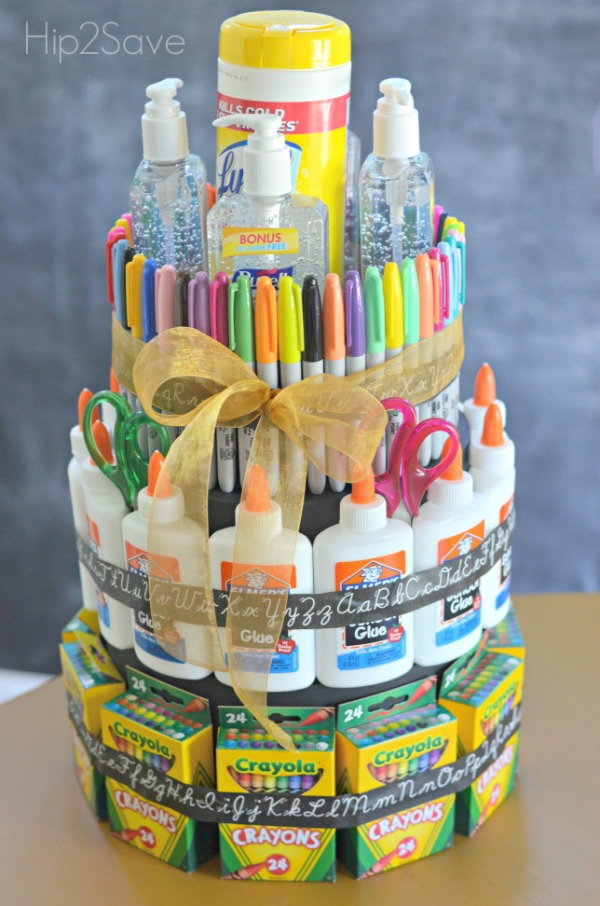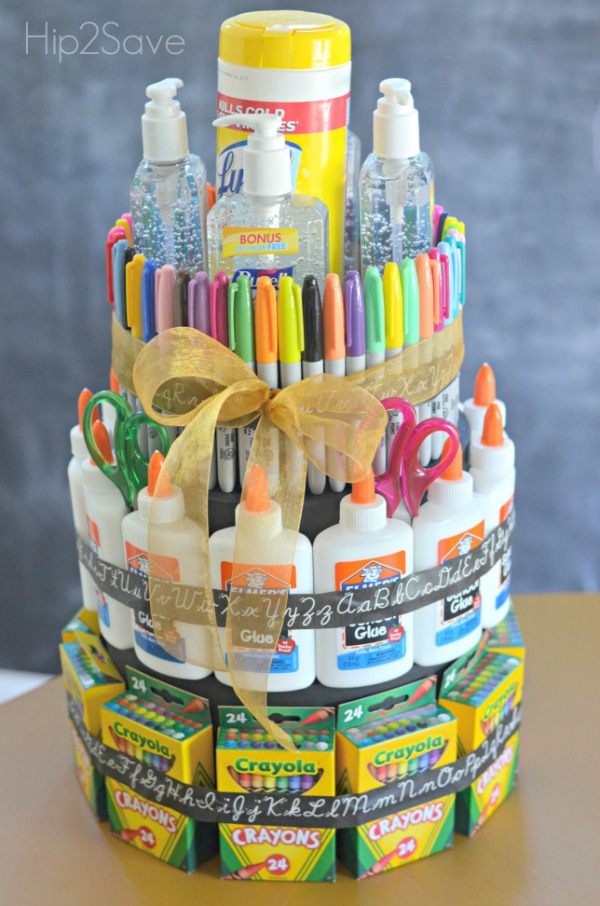 Now this is the ultimate school supply gift for any teacher. How fun! I don't think I would want to take it apart. Thanks to Hip 2 Save for sharing!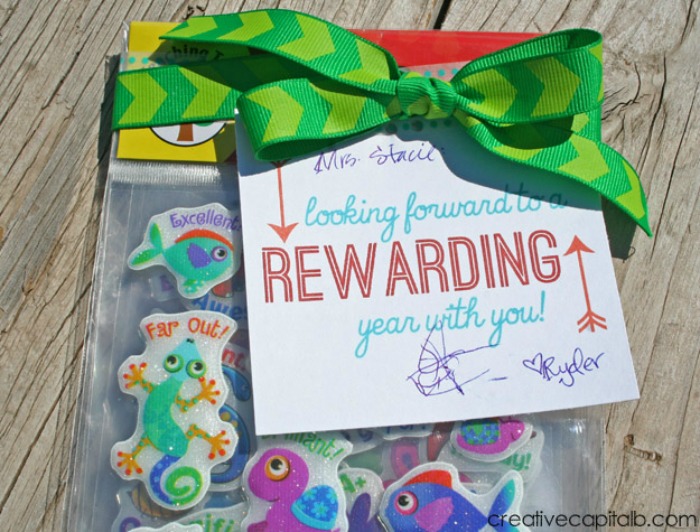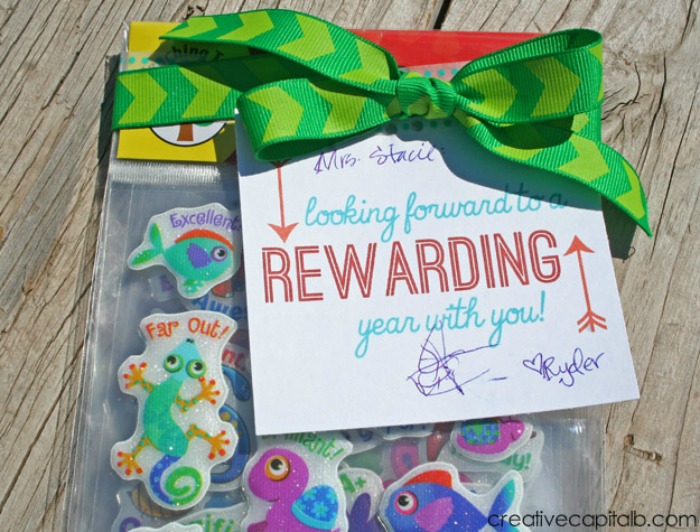 These stickers make a great gift- perfect for Pre-School and younger grade teachers. Wrap a bundle and add the printable tag. Thanks to Creative Capital B for sharing.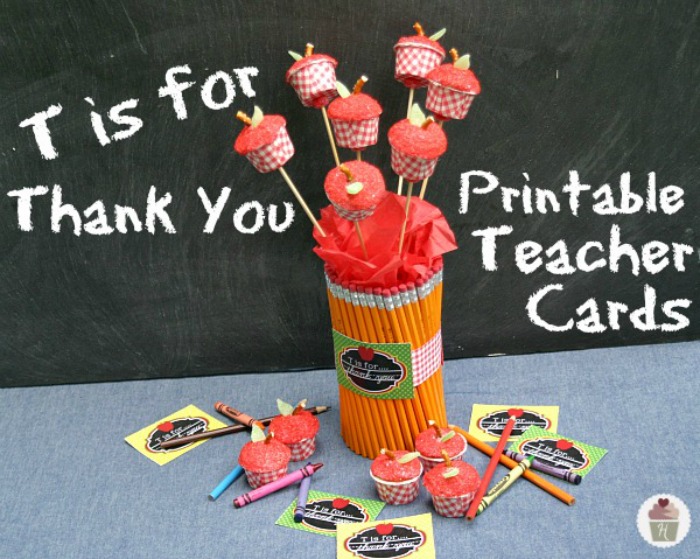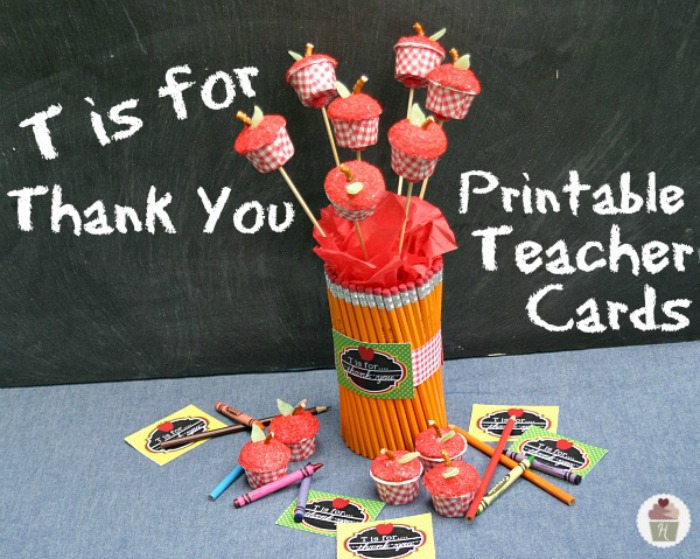 Tell the teacher "Thank You" with these printable tags and cute little apple cupcake pops! And don't forget the pencil vase, it's super easy and cute.