Frozen Strawberry Lemonade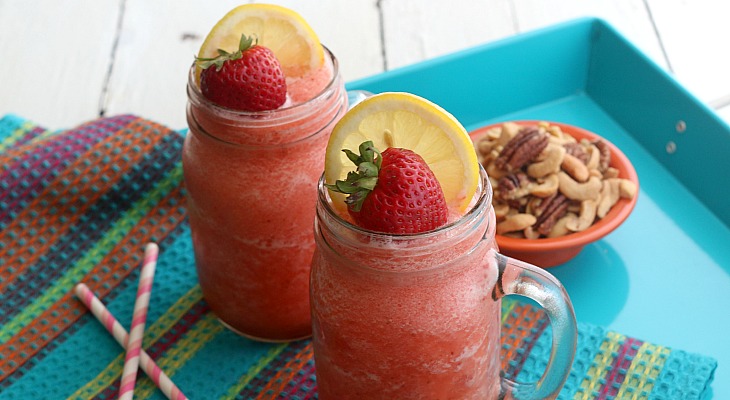 This summer has been so hot. Just this week we had heat indexes in the 100's! All of that hot weather made me want an icy drink. This frozen strawberry lemonade hits the spot, and is my favorite way to beat the heat!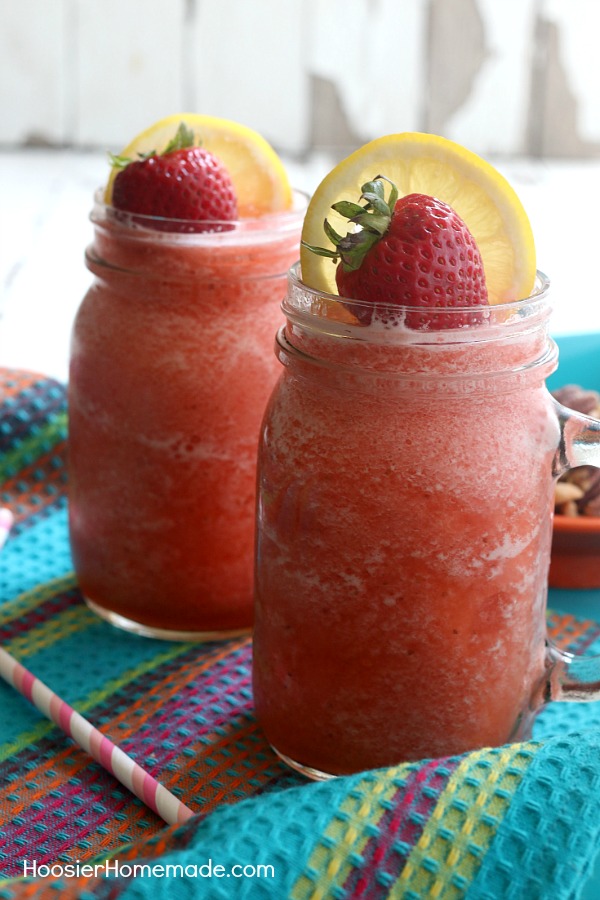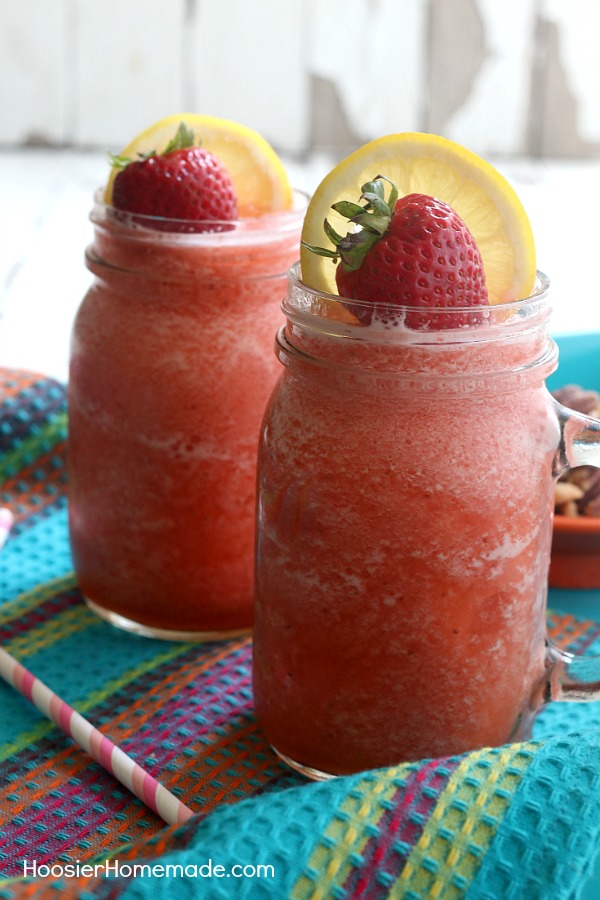 Earlier this summer, I made skinny strawberry lemonade and it was so good! But with the heat, I was craving a frozen version! I altered the recipe a tiny bit, added a lot of ice, and made the perfect summer lemonade.
I have two favorite parts about this recipe. One: fresh fruit! Fresh lemons and strawberries give this lemonade the best homemade taste- and make it so much better than anything you can buy in the store. Heating up the strawberries on the stove with a little sugar really brings out the natural flavors and makes this drink so summery! It is the perfect pick me up to sip on the porch in the afternoons before getting back to work!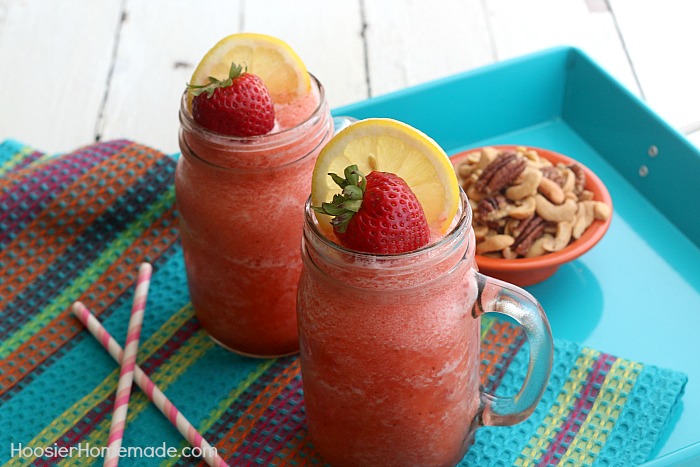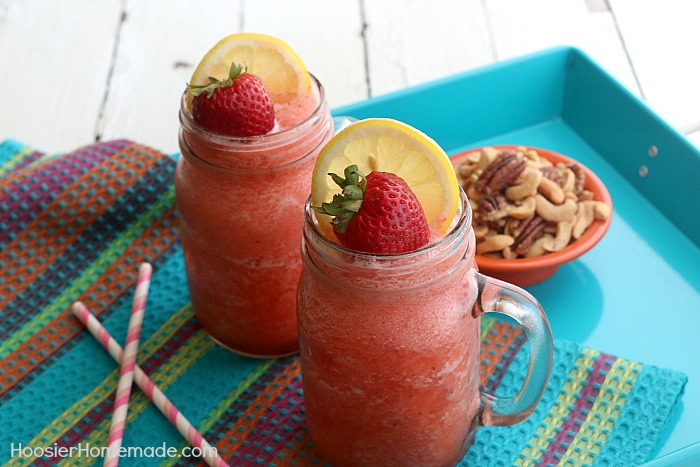 My other favorite part of the frozen strawberry lemonade? Using Truvia instead of sugar to make the simple syrup. This one simple switch makes this a low sugar (and lower calorie) treat- while still having the sweetness! It makes me feel better about making it, oh… every afternoon!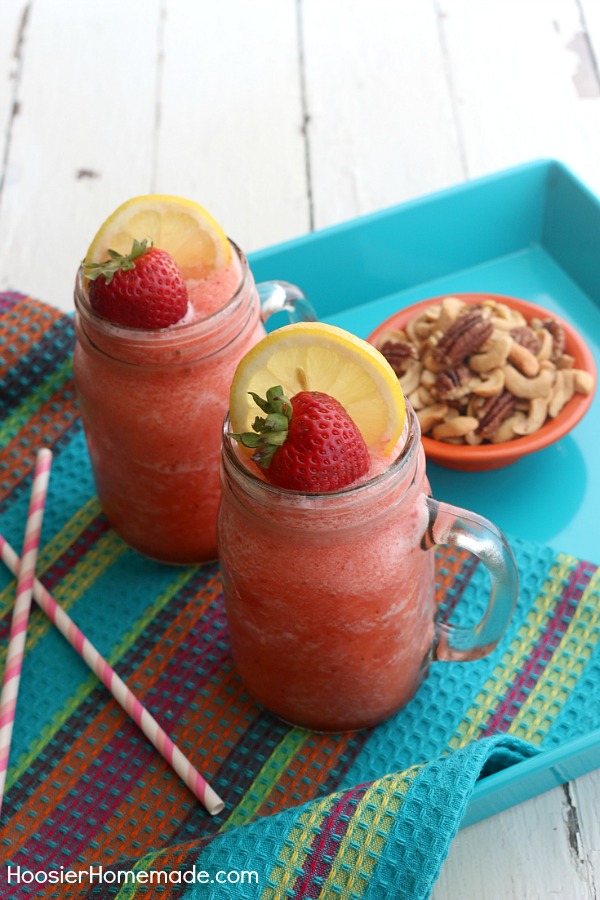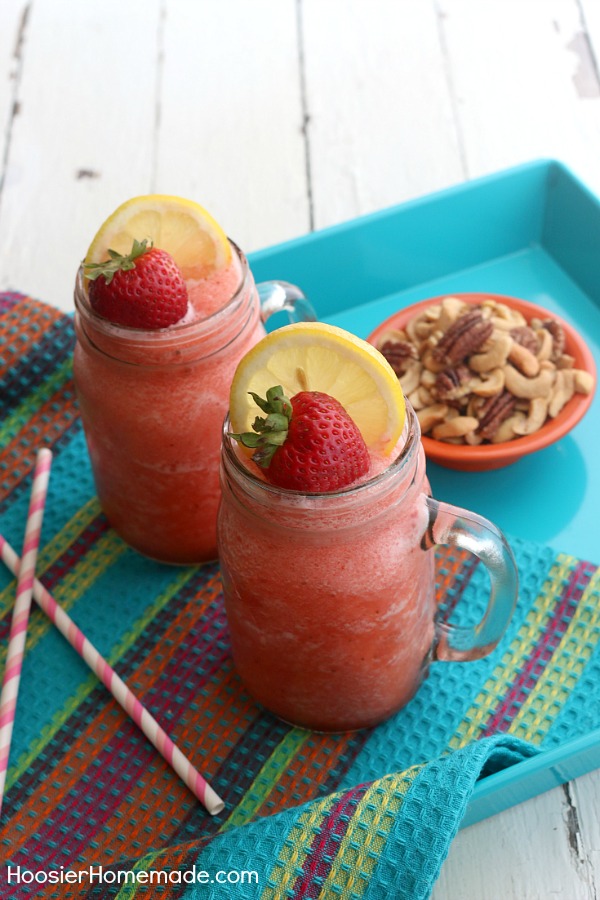 Another tip? After you make a batch, put the unused portion in the freezer. When you want another cup, let thaw for a few minutes and blend it back up!
What is your favorite summer treat? Do you like frozen drinks? A lot of ice? Popsicles?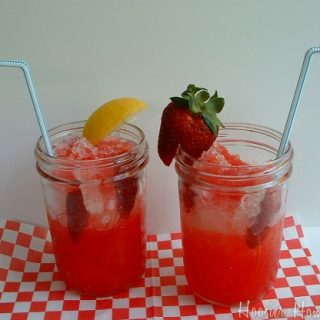 Frozen Strawberry Lemonade
Frozen Strawberry Lemonade from HoosierHomemade.com is a great make-ahead treat for your summer picnic!
Ingredients
Strawberry
2 cups ice water
4 cups ice
2/3 cup sugar or Splenda
1 pack strawberry drink mix
Lemonade
2 cups ice water
4 cups ice
2/3 cup sugar or Splenda
1 pack lemonade drink mix
Instructions
In a blender, combine all ingredients for Frozen Strawberry Drink, blend until all ice is chopped finely and mixed well.
Repeat for Frozen Lemonade.
Layer Frozen Drinks in a mason jar.
Add fresh strawberries and a slice of lemon if desired.