The very best thing about apple season is enjoying them with caramel. In my opinion, it's one of the best flavor combinations ever, whether you add them to cookies or enjoy dipping them. Caramel Apple Cream Cheese Dip is a delicious treat to make for neighbors, friends or family, and also makes an adorable gift.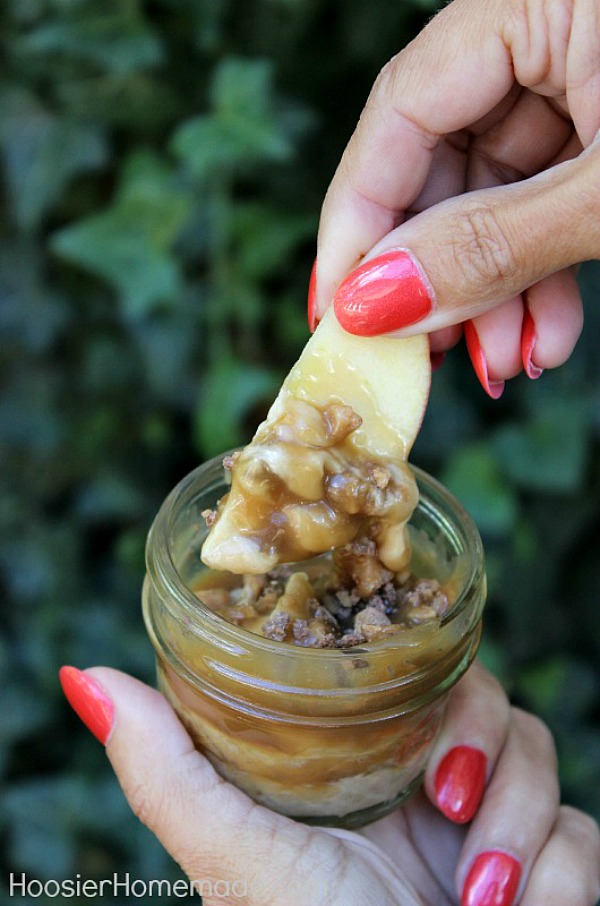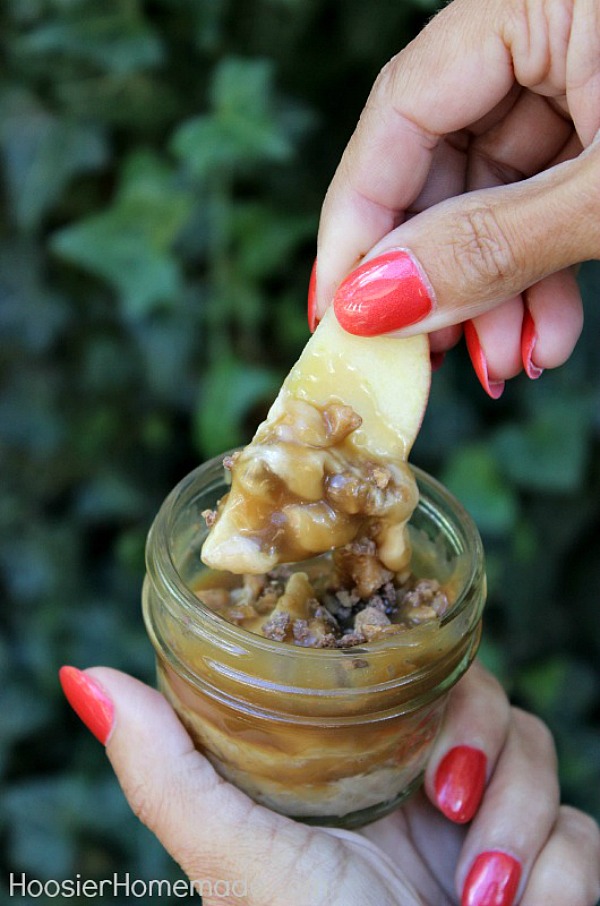 A creamy layer of cream cheese mixed with caramel, brown sugar and cinnamon, topped with more caramel and sprinkled with crushed candy bars. These cute little jars filled with this dip and given along with an apple are sure to make you the most popular person on the block!
Creating these cute little treats is super easy and the printable Fall toppers are the perfect addition. But you could also certainly just make the dip, layer it in a deep dish and serve with sliced apples along side.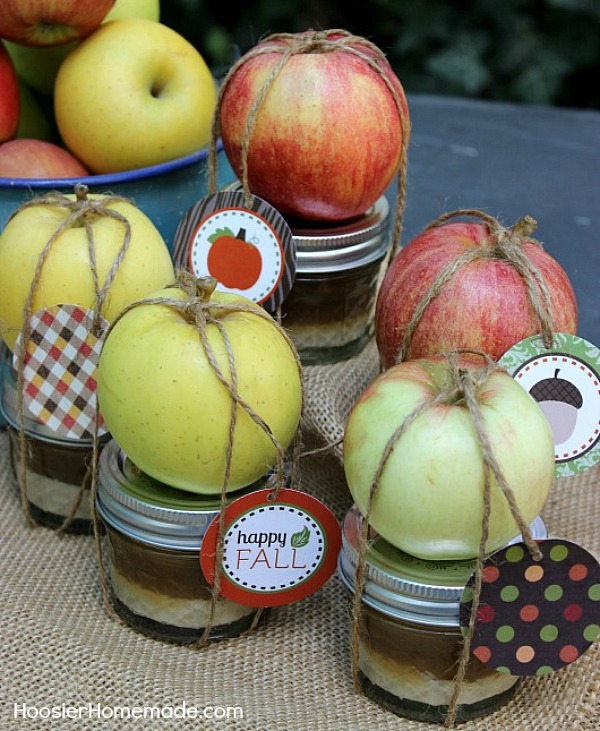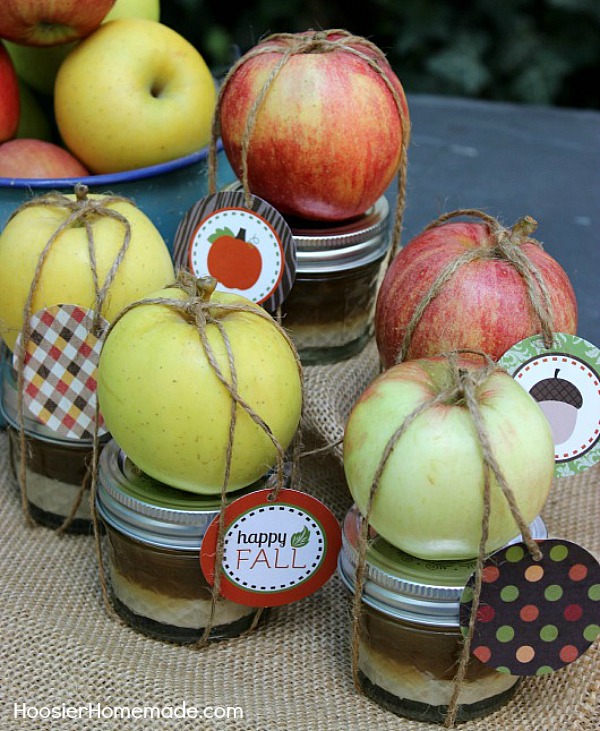 Honestly my friends, you must try this recipe. I'm not a huge cream cheese fan unless it's mixed heavily with other ingredients, but the addition of the caramel here is just perfect. And the crunch from the candy bar bits is delicious!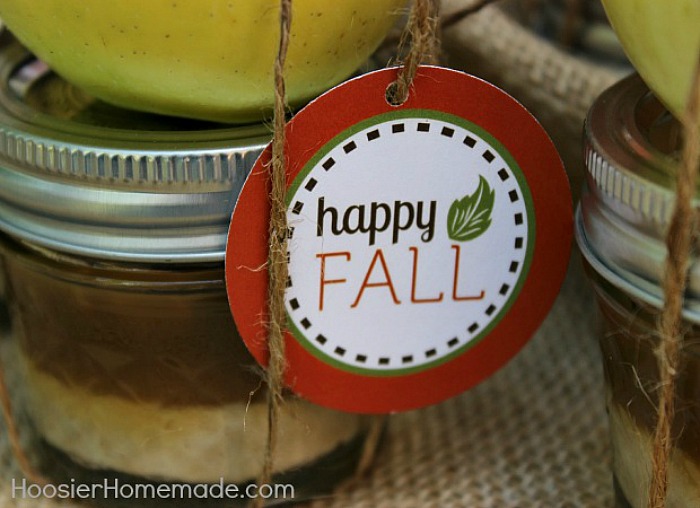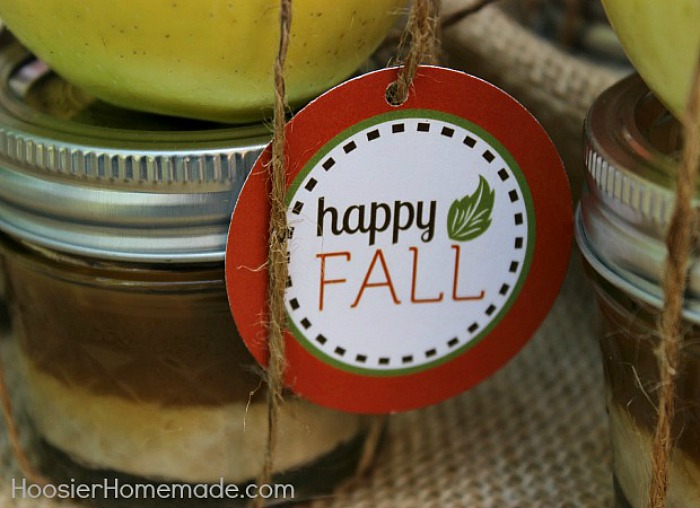 I spotted this idea via Pinterest on Jo and Sue's blog, and just loved how they served up this delicious dip. I did change their recipe some by making by using my favorite recipe for Caramel Sauce.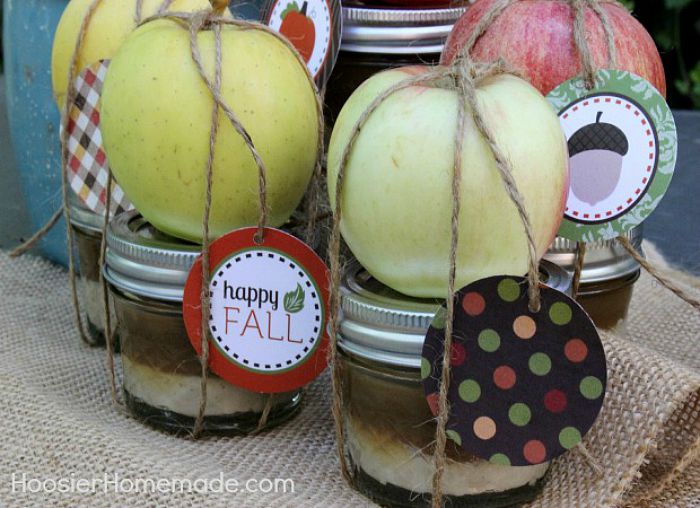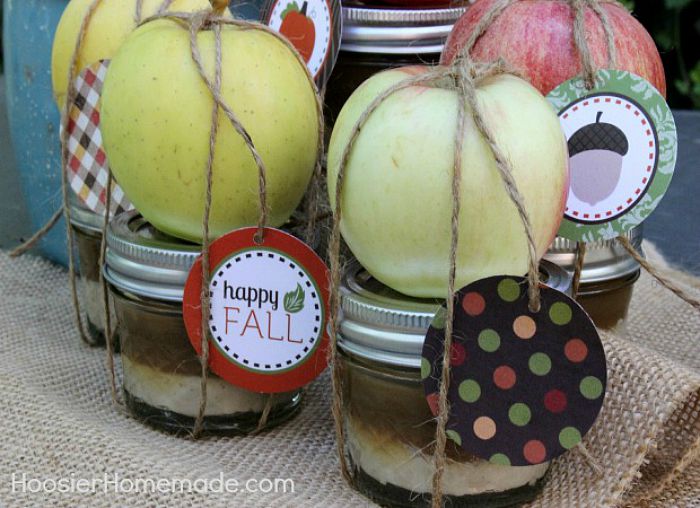 I think the addition of twine and the Fall toppers is so fun. Here's what I used…
Fall Gift Supplies
Twine or other small ribbon
Printable Fall Toppers – grab them below
Directions
Cut a long piece of twine, then tie a knot around the stem of the apple to secure the twine
Wrap around the bottom and crossing it to secure
Bring the twine back up around the jar and tie off leaving a few inches of twine
Print out the Fall toppers, cut with a round hole punch if desired, then punch a small hole for the twine to fit through, attach the topper
I found great Fall printed scrapbook paper at Hobby Lobby for the tags. I used 4 ounce Mason Jars, but any size will work.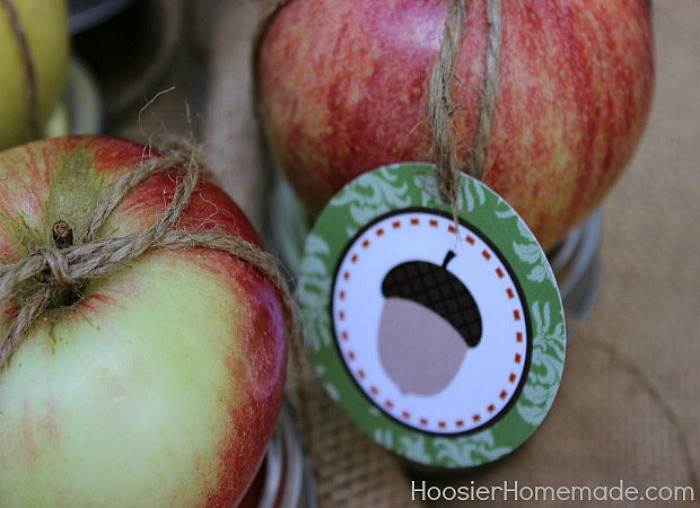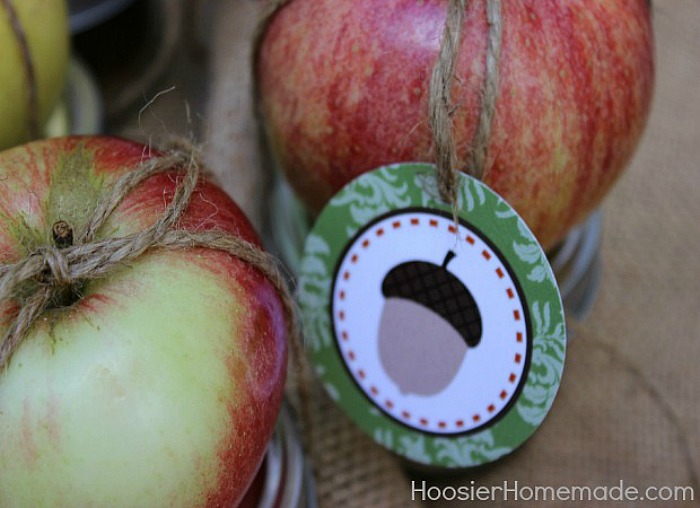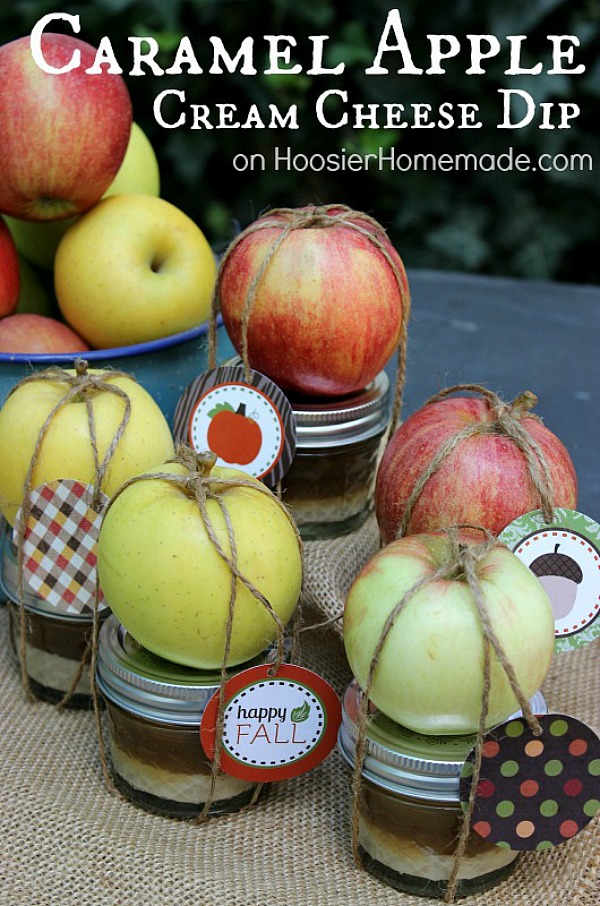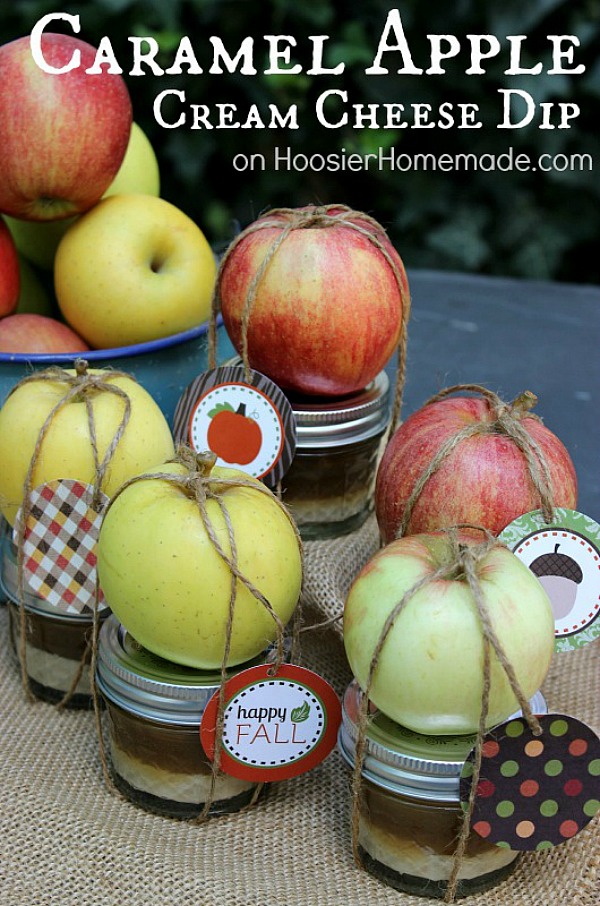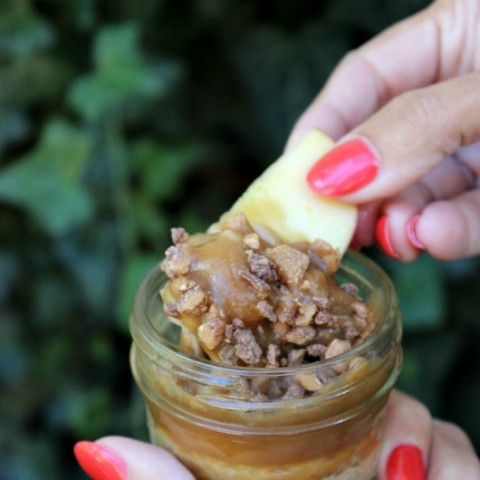 Caramel Apple Cream Cheese Dip
This Fall Treat is easy to put together and makes a GREAT gift too! FREE Printable Tags included with Recipe!
Ingredients
Cream Cheese Mixture
1 (8 oz) package cream cheese, softened
1/2 cup caramel sauce
1 tablespoon brown sugar
1 teaspoon cinnamon
Caramel Sauce
4 tablespoons butter
1 cup brown sugar, packed
1/2 cups heavy cream
Pinch of salt
1 tablespoon vanilla
1-2 tablespoon cornstarch {if needed for thickness}
Topping
Heath English Toffee Bits (found in the baking aisle) or chop a candy bar into small pieces
Instructions
Caramel Sauce
In a small saucepan, combine butter, brown sugar, salt and cream
Bring to a boil and cook for 5-7 minutes or until thickened
Add cornstarch a little at a time and whisk in completely until desired consistency
Remove from heat and stir in vanilla
Set aside to cool slightly, about 5 minutes
Cream Cheese Mixture
In a medium bowl, combine all ingredients and beat until smooth
Assembly for Jars
Place cream cheese mixture in a decorator bag or resealable bag to make it easier to fill jars. I used 4 oz. Mason Jars, but any size will work.
Place caramel sauce in a squeeze bottle to make it easier to fill jars
Fill jar about 1/3 full with cream cheese mixture, top with caramel sauce and sprinkle with toffee bits
Place lid on jar, add an apple and tie with twine if desired
Notes
You can also serve this by placing the cream cheese mixture in a deep dish, cover with caramel sauce and sprinkle with toffee bits
Printable Fall Cupcake Toppers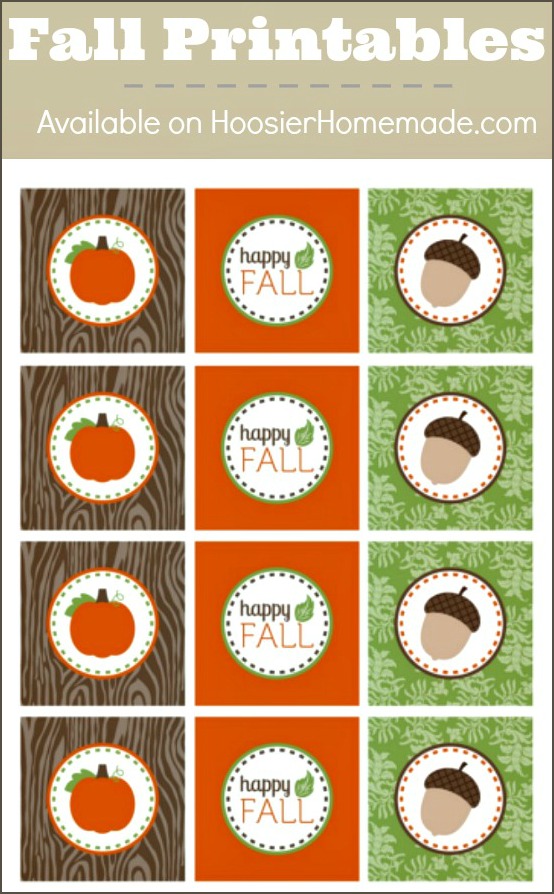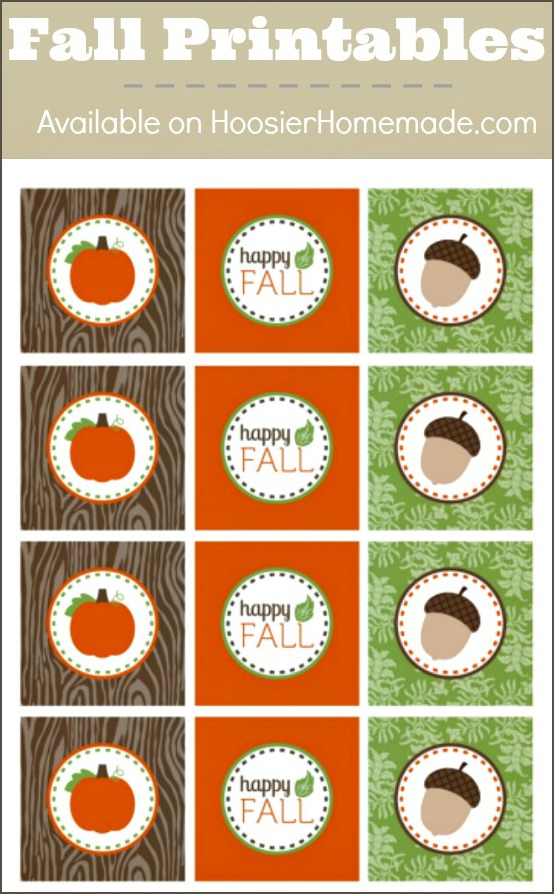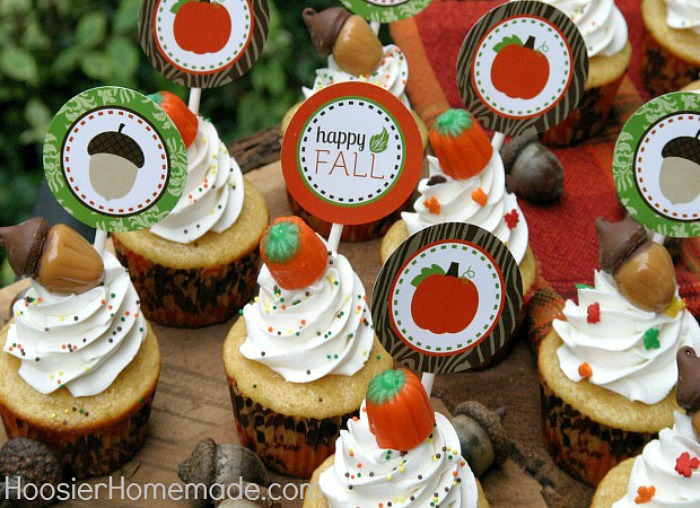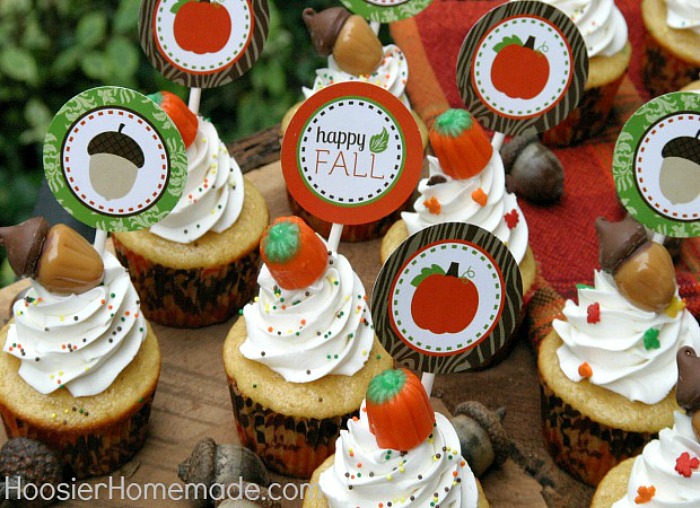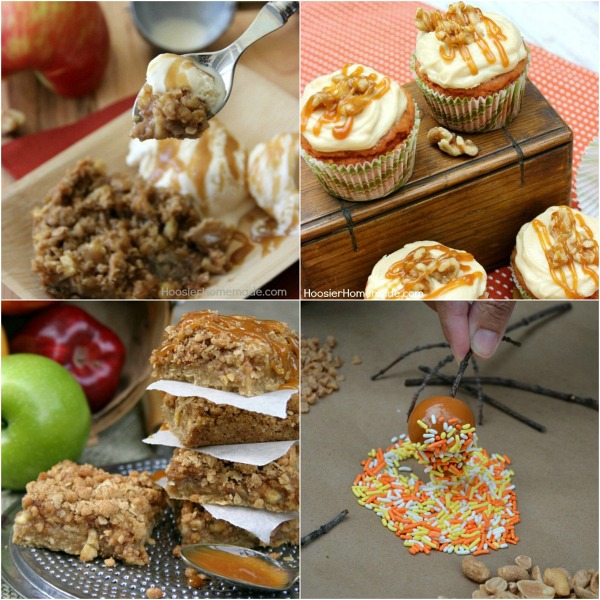 Love Caramel Apples? Here are some of my favorites…