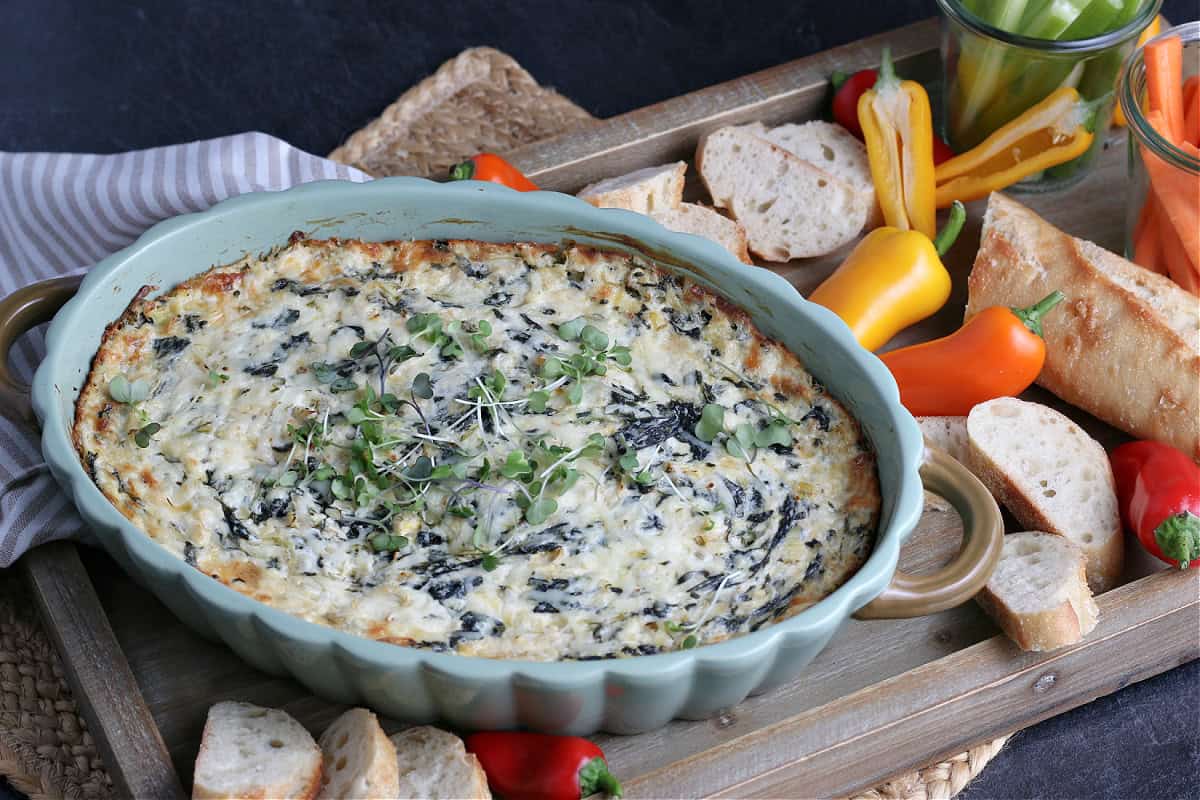 This recipe for Spinach Artichoke Dip is delightfully creamy and cheesy. It's a quick and easy appetizer to make for your next party or family get-together and tastes much better than store-bought. I promise you, this will be your go-to dip recipe again and again.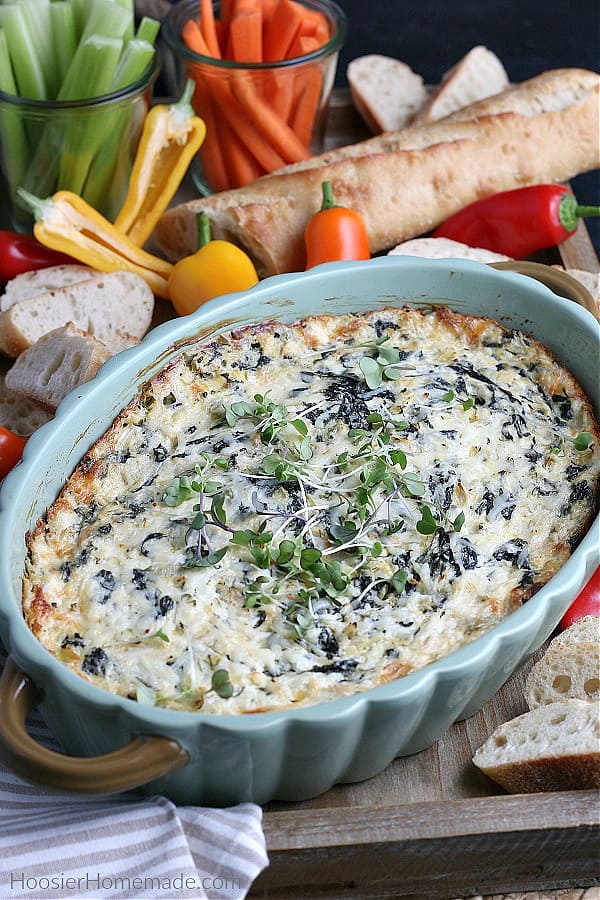 This Spinach Artichoke Dip is a savory treat that can be served as an appetizer, or even a full on party treat. You'd better be careful though; this dip is so good that your appetizer may very well turn into a full on meal. It's just so good that you'll have a hard time pulling yourself away from it!
The best part about this spinach artichoke dip is that there's almost no prep needed before mixing and baking! Saving time makes it great for parties or other special occasions. It's so good that you'll want to make it just because.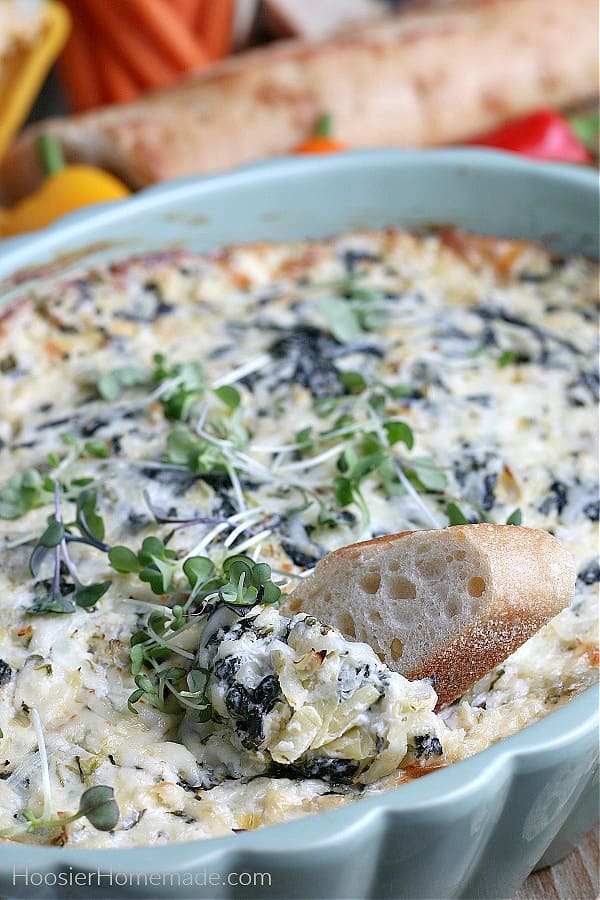 This spinach artichoke dip is wonderful for parties. You can make it ahead of time, helping you save time that can be better spent preparing for the party at hand. Once it's party time, just pop the dip in the oven for a small bit and you've got your self a mighty fine dip.
So what's the best way to get that warm, gooey consistency we talked about earlier? After testing out some methods, like stove top cooking, we've landed on baking as the best way to warm up this Artichoke and Spinach Dip Recipe. It's super easy: just pop the dip in the oven, and that's it! No need to tend to it, stirring every few minutes or so. Just let the oven do the work for you. Soon you'll have a nice, warm dip ready for the whole family to enjoy.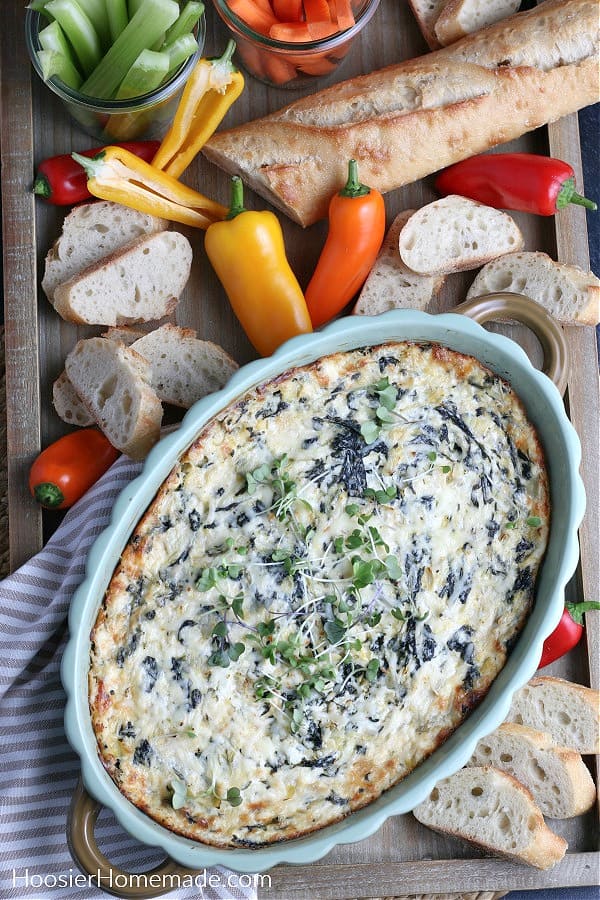 Tips on How to Make Spinach Artichoke Dip
Serving: The sky is the limit when it comes to what to serve with the Spinach & Artichoke Dip. It really depends on what your family or friends like.
I really like creating a charcuterie type board with the Spinach & Artichoke Dip and dippers.
Here are a few ideas:
Chips – what is the best chip for spinach dip? We enjoy this dip with tortilla chips, any kind are fine but Homemade Tortilla Chips are a favorite and easy to make.
Bread – a nice crusty loaf of bread, sliced thinly is delicious.
Vegetables – celery and carrot sticks are always a favorite, but really any vegetable you like that
What is spinach artichoke dip made of?
The creaminess of the dip comes from cream cheese, sour cream, mayonnaise and two kinds of cheese. Then flavor from garlic and a bit of salt.
And the stars of the dip, spinach and artichoke hearts.
All of the ingredients are very easy to find, many of them are likely in your kitchen right now. I always have mayonnaise, sour cream, garlic, and all sorts of cheeses in mine. Mostly because they're some of my favorite ingredients to work with.
Is Spinach Dip supposed to be Hot or Cold?
There are two different ways to enjoy spinach dip, the cold Knorr Spinach Dip is a favorite of our family, served with a big loaf of Hawaiian bread.
And then the hot version is this Spinach Artichoke Dip Recipe.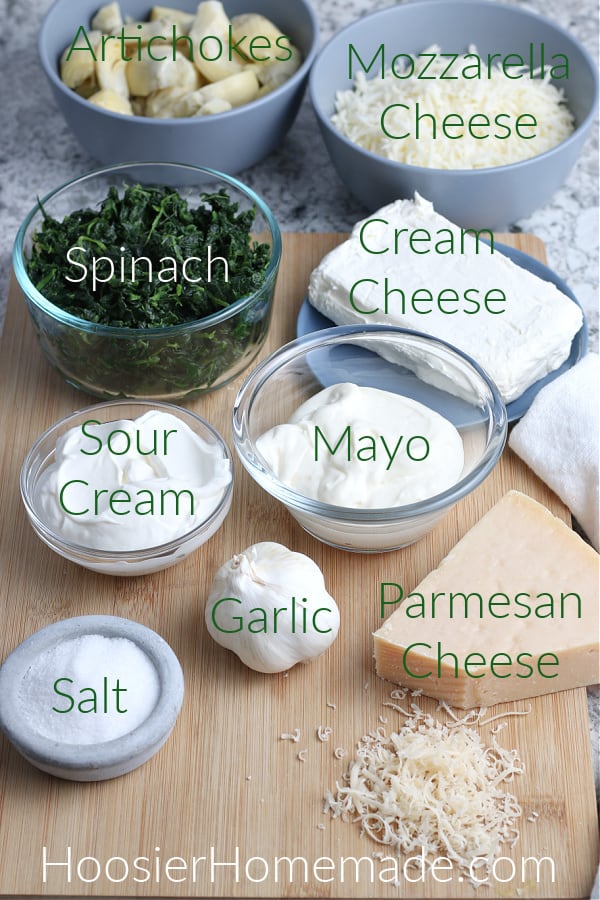 Ingredients Need to Make Spinach Artichoke Dip
cream cheese, softened
mayonnaise
sour cream
garlic, minced finely
Parmesan cheese, freshly grated
Mozzarella cheese
Salt
Artichoke hearts, drained and chopped
Frozen spinach, thawed and excess water squeezed out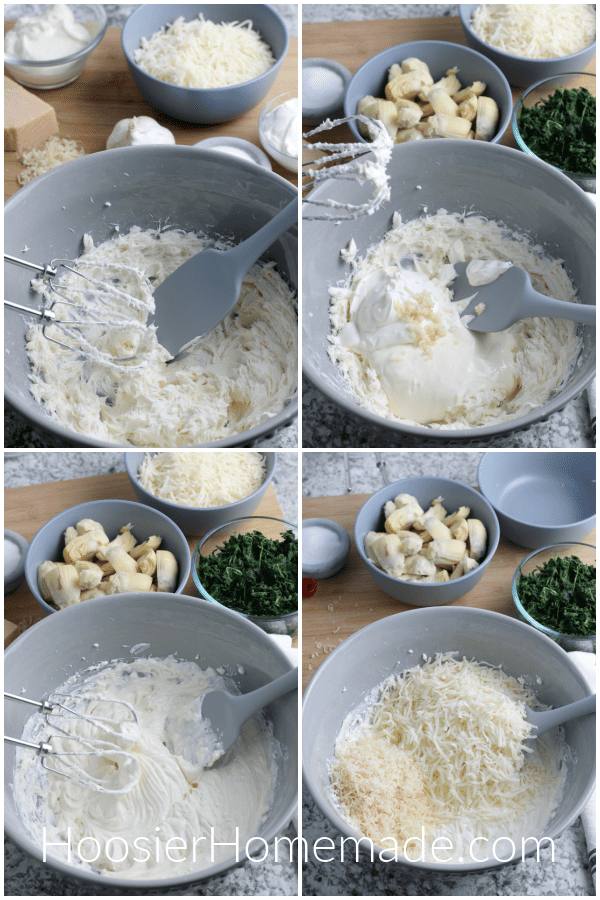 How to make this Easy Spinach Artichoke Dip Recipe
Begin by preheating the oven, then lightly coat baking dish with non-stick cooking spray
Next you will beat cream cheese until smooth
Then add the mayonnaise, sour cream and garlic and mix well
Now stir in Parmesan and Mozzarella cheeses, and salt until smooth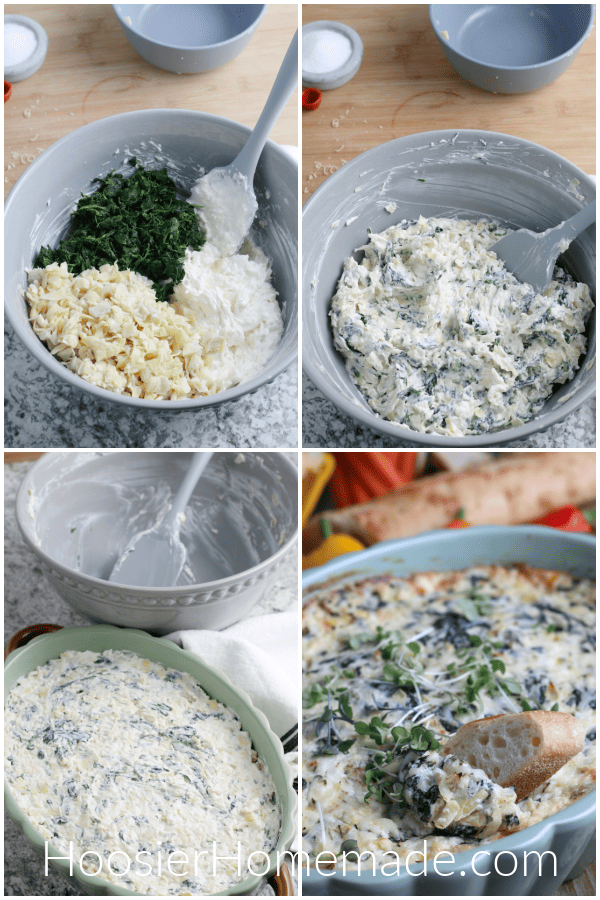 After the mixture is nice and creamy, fold in spinach and artichoke hearts until well combined
Spread into baking dish
And into the oven it goes
Serve immediately with chips, bread, crackers or cut vegetables
Spinach Artichoke Dip – Frequently Asked Questions
Can I use fresh spinach?
If you have fresh spinach or simply prefer it, you can use it instead of frozen. Use two cups of fresh spinach for the spinach mixture. I like using the frozen because it gives me more freedom to decide when I make the dip. With fresh produce, you have to make sure it is used before it spoils.
How do I store the leftovers?
Leftovers can be stored in the refrigerator for up to 4 days. Make sure you seal the storage container with plastic wrap in an airtight container to keep it freshest the longest.
Do I need fresh garlic cloves?
I don't feel like there is a real difference between fresh garlic cloves and a jar of minced garlic. Use about ½ tbsp of minced garlic in place of the 2 cloves.
Can I buy parmesan cheese already grated?
Nothing beats the flavor of freshly grated parmesan. However, you can use already grated parmesan if you wish, it will not change the cook time or texture of the dip.
How do I reheat the leftover dip?
The simplest way is to scoop out the portion you want into a microwave-safe bowl and heat for 1-2 minutes, stirring halfway through.
Can I make any substitutions?
One of the easiest substitutions is to swap the full-fat cream cheese for light cream cheese. There are a couple of other things in this recipe you can switch out based on personal preference. Some examples are greek yogurt instead of sour cream or shredded swiss or gruyere instead of mozzarella. Just make sure to keep the amounts the same for the rest of the ingredients you use.
What about jarred artichoke hearts instead of canned ones?
You can definitely do this. However, there are a couple of things to keep in mind. Jars of artichokes tend to be more costly and smaller. You will be spending more money to get the right about for this recipe. Also, the jarred artichokes tend to be seasoned. It will affect the flavor of the dip slightly.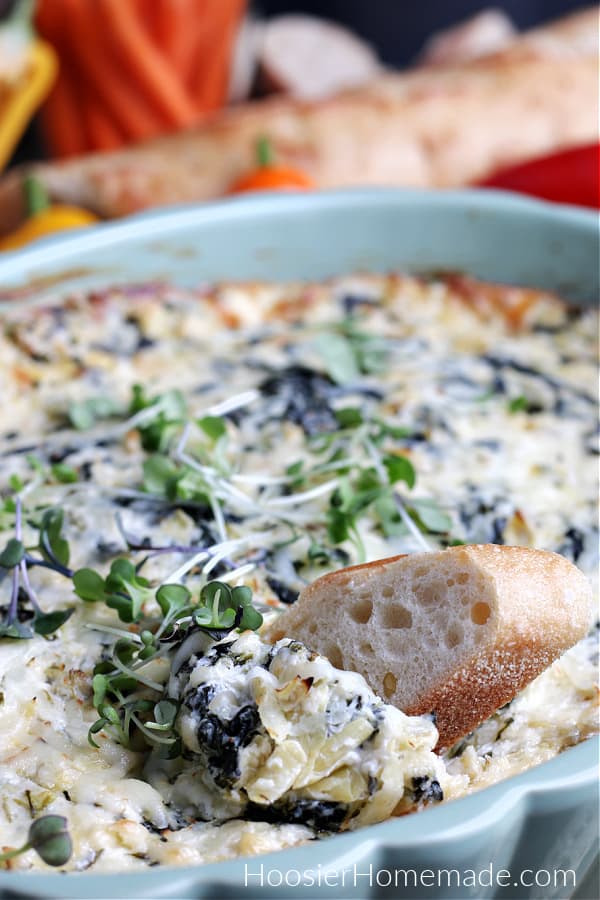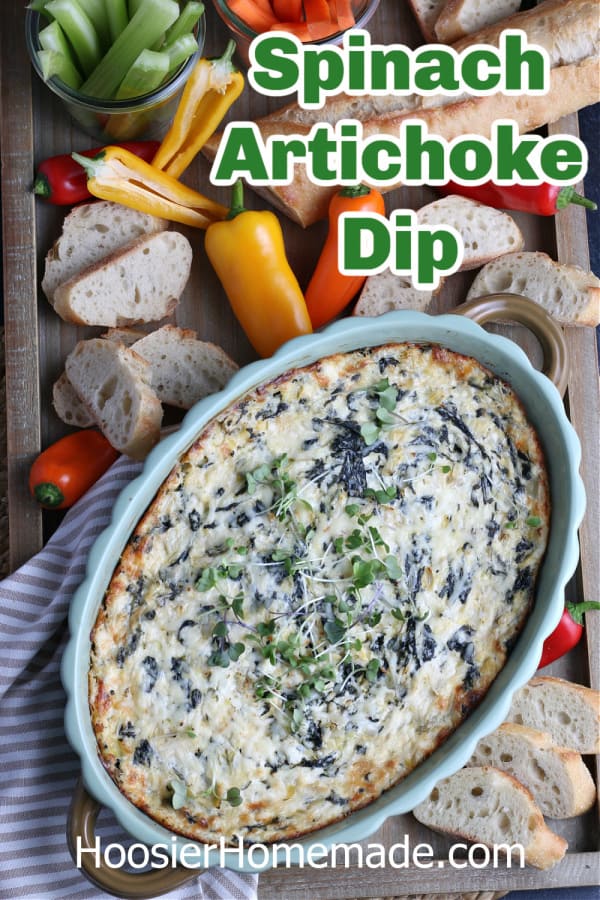 Looking for more appetizer recipes? We have some that you will LOVE!
Click on the Photo for the Recipe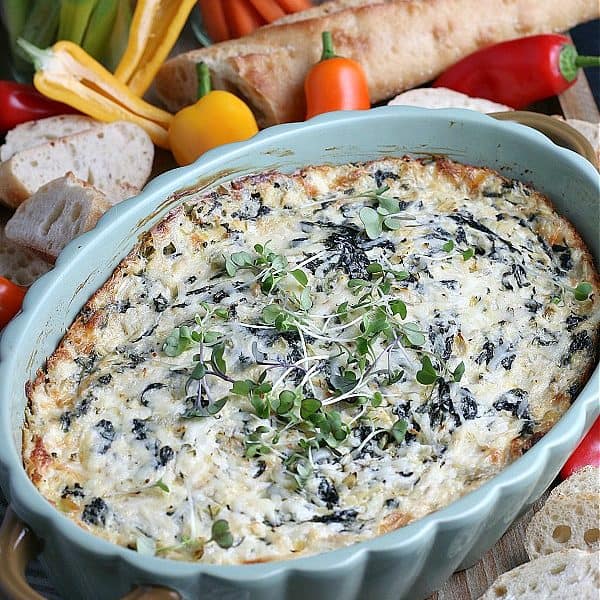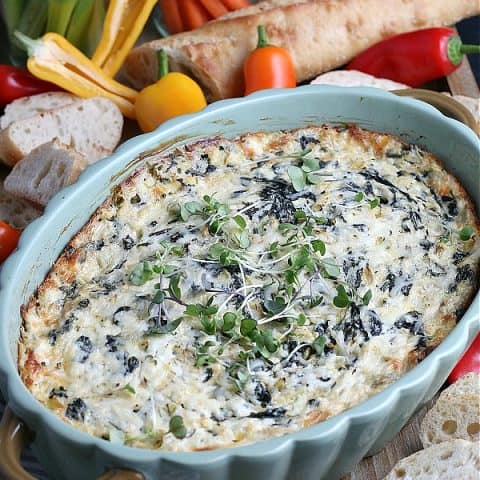 Spinach Artichoke Dip
This recipe for Spinach Artichoke Dip is delightfully creamy and cheesy. It's a quick and easy appetizer to make for your next party and tastes much better than store-bought
Ingredients
1 package (8 oz) cream cheese, softened
½ cup mayonnaise
½ cup sour cream
2 cloves garlic, minced finely
½ cup Parmesan cheese, freshly grated
½ cups Mozzarella cheese
¼ teaspoon salt
1 (14 oz) can artichoke hearts, drained and chopped
1 (10 oz) box frozen spinach, thawed and excess water squeezed out
Instructions
Preheat oven to 400 degrees F
Lightly coat a one quart dish with non-stick cooking spray
In a large bowl, beat cream cheese until smooth
Add mayonnaise, sour cream and garlic and mix well
Stir in Parmesan and Mozzarella cheeses, and salt until smooth
Fold in spinach and artichoke hearts until well combined
Spread into baking dish
Bake at 400 degrees for 20-25 minutes or until golden brown and bubbly
Serve immediately with bread, chips, crackers or cut vegetables
Store leftovers in refrigerator