Brownie 'n Berries Dessert Pizza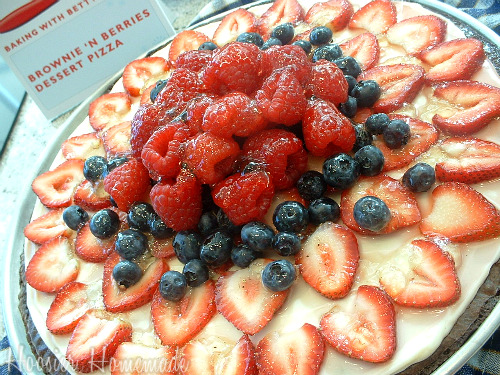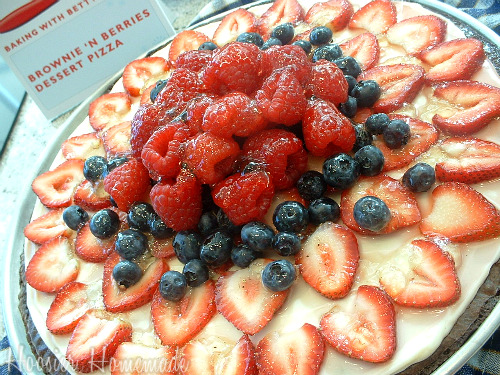 As you probably know, I just returned from an amazing trip to the Betty Crocker Kitchens, at General Mills Headquarters, in Minneapolis.
We had such a great time, I'll be sharing a lot more of my trip later this week, but for now, I wanted to share this yummy Brownie 'n Berries Dessert Pizza with you! Update! Read all about my trip and see the wonderful Betty Crocker Kitchens!
There are lots of variations of dessert pizza now, in fact hundreds on the Betty Crocker website alone. Dessert Pizzas are not only quick and easy, but they also look like you spent a lot of time on them. They are always a hit whenever I take one to share at a picnic or get-together of any kind.
One of the stations that we had was brownies, this Dessert Pizza, was a huge hit. I loved the chocolate and fruit together, they are always a good combination.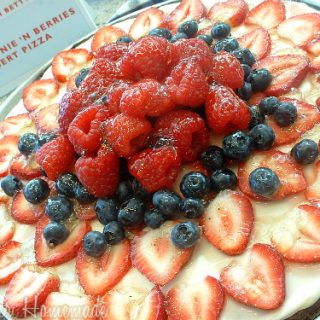 Brownie 'n Berries Dessert Pizza
Fruit and chocolate combine in this delicious Brownie 'n Berries Dessert Pizza on HoosierHomemade.com.
Ingredients
1 box Betty Crocker Original Supreme Brownie Mix
Water (according to directions on the box)
Vegetable Oil (according to directions on the box)
Egg (according to directions on the box)
1 package (8 oz) cream cheese, softened
1/3 cup sugar
1/2 teaspoon vanilla
2 cups strawberries, fresh and sliced
1 cup fresh blueberries
1 cup fresh raspberries
1/2 cup apple jelly
Instructions
Preheat oven to 350 degrees.
Grease bottom of 12 inch pizza pan with cooking spray.
Mix the brownies, according to directions on the box.
Spread in pan and Bake for 20 – 30 minutes or until toothpick inserted 2 inches from side of pan comes out almost clean.
Cool completely, about 1 hour.
In a small bowl, cream together the cream cheese, sugar and vanilla until smooth.
Spread over brownie base.
Arrange berries over cream cheese mixture.
In a microwave safe measuring cup, place apple jelly and heat about 30 seconds or so, just until jelly starts to thin a little, stir until smooth and pour over fruit.
Refrigerate about 1 hour or until chilled.
Cut into wedges.
Store covered in fridge.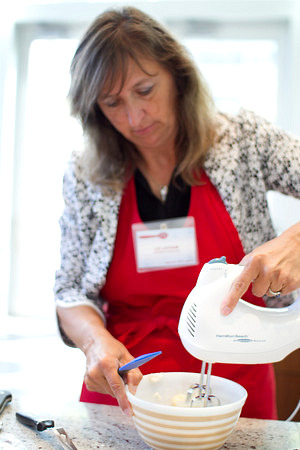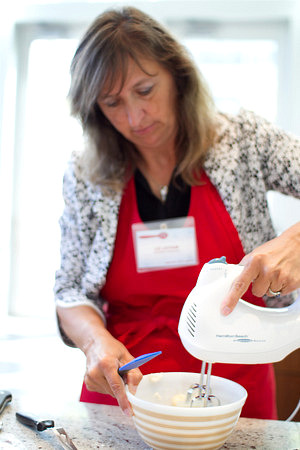 There I am, whipping up the cream cheese mixture to spread on the Brownie Pizza. One of the VERY cool things, among many…there was a photographer with us all day, taking lots of great photos (which I will share soon, I promise) Matt took this picture of me with my cute Betty Crocker apron on, absolutely LOVING every single minute of it!!
Stay tuned for more amazing recipes to come and a sneak peak into the photography studio too!
Disclaimer: General Mills paid for my trip, they did not ask me to blog about my trip or give any recipes. It was my choice to do so, simply because I love Betty Crocker and the recipes.
Linking to…Gooseberry Patch,  Ingredient Spotlight