Muddy Buddy Cookies ~ Baking with Betty Crocker
Do you remember Muddy Buddies? Or Puppy Chow? Oh the goodness! I could sit and eat a whole batch by myself! Just in case, you aren't familiar with them…let me get you hooked! They are cereal, typically Chex Cereal, coated with peanut butter and chocolate, and coated with powdered sugar.
In celebration of my Baking with Betty Crocker trip, I was looking around the Betty Crocker recipe site, for a special treat to share with you and happened upon these cookies. I guess I have Chocolate and Peanut Butter on my brain, after baking the Peanut Butter Swirl Bars! They call them Chocolate Peanut Butter Cookie Treats, I'm calling mine…Muddy Buddy Cookies, even though they should just be called slice of heaven! Oh my!! These are dangerously good!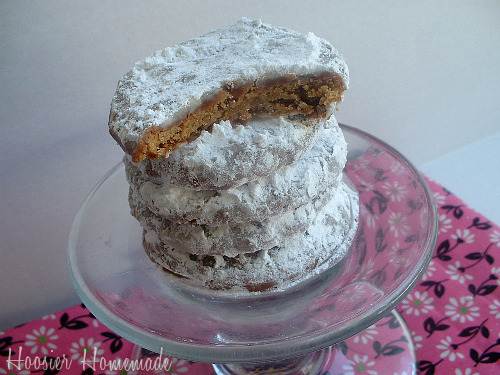 I changed the recipe a bit, baking my own Peanut Butter cookies from scratch, rather than using a cookie mix.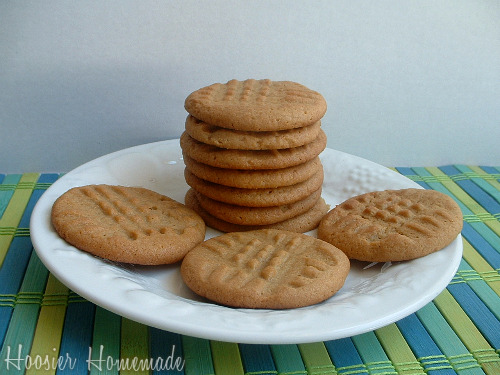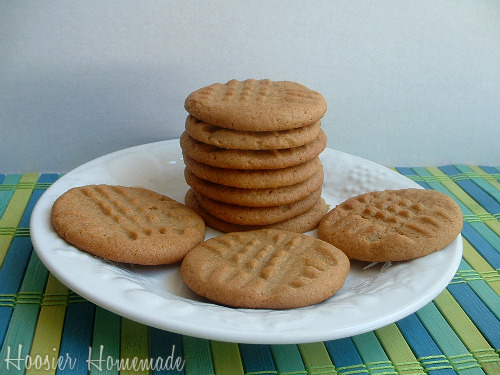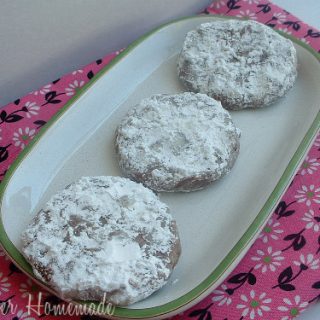 Muddy Buddy Cookies Recipes
A sweet treat for the family Recipe from HoosierHomemade.com
Ingredients
Peanut Butter Cookies
3/4 cup peanut butter
1/2 cup butter flavor Crisco (you can probably use regular butter instead)
1 1/4 cups brown sugar, firmly packed
3 tablespoons milk
1 tablespoon vanilla
1 egg
1 3/4 cups flour, all-purpose
3/4 teaspoon salt
3/4 teaspoon baking soda
Muddy Buddy Cookies
1 cup chocolate chips (I like milk chocolate)
1/4 cup butter or margarine (I ended up adding a couple more tablespoons to make the mixture a little smoother)
1/4 cup peanut butter
1 teaspoon vanilla
Powdered sugar for coating
Instructions
PB Cookies
Cream together, peanut butter, Crisco, brown sugar, milk and vanilla until well blended.
Add egg, beat just until blended.
Combine dry ingredients, add to creamed mixture and mix just until blended.
Place in fridge to chill at least 30 minutes (just to make handling easier) Roll into balls and flatten with a fork, making a criss-cross pattern.
Bake at 375 degrees for 8-10 minutes, until set and just beginning to turn brown. Cool completely.
Muddy Buddy Cookies
Melt all ingredients except powdered sugar, in a microwave safe bowl, about 1 minute 30 seconds, or until slightly melted.
Stir until smooth. Place powdered sugar in seperate bowl.
Note
The Betty Crocker directions say to place the cookies in a bag to coat with chocolate and then in another bag to coat with powdered sugar. I tried and found it to be very difficult. So, I just placed the melted chocolate in a bowl and the powdered sugar in another bowl.
Dip cookie in chocolate, coating both sides, let extra chocolate drip off into bowl, then place cookie in powdered sugar and flip to coat both sides.
Nutrition Information:
Amount Per Serving:
Calories:

0
Total Fat:

0g


These were VERY messy to make…but definitely worth it!
Now, for my trip…see that little button in my sidebar, about 3/4 of the way down. Yup! I'm heading to Minnesota tomorrow to Bake at the Betty Crocker Kitchens!!! I'm SOOO excited…I'm actually giddy!
I'm sure I will have tons of pictures to share with you when I come back, and lots of great stores too!
But for today…I leave you with this yummy recipe for Muddy Buddy Cookies!
Do you have a childhood snack that you love? Share with us!
Linking to…Ingredient Spotlight