Peanut Butter Cup Cupcakes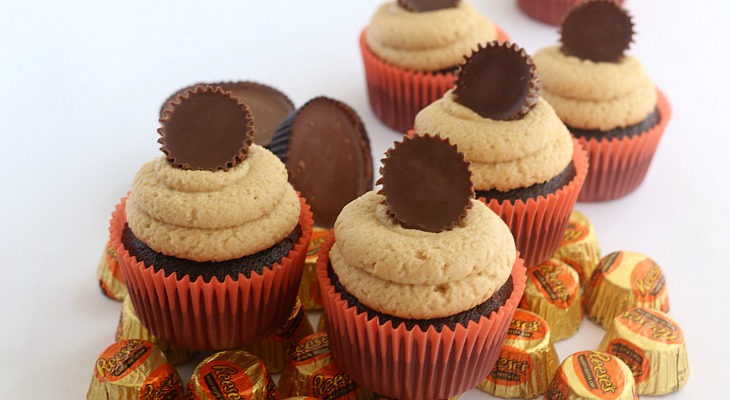 Rich, moist chocolate cupcakes, filled with peanut butter cups and topped with peanut butter frosting – it doesn't get much better than that my friends. These Peanut Butter Cup Cupcakes are perfect for any occasion and will have everyone asking for more.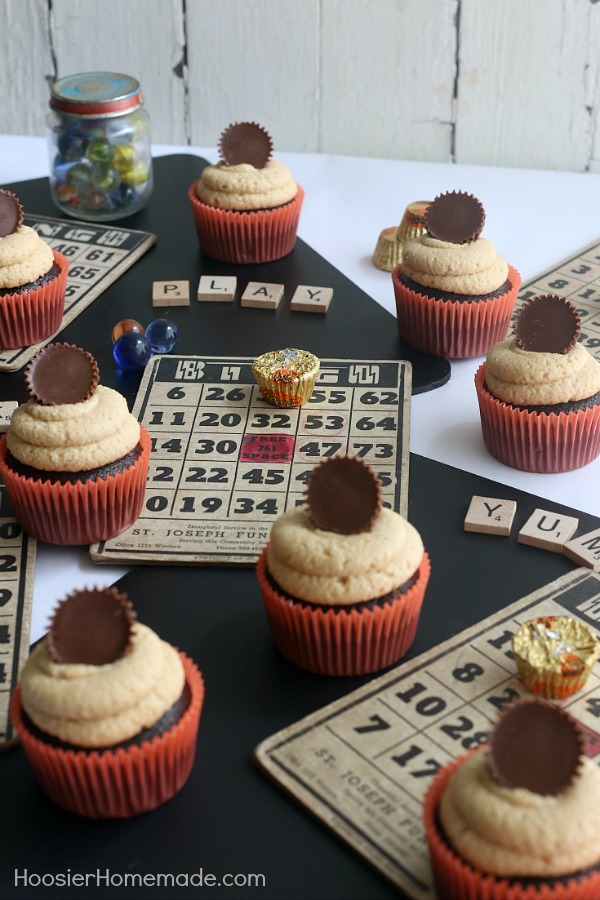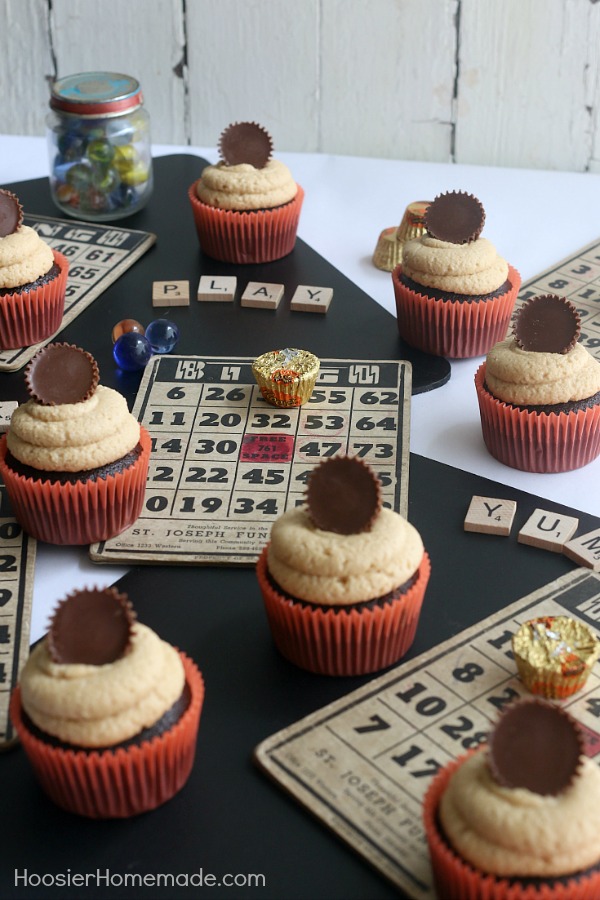 Happy Cupcake Tuesday! I'm so excited you are here! Looking for a cupcake recipe? Be sure to check out the Cupcake Heaven page, there are over 250 cupcake recipes and decorating ideas!
These Peanut Butter Cup Cupcakes were very easy but big on flavor and presentation. I used a Chocolate Cake recipe that I've never tried before, it was very dense but had good flavor. We had a house divided on them, Doug and my youngest, Casey, loved them, the other 2 boys and myself liked the flavor, but like a more light tasting cupcake. Man oh Man is the Peanut Butter Frosting yummy though. I could just eat it by the spoonful!
But here's the deal – you don't have to use this recipe for Chocolate Cupcakes. Short on time? Use a box mix and add ingredients to make it taste homemade.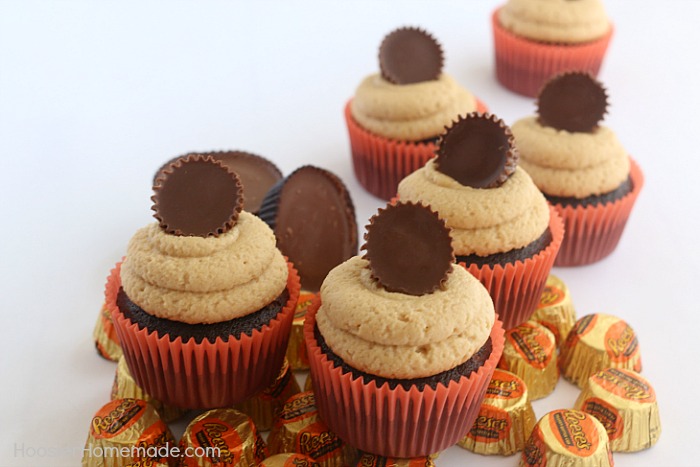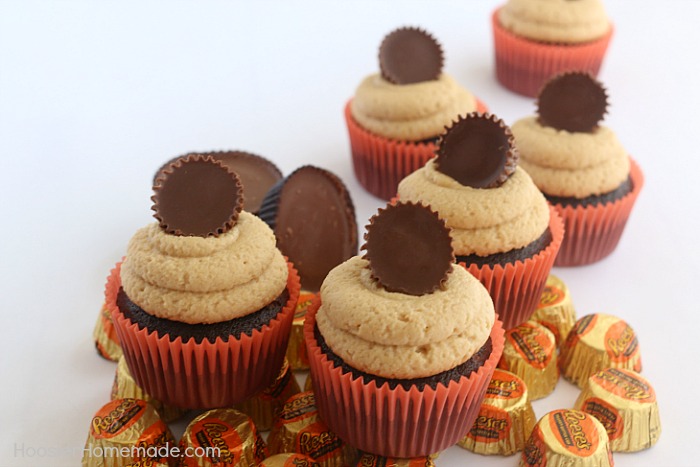 There are many flavors of cupcakes that I adore. But when I bake Chocolate Cupcakes, they almost always go straight to the top of my favorite list. And when I add Peanut Butter, that's even better.
And we can't forget the Peanut Butter Cups, I have yet to meet anyone that doesn't love peanut butter cups. If you are looking to keep the color scheme, these orange cupcake liners are great- and don't forget piping tips!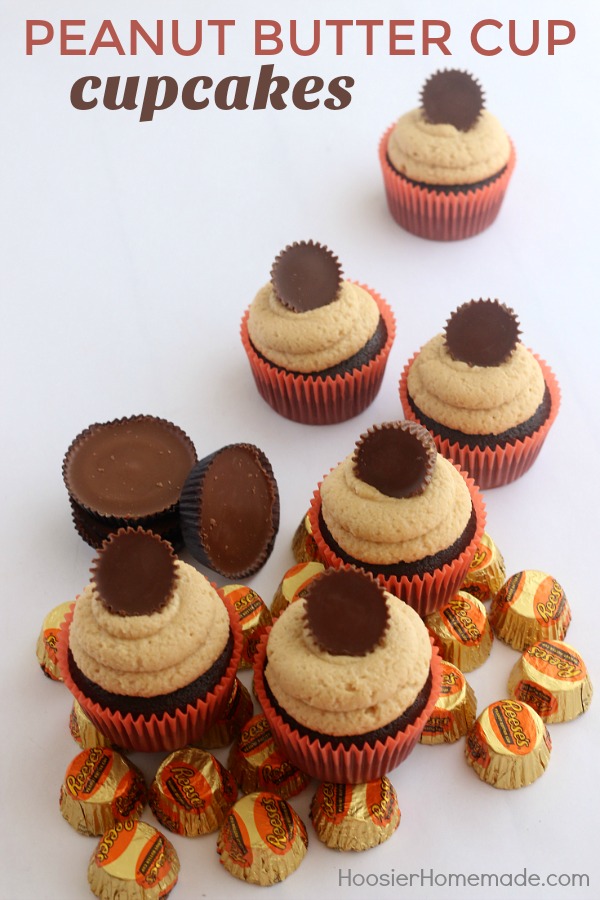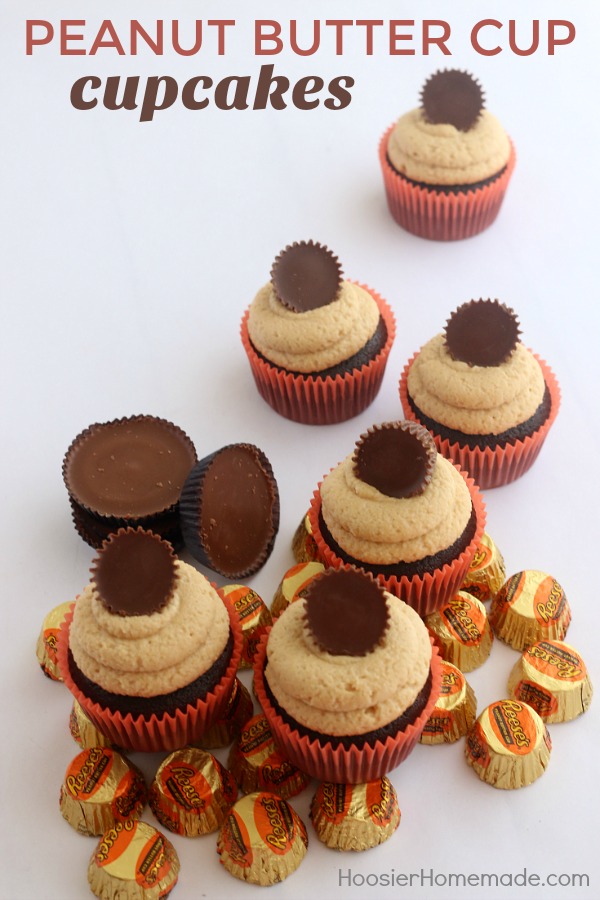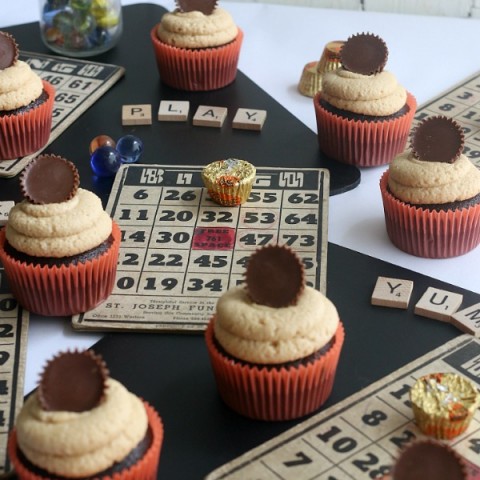 Peanut Butter Cup Cupcakes
Combining the flavors of chocolate and peanut butter, these Chocolate Peanut Butter Cupcakes from HoosierHomemade.com are melt-in-your-mouth delicious!
Ingredients
3/4 cup cocoa powder
3/4 cup flour
1/2 teaspoon baking powder
1/4 teaspoon salt
3/4 cup unsalted butter, room temperature
1 cup sugar
3 large eggs
1 teaspoon vanilla extract
1/2 cup sour cream
4 large Reese's Peanut Butter Cups, cut into small pieces
Peanut Butter Frosting
1/2 cup butter, softened
1 cup Peanut Butter
3 tablespoons milk, or as needed
2 - 2 1/2 cups Powdered Sugar
Instructions
Preheat oven to 350 degrees.
Line muffin tins with paper cupcake liners.
In a separate bowl, combine cocoa, flour, baking powder and salt.
In a mixing bowl, cream butter and sugar until light and fluffy.
Add eggs, one at a time, beating well after each.
Beat in vanilla.
Add dry ingredients, alternating with the sour cream, beginning and ending with the dry ingredients.
Gently fold in Peanut Butter Cup pieces.
Divide batter into cupcake liners.
Bake for about 15 minutes or until a toothpick inserted in the center comes out clean.
Peanut Butter Frosting
Cream butter and Peanut Butter until fluffy.
Gradually add powdered sugar, alternating with a little milk at a time.
Beat well, until desired consistency.
Frost cupcakes and garnish with a Mini Reese's Peanut Butter Cup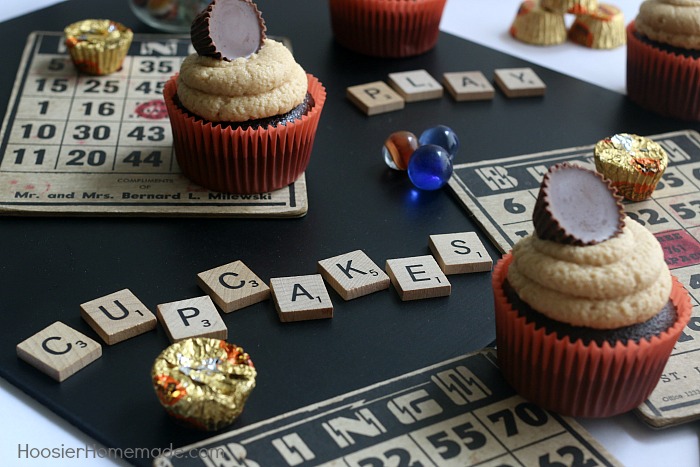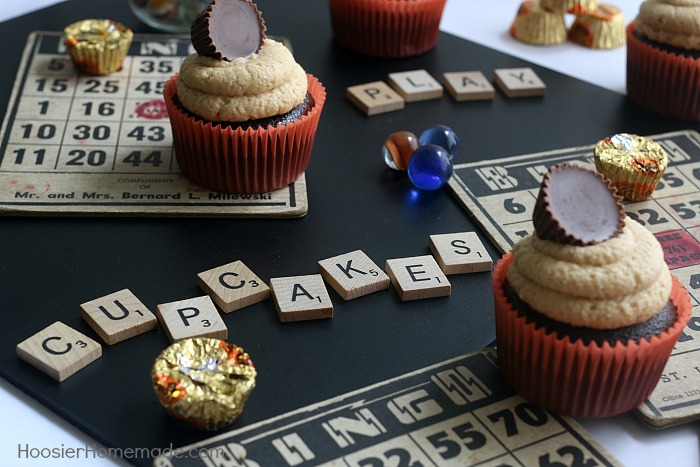 Love to Bake?
Me too! Sign up now for a FREE recipe guide for every season!