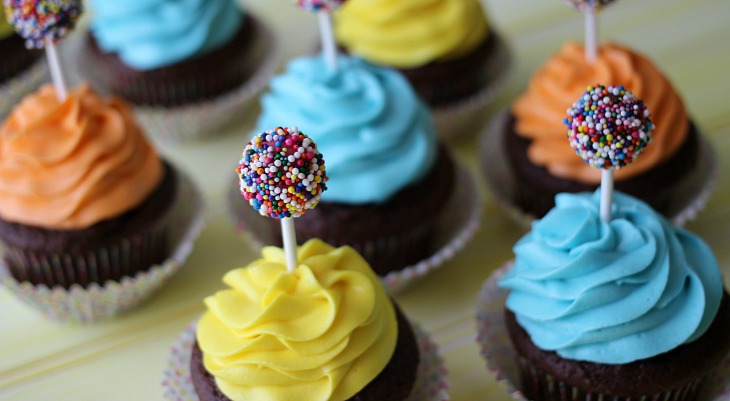 It's Birthday time! These Kid's Birthday Cupcakes start with an easy Chocolate Cupcake Recipe, topped with Homemade Buttercream Frosting in bright colors, and a simple topper with Dum Dum suckers dipped in Rainbow Sprinkles.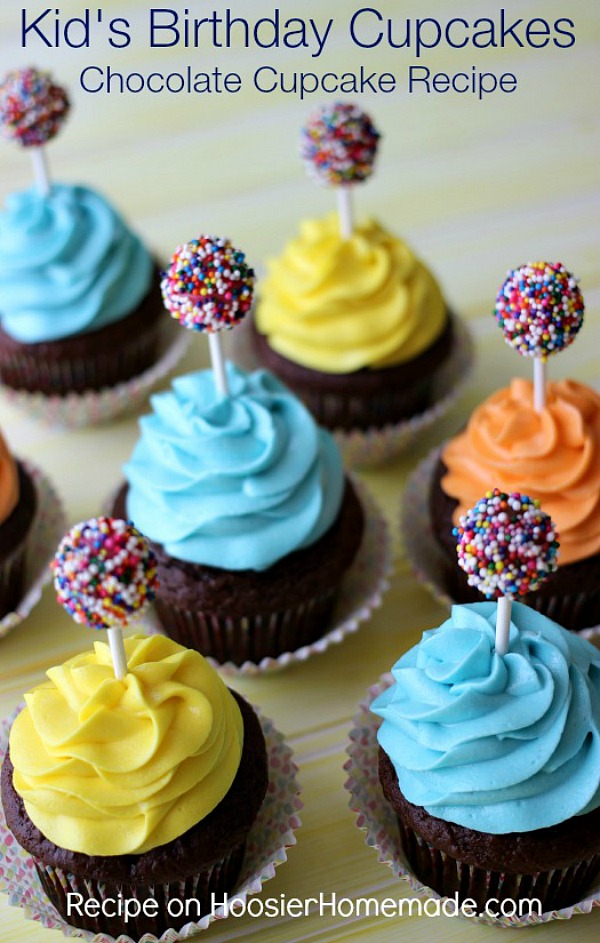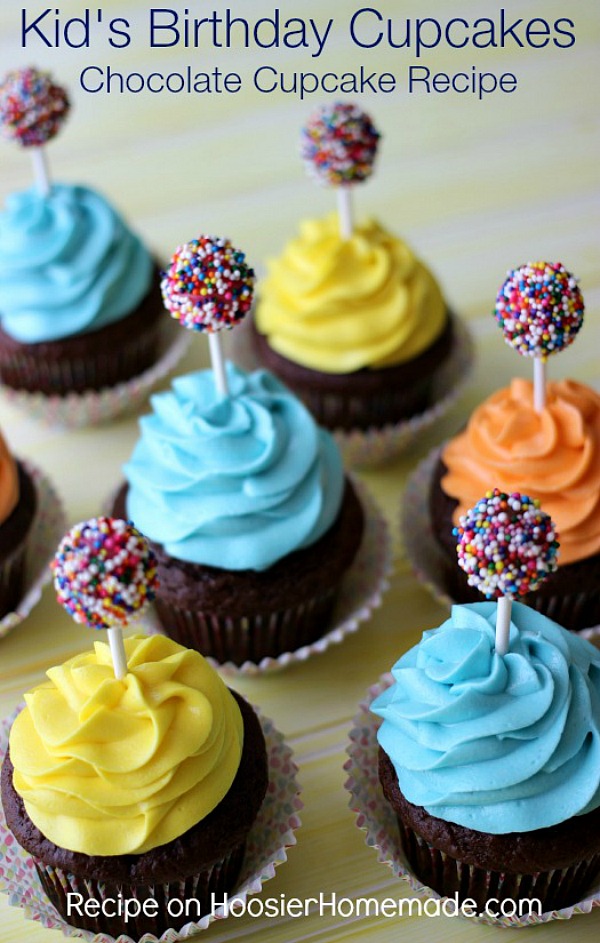 Happy Cupcake Tuesday! I'm so excited you are here! Looking for a cupcake recipe? Be sure to check out the Cupcake Heaven page, there are over 300 cupcake recipes and decorating ideas!
I was recently going through all of the Cupcake Recipe categories, and realized that there aren't enough Birthday Cupcakes. And to top it off, we really needed a delicious Moist Chocolate Cupcake Recipe.
So…let's fix that, okay?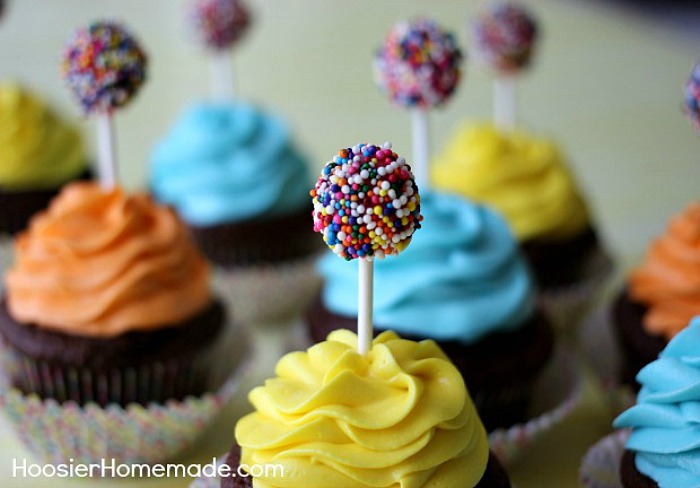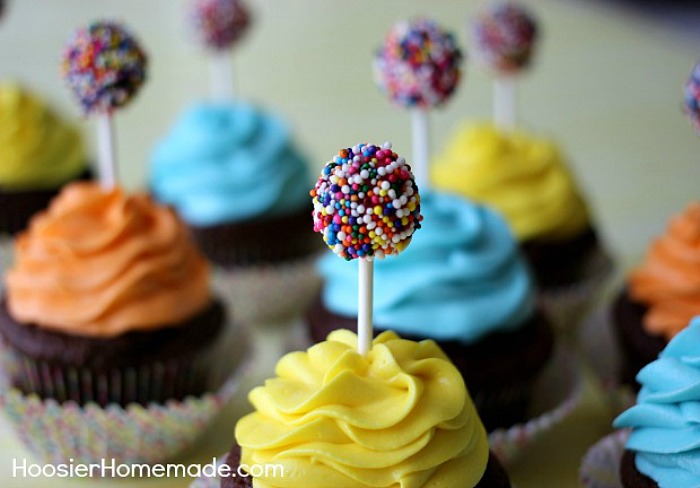 Creating a special cupcake for your child's birthday party, shouldn't – and doesn't have to take a lot of time. My number one goal here on Hoosier Homemade is to share simple, easy and creative ideas with you. And let's be honest, spending a whole day on cupcakes with fondant, just isn't possible for most Moms or Dads for that matter.
These Kid's Birthday Cupcakes are not only fun to eat, they are fun to make too! And the kids can help, which is even better!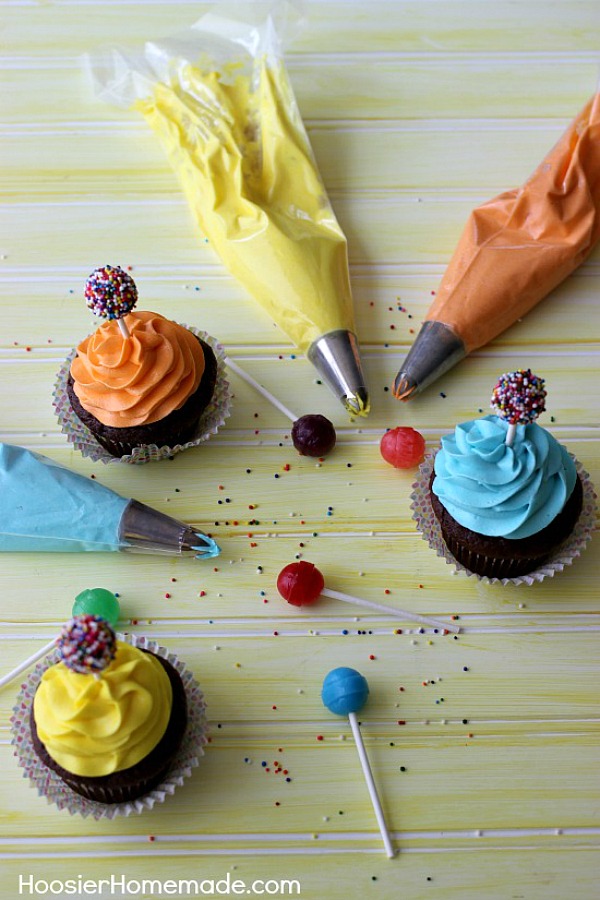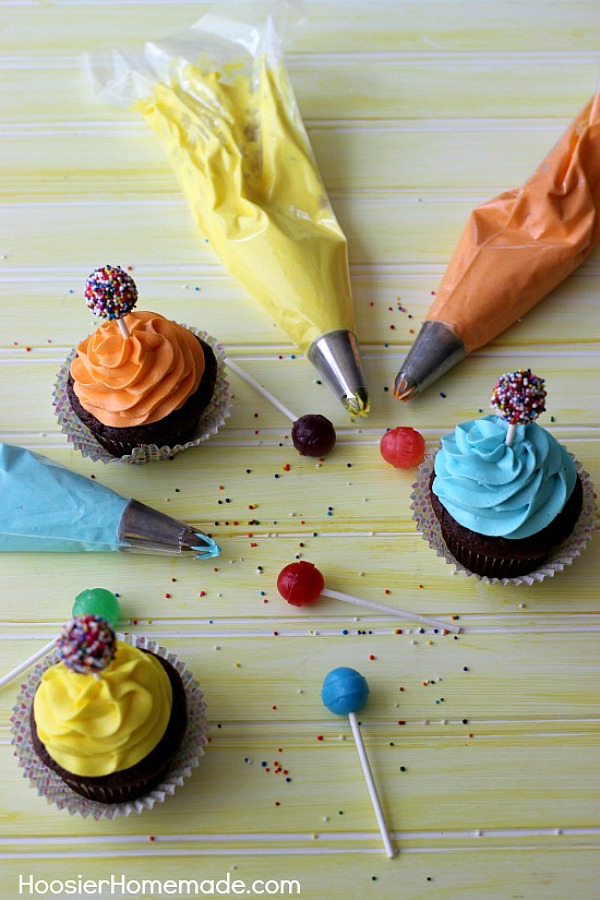 After the Cupcakes are baked and cooled, then comes the fun part! I used my favorite recipe for Buttercream Frosting and colored it 3 different bright colors, then using a #1M Decorator Tip, I added a swirl of frosting. You can learn more about How to Frost Cupcakes from our Cupcake Boot Camp.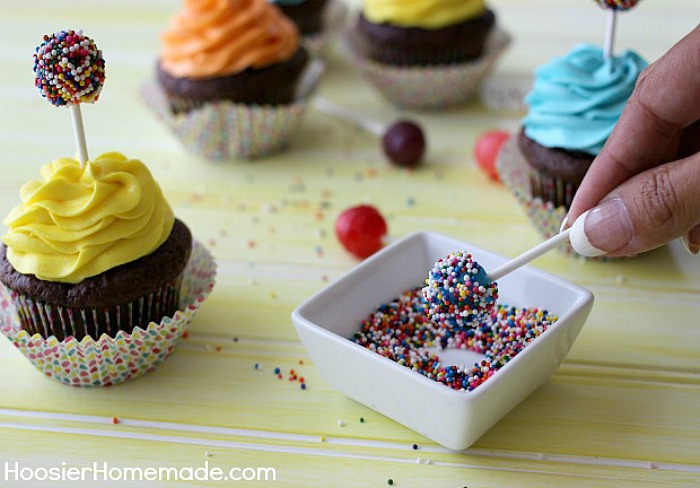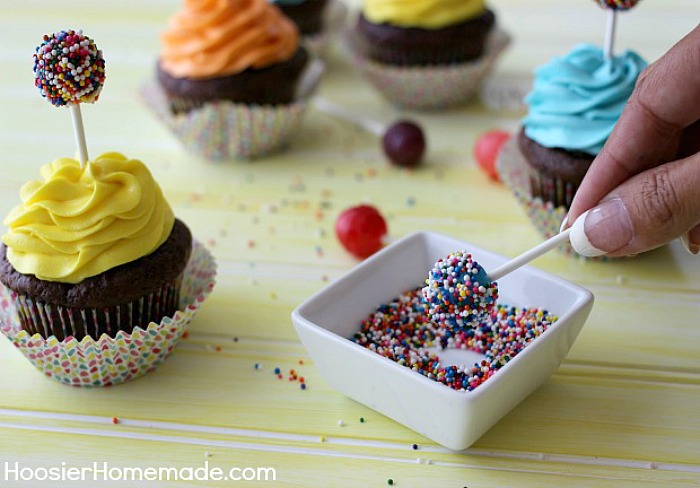 Then for the festive Cupcake Toppers, I used Dum Dum suckers, dipped them in water, tapped off the excess water and then dipped them in Rainbow NonPareils.  And added them to the cupcake.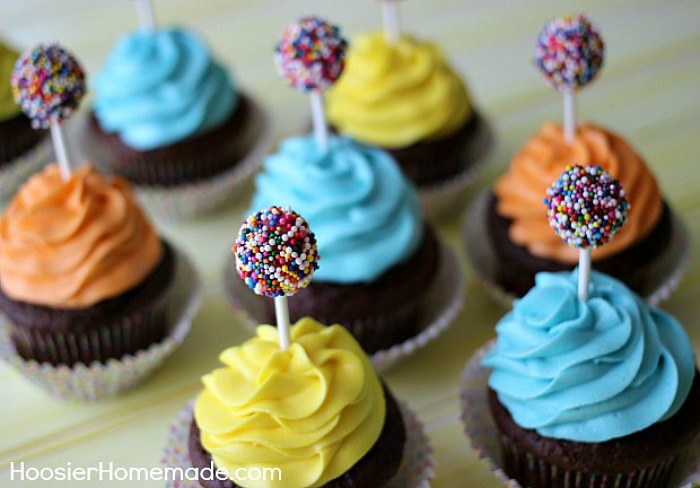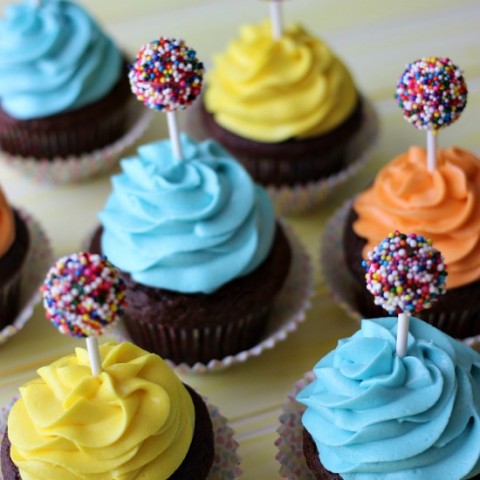 Chocolate Cupcakes Recipe
Moist chocolate cupcakes perfect for any occasion.
Ingredients
2 ounces BAKER'S Semi-Sweet Chocolate, chopped finely
1 box (2 layer) Chocolate Cake Mix
1 box (3.9 oz) Chocolate Instant Pudding
4 eggs, room temperature
1 cup Sour Cream
1/2 cup Oil
1/2 cup Water
Instructions
Preheat oven to 350 degrees
Add cupcake liners to pan
Chop chocolate, set aside
Beat together cake mix, dry pudding mix, eggs, sour cream, oil and water in the large mixing bowl until well blended
Stir in chopped chocolate
Divide into liners, about 2/3 full
Bake at 350 degrees for 15-20 minutes or until a toothpick inserted in the center comes out clean
Remove from oven and cool completely
Frost and decorate as desired