This easy to make Puppy Chow Recipe takes only a handful of ingredients, is great for a party, movie night treat or even to give as gifts.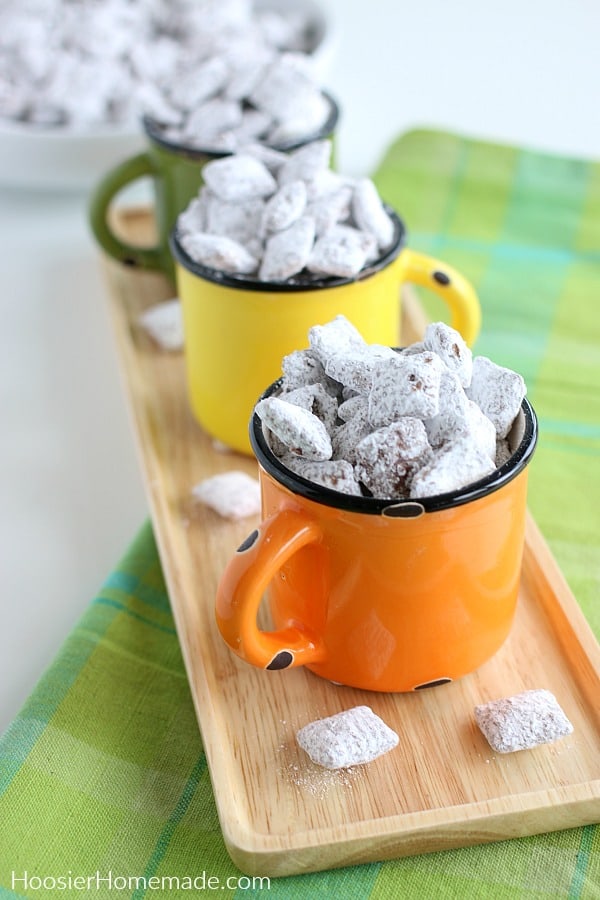 Being born and raised in the Midwest, Indiana to be exact – hence the site's name "Hoosier Homemade" – Puppy Chow was one of those super easy recipes that was always served at parties and potlucks.
While I have made more batches of this Puppy Chow Recipe than I can count, like this batch of Muddy Buddies for a fun treat to celebrate Cat in the Hat and Dr. Seuss' Birthday or these Muddy Buddy Cookies starting with Peanut Butter Cookies and coating them in chocolate and powdered sugar – it's not until now that I am sharing the good old fashioned Puppy Chow using Chex cereal recipe.
A word of warning – it's a little addicting – it's a little (or maybe a lot) messy to eat – and everyone will want the recipe – but it's SO worth it!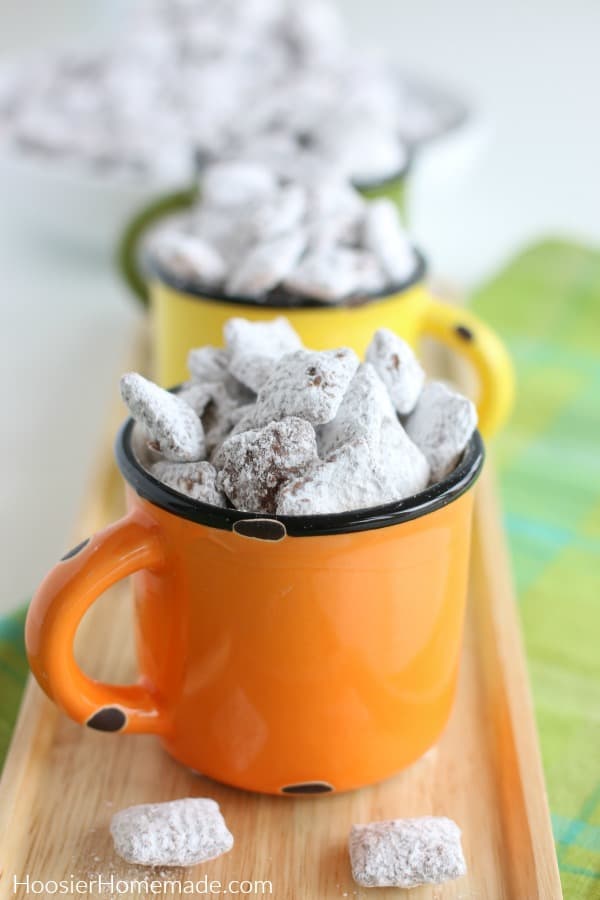 All you need are 5 ingredients for this easy Puppy Chow – or do you call it Muddy Buddies?
The base for the recipe is Chex cereal, you can use corn or rice, however I like rice the best in this recipe. Oh and speaking of Chex – do you know where Puppy Chow got it's name?
Well, the Chex cereal brand started back in 1937, which was made by the Ralston Purina Company – yes, like Purina Dog Food. During World War I the soldiers would call their food, chow. So the company adopted the name to call their feed for animals.
And over the years – Chex cereal evolved into many different variations of Chex Party Mix, with Puppy Chow included.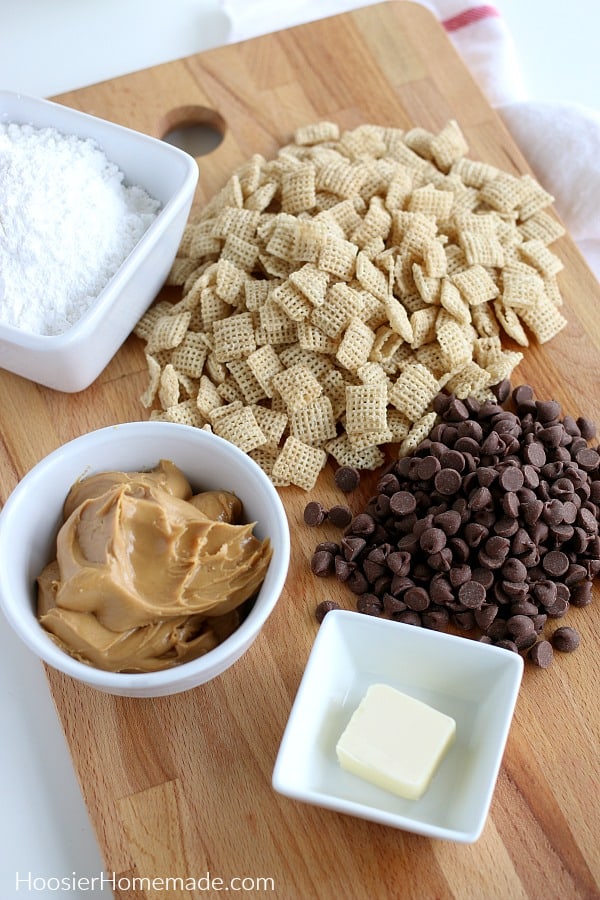 Puppy Chow Recipe
Ingredients
Chex cereal – Rice Chex works best in this recipe, but you can also use corn
Chocolate Chips – semi-sweet or milk chocolate – either are fine. I like the creaminess of milk chocolate with the peanut butter
Peanut Butter – smooth is the way to go here – however there are variations listed below if you can't use peanut butter
Butter – this is optional, but I really like how creamy and moist the mix is with the butter
Powdered Sugar
Kitchen Essentials Needed
Medium Microwaveable Safe Bowl
Rubber Spatula
Measuring Cup – my favorite for measuring peanut butter (and other ingredients that are difficult to get out of a measuring cup) is the Measure All from Pampered Chef
Large Resealable Bag – you can also use a large turkey roasting bag, or paper bag
Colander – optional, but makes getting the Puppy Chow mix out of the bag super easy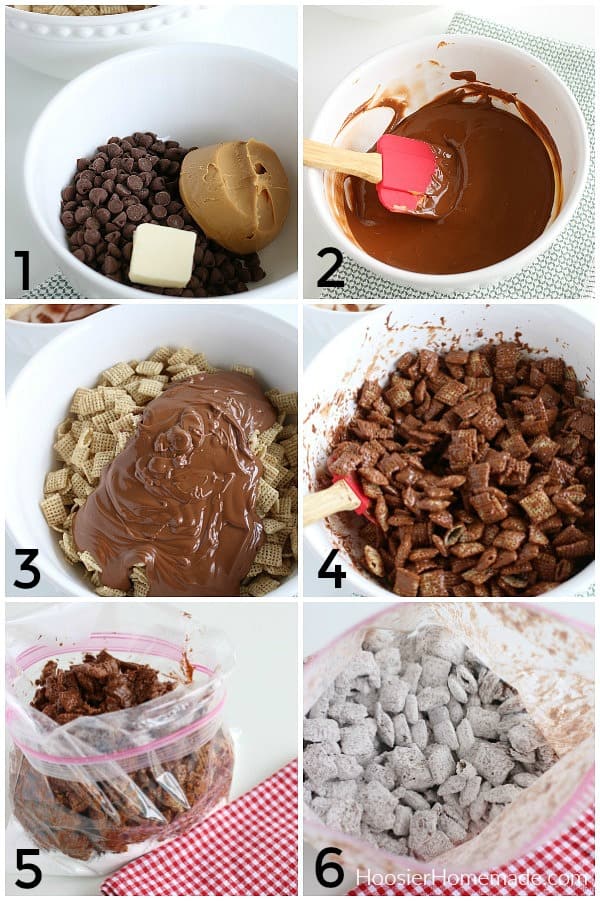 How to Make Puppy Chow
Pour Chex cereal into large bowl. Add Peanut Butter, Chocolate Chips and Butter to medium microwaveable bowl
Heat peanut butter butter in microwave for 1 minute. There should still be some small pieces of chocolate chips. Stir until smooth and completely combined.
Pour chocolate mixture over cereal
Stir to coat cereal until completely covered
Add powdered sugar to resealable bag, then add cereal mixture
Toss to coat the cereal completely
Here are a few tips that I have found helpful –
Cook's Tip #1: Peanut Butter varieties – you can use any type of peanut butter or nut butter that you have in your pantry. If you have nut allergies, Sun Butter or other Nut Butter works fine.
Cook's Tip #2: Melting chocolate – if you still have larger pieces of chocolate chips left after heating for 1 minute, continue heating in microwave for 5-10 seconds at a time.
The key though is to stop the heating process BEFORE all the chocolate chips are melted. It's really easy to burn chocolate in the microwave, so it's best to stop before they are completely melted and stir until they are melted.
Cook's Tip #3: Powdered Sugar – is also known as Confectioners Sugar
Cook's Tip #4: Freezing – you can freeze the puppy chow to enjoy while it's cold. Be sure to store in a freezer safe resealable bag. It will last about 1 month in the freezer.
Cook's Tip #5: Children – this recipe is a great starter recipe for young cooks, just be sure to give supervision with the warm bowl of chocolate mixture and the microwave.
Puppy Chow Recipe Variations
There are endless puppy chow recipe variations, depending on what you and your family likes.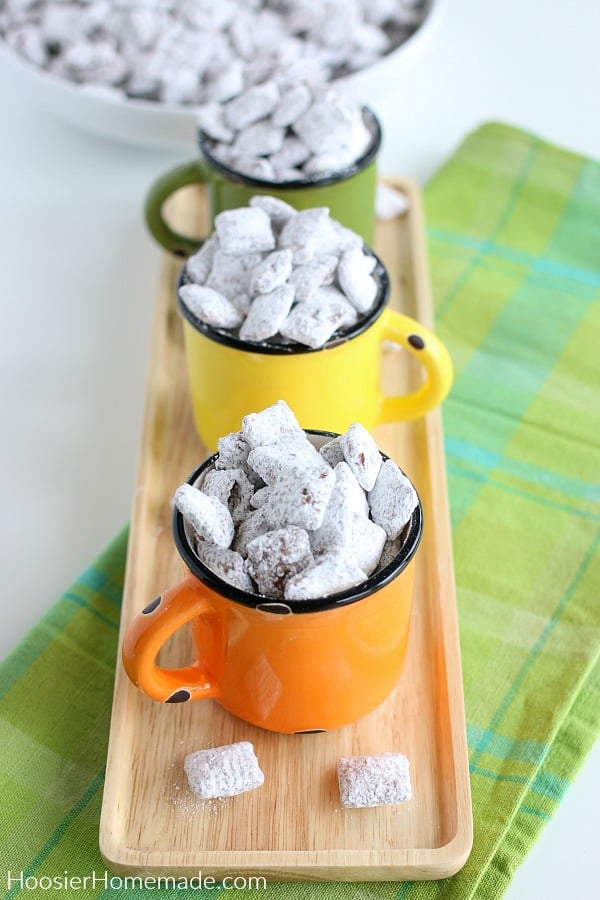 How to Serve Puppy Chow
While Puppy Chow is delicious, it's also messy. You can serve straight out of a big bowl with individual bowls to fill. Or serve in small cups.
The best way, in my opinion, is straight from a small (or maybe big) resealable bag. It may not look fancy, but trust me, it will save a mess on your table, floor or even couch.
This Puppy Chow Recipe also makes a great gift! Add to a small jar, tie with a ribbon and give to teachers, neighbors, friends, babysitters, and more!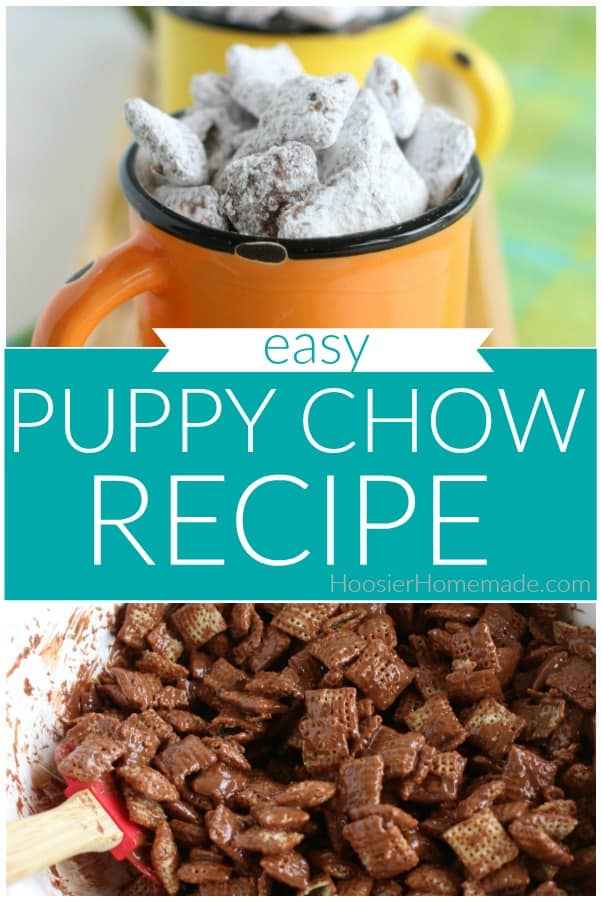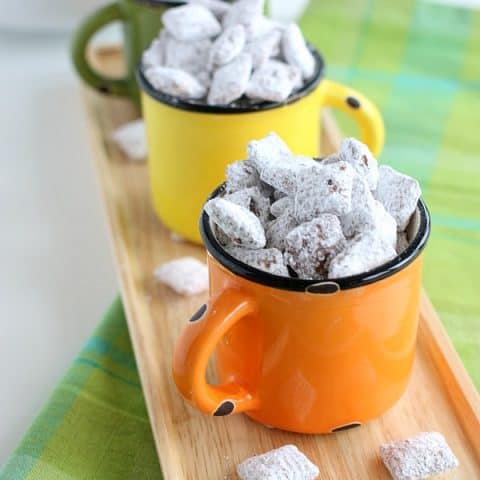 Puppy Chow Recipe
Easy Puppy Chow Recipe is perfect for snacking, packing in lunches or giving as gifts.
Ingredients
6 cups Chex Cereal - Rice is best
1 cup Chocolate Chips - semi-sweet or milk chocolate
1/2 cup Peanut Butter
2 tablespoons Butter
2 cups Powdered Sugar
Instructions
Add Chex cereal to large bowl
Add Chocolate Chips, Peanut Butter and Butter to small microwaveable safe bowl
Heat for 1 minute in microwave - there should be a few small pieces of chips
Stir until completely melted and combined
Pour over cereal
Stir to completely cover cereal with chocolate mixture
Add Powdered Sugar to large resealable bag
Add cereal mixture
Seal bag and toss to coat completely
Remove from bag. Place in bowl or another bag until ready to serve.
Store leftovers in air tight container or bag.
Notes
Tip: To remove excess powdered sugar, use a colander on top of a bowl and pour mixture in.
Recommended Products
As an Amazon Associate and member of other affiliate programs, I earn from qualifying purchases.
Looking for more easy Snack Mixes? Click on the photo for the recipe –