Cat in the Hat Muddy Buddies: Dr. Seuss's Birthday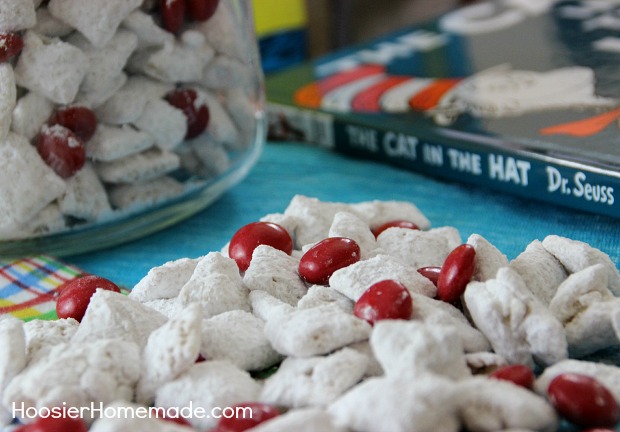 Muddy Buddies – pillows of Rice Cereal coated in White Chocolate, tossed in Powdered Sugar and mixed with M&M's equals the perfect snack to enjoy while reading The Cat in the Hat for Dr. Seuss's Birthday and Read Across America!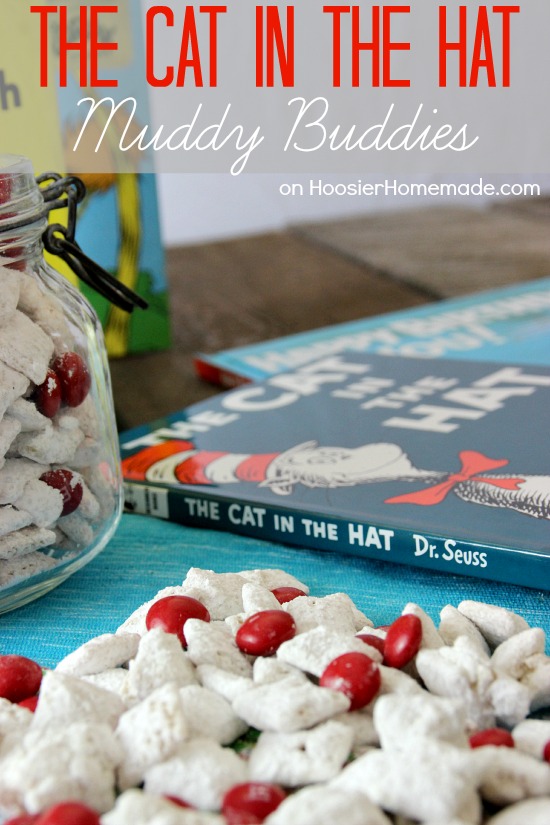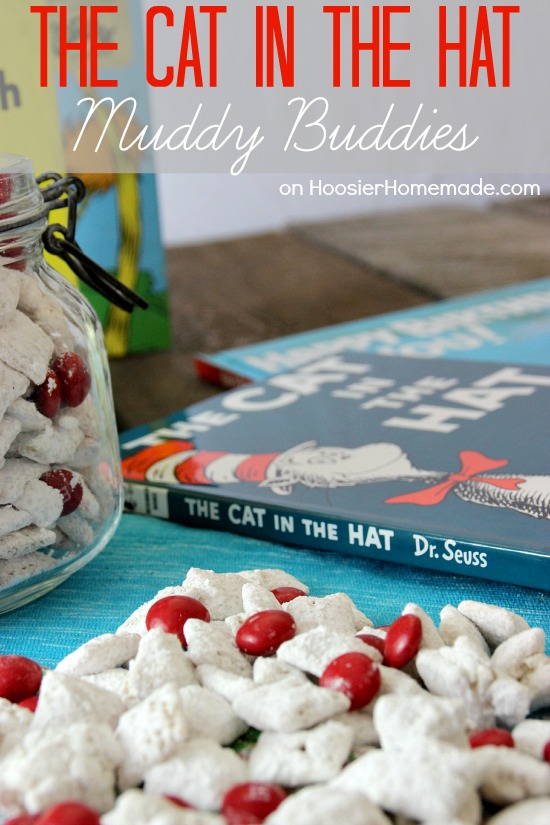 These Muddy Buddies treats are just about as fun to eat as the book is to read!
"I know some new tricks,"
Said the Cat in the Hat.
"A lot of new good tricks.
I will show them to you.
Your Mother
Will not mind at all if I do."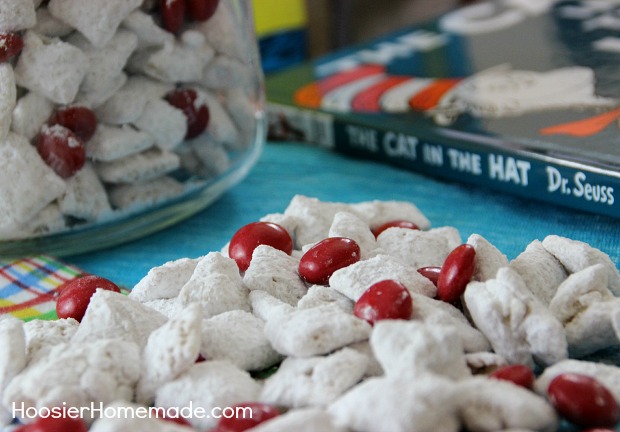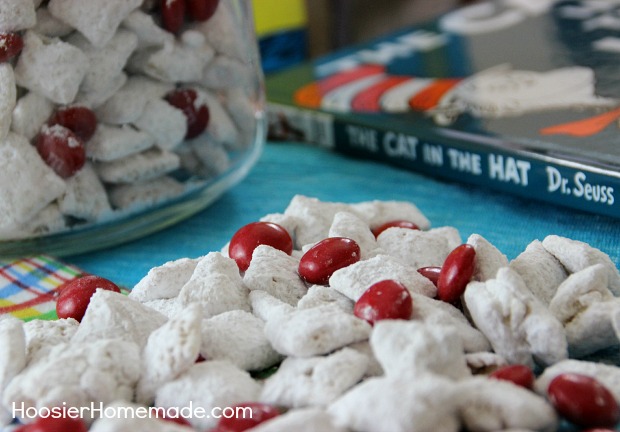 From The Cat in the Hat to The Lorax, from 1 Fish 2 Fish to The Grinch, and from Horton Hears a Who to Green Eggs and Ham, there's no denying that Dr. Seuss has many classic books that are a must have for any bookshelf. That's why it's no surprise that Read Across America's day will celebrate the good doctor's birthday this year. Read Across America is a day in which we promote literacy in schools by paying extra attention to it.
This year the celebration will take place a day after Dr. Seuss's birthday, on March 3.  Walmart also wants to help others celebrate this day. They are doing so by offering sales for Dr. Seuss's books starting February 23. These discounted prices include the regular priced Dr. Seuss beginner books, which will be on sale for $5 when they're normally $8.99; and the Dr. Seuss board books that will be $3.50 instead of $4.99. The classic titles that are normally $14.95 will be $10.00. This is a great chance to get your children reading on the good foot, with some fantastic classics.
To coincide with Dr. Seuss's Birthday, the Random House Children's Books organization will be launching a Dr. Seuss's Birthday Club. Members of this club will receive some nice benefits, including downloadable Dr. Seuss themed activities, activities based on the book of the month (Cat in the Hat for this month!), and a chance to win  a Dr. Seuss birthday party pack which includes a plush toy, The Cat in the Hat Knows A Lot About That celebration DVD, and more. Sign-ups have already started, and the club will launch on March 2: Dr. Seuss's Birthday. This sounds like a fun way to keep on reading with your children, so don't miss out!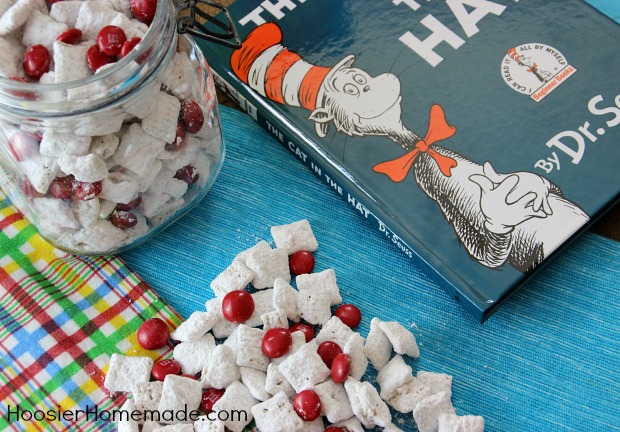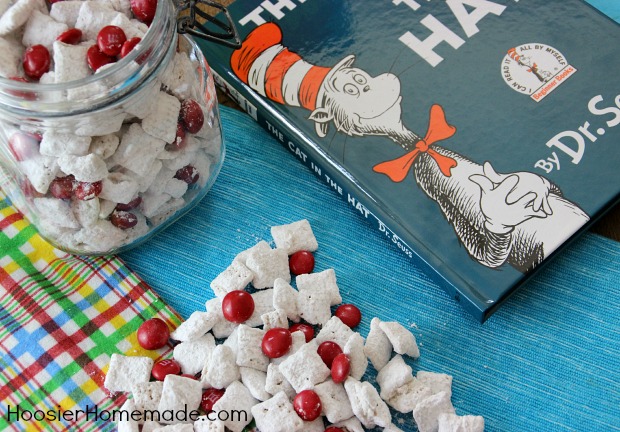 Why not whip up a batch of these Muddy Buddies to celebrate Dr. Seuss's Birthday and Read Across America. Or perhaps a Dr. Seuss Lorax Cupcakes might do…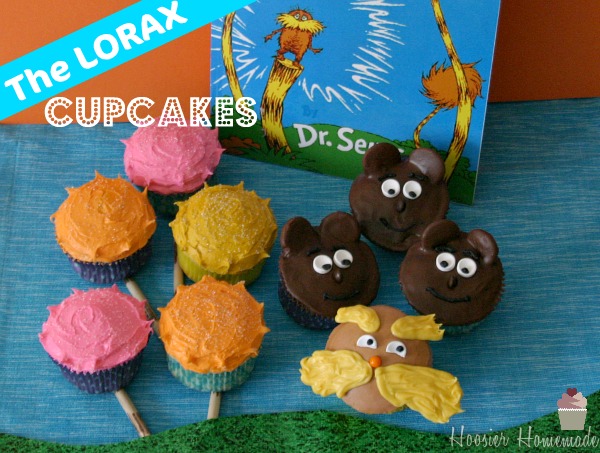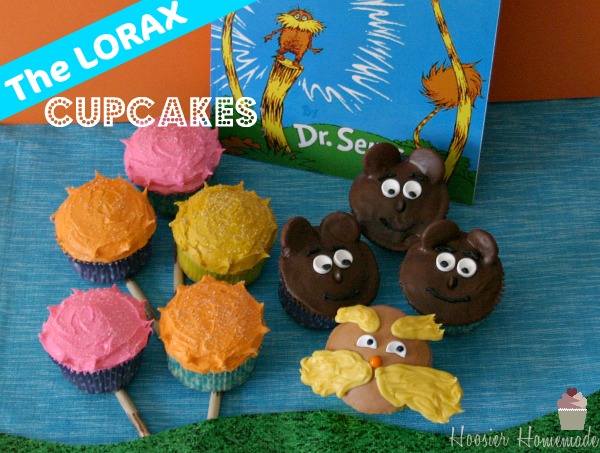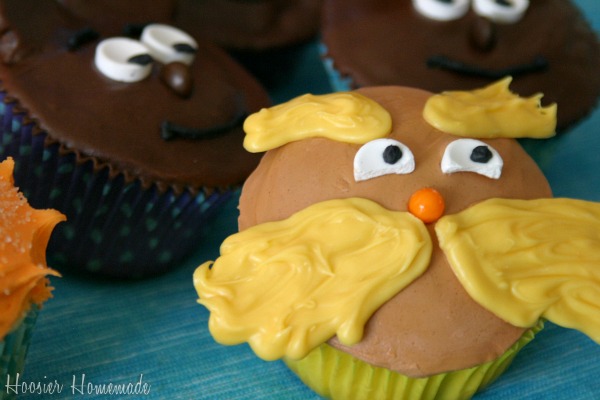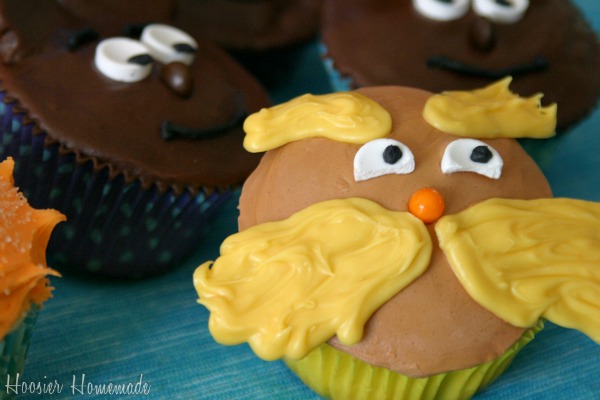 Either way, have fun and celebrate Dr. Seuss's Birthday with Read Across America!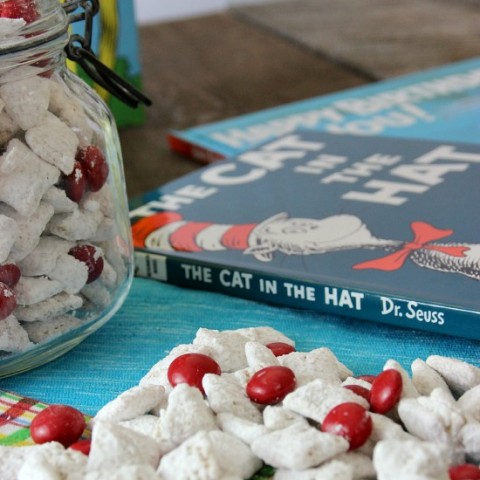 Cat in the Hat Muddy Buddies: Dr. Seuss's Birthday
Fun treat, that's super easy to make. Recipe on HoosierHomemade.com
Ingredients
7 cups Rice Chex Cereal
1 1/2 cup white chocolate chips
1 tablespoon butter
1 1/2 cups powdered sugar
1 cup of red M&M's or other candies
Instructions
Pour cereal in a large bowl
Melt chips and butter in microwave for about 1 minute + 30 seconds, stirring after each 30 seconds
Pour melted chips over cereal and stir until well combined
Add powdered sugar to large resealable bag, add cereal mixture and shake until well coated
Mix in candies
Store in an airtight container