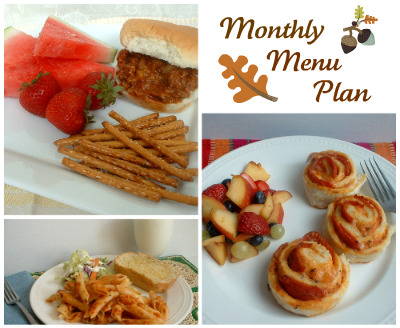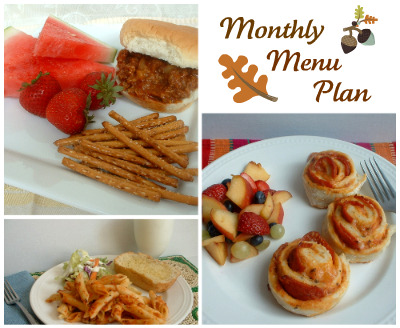 Welcome to another great month of Menu Planning! I hope you all enjoyed your Halloween!! We had a blast! Our party was a huge success, we had great food, fun games and super costumes!
I have a new Giveaway starting today that you will LOVE!!


Enter to win a Month of Meal Planning!!
There are LOTS of great things happening during November…here's a short line-up…
5 Dinners in 1 hour Monthly Menu Giveaway starts Nov. 1st
Seasonal Celebrations Thanksgiving Community on BlogFrog starts Nov. 1st.
Holiday Cupcake Challenge starts Nov. 2nd.
A VERY special giveaway starts Nov. 4th…you WON'T want to miss it!!
Virtual Progressive Thanksgiving Dinner starts on Nov. 8th. with 5 other awesome bloggers
Grateful Giveaways for the Holidays starts on Nov. 15th.
And much, MUCH more!
But first…our November Menu Plan
1 ~  Breakfast – Pumpkin Pancakes and Fried Potatoes
2 ~  Mini Meatloaves and Mashed Potato Casserole (scroll down)
3 ~  Tostadas and Spanish Rice
4 ~  Mostacolli, Salad, Parmesan Knots
5 ~  My Birthday
6 ~ Harry Potter Party and Snitch Cupcakes (sharing soon)
7 ~ Appetizers and Baked Potatoes
8 ~ Chili and Corn Bread
9 ~ Teriyaki Chicken (scroll down), Rice and Veggie
10~ Nick's Birthday
11 ~  Chicken Tetrazzini ($5 Dollars recipe) and Homemade Bread
12 ~ Appetizers and Baked Potatoes
13 ~ Pizza
14 ~ Doug's Birthday 
15 ~ Breakfast – Homemade McGriddles and Smoothies
16 ~ Chicken Pot Pie
17 ~ Beef & Bean Chimichangas (done, frozen from a double batch in Oct)
18 ~ Italian Meatball Subs, Homemade Mac & Cheese
19 ~ Homemade Pizza
20 ~ Loaded Vegetable Beef Stew (Taste of Home recipe)and Homemade Bread
21 ~ Lasagne, Salad and Parmesan Knots
22 ~ Soup and Sandwiches
23 ~ Grilled Chicken BBQ Wraps and Oven Fries
24 ~ Taco Ring, Chips and Salsa
25 ~ Thanksgiving ~ Turkey and all the fixins'
26 ~ Turkey Leftovers
27 ~ Quesadillas
28 ~ Turkey Divan
29 ~ BBQ Chicken Sliders and Oven Fries
30 ~ Creamed Turkey over biscuits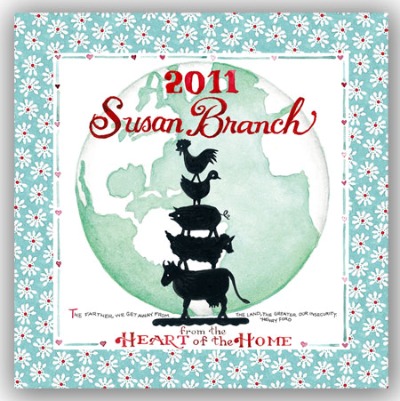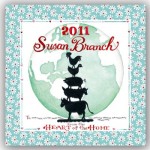 Don't miss the fun Giveaway for a 2011 Susan Branch Calendar! I LOVE her work!!
I'm linking to the Blog Parties in my footer, please visit them! You might just find one or two that are new to you!