Aldi's Money Saving Meal ~ Tostadas
We usually have a Mexican Meal at least once a week in our house. We all like Mexican and it's a frugal meal. I originally got this recipe from Amy over at The Finer Things in Life.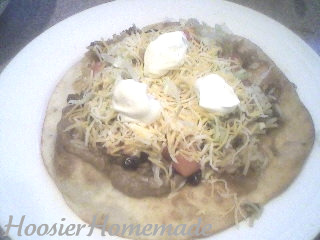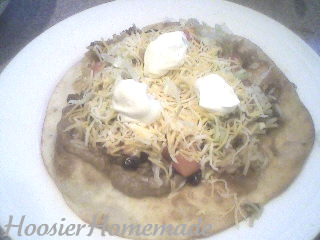 As I've told you before, I buy 90% of my groceries at Aldi's, their prices are great and the quality of the food is good too. There are very few items that we have tried that we don't like. So, that's why I came up with the Aldi's Money Saving Meal for you.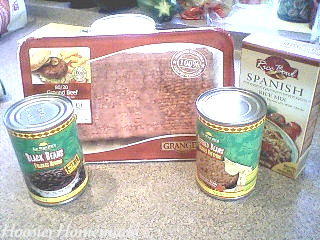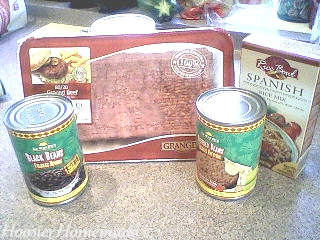 Ingredients:
1 pkg. tortilla shells (corn or flour)   $.99
1 lb. of Hamburger plus spices for Taco Seasoning  $1.90
Refried Beans  $.35  (.69/can, use 1/2)
Black Beans      $.08 (.69/can, use 1/8)
Rice (I usually use the spanish rice, but any kind will do)  $.30  ($.59/box, use 1/2)
Sour Cream   $.15 ($.99/container, use about 1/8)
Shredded Cheese  $.35 ($2.49/pkg, use about 1/8)
Salsa or Taco Sauce  $.37  ($1.49/bottle, use of 1/4)
Lettuce, Tomato, Onion (whatever you like on top)  $.35
Directions:
Fry tortilla shells in oil, this is kinda fun to watch them puff up, my youngest got a kick out of it.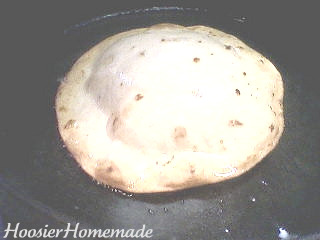 Then layer the ingredients you like. I usually serve these with chips, that way they can build their own nachos too if they want.
Total for Tostada Dinner:  $4.84