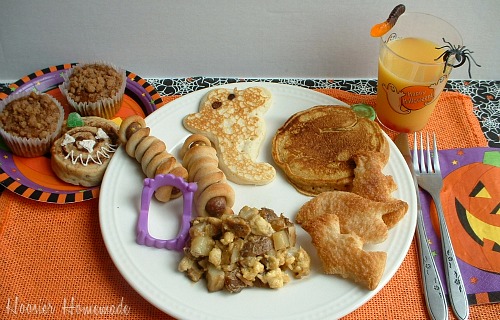 Since Halloween is on Sunday this year, I thought it would be fun to make a Halloween Breakfast!
Pumpkin Pancakes, Ghost Pancakes, Monster Mash, Mummy Dogs, Ghost & Bat Cinnamon Toast, Jack-O-Lantern Cinnamon Rolls, Pumpkin Muffins and Orange Juice…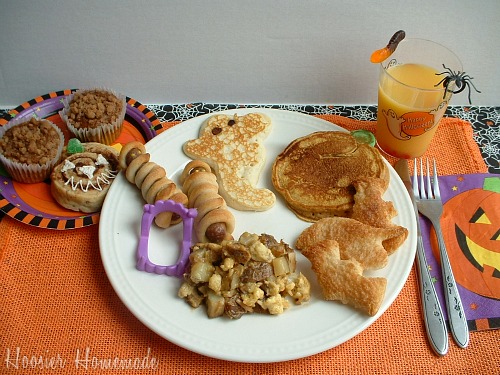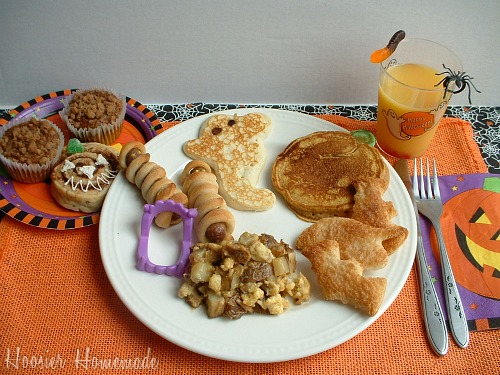 Breakfast is always a hit at our house, in fact, I usually have it on the Menu Plan at least twice per month.
Even though I have lots of ideas here, you could just grab a couple and still make a really fun Halloween Breakfast for your kiddos!
Pumpkin Pancakes Recipe
Serve this Pumpkin Pancakes Recipe from HoosierHomemade.com for Halloween.
Ingredients
1 1/4 cups flour
2 tablespoons sugar
2 teaspoons baking powder
1/2 teaspoon cinnamon
1/2 teaspoon ground ginger
1/2 teaspoon salt
1/8 teaspoon nutmeg (I was out, so didn't add nutmeg)
pinch of cloves
1 cup milk
6 tablespoons pumpkin (not pumpkin pie filling)
2 tablespoons butter, melted
1 egg
Instructions
Mix dry ingredients in a large measuring cup.
In a separate bowl or cup, whisk wet ingredients.
Combine them and whisk until smooth.
Using a large spoon or measuring cup, ladle pancake mix onto hot griddle.
For the stem, I used some of the batter from the Ghost Pancakes, colored it green and spooned a small amount onto the top of the pumpkin.
Nutrition Information:
Amount Per Serving:
Calories:

0
Total Fat:

0g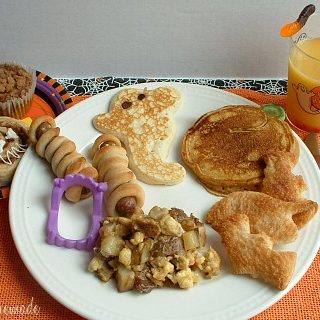 Ghost Pancakes Recipe
Make this Ghost Pancakes Recipe from HoosierHomemade.com to add some spookiness to your Halloween breakfast!
Ingredients
1 cup flour
1 tablespoon sugar
3 teaspoons baking powder
1/2 teaspoon salt
3/4 cup milk
2 tablespoons oil
1 egg
Instructions
Combine dry ingredients in a large measuring cup, add wet ingredients and whisk until all combined.
This is the pancake recipe I use all the time, we love it, the pancakes are super light and fluffy.
For Ghost Pancakes, ladle on pancake mix and with the back of a spoon, gently push the batter until it forms a ghost, add 2 chocolate chips for eyes.
Monster Mash Recipe:
I made Fried Potatoes and added eggs with milk mixed in, at the end of cooking, add some cheese.
Mummy Dogs:
I used Johnsonville Sausages and simply wrapped them with strips of biscuit dough. And added a little dot of mustard for the eyes.
Jack-O-Lantern Cinnamon Rolls:
For these I just bought a tube of Cinnamon Rolls at Aldi's, baked them and after they cooled a bit, I added the face and cut a gumdrop in half for the stem.
Ghost and Bat Cinnamon Toast:
Using a cookie cutter, cut shapes from white bread, spread with melted butter and sprinkle with a cinnamon and sugar mixture. Bake until crispy (or soft if you like it that way)
Pumpkin Muffins:
Recipe coming later this week…You won't want to miss this one 🙂
Orange Juice:
I added a gummi worm and a spider ring, just cut the ring part to slip it over the glass.
This is the first post of many to follow…lots of Halloween Food ideas for you this week.
Tomorrow we celebrate with yet another fun Halloween Cupcake! Don't miss out!
I'm linking to the Blog Parties in my footer, please visit them! You might just find one or two that are new to you