This Mason Jar Christmas Craft are super easy to make with only a few supplies, they are great for decorating your home, holiday table or give them as gifts!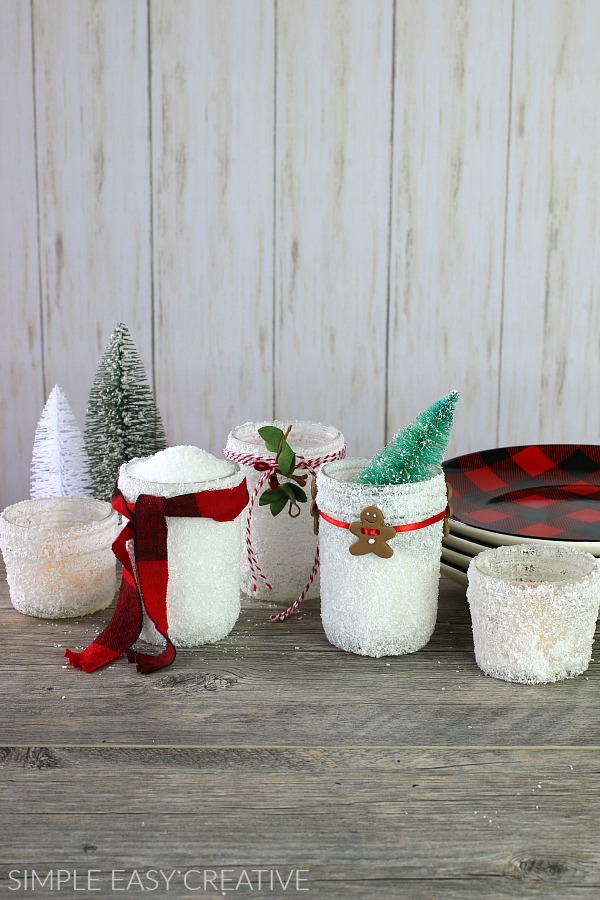 For our family, the nostalgia and traditions of the holidays are what make them so special. From decorating our home – to enjoying ham dinner with all the extras – to taking a ride to look at the neighborhood lights – we love being together and celebrating the season!
These snowy mason jars can be used a variety of ways. I love creating once and getting many options from just one time.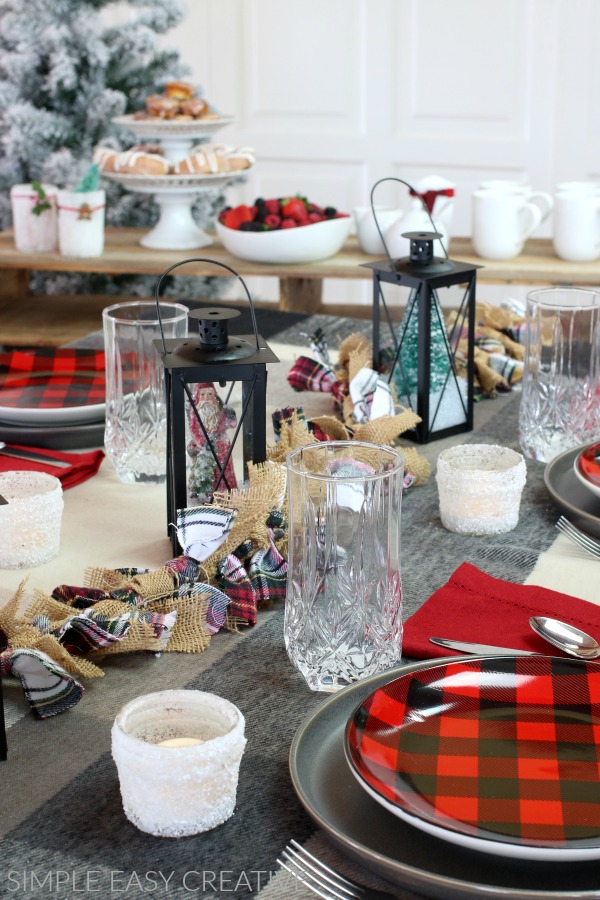 We coated the small 4 ounce mason jars and used them as place settings on the holiday table. They create a warm cozy feeling with the battery operated votive candles in them, and along with the Simple Holiday Lanterns and DIY Fabric Garland  they are all quick Christmas crafts that can be done in under 15 minutes! You gotta love that!
Mason Jars are one of my favorite items to use for organizing and decorating all the rooms in the home! I have used them to organize my baking cabinet, sprinkles, bake cupcakes in the mason jars, used different colored mason jars for centerpieces, served toppings in them for the Caramel Apple Fondue, and made overnight oats to name just a few.
And my all time favorite – Aqua Mason Jars are perfect for decorating! And of course we can't forget all the ways to use them as gift ideas.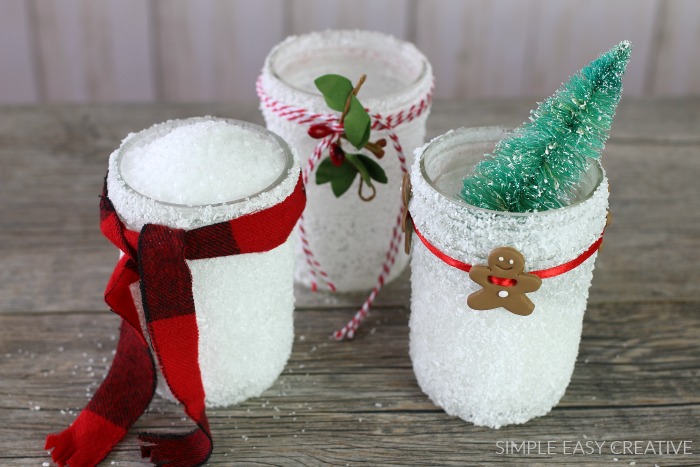 There are also endless ways to decorate your mason jars. Just a handful of supplies go a long way.
I bet you know someone that would love to receive one of these snowy mason jars. They would make great gifts for teachers, co-workers, neighbors, friends – the list goes on and on. You could also add them to a gift basket along with other items like candy, cookies, a book, candles or even a cozy throw.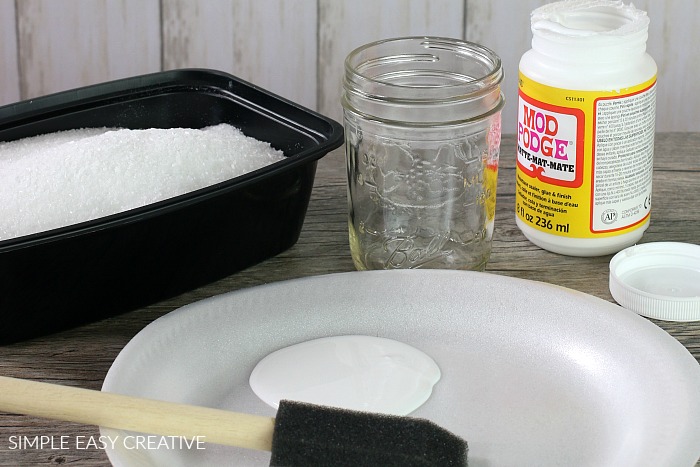 Mason Jar Christmas Craft Supplies
Mason Jars – any size you like
Mod Podge or type of glue
Paper plate or something to put the paint on
Crafter's Tip #1: You can use a jar that is smooth or has an embellishment on it. We used both and you can't tell the difference.
Crafter's Tip #2: Working with a paper plate makes the clean up super easy.
Crafter's Tip #3: Add the Epsom Salt to a container that is large enough for rolling the jar in. It just makes life easier!
Crafter's Tip #4: Set them on a piece of wax or parchment paper to dry. It will take about 1-2 hours. However, the longer the better before handling them to decorate.
Crafter's Tip #5: You can also add glitter to the salt for a shimmer effect.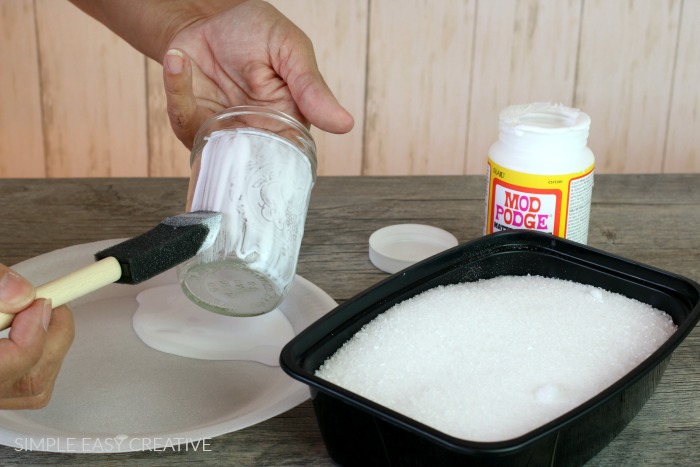 We chose to use Mod Podge for the mason jar craft, because it was the easiest, however you could also use Decoupage. Thinning out regular tacky glue could also work.
Before you begin, be sure that the jar is clean and dry. Then paint on the Mod Podge, you want the jar well coated, it doesn't need to be thick, but be sure you cover the whole jar, except for the bottom.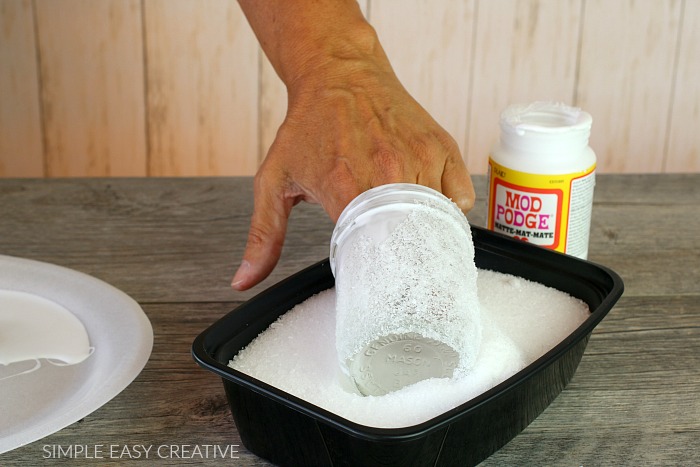 Immediately roll the jar in Epsom Salt, making sure the entire jar is coated well.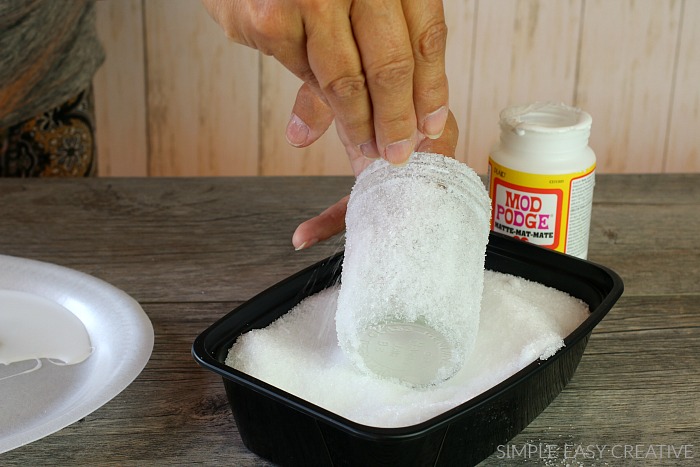 You may need to sprinkle on the Epsom salt in spots that don't get coated enough. You can also use the leftover Epsom Salt to fill vases for these Gumdrop Trees.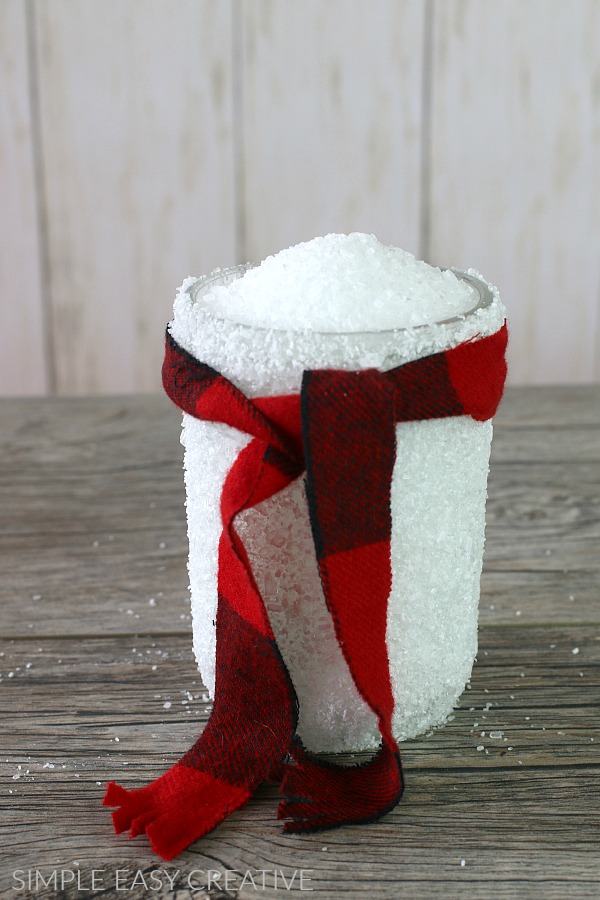 After the jars are dry, now it's time to decorate. The skies the limit when it comes to decorating. For this jar, I cut a narrow piece of flannel, cut slits in the ends like a scarf and tied it around the jar loosely.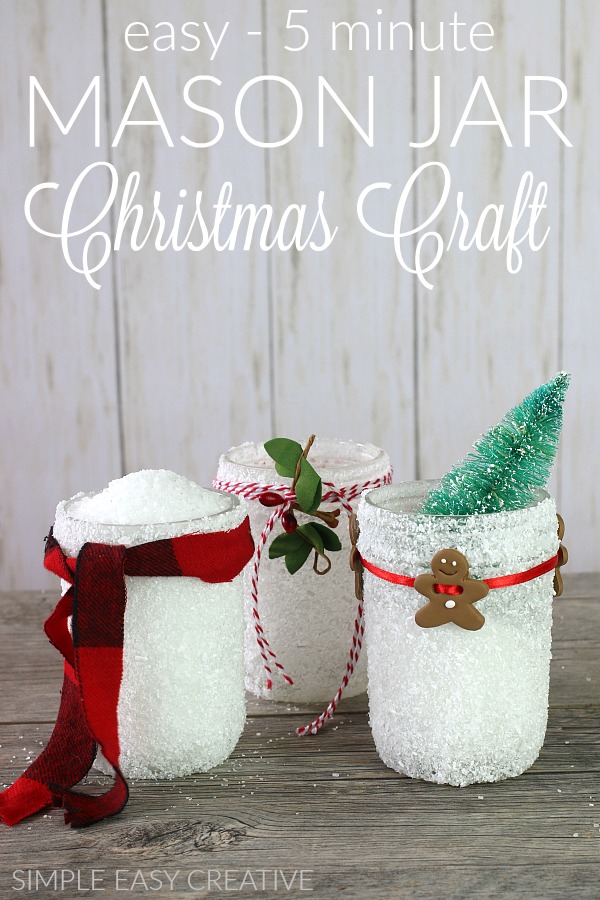 For the other jars, I used red baker's twine and a small piece of artificial green. And the gingerbread men are a portion of a garland that I found at Hobby Lobby, tied around the top of the jar.
Looking for more easy Christmas craft ideas? Click on the photo for instructions.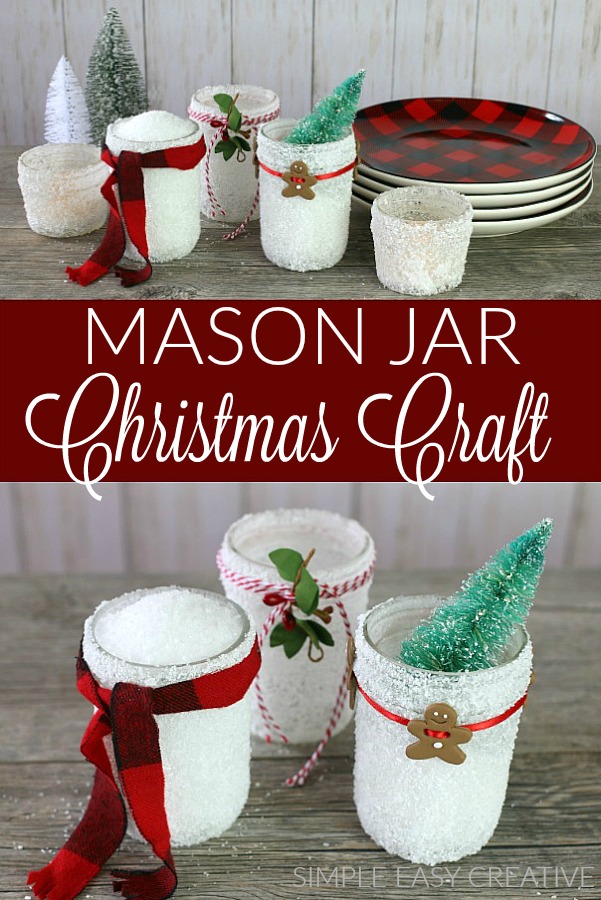 Original idea for these Snowy Mason Jars was seen on DecoArt Blog