Chocolate Cupcakes with fresh Strawberry Frosting, these Valentine's Day Cupcakes are filled with flavor and easy to make. The kids can help decorate them with you too.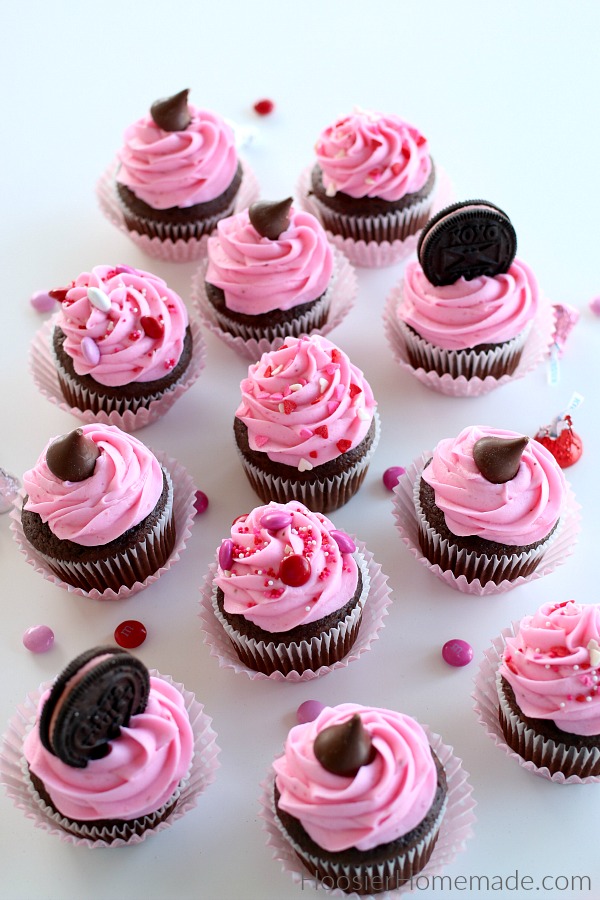 Valentine's Day and cupcakes some how just go together, don't you agree? Whether you bake Pink Velvet Cupcakes, Red Velvet Cupcakes, Cupcakes with a Heart in the center, or even a fun Cupcake Fondue with heart shaped mini cupcakes, you really can't go wrong.
The Valentine's Day Cupcake ideas are endless, but when I think of flavor combinations – chocolate and strawberry come to mind.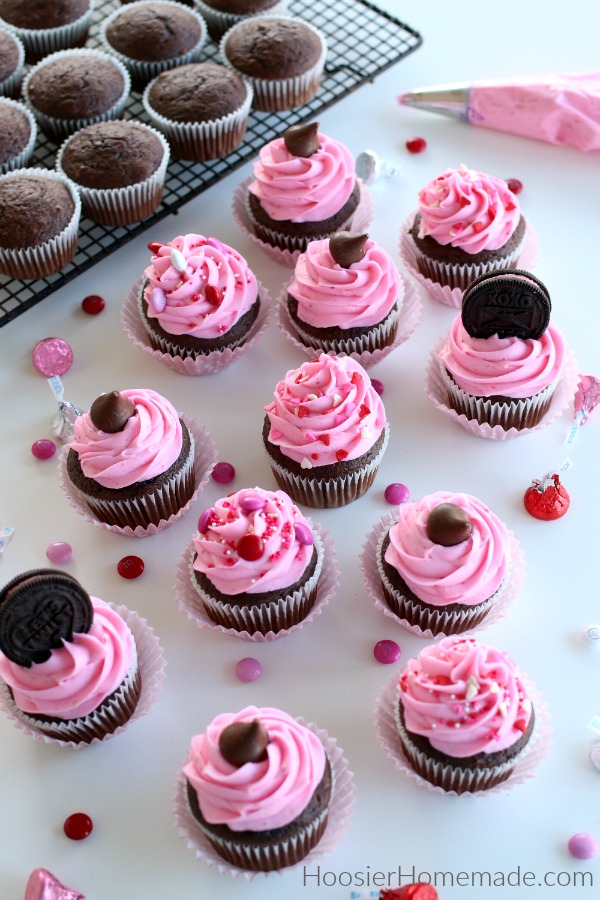 These Chocolate Cupcakes start with a box mix. Any chocolate flavor will work, these are Devil's Food. Then add ingredients to make it taste homemade –
Chocolate Cupcakes from a Cake Mix
Cake Mix
1 cup Buttermilk – add 1 tablespoon vinegar to a 1 cup measuring cup, then fill with milk, let set 2-3 minutes and the milk will begin to curdle, that is what you want
1/3 cup oil – or the same amount of oil on the box. Vegetable or Canola Oil are best to use.
4 large eggs – room temperature – if you forget to take the eggs from refrigerator, add the eggs to a measuring cup or bowl and fill with hot water, let set 4-5 minutes
Baker's Tip #1 – to be sure the batter is smooth, add cake mix to mixing bowl, then use a whisk to break up any large pieces of mix
Baker's Tip #2 – this same recipe works for any flavor of cake mix – I have used this recipe in flavored cupcakes like these Pina Colada Cupcakes, Reese's Peanut Butter Cup Cupcakes, and most of the Cupcakes I bake.
Strawberry Frosting
The Strawberry Frosting begins with Buttercream Frosting – butter, powdered sugar and milk, and then Homemade Strawberry Glaze is added to bring in the strawberry flavor and freshness.
1 cup (2 sticks) unsalted butter, softened
6-8 cups powdered sugar
1 batch Homemade Strawberry Glaze
2-4 tablespoons milk
Baker's Tip #3 – be sure the butter is soft and not melted. To softened, leave out on counter for several hours. If you forget, you can microwave it, but be sure to heat about 10 seconds, then 5 seconds only until butter is soft
Baker's Tip #4 – you will have some leftover Strawberry Glaze. It's perfect on toast! Or add it to other dessert like Cheesecake.
Baker's Tip #5 – Add powdered sugar gradually, it's easier to add more if the frosting is too thin. If you happen to add too much powdered sugar, add a little milk
Baker's Tip #6 – Alternate powdered sugar with milk and strawberry glaze, this will give you a fluffy frosting
How to Decorate Valentine's Day Cupcakes
Supplies
Decorator Bag
#1M Tip – my favorite
Candy – M&M's, Chocolate Kisses and more
Cookies – the Valentine's Day Oreos are fun
To decorate – fit a decorator bag with #1M Tip, fill with frosting and add to cupcake. To learn how to add the frosting – see my tips
Now the kids can help decorate – add sprinkles, candy, cookies or whatever you like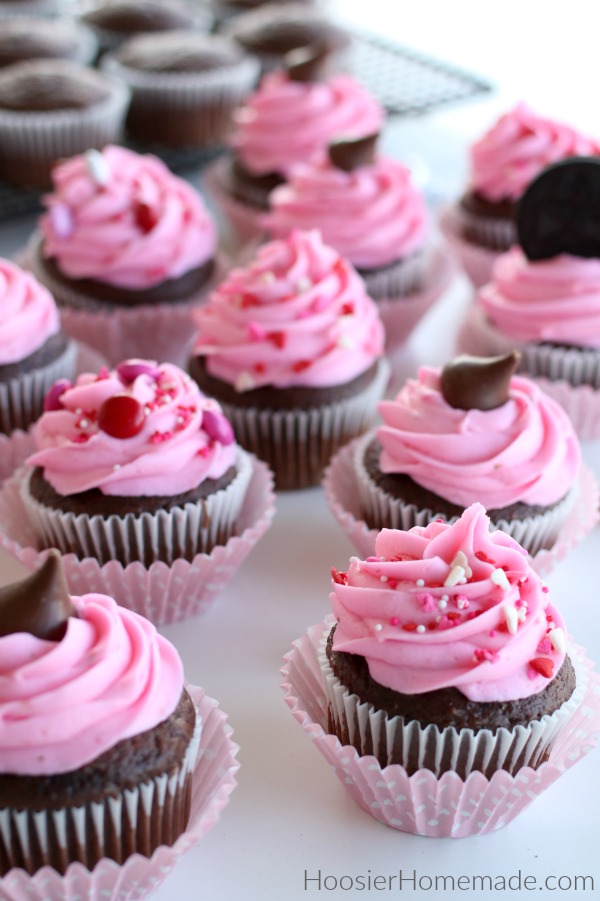 Looking for more Valentine's Day Cupcake Ideas? Click on the photo for the recipe!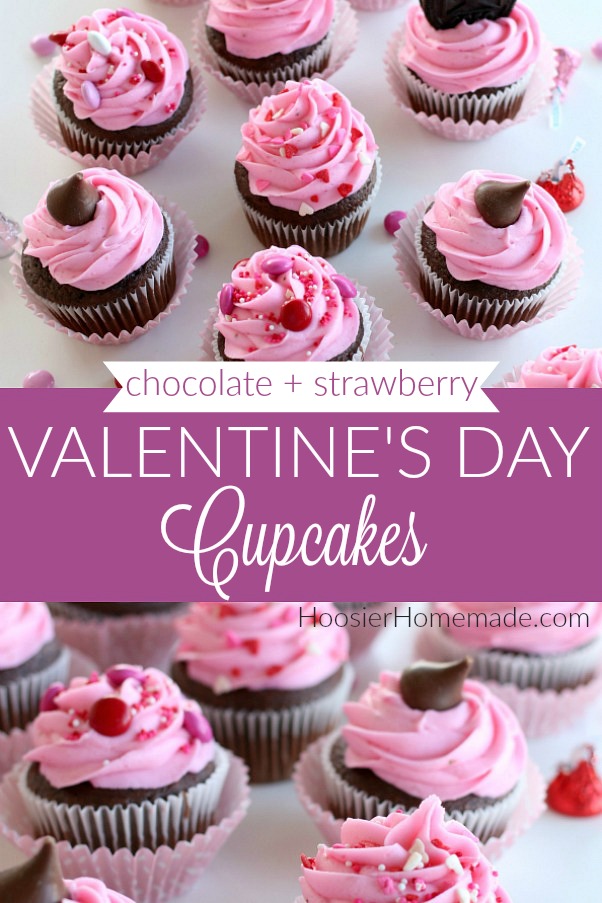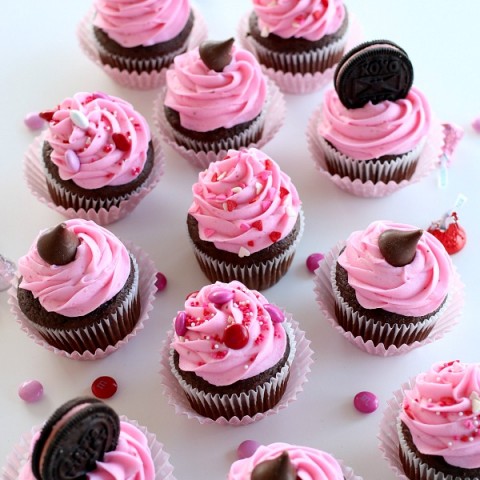 Valentine's Day Cupcakes
Chocolate Cupcakes with Fresh Strawberry Frosting
Ingredients
1 box chocolate or devils food cake mix
1 cup buttermilk - instead of water - add 1 tablespoon of vinegar to 1 cup measuring cup, add milk and let set 2-3 minutes
1/3 cup oil - canola or vegetable
4 large eggs, room temperature
Frosting
1 cup (2 sticks) unsalted butter, softened
6-8 cups powdered sugar
1 batch - Homemade Strawberry Glaze (recipe here) - you will use 1/3 cup and have some leftover
recipe here
Decorations
Decorator Bag fitted with a #1M Tip
#1M Tip
Sprinkles and/or Candy
Decorator Bag
Instructions
Preheat oven to 350 degrees
Add cupcake liners to muffin pan
Mix cake mix, buttermilk, oil and eggs until smooth
Divide cake batter into cupcake liners using a cookie dough scoop
Bake 12-15 minutes or until toothpick inserted in center of cupcake comes out clean
Cool
Frosting
Add butter to large bowl or mixing bowl for stand mixer, beat until smooth and creamy
Gradually add powdered sugar, alternating with milk
Add 1/3 cup strawberry glaze, beat well
Add more powdered sugar
Continue to add powdered sugar until desired consistency
Decorations
Fill decorator bag with frosting and pipe onto cupcake
Add sprinkles and candy
Store in refrigerator until ready to serve.
The taste best served at room temperature.
Store leftovers in fridge
Notes
Substitute for fresh strawberry glaze is strawberry extract
Nutrition Information:
Amount Per Serving:
Calories:

0
Total Fat:

0g