Easy Mini Strawberry Cheesecakes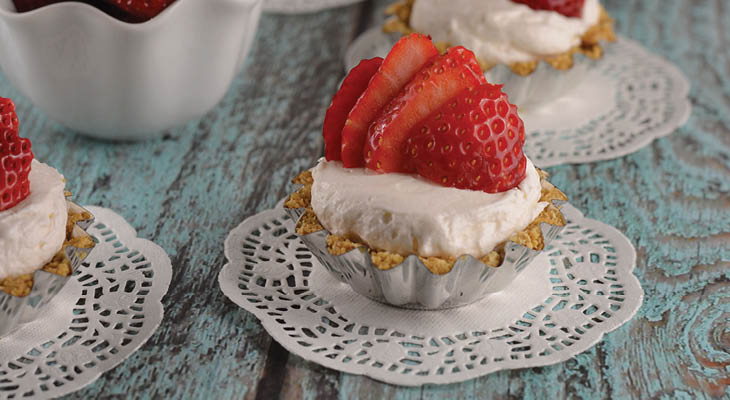 Cutting back on sweets has been a huge thing around here for us this year. However, with these Easy Mini Strawberry Cheesecakes, you can have your cake and not feel guilty at all. These little minis will surely be the life of any party you bring them to.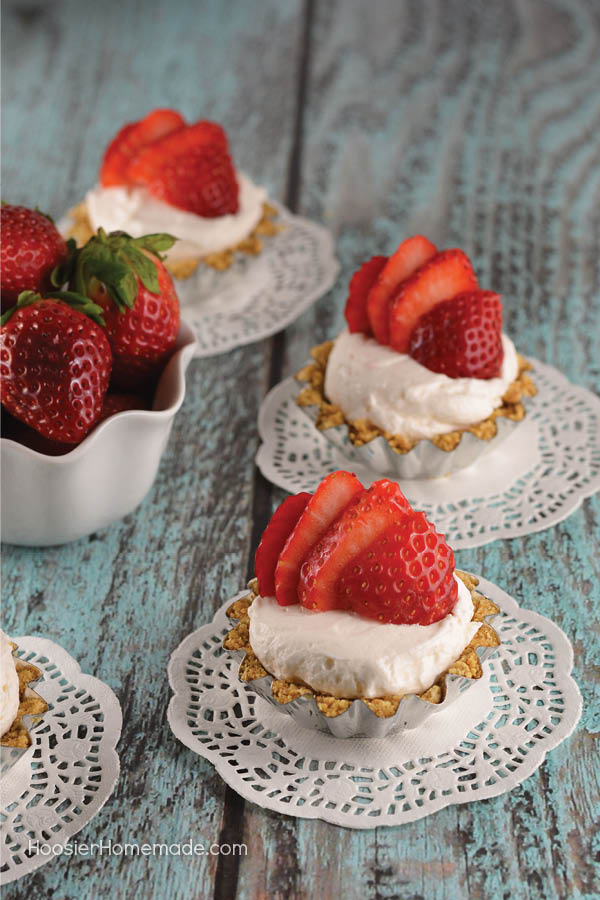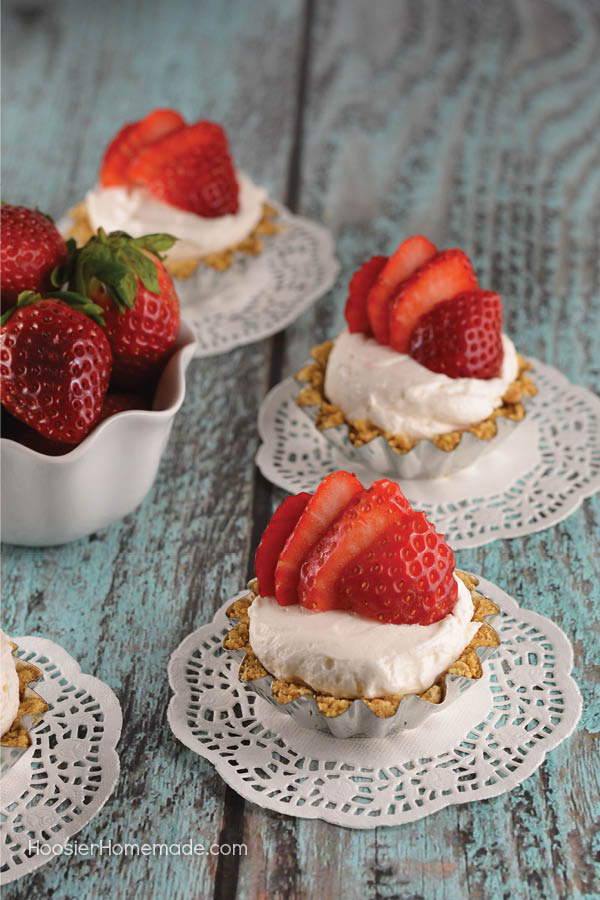 Some people spend hours in the kitchen trying to create a fancy dessert that doesn't turn out. This is probably why I love the Easy Mini Strawberry Cheesecakes because they are e-a-s-y. No strings attached, what you see is what you get, super easy and simple, just the way I like it.  And I bet once you introduce these to your guests, you won't hear one peep of anyone complaining. You know why? They are glamorously delicious, which simply means pretty and good.
We used the same Cheesecake Recipe that we love, but changed the flavor of it. That is the best thing about finding a simple recipe that you love, change the flavor and you have a whole new recipe.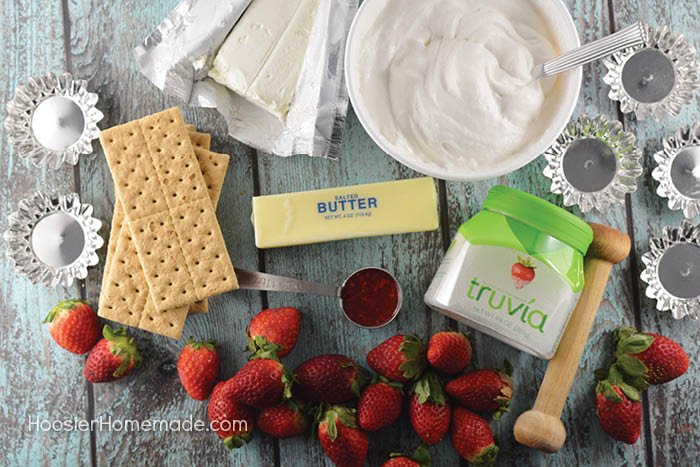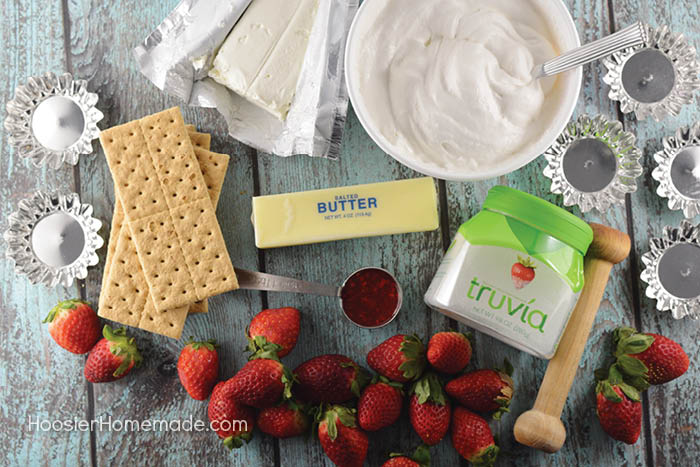 The ingredients for these Mini Strawberry Cheesecakes are so so so simple. It's amazing how you can collect ingredients like this and make something so "fancy." One of my favorite parts of this dish is making the crust out of graham crackers, super simple.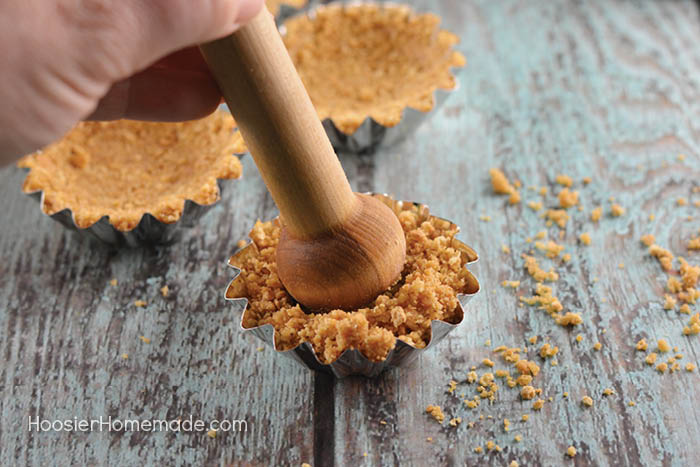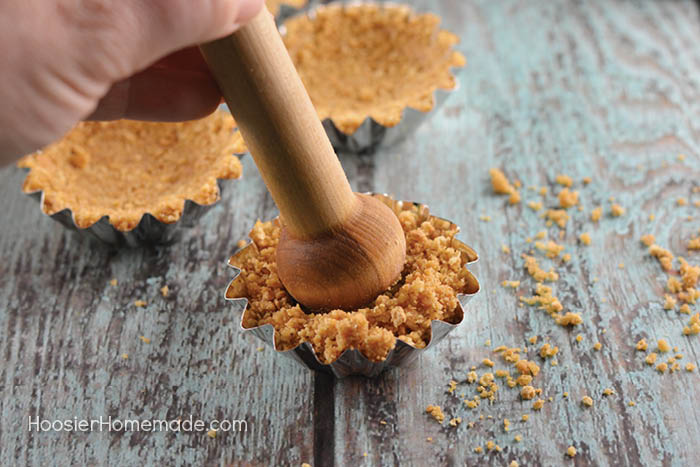 As I mentioned, I love the crust part of these mini cheesecakes. You are simply going to take the graham crackers and crush them, and mix with melted butter, then form them into the tartlets. How easy is that? It's certainly the easiest crust I've ever made. And I just adore these little tartlets.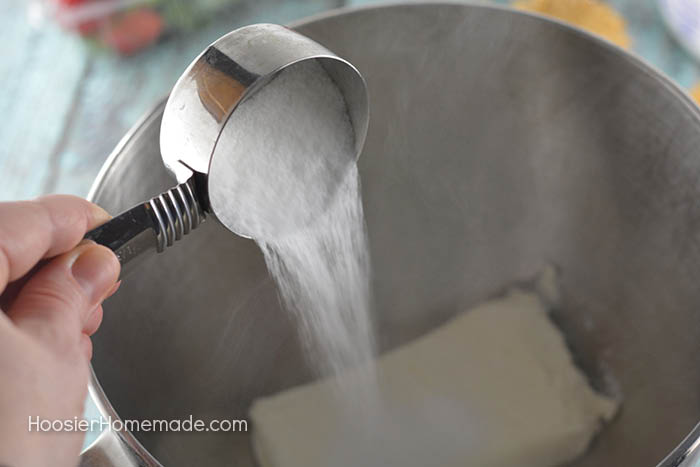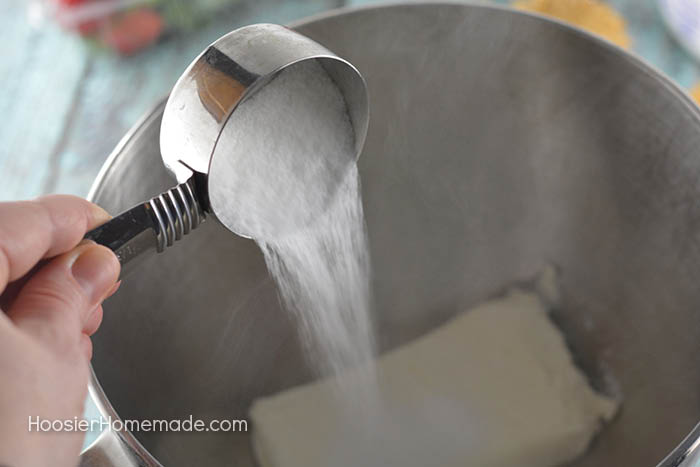 Next, you will want to take the Truvia and the cream cheese and mix it together. Remember that Truvia is an awesome alternative to sugar and you only use half the amount. Talking about a win-win, here!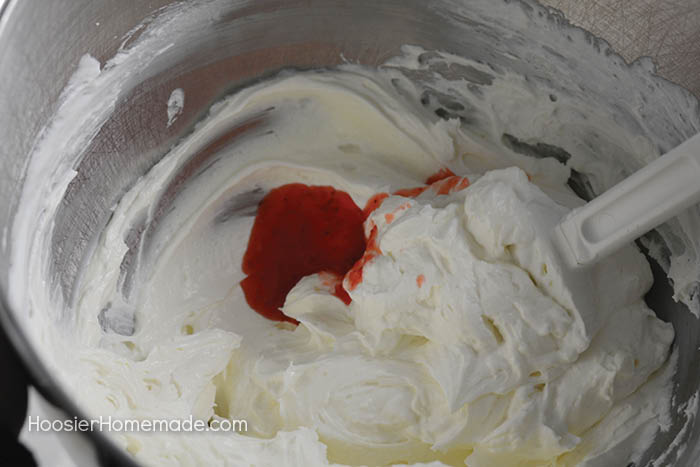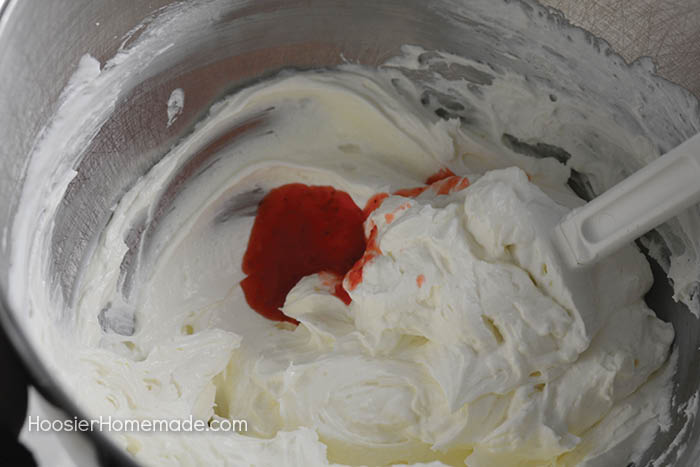 After you have beat the cream cheese and Truvia Baking Blend together, you'll want to add the jam in. You'll see the filling turn a light pink color, it'll be perfectly pink and pretty. I love it.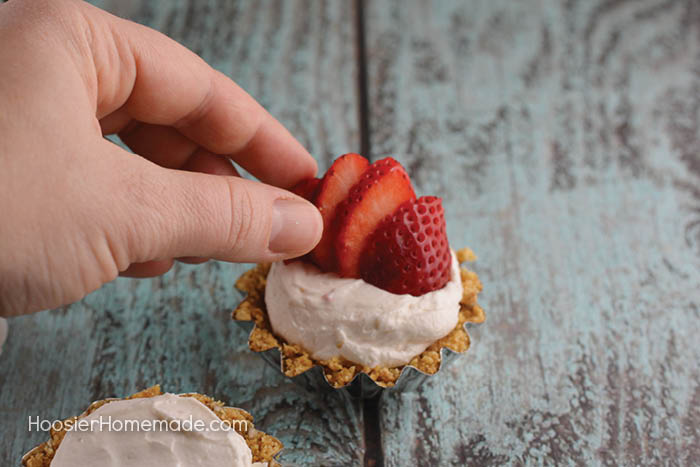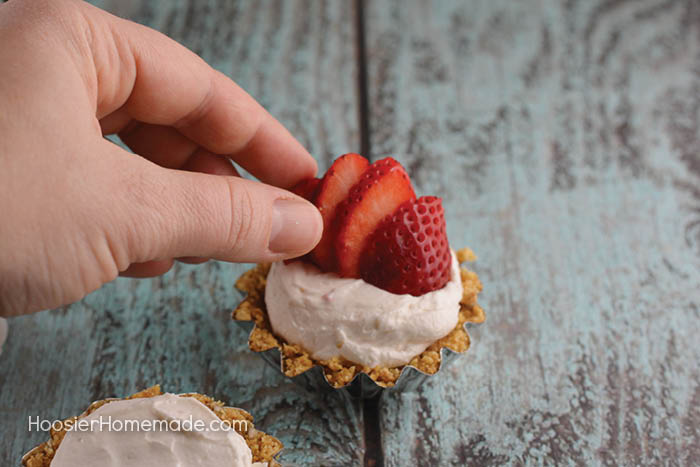 The next step requires you to simply garnish the minis with strawberries. It's the perfect garnish because it slides right on top and makes the mini cheesecakes look yummy and they'll taste like perfection.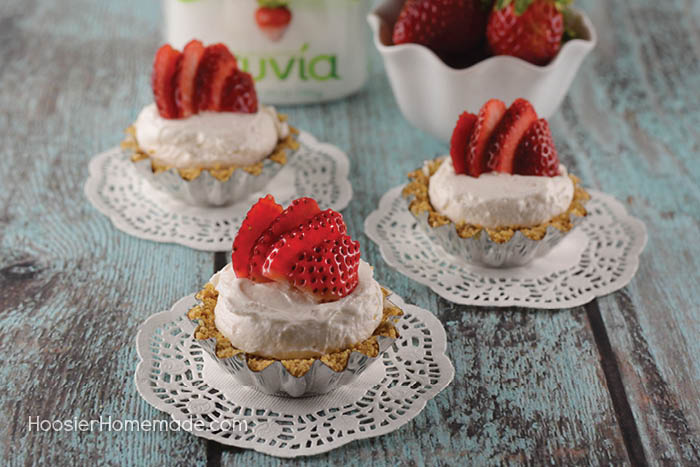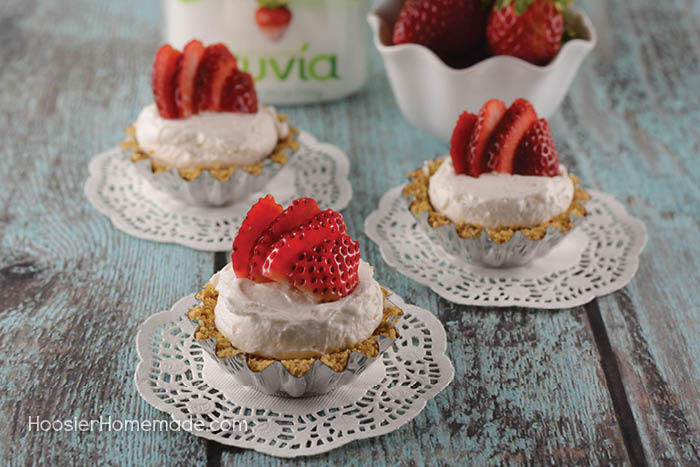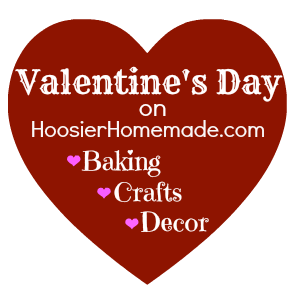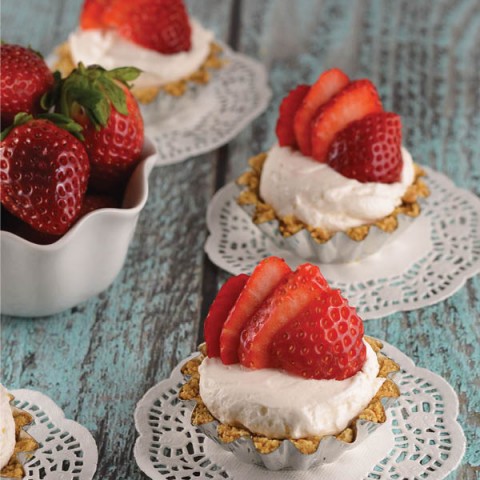 Easy Mini Strawberry Cheesecakes
Ingredients
Crust
1 sleeve of graham crackers, crushed
1/4 cup butter, melted
Cheesecake
1 package (8 oz) PHILADELPHIA Cream Cheese, softened
1/3 cup Truvia natural sweetener spoonable
1 tub (8 oz) COOL WHIP Whipped Topping, thawed
2 tablespoons strawberry jam
Topping
Fresh strawberries, stems removed and sliced
Instructions
Crust
Combine graham crackers and melted butter in a bowl. Stir together. Mixture should hold together. Add more butter if necessary.
Spoon 2 tablespoons of graham cracker mixture into tartlett pans. Using your fingers, the back of a spoon or tart shaper, press firmly into the pan. Set aside.
Cheesecake
In a mixing bowl, beat together the cream cheese and sugar. Add strawberry jam and mix well. Beat in cool whip just until combined and smooth.
Spoon filling into prepared tartlettes. Refrigerate for about 3 hours or until firm.
Top with sliced strawberries just before serving.
Notes
Crush graham crackers in a resealable bag with a rolling pin or use your food processor for a quick and even crushed cracker.

This can also be made in a regular size pie. Form the crust into a spring form pan, and add the cheesecake. Let chill for at least 3 hours. Top with strawberries before cutting and serving.
Follow Truvia on Pinterest, Facebook, Twitter and You Tube