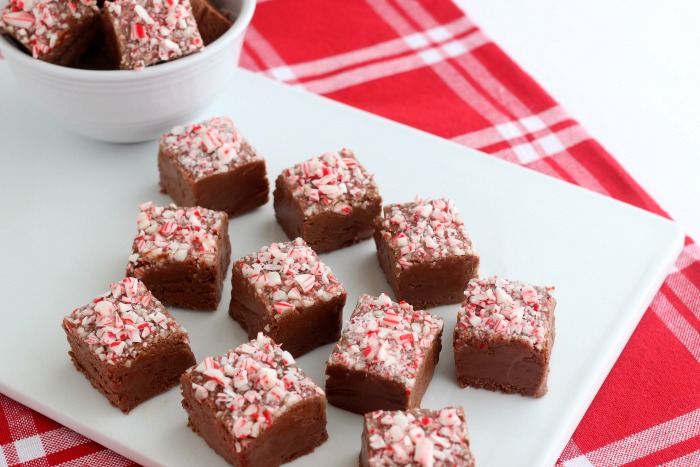 This Christmas Fudge is perfect for gift giving! The recipe has easy to find ingredients, most of them you probably have in your kitchen.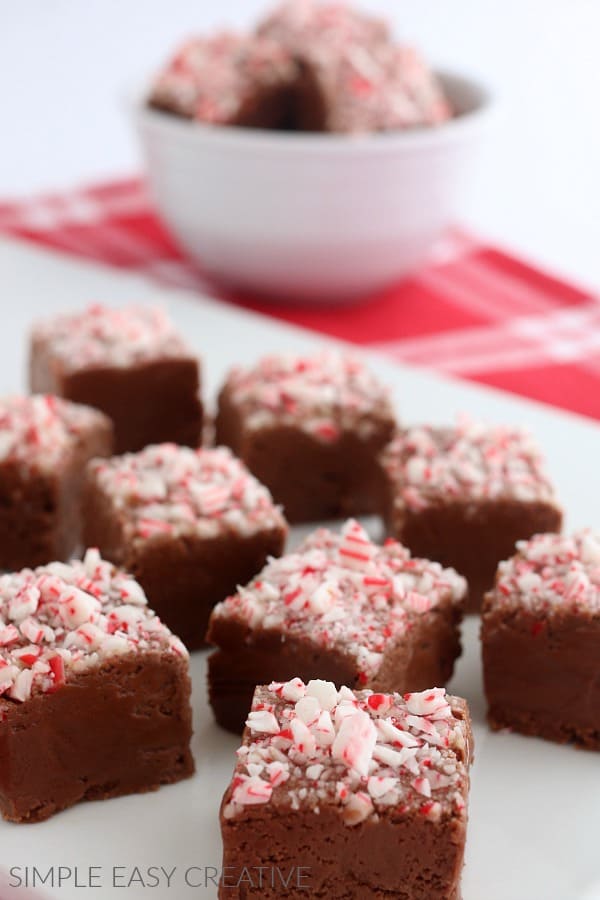 There aren't many recipes that scream  – the holidays – like Fudge! Add in the peppermint and chocolate and you have a WIN-WIN recipe!
Although I used to think that Homemade Fudge took lots of time to make, over the last several years, I've come to discover that it's actually one of the easiest desserts to prepare and serve.
And the flavor combinations are endless like White Chocolate in Red, White and Blue colors for 4th of July and Caramel Apple Fudge with only 2 ingredients to enjoy in the Fall.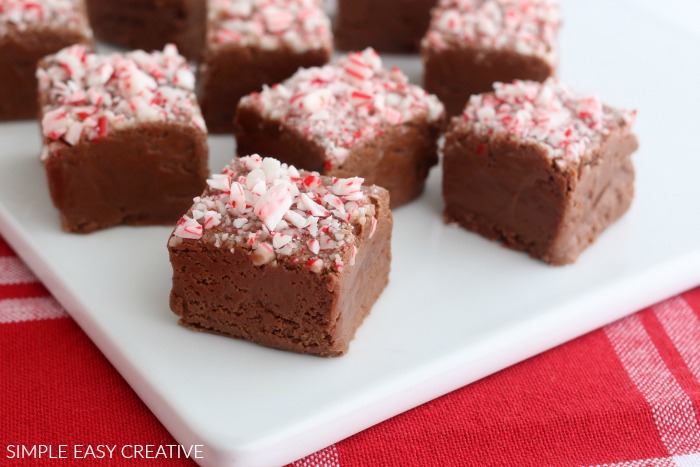 How to make Fudge
There are several methods for making fudge that I have tried and had success with.
In its basic form, there are only 3 ingredients needed to make chocolate fudge – butter, chocolate and sweet liquid like sweetened condensed milk or like foe this recipe we are using coffee creamer.
There are two ways of preparing the fudge, you can cook the mixture on the stove or heat it in the microwave. Which method you use is determined by the ingredients you use to make the fudge.
Using the microwave takes less time and usually fewer ingredients. I have made 2 ingredient fudge in the microwave that is just as delicious as fudge with many ingredients and cooked on the stove. The one caution about using the microwave to make your fudge is to be sure to only heat it in short intervals and then stir after each time you heat it up. Doing this will limit the risk of burning the fudge.
Once you have the basic chocolate fudge recipe, you can add flavorings and toppings of your choice. For this recipe, we added Peppermint Coffee Creamer and crushed candy canes.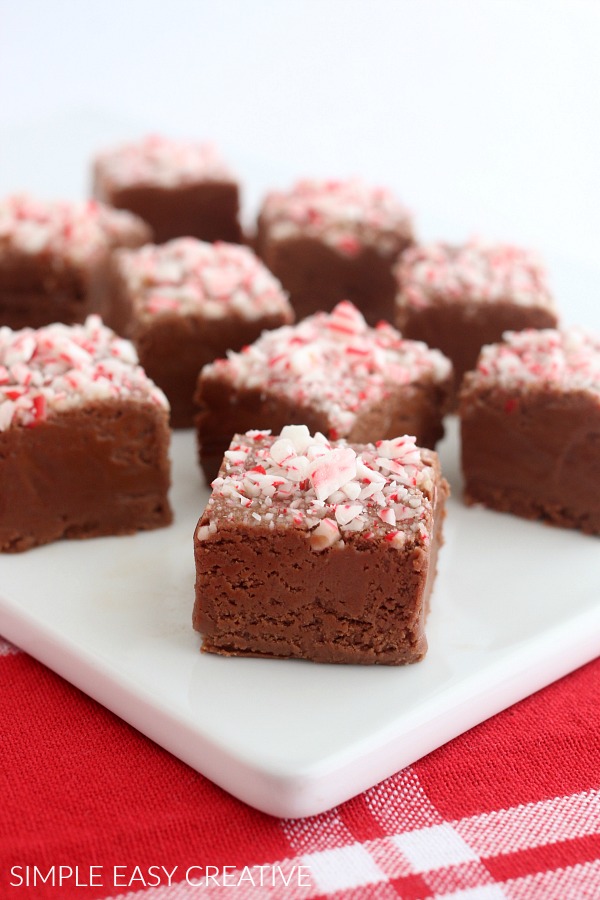 Gifts from the Kitchen for Christmas, or really any holiday are always welcome! I would venture to guess that if you asked your friends, Fudge is a Christmas Treat that they have every year.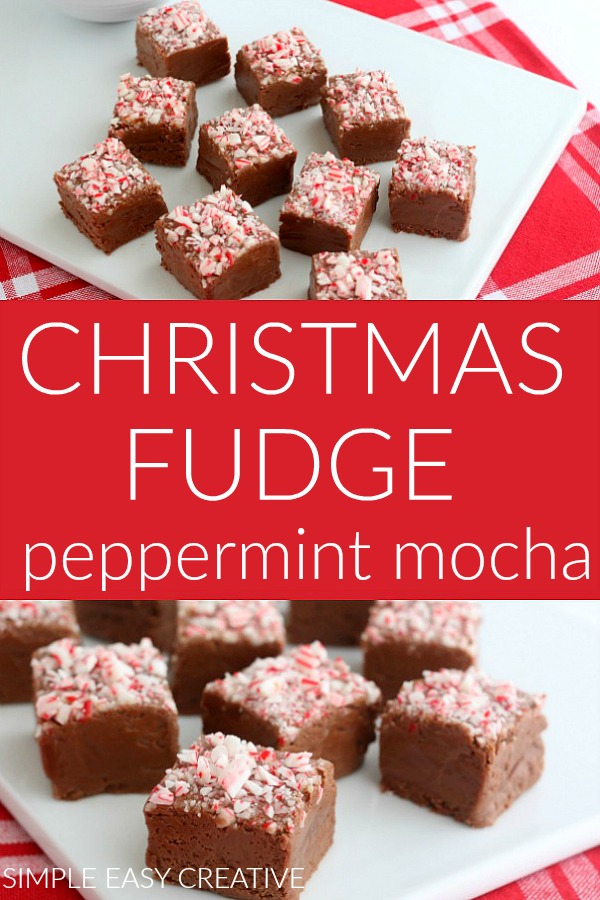 Christmas Fudge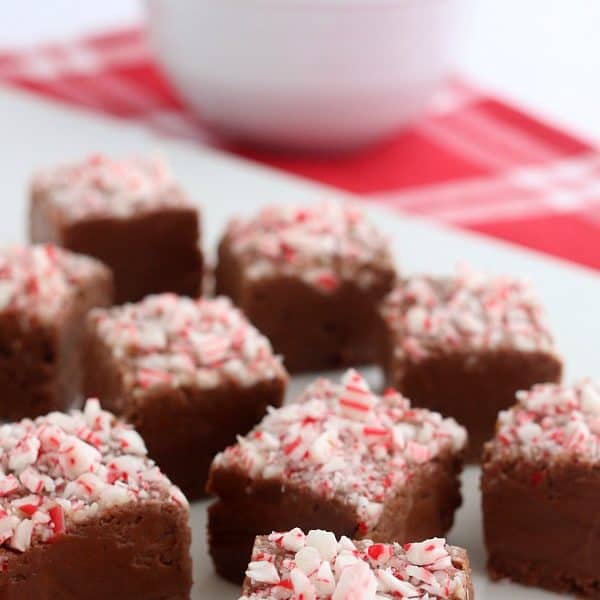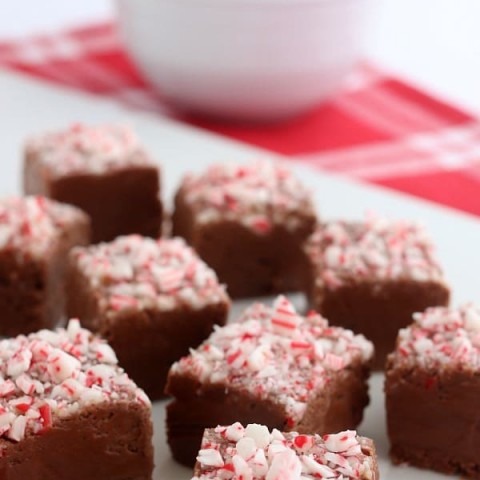 Christmas Fudge
Peppermint - Mocha - Fudge - screams the holidays!
Ingredients
1 cup sugar, granulated
3/4 cup butter
1/2 cup Peppermint Coffee Creamer
Pinch of salt
2 1/2 cups milk chocolate chips
1 (7 oz) jar marshmallow creme
4 regular size candy canes, crushed
Instructions
Line 9 inch square pan with parchment or wax paper
Remove plastic from candy canes and place in resealable bag, crush with rolling pin
To a large bowl add Marshmallow Creme and Chocolate Chips
To a medium saucepan on the stove, add butter, sugar, coffee creamer and salt
Bring mixture to boil, stirring constantly and boil for 5 minutes, continuing to stir
Remove from heat
Pour hot mixture carefully over marshmallow creme mixture and stir until smooth
Pour Mixture into pan and spread evenly
Sprinkle fudge with candy canes and press down gently
Place fudge in refrigerator to set at least 2 hours or overnight
Cut into small squares
Store leftovers in refrigerator in airtight container
Notes
To easily remove Marshmallow Creme from jar, microwave for 5-10 seconds