This delicious, easy to make Peppermint Frosting can be added to cookies, cupcakes or cakes! You can make your own chocolate cookies, or dress up store bought!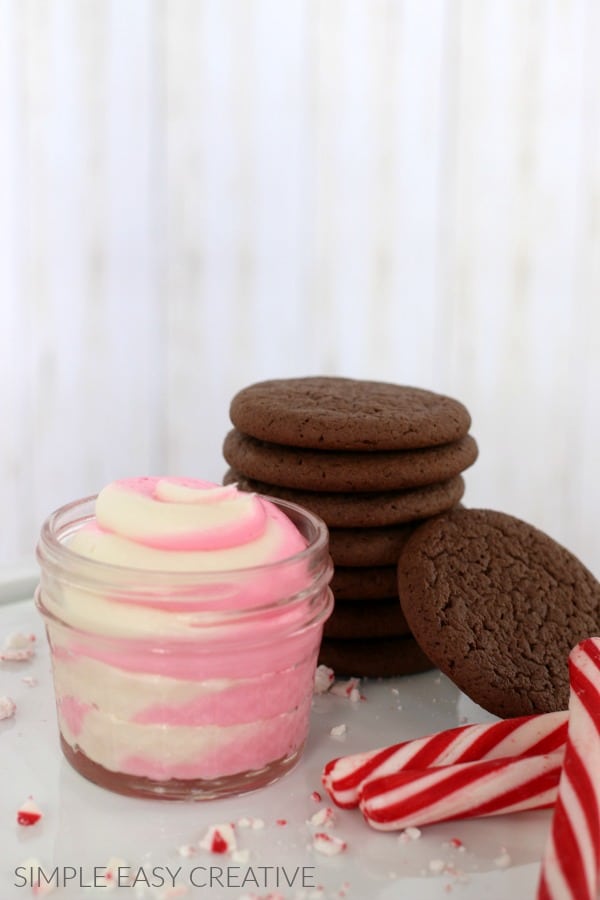 There is something about peppermint during the holidays that we all love! I'm not quite sure if it's the nostalgia of the flavor, the smell or most important – the taste!
Recently when we were working on ideas for our 100 Days of Homemade Holiday Inspiration series, we decided to create a batch of Cake Mix Cookies. With only 3 ingredients, these cookies are the easiest ever!
However, I wanted to dress them up a bit, so Peppermint Frosting it was!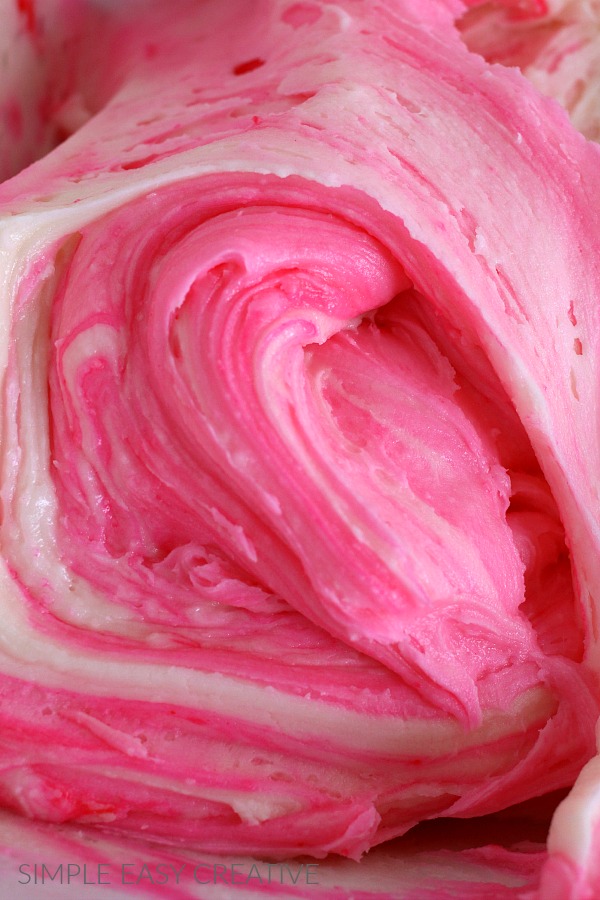 Have you ever made frosting? It's actually really easy, there are a few tips that I have for you to make it even easier –
Whether you are making Buttercream Frosting, Cream Cheese Frosting or really any frosting flavor, the concept is all the same. After you have the basic frosting recipe that you like, the skies the limit on flavors that you can add to create a special homemade frosting!
How to make Frosting
Frosting Tip #1: Butter – unsalted or salted – it's really your preference. I like using unsalted, especially in frosting. If you use salted butter, the frosting could have a bit of salt flavor.
Frosting Tip #2: Begin with soft butter. I use real, unsalted butter and like to leave it on the windowsill in the sun for a couple hours. The softer the better, but you don't want it melted or close to being melted.
Frosting Tip #3: You can use butter only in this recipe, or make it similar to my Buttercream Frosting, and add half shortening.
Frosting Tip #4: Using a stand mixer is easiest, but not necessary. I would highly suggest using at least a hand mixer.
Frosting Tip #5: Cream the butter first, be sure it's really smooth before adding the powdered sugar.
Frosting Tip #6: Powdered Sugar – be sure there aren't any clumps in the sugar, this will make your frosting difficult to get smooth enough. You can use a fork or whisk to break up any clumps, or sift the sugar.
Frosting Tip #7: Gradually add the powdered sugar and alternate with milk. By alternating the ingredients you will get a smoother frosting.
Frosting Tip #8: Depending on what you are using the frosting on, will depend on the consistency you make it. For most desserts like cookies, cupcakes or cakes, you will want the consistency of the Peppermint Frosting to be thick yet easy to spread or pipe, but thick enough to stand up nicely, especially with cupcakes.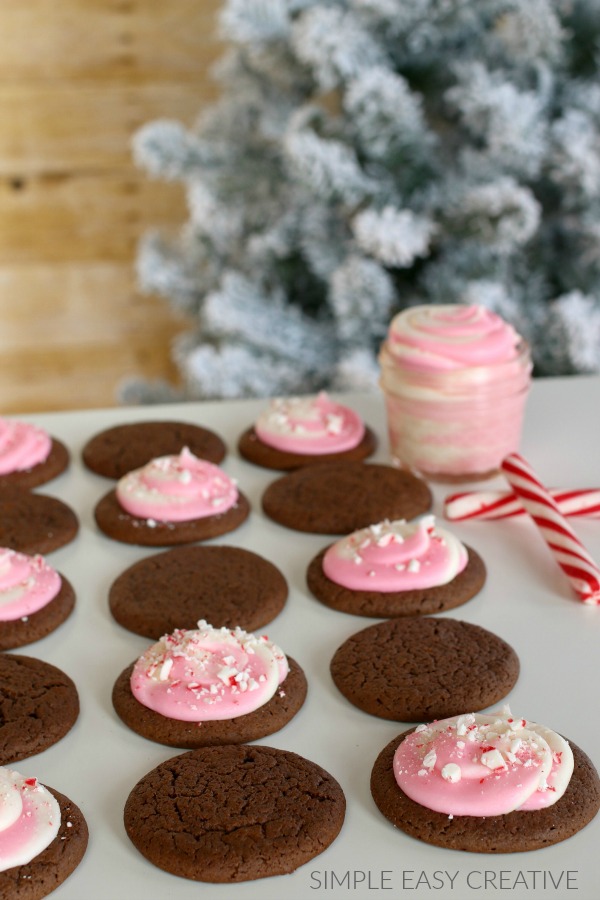 To decorate the Chocolate Cake Mix Cookies, I combined colored half the frosting with pink gel coloring, and fitted the decorator bag with a large round tip. Then filled the bag with the white frosting on one side and the pink frosting on the other side of the bag.
Swirl on the frosting and top with crushed peppermint.
If you love Peppermint, you may also like these other recipes –
Click on the photo for the recipe.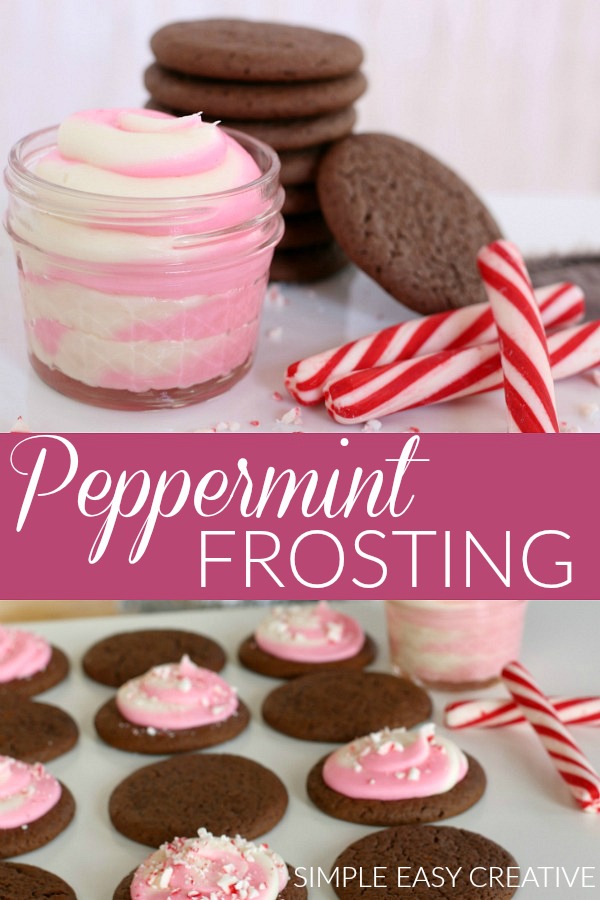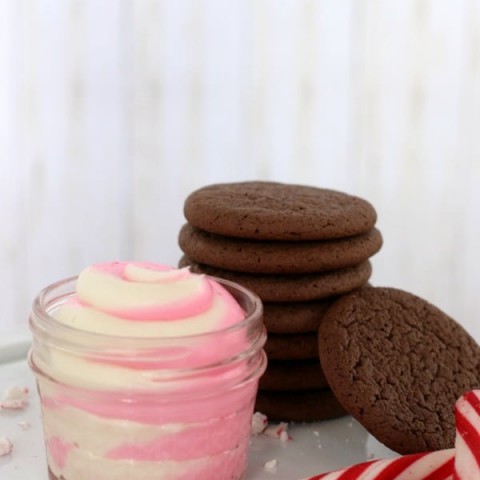 Peppermint Frosting
This delicious Peppermint Frosting can be added to cookies, cupcakes, cakes and more!
Ingredients
1 cup (2 sticks) unsalted butter, softened
5-6 cups Powdered Sugar, depending on the consistency you want
2-3 tablespoons milk or heavy cream
1-2 teaspoons peppermint extract, depending on how strong you like the flavor
Instructions
In a stand mixer or mixing bowl, add soft butter and beat until smooth - 2-4 minutes
Gradually add powdered sugar, alternating with milk. Beat well after each addition until smooth.
Beat until frosting is desired consistency.
Notes
You can use all butter, or use half shortening and half butter.
This frosting is enough to frost 24-30 cupcakes, or cookies.