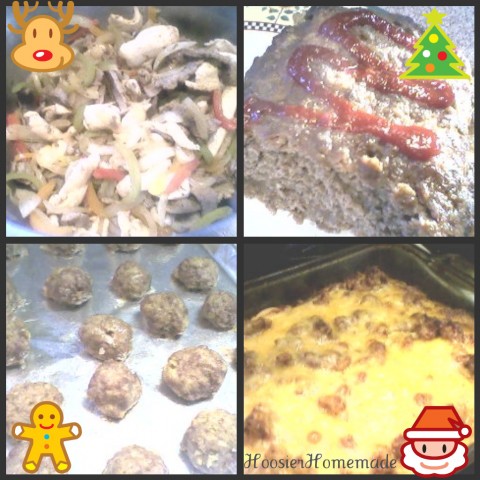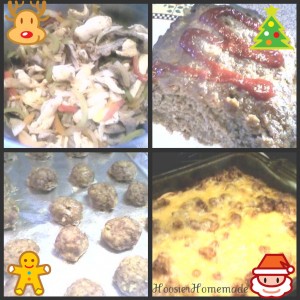 Well here we are again, another month gone by. Is it really Christmas time? We put up the first of our 7 trees this past weekend, and I just kept saying I couldn't believe it's Christmas already.
And since this month is super busy, as it is for everyone, I've planned some quick and easy meals. FishMama and Money Saving Mom are planning another freezer cooking day. Last month we had so much fun on Baking Day, they decided to make it a Once A Month Freezer Cooking Day. If you are on Twitter, you can follow along using #oamc. I will be playing along and trying to get ahead a little for this busy month. I will also be using up some of the Turkey I had leftover from Thanksgiving, making some Pot Pies and stock and freezing them.
Now, on with the menu…
1 ~ Turkey Pot Pie
2 ~ Chicken Stir-Fry and Rice
3 ~ Meatloaf, Mashed Potatoes, Corn
4 ~ BBQ Meatballs, Oven Fries (and some Swedish Meatballs for Doug)
5 ~ Baked Potato Bar & Appetizers
6 ~ Roast with veggies
7 ~ Marinated Chicken & Rice
8 ~ Tacos, Nachos
9 ~ Spaghetti & Meatballs
10 ~ Soup & Sandwich
11 ~ Bubble Pizza
12 ~  Taco Bake
13 ~ Oven Baked Chicken
14 ~ Mostacolli, Parmesan Knots, Salad
15 ~ Chicken N' Noodles, Mashed Potatoes
16 ~ Breakfast
17 ~ Tuna Casserole
18 ~ Chicken & Beef Fajitas
19 ~ Oriental Noodles & Egg Rolls
20 ~ Chili, Cornbread
21 ~ Turkey Pot Pie
22 ~ Enchilidas or Quesadillas
23 ~ Italian Veggie Soup
24 ~ Christmas Eve ~ Appetizers
25 ~ Merry Christmas ~ Ham and all the fixins'
26 ~ Leftovers
27 ~ Lasagne, Parmesan Knots, Salad
28 ~ Ham & Scalloped Potatoes
29 ~ Breakfast
30 ~ Fettucini Alfredo
31 ~ New Years Eve
1 ~ Happy New Year
Stay tuned right here for some great upcoming events this week as the Holiday season gets underway…
~All week long is the 2nd Annual Bloggy Progressive Dinner, with Drinks, Appetizers, Salads, Main Dishes and of  course, Desserts.
~Beginning tomorrow, Tuesday, is my 12 Days of Cookies series with a linky for you to share your cookies on December 13th.
~This Thursday, is another edition in the Holiday Food Fest, hosted by Simply Sugar & Gluten-Free, featuring Cocktails, Mocktails and Appetizers.
~And you aren't gonna wanna miss Cupcake Tuesday, each week this month, I will be sharing some cute and easy Christmas Cupcakes!