Make your own Coleslaw Dressing with simple ingredients to add to crunchy coleslaw mix for a quick refreshing salad. Perfect for weeknight dinners, cookouts, picnics and of course potlucks too.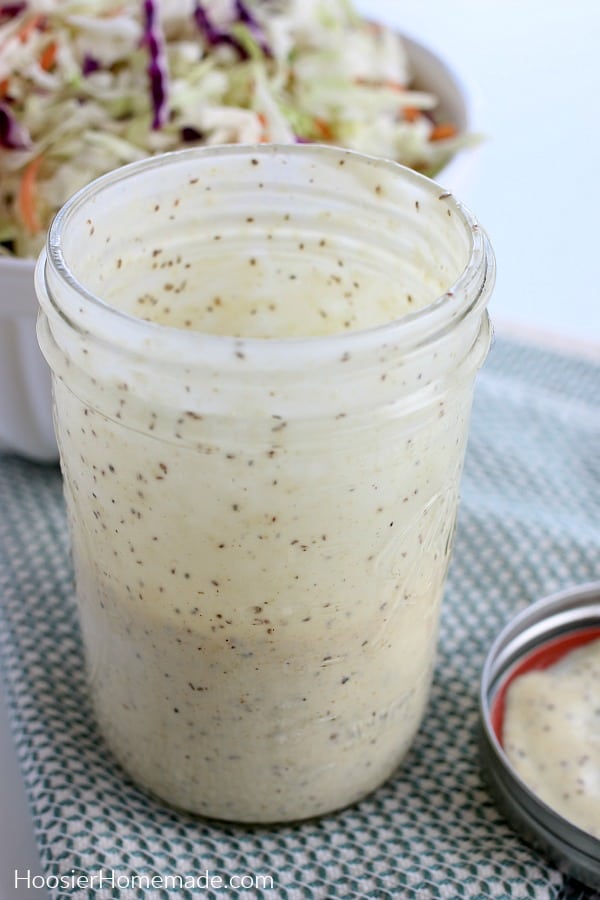 Making your own homemade salad dressing is a lot easier than you think. However the best part is that you can control the ingredients you add, if you like it more sweet add a little more sugar, if you prefer the dressing more sour add less sugar.
This Coleslaw Dressing has the typical mayonnaise base with seasonings and cider vinegar, but it also has a a little kick from Dijon Mustard and extra flavor from lemon juice and onion powder.
And it all comes together in less than 5 minutes. Then you can use it right away, poured over cabbage mixture, or seal and keep it in the fridge for a few days until you are ready to use it.
With a handful of recipes in your pocket that you can make in a hurry – they will free up your time to spend with family, or do something you love. Or even take that quality time you need to spend on yourself.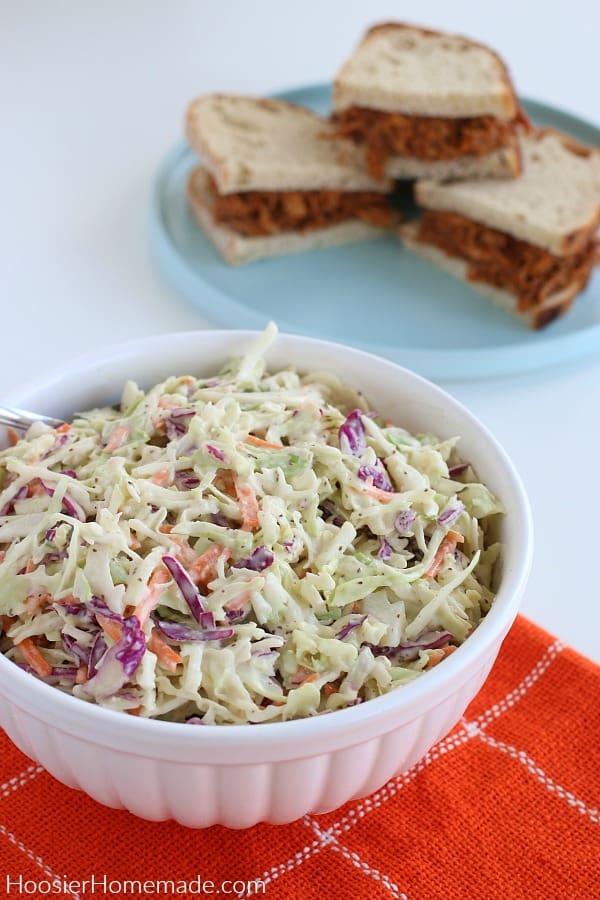 Coleslaw is one of those underrated salads that can be served along side just about any main dish, packed in the cooler for a picnic, taken to potluck or even added to the top of Pulled Pork Sliders for a little additional crunch.
While you typically won't have leftover coleslaw dressing, you may have some Coleslaw that you need to use. There are a wide variety of recipes that use Coleslaw, from burgers to tacos to fish and more.
You may want to try these recipes using leftover Coleslaw: Carolina Style Burgers, Fish Tacos, Pulled Chicken Sandwiches with Coleslaw, or Fried Chicken Sandwiches.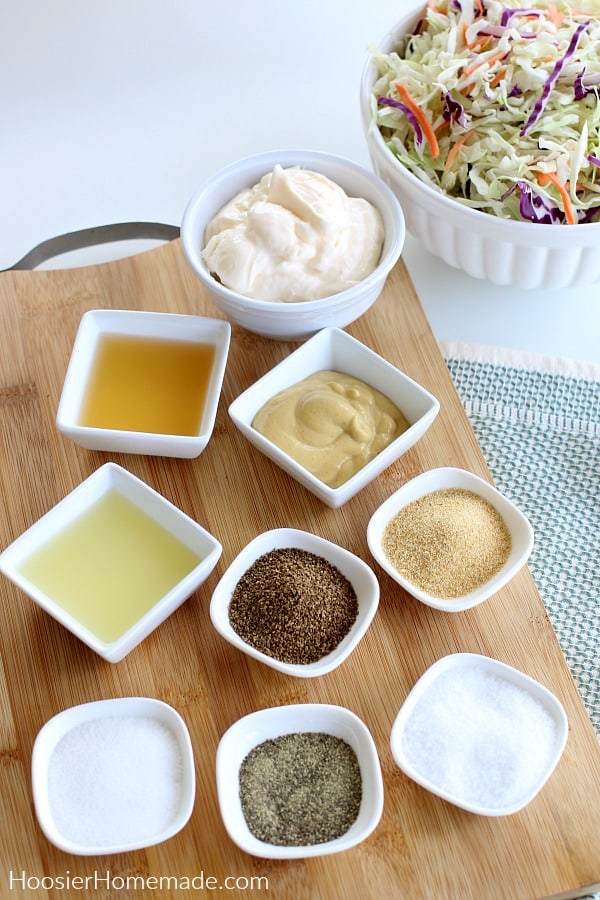 Don't let the ingredient list scare you away from this Coleslaw Dressing Recipe. It goes together quickly, and can be made ahead of time.
Coleslaw Dressing
Ingredients
Mayonnaise – you can use your favorite variety – regular, light or mayo made with Avocado Oil is great too
Dijon Mustard
Apple Cider Vinegar
Lemon Juice
Sugar
Salt – I use Kosher Salt
Black Pepper
Celery Seed
Tools Needed
Liquid Measuring Cup – my favorite for measuring mayo (and other ingredients that are difficult to get out of a measuring cup) is the Measure All from Pampered Chef
Measuring Spoons
Wide Mouth Mason Jar – or other jar with lid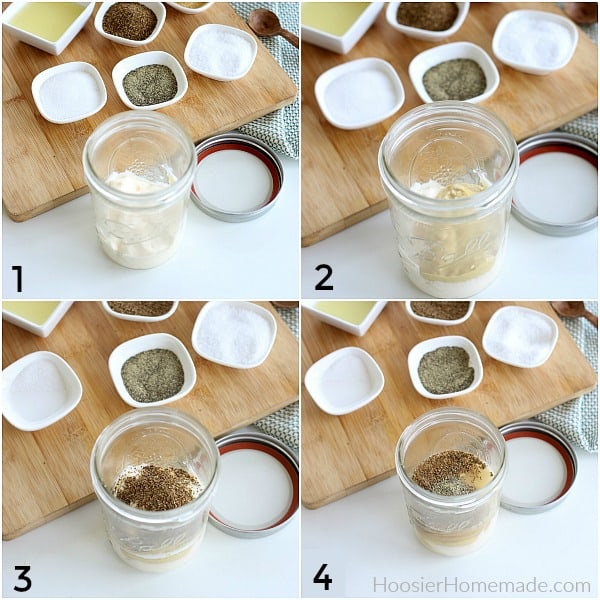 How to Make Coleslaw Dressing
Measure the Mayonnaise and add to wide mouth mason jar or other jar with lid
Add Dijon Mustard
Now add Seasonings – it's good to layer the seasonings between the liquids
Then add Cider Vinegar and Lemon Juice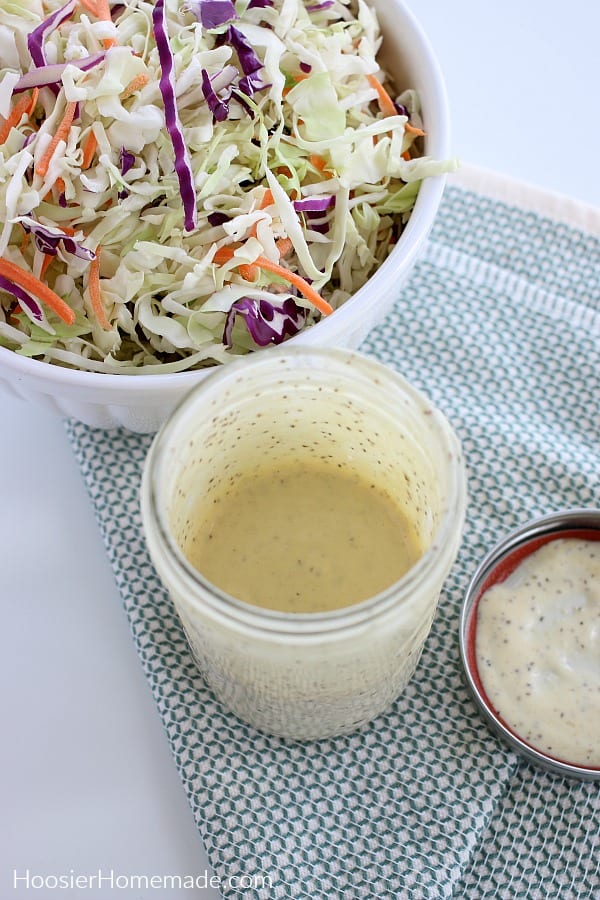 Add the lid to the jar and shake until well combined. Use the coleslaw dressing right away, or keep it in the refrigerator for a few days before adding it to the coleslaw mix. Be sure to shake the dressing well before using it.
Now that you know how to make Coleslaw Dressing, you can also make Homemade Italian Dressing and Lemon Dressing Recipe.
Looking for more easy Salad Recipes? Click on the photo for the recipe –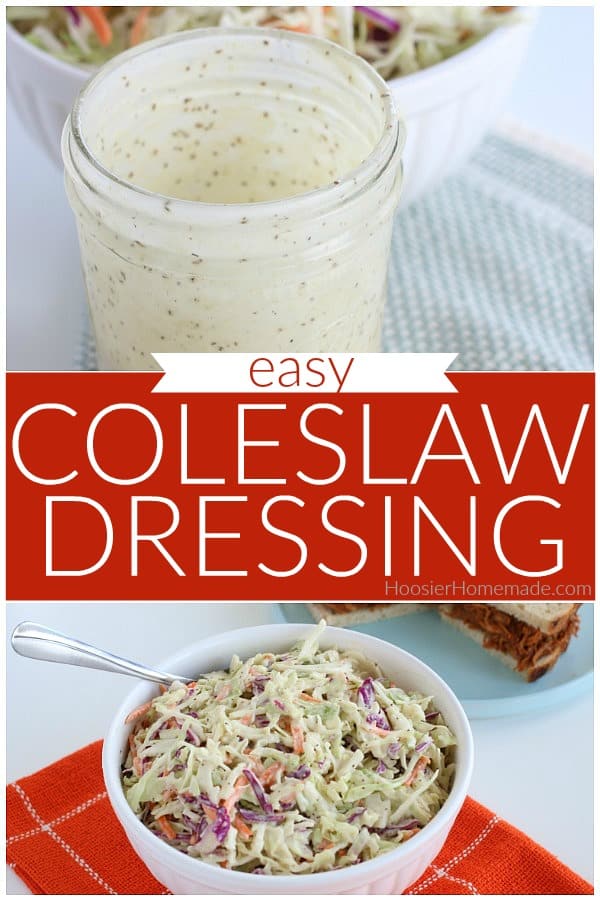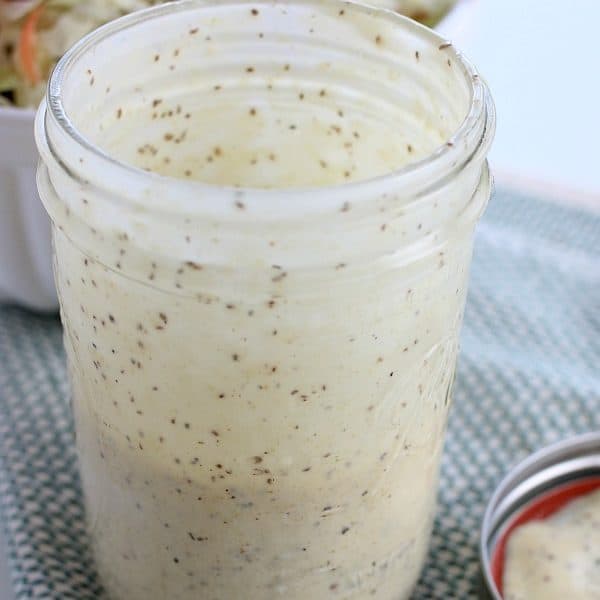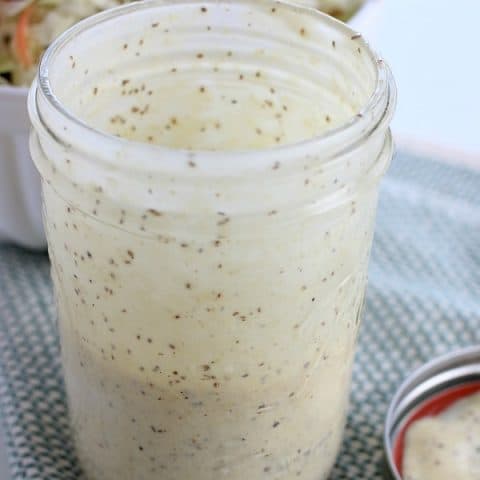 Coleslaw Dressing
Easy Coleslaw Dressing to add to cabbage mixture for a delicious salad.
Ingredients
1/2 cup Mayonnaise
1 tablespoon Dijon Mustard
1 teaspoon Onion Powder
2 teaspoons Sugar
1/2 teaspoon Celery Seed
1/2 teaspoon Salt
1/2 teaspoon Black Pepper
1 tablespoon Cider Vinegar
1 tablespoon Lemon Juice
Instructions
Add mayo to wide mouth mason jar or other jar with lid
Add mustard to jar
Add all seasonings
Add vinegar and lemon juice
Add lid and shake until well combined
Add half of coleslaw mix to large bowl
Pour half of coleslaw dressing over mix
Add rest of coleslaw mix
Pour remaining dressing over mix
Stir until well combined
Cover and refrigerate until ready to serve
Store leftovers in fridge
Notes
Dressing can be made and stored in fridge until ready to use, up to 3 days. Shake well before using.
Recommended Products
As an Amazon Associate and member of other affiliate programs, I earn from qualifying purchases.