This easy five ingredient Honey Glazed Chicken will quickly become a family favorite! No need to sacrifice taste with this lightened up baked chicken recipe.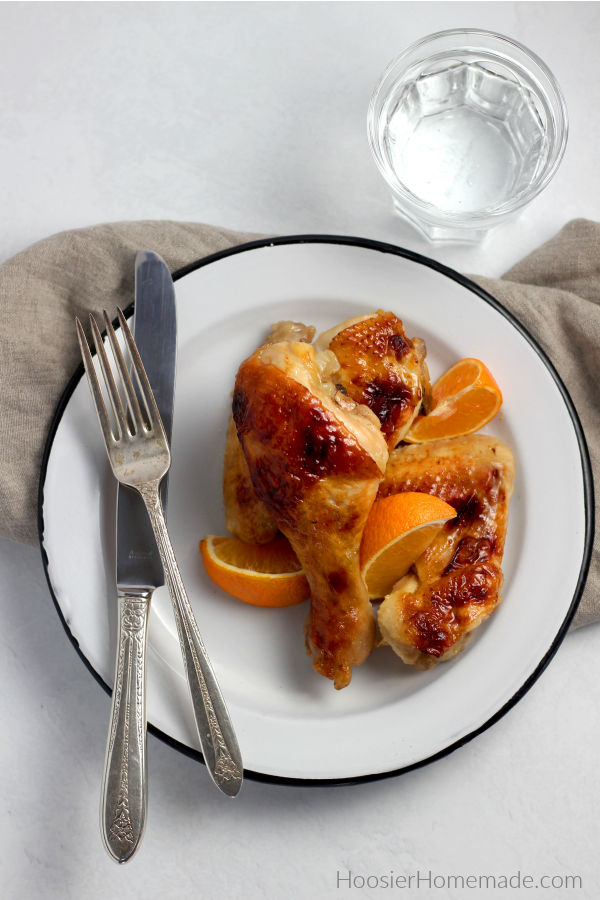 This recipe is brought to you by Mirum. As always, the opinions are my own.
It's that time of year – you know when we are ready to begin eating healthier, organizing our space and generally just feel better about ourselves. There has been a lot of talk lately about the Konmari Method, and while I totally agree with decluttering and organizing our homes, I also feel strongly about the deeper emotion behind the work.
And, I also feel like it applies to so many other areas of our lives, with food being a big one, not only for myself but a lot of people. Simplifying our lives in this crazy, busy world can move us toward being the person we want/need to be.
So – why Honey Glazed Chicken – how can one recipe with baked chicken change how you feel?
Well, it's really not just this exact recipe, but the ease of the recipe, the home cooked taste, yet it only has 5 ingredients, and making "better for you" versions of favorite recipes for your family.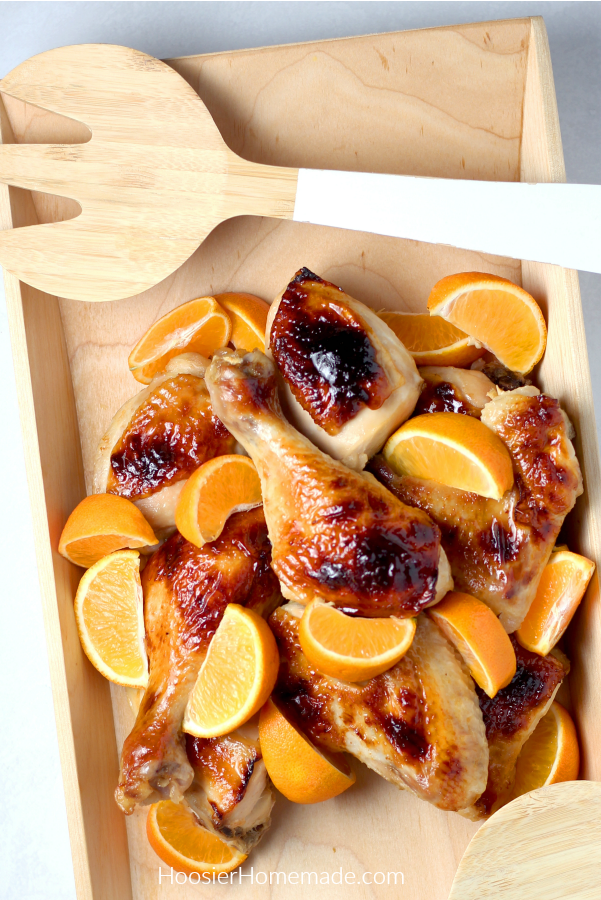 While having a goal of eating healthier is on just about everyone's mind at the beginning of the year with New Year's resolutions, you also don't want to sacrifice taste.
How can you make a recipe that is a healthier option but still taste delicious?
Well, I'm going to show you –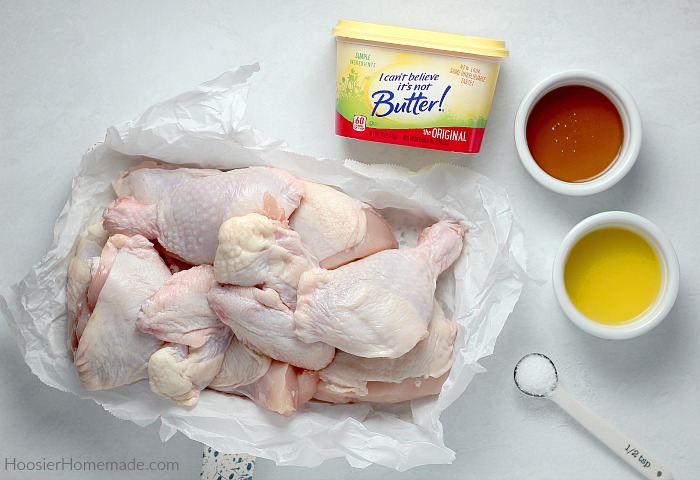 There are only 5 simple ingredients in this Honey Glazed Chicken Recipe. And I bet you have most of them already –
Honey Glazed Chicken
Ingredients
Chicken – you can use your favorite cut of chicken, we used a whole cut up fryer. Chicken thighs and legs work great too, you will want chicken with skin on it though.
Orange Juice
Honey
Salt
Fresh Oranges – optional
I Can't Believe It's Not Butter!
By using I Can't Believe It's Not Butter you get unbelievable taste, 70% less fat than butter, only 60 calories per serving (original), made with simple ingredients, no artificial preservatives, no artificial flavors, no partially hydrogenated oils, gluten free, cholesterol free, 0g trans-fat per serving, made with vegetable oils that contain good fats, good source of Omega 3 ALA.
You can find the original flavor along with other varieties in the butter aisle at your local Jewel-Osco store.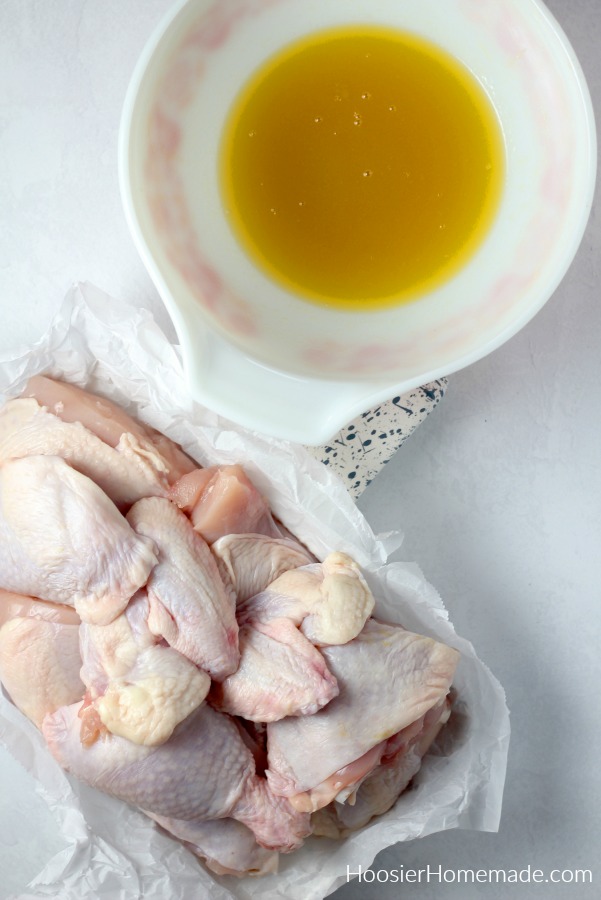 Begin by combining the juice, honey, salt and I Can't Believe It's Not Butter (melted) in a bowl large enough to coat a few pieces of chicken at a time.
Reserve 1/3 cup of the mixture for basting during cooking.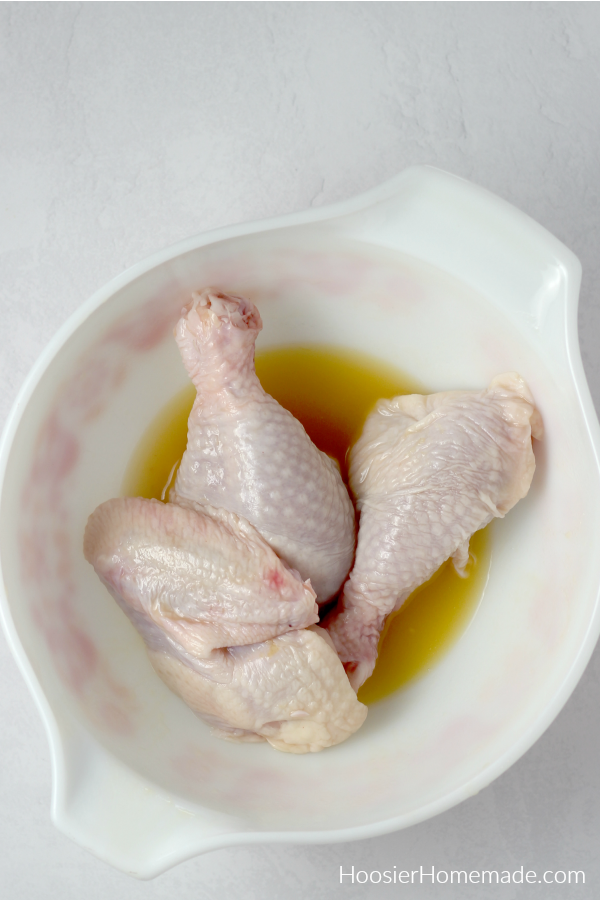 Then coat each piece of chicken in the butter mixture.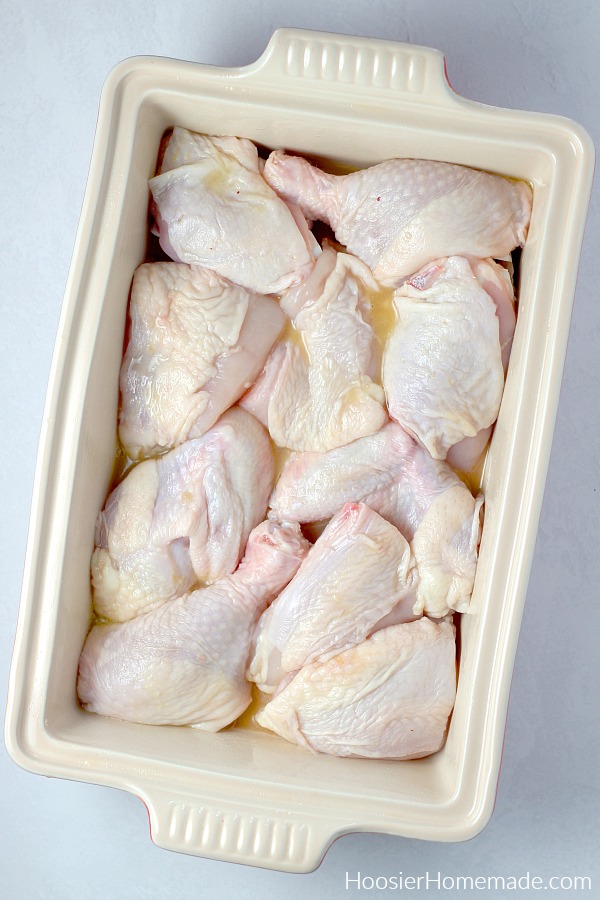 Place the chicken in a well greased 13×9 baking dish
Bake uncovered at 350 degrees for 1 hour or until juices run clear
Occasionally baste the chicken with the reserved mixture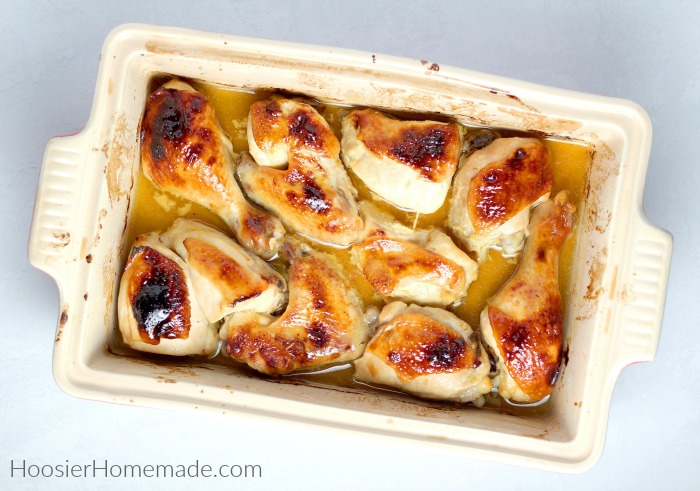 Here are a few helpful tips for you –
Cook's Tip #1 – You can easily prepare this chicken in the morning, let it set in the pan in the refrigerator during the day and then bake before dinner. Be sure to pull the pan out of the fridge at least 30 minutes before cooking to allow it to come up to room temperature.
Cook's Tip #2 – You can also use this recipe for the Crockpot. Add chicken to the Slow Cooker, add butter mixture and cook on low for 3-4 hours or until juices run clear
Cook's Tip #3 – Internal temperature for cooked chicken should be 165 degrees Fahrenheit. You should use a thermometer to read the temperature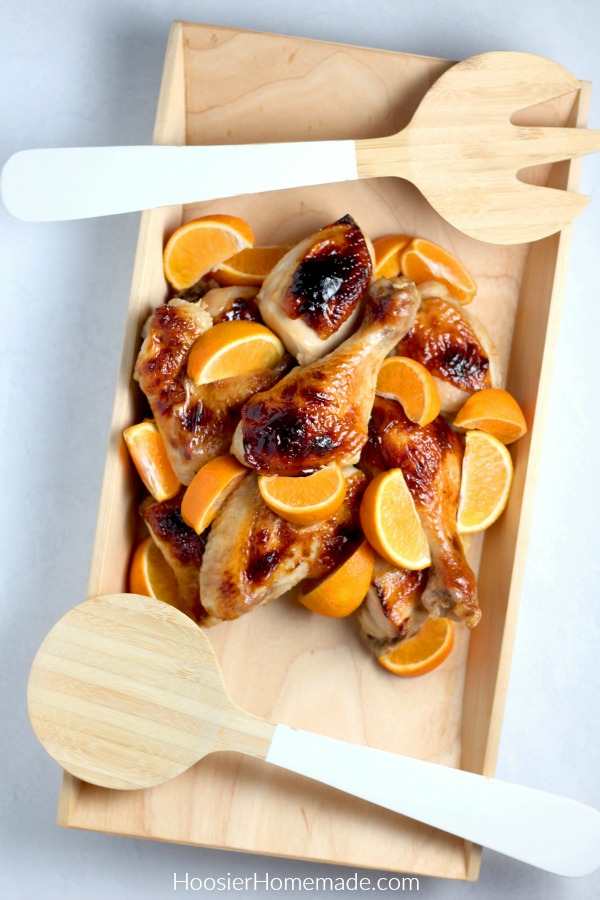 To serve the Honey Glazed Chicken, you can add fresh oranges for even more flavor. Add cooked rice and a big salad to complete the meal.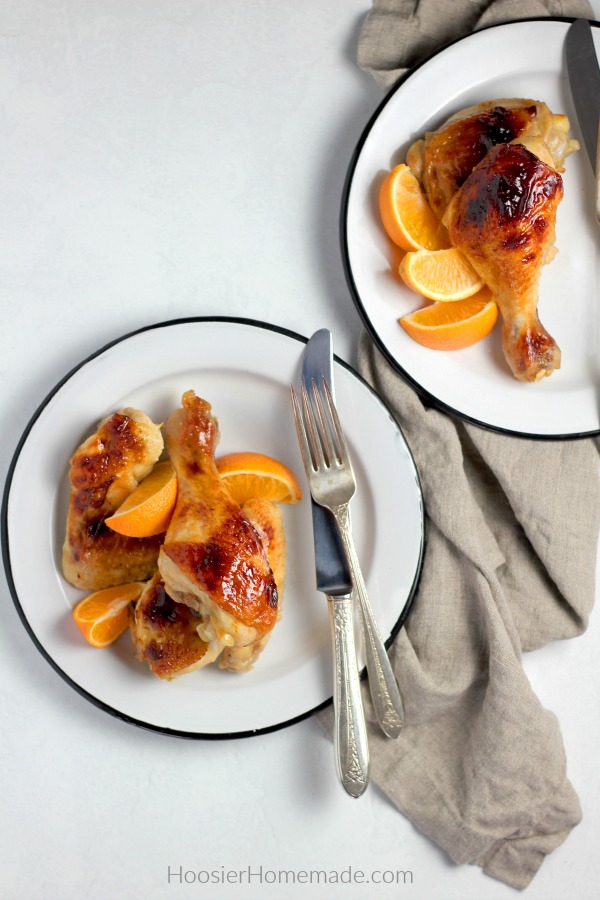 I'd love to hear what you think of this Honey Glazed Chicken! Be sure to leave a comment on this post, Facebook or Instagram!
Sign into your J4U account to view the offer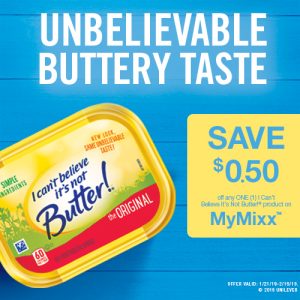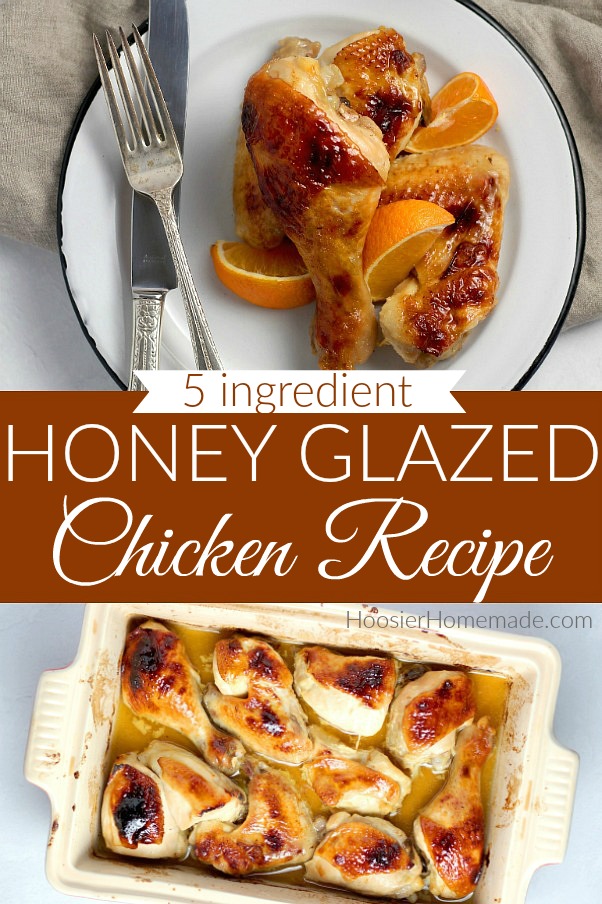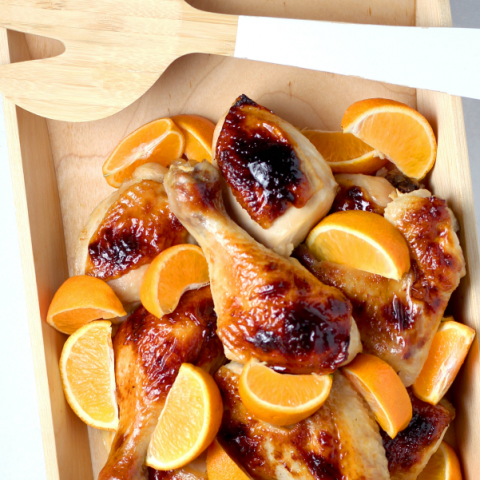 Honey Glazed Chicken
Total Time:
1 hour
10 minutes
Easy 5 ingredient baked chicken recipe your family will love
Ingredients
Chicken - 3-4 pounds cut up fryer, or thighs and legs
1/4 cup I Can't Believe It's Not Butter, melted
1/4 cup Orange Juice
1/4 cup Honey
1/2 teaspoon salt
Instructions
Preheat oven to 350 degrees
Spray 13x9 baking dish with non-stick cooking spray
Combine butter, orange juice, honey and salt in a bowl large enough for 3-4 pieces of chicken
Reserve 1/3 cup mixture for basting
Dip chicken in butter mixture
Place in baking dish
Bake uncovered at 350 degrees for 1 hour or until juices run clear. Internal temperature should be 165 degrees Fahrenheit
Occasionally baste chicken with mixture
Serve immediately
Store leftovers in refrigerator