Grilled Barbecue Bacon Pork Chops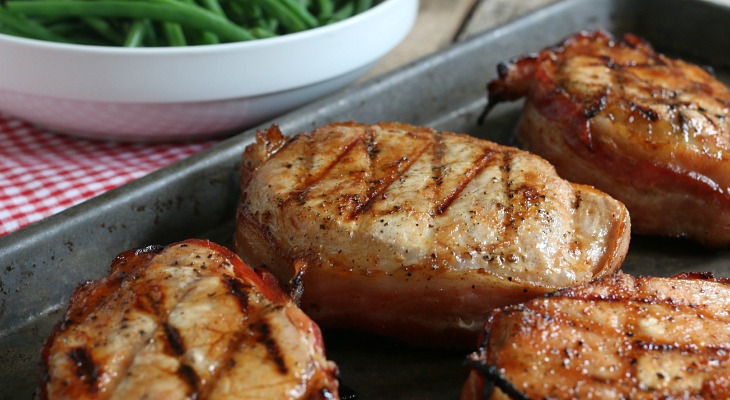 Thick, tender, juicy Pork Chops, wrapped in bacon with Barbecue Sauce and Beer, these Grilled Barbecue Bacon Pork Chops will quickly become a family favorite!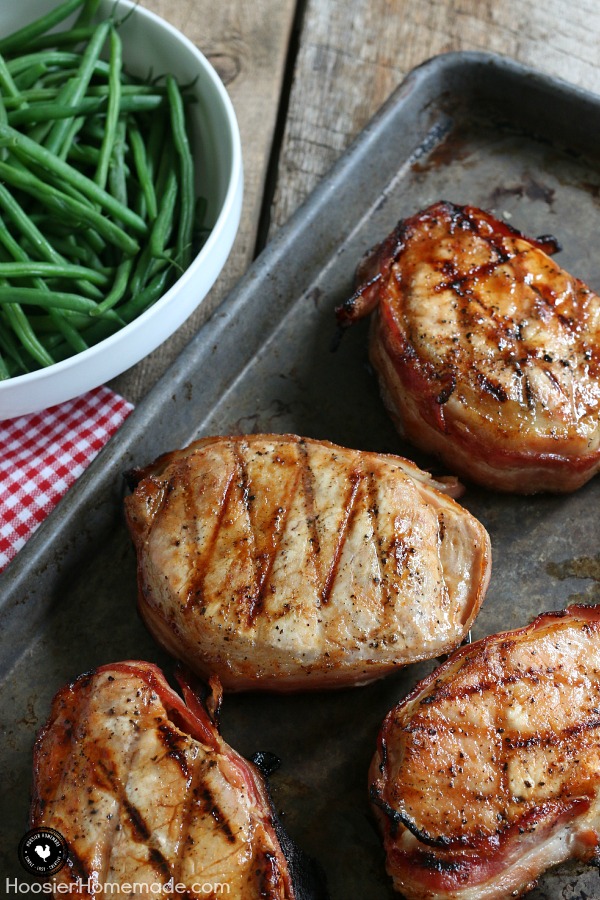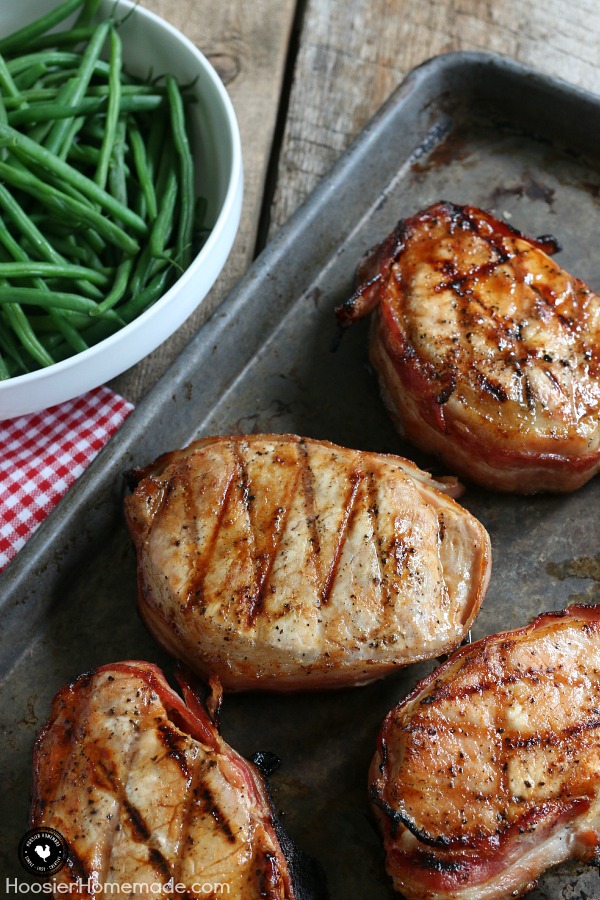 A few weeks back we shared our Grilled Stuffed Pork Chops and honestly, I didn't think it could get much better than that recipe. But, I'm here to tell you, these Grilled Barbecue Bacon Pork Chops are amazing! Really, barbecue sauce, bacon and beer? How can you go wrong with that?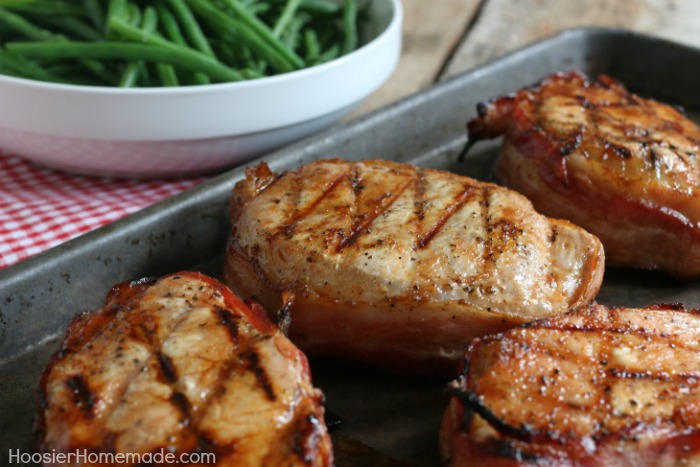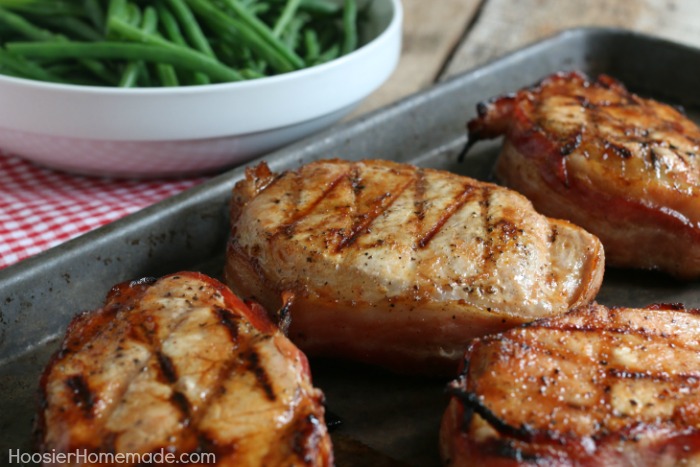 If you don't grill anything else this Summer, you MUST try these Barbecue Bacon Pork Chops! They are tender, juicy and full of flavor! Let's get started…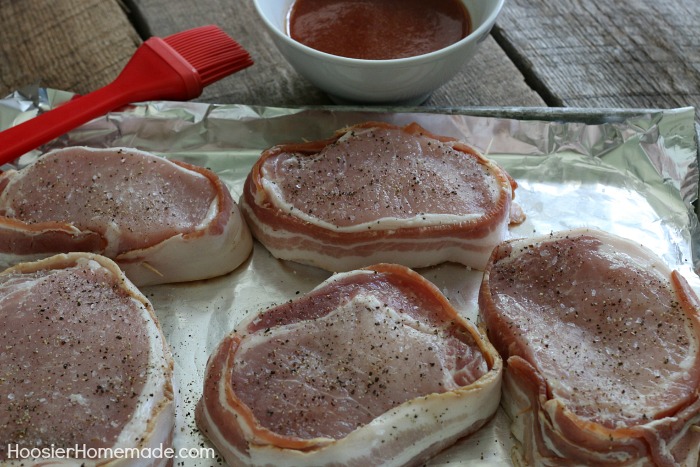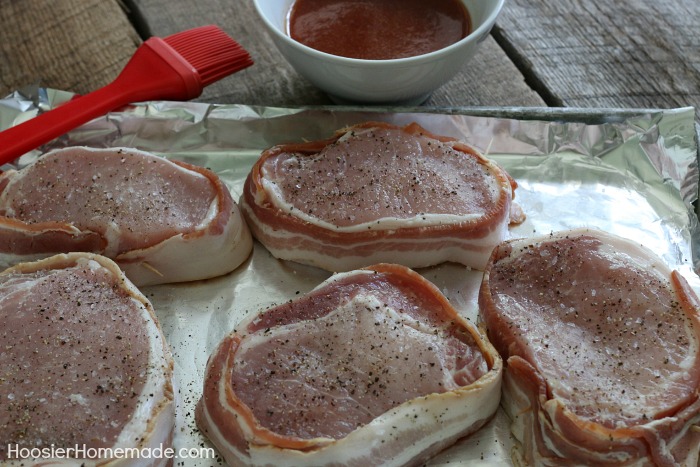 While Doug was wrapping the New York Top Loin Pork Chops with Bacon and adding salt and pepper, I prepared the Barbecue Sauce. We were inspired by the Bacon BBQ New York Pork Chops over on PorkBeInspired.com, and adapted it slightly.
The original recipe calls for bottled Barbecue Sauce, but we made our own, it's super easy. You need ketchup, brown sugar and vinegar for the base of the Barbecue Sauce. Then we added Garlic and Onion Powder to kick up the flavor a bit.
After the sauce is mixed, then it's time to mix some of the sauce with beer. And we didn't just choose any old beer, because apples and pork go together so well, we used Redd's Apple Ale, and it's a Gluten-Free Ale, which is great.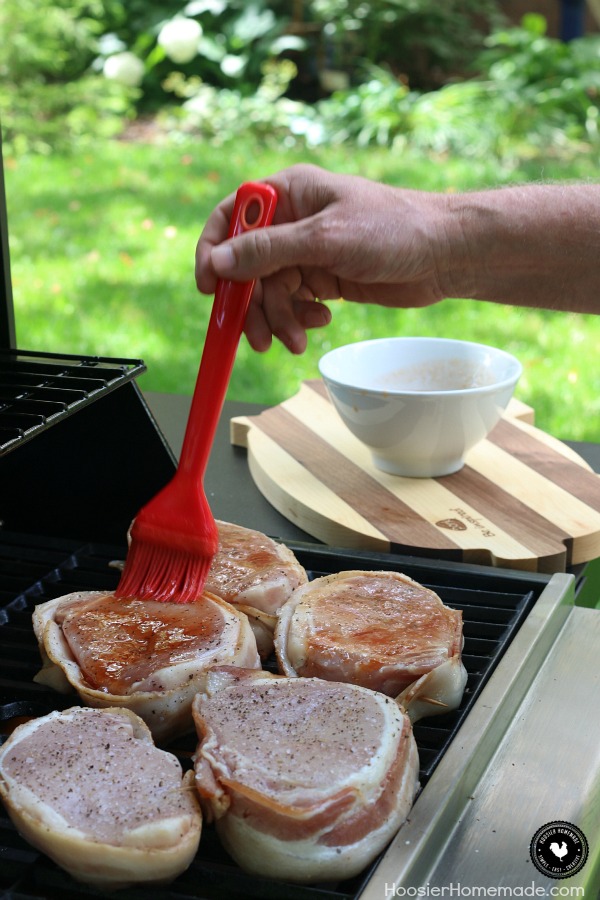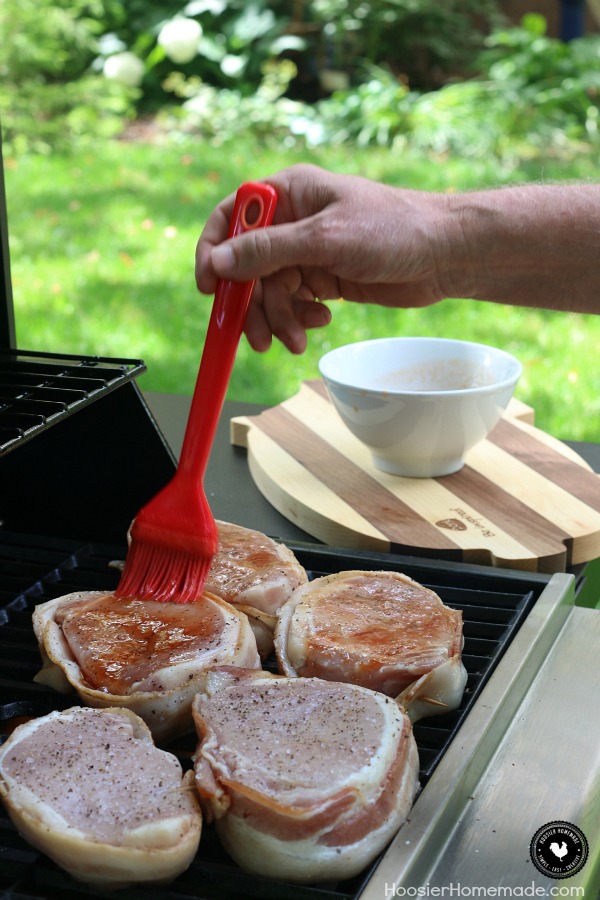 Then off to the grill we went. Doug placed the Pork Chops on the grill, then brushed on the Barbecue Sauce, cooking them about 5 minutes on one side.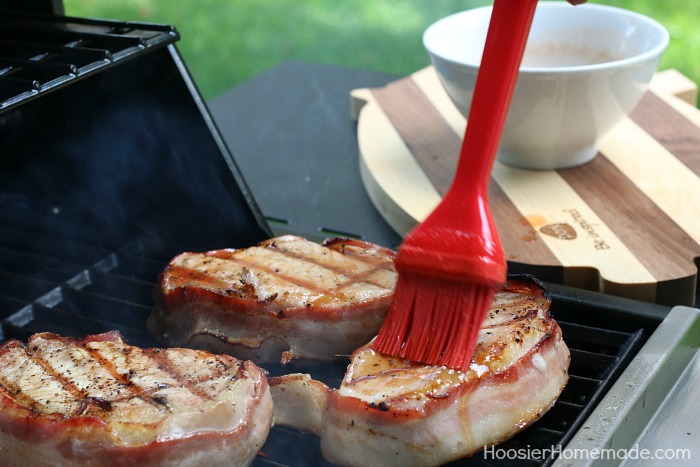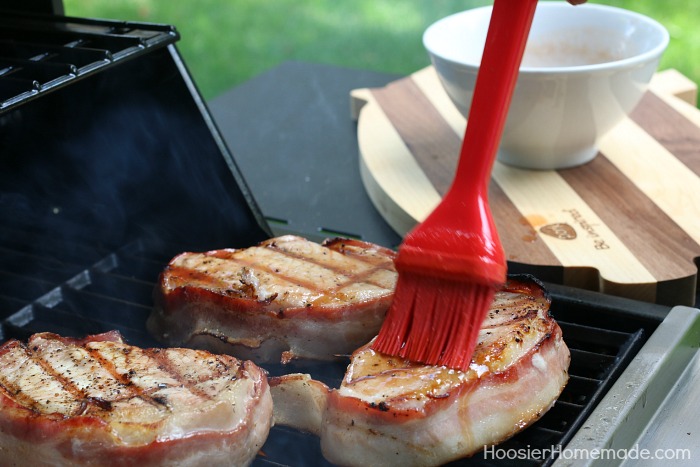 He flipped the Pork Chops continuing to cook about 4 minutes, then flipped them a few more times, brushing on the Barbecue Sauce each time. The pork should be between 145 and 165 degrees depending on how you like your pork cooked, remembering that they will continue cooking while they are resting.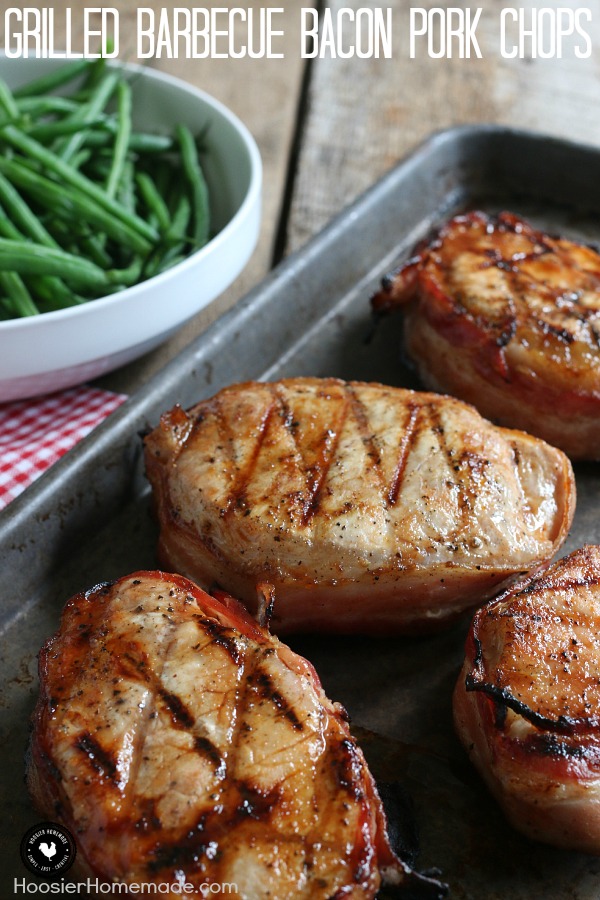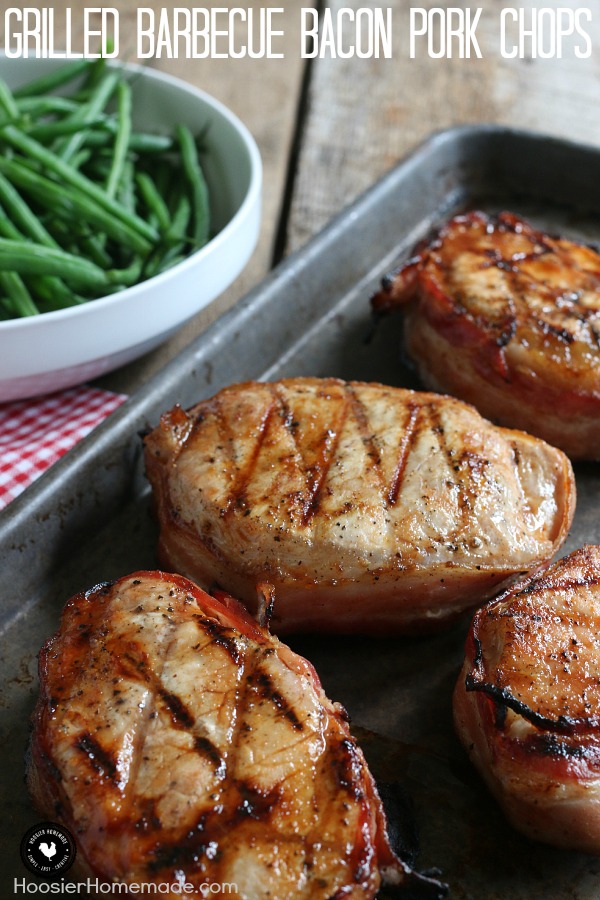 The Grill Crashers over at PorkBeInspired.com are changing the way you think about grilling with their flavor-filled grillfest. They have added saucy salsa to ribeye pork chops, a basil-garlic rub, wrapped bacon (who doesn't LOVE bacon?) around New York Pork Chops and more.
Whether you are grilling at home for family, or hosting a backyard barbecue for friends and neighbors, or maybe crashing the beach like Donald Faison did, surprise everyone with one of these flavorful pork chops.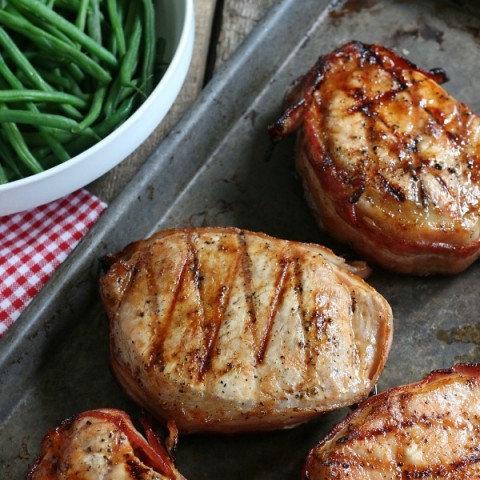 Grilled Barbecue Bacon Pork Chops
Grilled Pork Chops that are tender, juicy and full of flavor!
Ingredients
4-5 New York Pork Chops
8-10 pieces Bacon
Barbecue Sauce
3/4 cup ketchup
1/2 cup brown sugar
1 tablespoon + 1 teaspoon white distilled vinegar
1/2 teaspoon garlic powder
1/2 teaspoon onion powder
Barbecue Mixture
1/2 cup Redd's Apple Ale or your favorite Beer
4 tablespoons Barbecue Sauce
Instructions
Barbecue Sauce
Combine all ingredients in a small bowl and whisk until smooth
Pork Chops
Wrap bacon around chops and secure with a toothpick
Sprinkle with salt and pepper to taste
Barbecue Sauce Mixture
Combine beer and barbecue sauce, whisk until smooth
Grilling
Preheat grill to medium-high heat about 450 degrees
Place chops over direct heat, and brush with Barbecue Sauce mixture
Cook the chops for 5 minutes, then flip them continuing to cook about 4 minutes, then flip them a few more times, brushing on the Barbecue Sauce each time
Cook pork chops until thermometer reads 145 to 165 degrees, depending on how done you like them
Remove from heat and let rest 5 to 10 minutes
Serve immediately