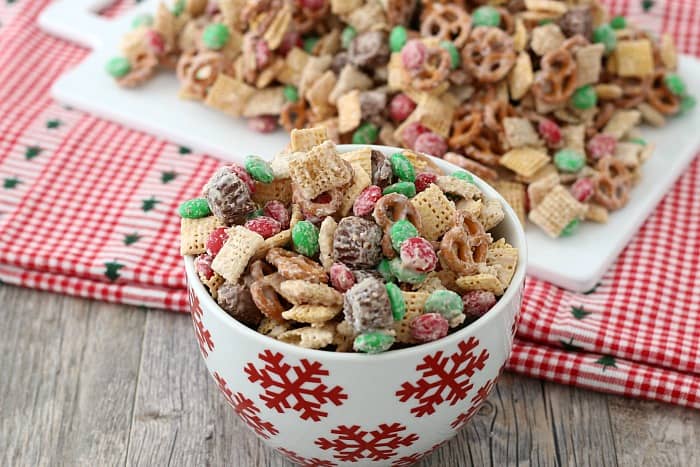 Christmas Candy is always a hit with everyone on your list and with Christmas right around the corner, I bet you need a quick and easy recipe! Do you still have gifts to make and no time to make them? Maybe for neighbors, teachers, friends or even have a fun little take-home gift for guests. Well, I have the perfect no bake…whip it up in under 15 minutes…totally delicious and addicting…treat for you to make…Christmas Candy Crunch!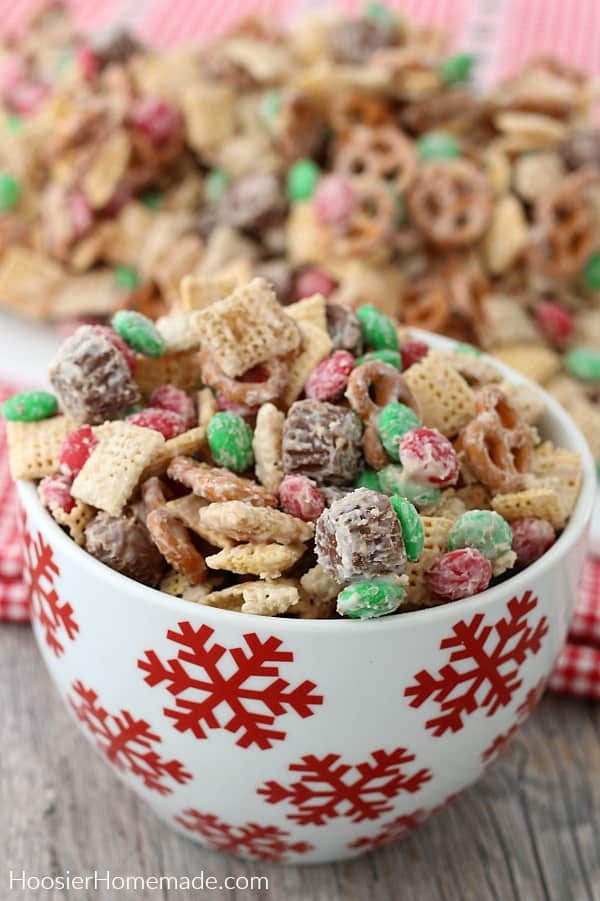 Welcome to Day 65 of the 100 Days of Homemade Holiday Inspiration! Each day we will be inspiring you with recipes, decorating ideas, crafts, homemade gift ideas and much more!
We are a snack loving family. Honestly, I don't really know a family that isn't. So when I whip up a batch of this Christmas Candy Crunch, it can only mean 2 things – we are preparing to give delicious gifts for Christmas to family and friends or we are getting ready for a movie marathon. Inspired by the Candy Corn Crunch for Halloween, this super easy recipe only takes 5 ingredients and about 15 minutes of time. And it's similar to our Luck of the Irish Party Mix for St. Patrick's Day.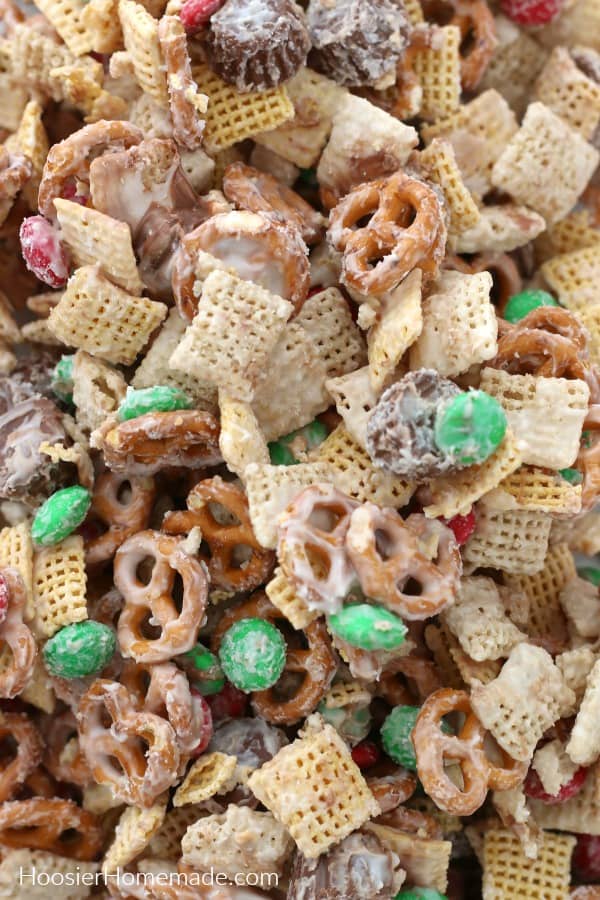 One of the best things about this snack mix is that you can use whatever ingredients you like. The base for the recipe is Chex cereal and the "glue" holding all the ingredients together are melted white chocolate almond bark or you can also use white chocolate chips. Then the added ingredients are totally up to you. I used mini pretzels, Reese's mini peanut butter cups and festive M&M's candy.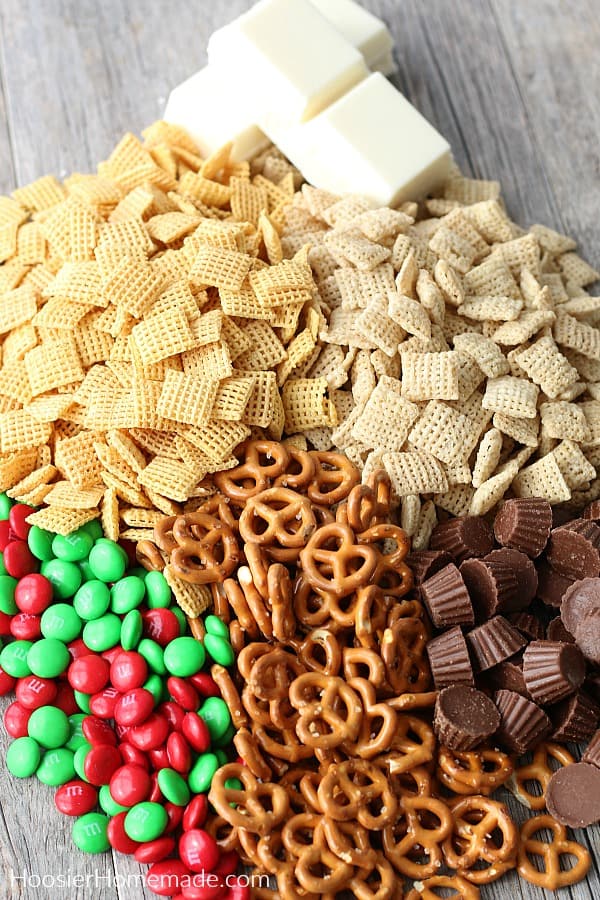 Christmas Candy Crunch
Ingredients
Chex Cereal – Corn or Rice is best, or a combination of the two, like I used
Mini Peanut Butter Cups – be sure they are a smallest ones that come unwrapped, it's easier that way
Pretzels – mini are best, I used Snyder's Itty Bitty Minis
Festive M&M's – red and green, or any color you like
White Almond Bark – you can also use white chocolate chips. Almond Bark does melt a little easier than chips.
Kitchen Essentials Needed
Very large mixing bowl
Measuring Cup
Rubber Spatula
Baking Sheet
Small Microwave Safe Bowl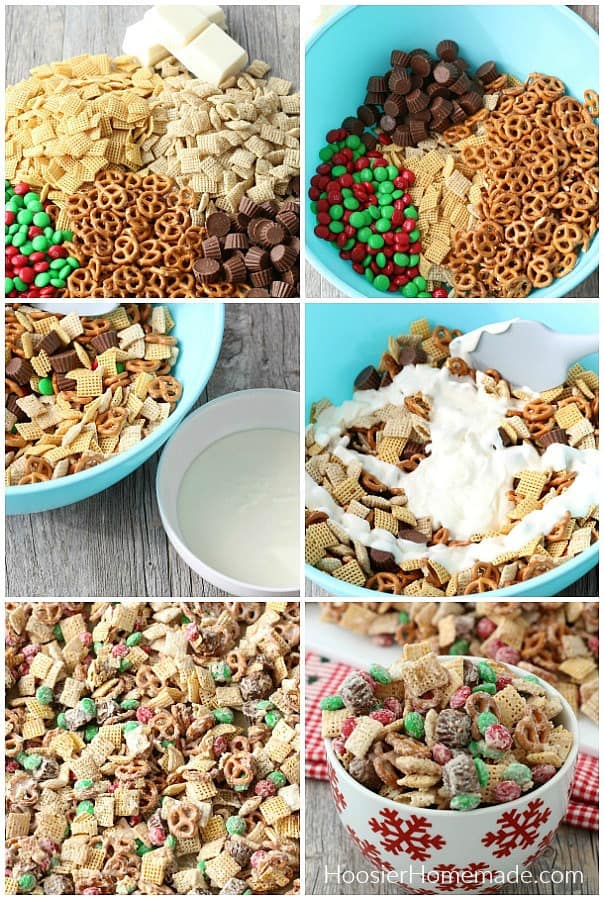 How to make Christmas Candy Crunch
Gather your ingredients. Then line a baking sheet with parchment paper. You will want everything ready because this recipe will move quickly
Add all of the ingredients to a very large bowl.
Melt almond bark in the microwave. Start with 1 minute, then stir, then heat in 10 second intervals, stirring after each heating. Stop when there are a few pieces remaining, then stir until they are completely melted and the chocolate is smooth.
Pour melted white chocolate over the mixture and stir well to coat completely
Spread mixture onto parchment paper lined baking sheet. Let sit about 5-10 minutes to set.
Break pieces apart. Enjoy!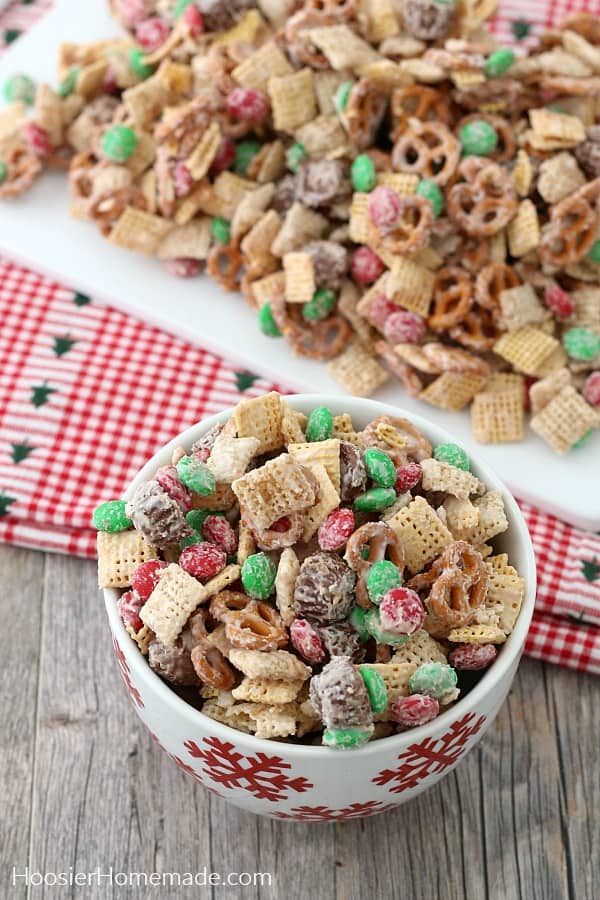 Whether you are getting ready for a cookie exchange, putting together gifts for teachers, neighbors or co-workers, or just setting out snacks for holiday entertaining, this Christmas Candy Crunch is perfect!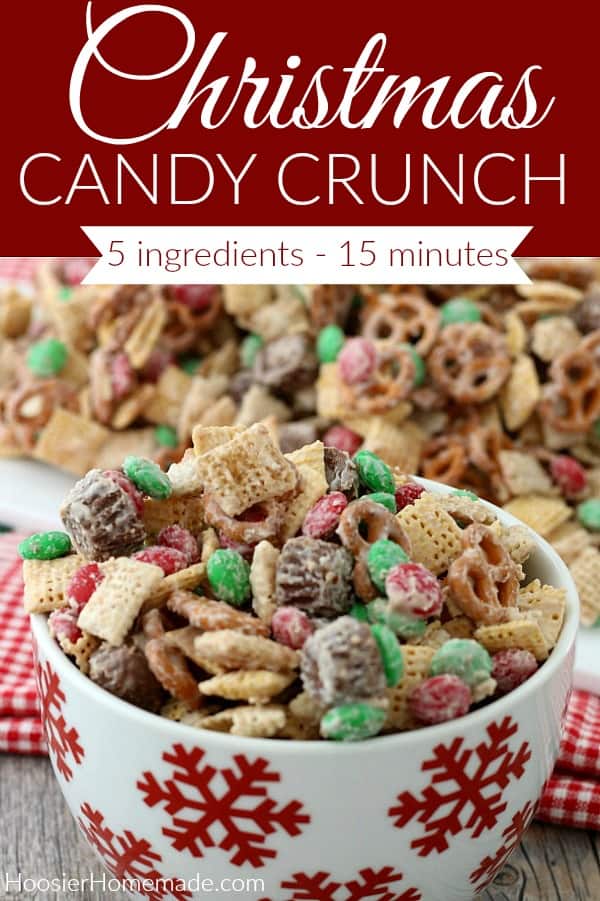 Follow along with the 100 Days of Homemade Holiday Inspiration for more simple recipes, easy crafts, homemade gift ideas, decorating tips and much more!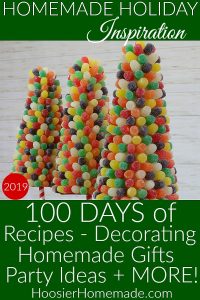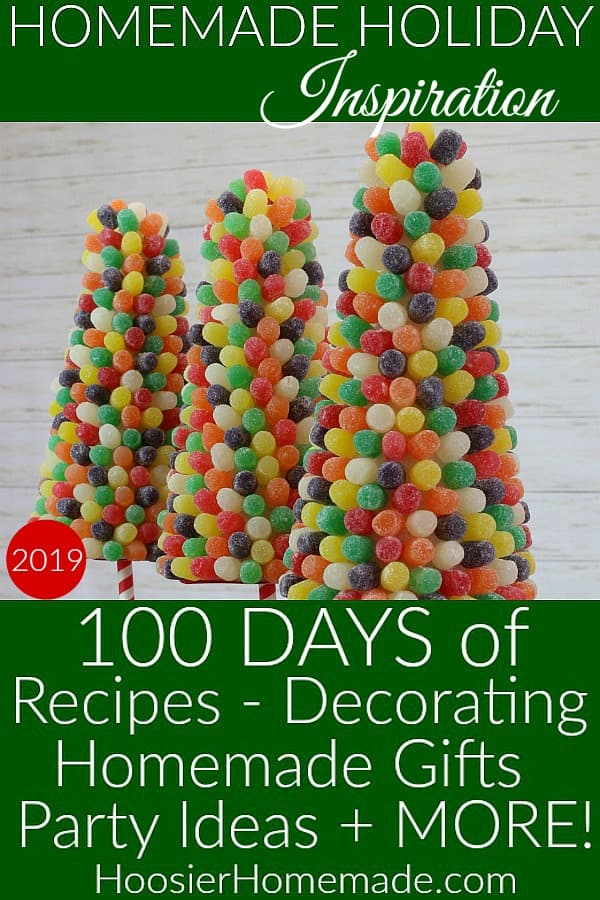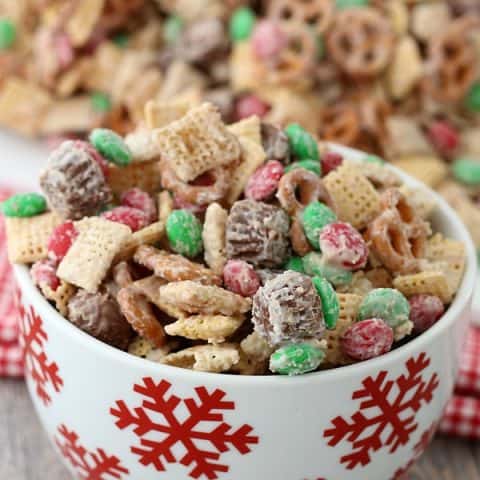 Christmas Candy Crunch
Yield: 7 cups

Prep Time: 5 minutes

Total Time: 5 minutes

Quick and tasty treat that is perfect for gift giving.
Ingredients
4 cups Chex cereal, rice or corn is best
2 cups Pretzels, mini twists are best
1/2 cup Reese's Mini Peanut Butter Cups, more if you like
1 cup M&M's candy
4 blocks White Almond Bark or 1 cup White chocolate chips
Instructions
Line a baking sheet with Parchment Paper
Combine all ingredients except almond bark in a large bowl and toss
Place almond bark in a microwave safe bowl and heat 1 minute, stir. Continue heating in 10 second intervals and stir, until a few small pieces are left, then stir until completely smooth
Pour melted chocolate over mixture and stir well until coated
Spread mixture onto baking sheet and let set about 10 minutes
Break in pieces
Notes
The extra ingredients added are very versatile, add as many or as little as you like. The more you add, you may need to increase the amount of melted chocolate to hold it together though.
Recommended Products
As an Amazon Associate and member of other affiliate programs, I earn from qualifying purchases.
Nutrition Information:
Yield: 14 Serving Size: 1
Amount Per Serving: Calories: 272Total Fat: 11gSaturated Fat: 5gTrans Fat: 0gUnsaturated Fat: 4gCholesterol: 5mgSodium: 208mgCarbohydrates: 41gFiber: 2gSugar: 23gProtein: 4g
If you love Christmas Candy as much as we do, you will LOVE these easy to make Christmas Candy Recipes –