Strawberry Rhubarb Cobbler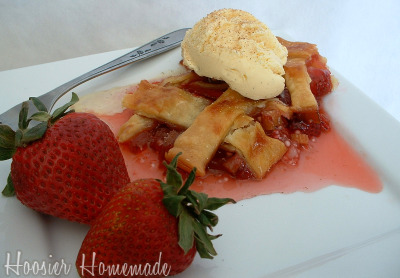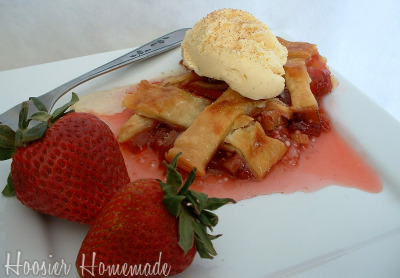 I'll have to admit, this is my first time baking with rhubarb. I remember my Mom having a rhubarb patch, going up, and I remember the rhubarb being very sour. So, I'm not really sure if that's why I never baked with it or not.
While getting my late night fix of the Food Network, I saw that Strawberries and Rhubarb are usually paired together because they are ripe at the same time, which makes perfect sense. So, I went on the hunt for a recipe. I asked on Twitter and on BlogFrog, and my friend Amy from Positively Splendid came through for me.
If you haven't visited Amy's blog, be sure to head on over. She has crafts (like these cool homemade candles to control bugs), recipes and amazing photos! (psst…you will learn more from her about photography soon)
This is a little long, but hang in there with me…it is SO worth! This cobbler is THE best ever!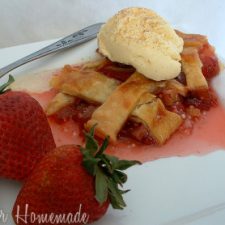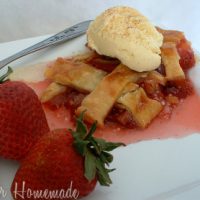 Strawberry Rhubarb Cobbler
The best Strawberry Rhubarb Cobbler ever! Recipe from HoosierHomemade.com
Ingredients
2 cups Rhubarb, cubed (about 1 lb)
2 cups Strawberries (halved or quartered, depending on size)
1 1/4 cup Sugar
1 1/2 tablespoons quick-cooking Tapioca
1/8 teaspoon Salt
2 tablespoons Butter
Pastry for one 8 inch Pie
Instructions
Combine first five ingredients in a bowl, toss gently
Spoon into lightly greased baking dish (I used the same dish I made the Blueberry Cobbler in, remember how clean it came)
Dot with butter
Roll out pie crust to 1/8 thickness on lightly floured surface (I typically make my own pie crust, but my food processor bit the dust, so I bought one) I used a small spatula to measure the width of the strips and used a pizza cutter, it would be pretty with a fluted pastry wheel (guess I need to get one)
Then I cut the strips in half, again using the spatula to measure
Lay strips over the mixture
Then weave more strips, making a lattice top
I trimmed the extra, brushed with egg whites and sprinkled with a little sugar
Bake at 375 for 40 – 45 minutes or until pastry is golden brown
%http://hoosierhomemade.com/wp-content/uploads/StrawRhub-collage.jpg
The Strawberry Rhubarb Cobbler was perfect with a scoop of vanilla ice cream and a light sprinkle of cinnamon.
I'm linking to…Made by you Monday