You will never know that these Lemon Cupcakes start with a box mix! There is a secret ingredient though! Oh and the marshmallow frosting? Just 2 ingredients! It's heavenly!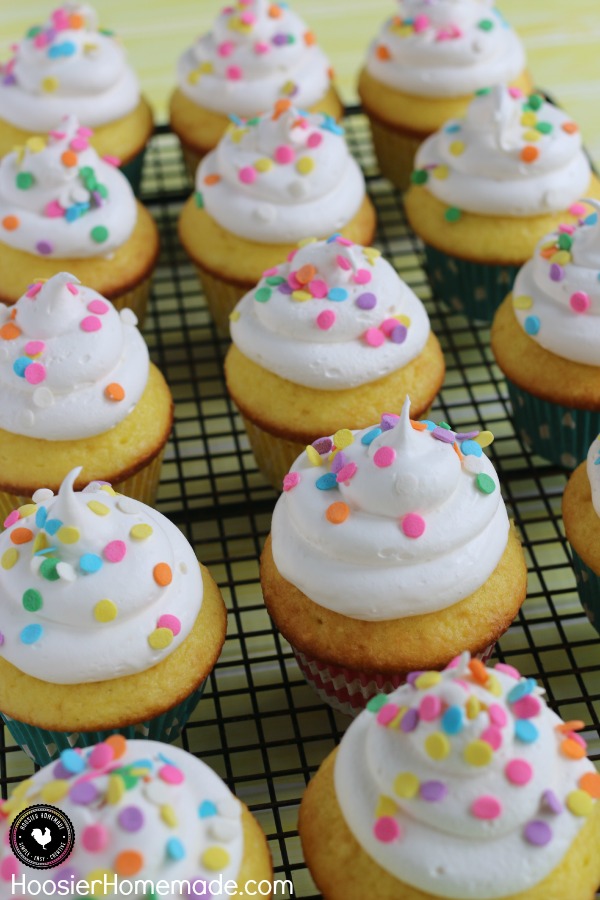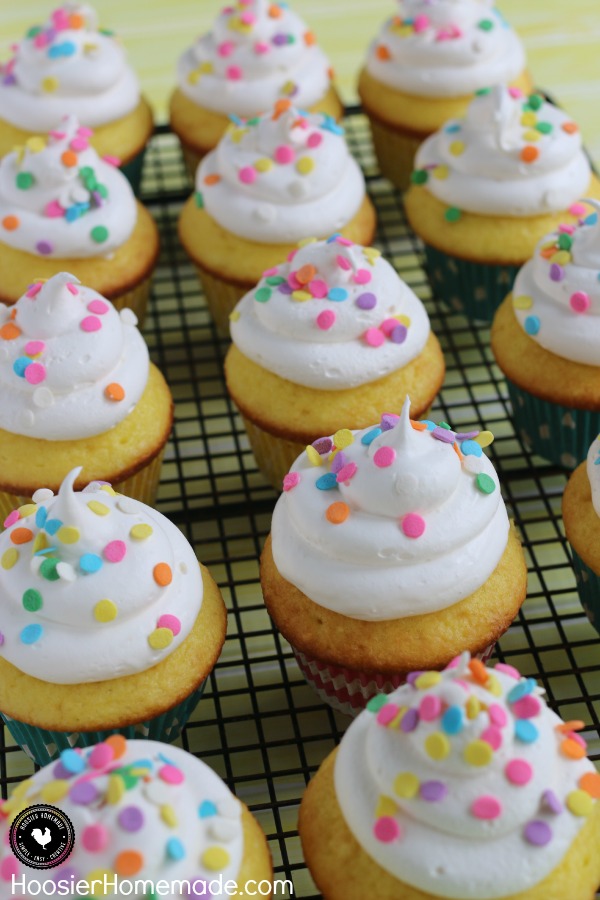 There is something about lemon dessert that is refreshing to me. I'm a big fan of pretty much any flavor, but the Spring flavors – lemon, lime, strawberry – those are my favorites.
And these Lemon Cupcakes – they are heavenly! Earlier this week, we took dinner to church to the praise team. The service that we attend is a bit more contemporary and has a full band with singers. We enjoy the music so much, that we wanted to give back to them for all they do.
So we prepared dinner, Lasagna, Salad, Garlic Bread and these Lemon Cupcakes. It just so happened that two of the members were celebrating birthdays this week, so cupcakes worked out perfectly.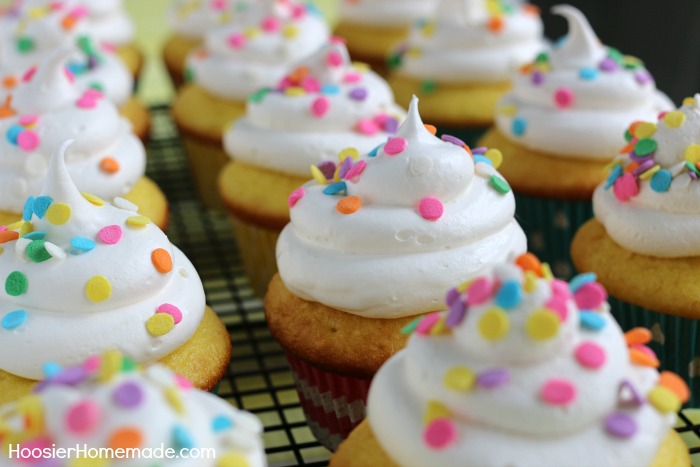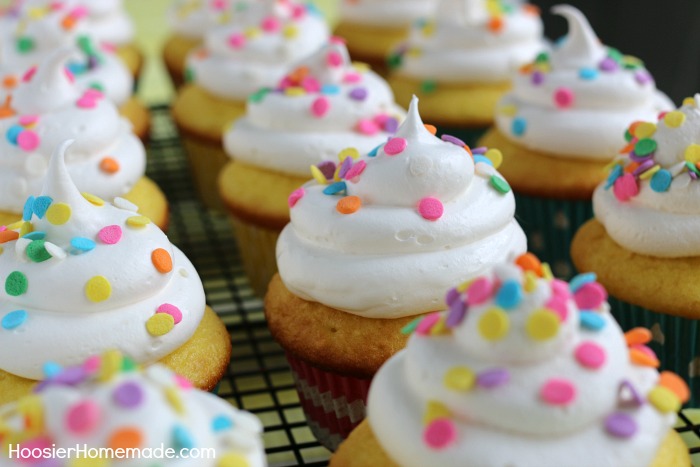 Supplies:
The cupcakes start with a box mix – you know I like to keep it simple. Then for an extra burst of flavor and to add even more moistness, a small box of instant Lemon pudding. Then I added my normal extra ingredients that I add to make a box mix taste homemade – buttermilk, eggs and oil.
The Marshmallow Frosting is one of my favorites and went perfectly with the lemon flavor. And even better, it has only 2 ingredients – whipped topping and marshmallow fluff. It's the same frosting I add to brownies. It's light and fluffy and super easy to make.
To decorate the cupcakes, I fitted a decorator bag with a #1A decorator tip (my favorite) and swirled the frosting on. Then of course, I just had to add sprinkles.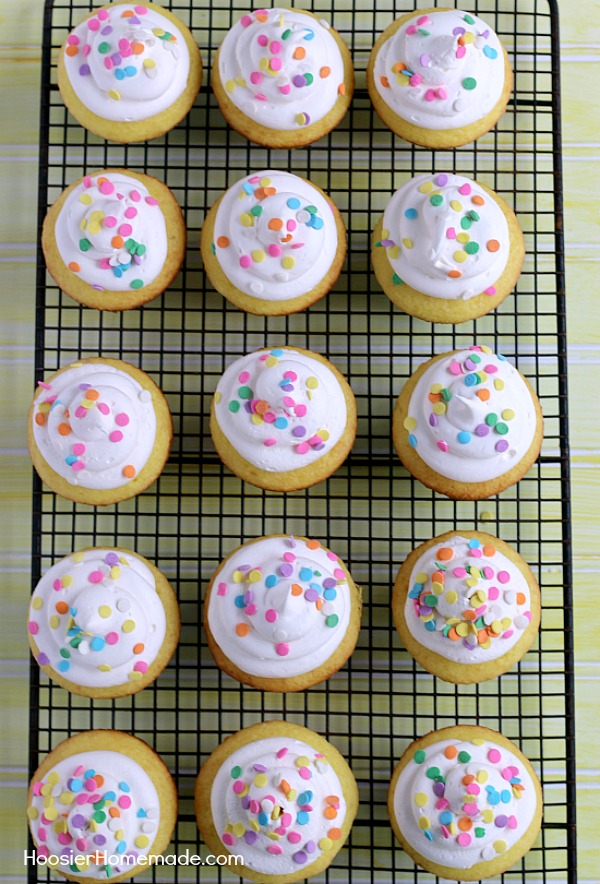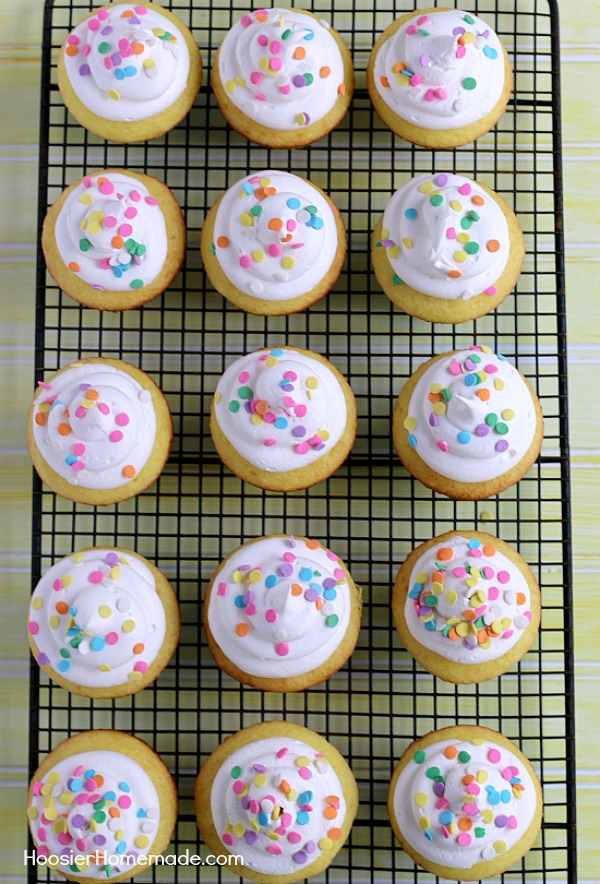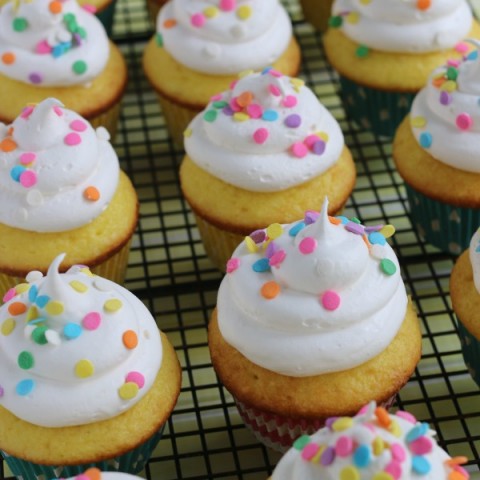 Lemon Cupcakes with Marshmallow Frosting
Heavenly Lemon Cupcakes that start with a box mix, and Marshmallow Frosting made with just 2 ingredients
Ingredients
Cupcakes
1 lemon box cake mix
1 small box instant lemon pudding
1 cup buttermilk (1 tablespoon of vinegar in a measuring cup and fill with milk, let set a few minutes)
4 eggs, room temperature
1/3 cup oil, vegetable or canola
Frosting
1 (8 oz) container Cool Whip whipped topping, thawed
1/4 cup (about 1/2) jar Marshmallow Fluff (found near the marshmallows)
Instructions
Preheat oven to 350 degrees
Place cupcake liners in pan
Beat together all cupcake ingredients until smooth - about 2-3 minutes
Divide batter into liners
Bake at 350 degrees for 12-15 minutes or until a toothpick inserted in the center comes out clean
Let cupcakes cool completely
Meanwhile, prepare frosting by beating whipped topping and fluff together until smooth
Add frosting to a decorator bag fitted with a #1A tip and pipe on
Add sprinkles if you like
Notes
Depending on the amount of frosting you add, you may need to double the recipe. If you want a large amount, like I added, you will need a double batch.