Spaghetti Casserole and our Menu Plan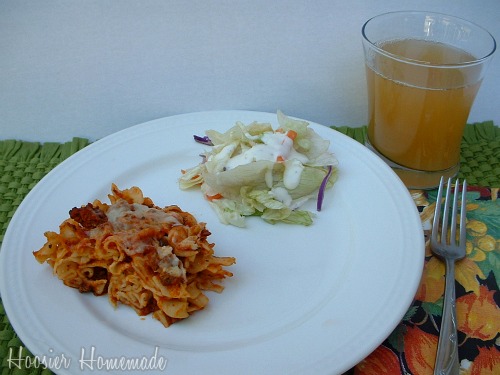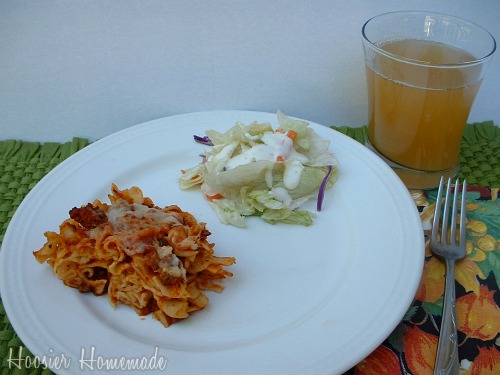 Having a quick and easy meal this time of year is really important. You are so busy and everything can get so crazy, with the decorating, baking, shopping and parties.
Last week, when I cooked the Broccoli Beef Stir-Fry, it was the first time that I had used Cooking Wine. Have you cooked with wine before?
Here are some quick & easy ideas for using Holland House Products:


Holland House® Red Cooking Wine
Stir into gravy and red sauces
Add to soup made with beef stock
Enhances the flavor of hearty stews and meat dishes
Excellent for beef, lamb and pork
Marinate less-tender cuts of beef in red cooking wine for 24 hours to boost flavor and tenderize.Drain and cook as desired.
I wanted to turn our normal Italian night into something a little different, but still have it quick and easy. So, I flipped through my Holland House cookbook and spotted their Gusto Divini Meat Sauce…perfect!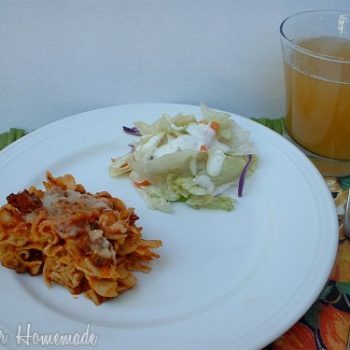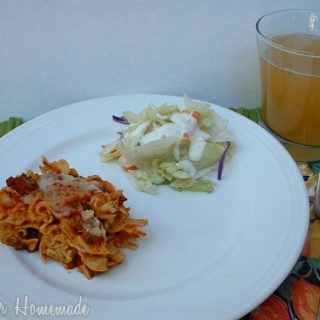 Spaghetti Casserole with Gusto Divini Meat Sauce
Spice-up your Italian night with new flavors when you make HoosierHomemade.com's Spaghetti Casserole with Gusto Divini Meat Sauce!
Ingredients
Gusto Divini Meat Sauce
2 pounds ground beef
1 pound pork sausage meat
2 large onions, chopped
4-6 garlic cloves, minced
1 cup parsley, chopped (about 1 bunch)
3 cans (15 oz) tomato sauce
1 bottle (16 oz) Holland House Red Cooking Wine
1 teaspoon each ground sage and dried rosemary
1/2 teaspoon each dried marjoram and ground pepper
Spaghetti Casserole
1 box (16 oz) of spaghetti or other pasta you have on hand (I added some broken pieces of lasagna noodles too)
1 bag of Mozzerella Cheese
Gusto Divini Meat Sauce
Instructions
Gusto Divini Meat Sauce
Brown meats, add onions and cook until soft. Drain.
Stir in remaining ingredients and bring to boil.
Reduce heat, cover and cook 1 hour, stirring occasionally.
Uncover and cook 1 more hour, stirring occasionally.
Spaghetti Casserole
Boil noodles according to the directions on the box. Drain.
Layer noodles, sauce then cheese.
Repeat the layers.
Bake at 350 degrees for about 30 minutes.
Serve with salad and bread sticks.
Notes
Cooks Note: This recipe makes a lot of sauce. I cut it in half, and used my slow cooker on low for about 4 hours. Adding the cooking wine gave the Spaghetti Casserole great flavor and the seasonings made it taste rich.
Holland House offers many varieties of wines for cooking and vinegars, including white, red, and Vermouth Cooking Wines and Balsamic, Red and White Premium Vinegars just to name a few.
For more great recipes follow Holland House on Facebook, head to their recipe page or you can even sign up to receive their FREE recipe booklet!
You can buy Holland House Wines for Cooking and Premium Vinegars at many stores across the United States, find one near you!
Our Menu Plan…
Monday~ Spaghetti Casserole, Garlic Bread and Salad
Tuesday~ Baked Chicken and Twice Baked Potatoes
Wednesday ~ Breakfast – Homemade McGriddles and Smoothies
Thursday ~ Chicken Fajitas and Rice
Friday ~ Chicken N' Noodles, Mashed Potatoes, Green Beans
Saturday ~ Pizza
Sunday ~ Chili and Cornbread
Disclaimer: Holland House provided me with compensation and product for this campaign. All opinions are my own.
I'm linking to…