Broccoli Beef Stir-Fry and our Menu Plan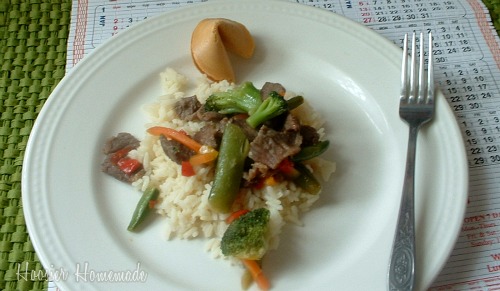 Before we get started with food, we have a some winners to announce!
Cool Whip Basket from Kraft…
Victoria W. says I.m a fan of It's a Blog Party
Amber says I am a fan of Hoosier Homeade on Facebook!
Nellana Cook says I get your cupcake newsletter.
Sandy L says My wish is that my parents will get to come see us at Christmas this year.
Dorothy says I wish for a safe trip home so that I get to spend sweet time with family!
Lori Thomas says My wish is that I`ll be able to provide gifts for my family & that we`ll all be safe & healthy [email protected]
Tania S. says I'm a fan of Hoosier Homemade on Facebook.
Celeste says My Christmas wish is that no matter what happens financially or how many gifts we can get, that my family will find true joy in the season by remembering the true meaning of it all.
Liz@TheFloweringDogwood says I like you in Facebook – Liz Kelley Lanza
Debbie says I follow your tweets!
Shana says I would like all my children home
Holiday eBook from Once A Month Mom…
Barb S. says I subscribe to the Hoosier Homemade RSS feed.
Winners have been notified and have 48 hours to respond.
And don't forget!! Today is the last day to enter to Grateful Giveaways, there are some amazing prizes you won't want to miss.
One of the meals that we enjoy cooking and eating is Stir-Fry. It's a quick and easy meal to throw together, especially if you have the meat pre-cut. After grocery shopping, I often cut the meat, put it in a freezer bag and add soy sauce. Then stick it in the freezer and it's ready to cook. I usually cook Chicken Stir-Fry, but I recently received some Holland House wines for cooking  and decided to give the Broccoli Beef Stir-Fry a try.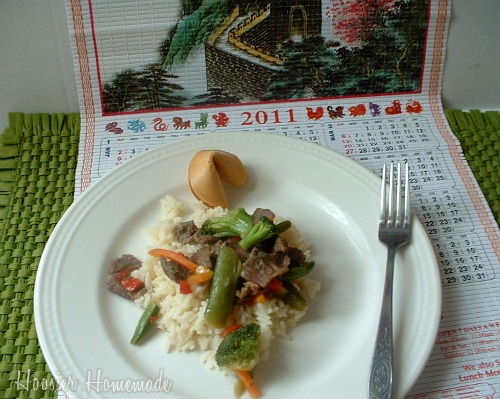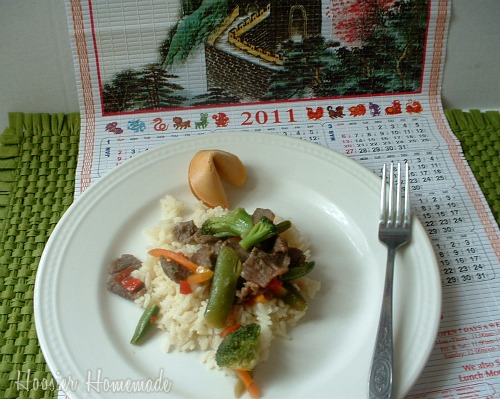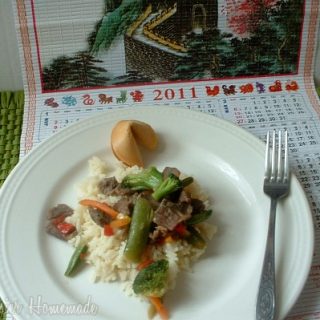 Broccoli Beef Stir-Fry
Broccoli Beef Stir-Fry recipe from HoosierHomemade.com
Ingredients
Sauce
1/2 cup beef broth
2 tablespoons Holland House Sherry Cooking Wine
1 tablespoon cornstarch
1 tablespoon soy sauce
1 teaspoon sugar
Stir Fry
2 tablespoons oil
2 cups fresh broccoli florettes **see notes**
1 cup fresh pea pods
1 red bell pepper, cut into thin strips
2 tablespoons Holland House Sherry Cooking Wine
1 pound boneless top round or sirloin steak, cut into thin strips
1 garlic clove, minced
Hot Cooked Rice
Instructions
In a small bowl, combine all the ingredients for the sauce, mix well and set aside.
In a large skillet or wok, heat 1 tablespoon oil.
Stir fry broccoli, pea pods and red pepper for 1 minute.
Add 2 tablespoons cooking wine.
Cover, cook 1-2 minutes more.
Remove from pan.
Heat remaining oil, add meat and garlic.
Stir-fry 5 minutes or until meat is brown.
Add sauce to the meat, cook 2-3 minutes or until thickened, stirring frequently.
Add vegetables, cook until heated through.
Serve with cooked rice.
Notes: We used a bag of frozen stir-fry mix, sugar snap pea mix from Walmart, it was less than $2
I have never cooked with wine before and found the taste to be really rich and good. The boys even went back for seconds.
Holland House offers many varieties of wines for cooking and vinegars, including white, red, and Vermouth Cooking Wines and Balsamic, Red and White Premium Vinegars just to name a few.
For more great recipes follow Holland House on Facebook, head to their recipe page or you can even sign up to receive their FREE recipe booklet!
You can buy Holland House Wines for Cooking and Premium Vinegars at many stores across the United States, find one near you!
Do you cook with wine or vinegar?
Weekly Menu Plan…
Monday ~ Tacos and Nachos
Tuesday ~ Roast with Veggies
Wednesday ~ Spaghetti and Meatballs
Thursday ~ Soup & Sandwiches
Friday~ Homemade Chicken Nuggets and Fries
Saturday~ Bubble Pizza
Sunday~ Turkey and Potato Casserole
Disclaimer: Holland House provided me with compensation and product for this campaign. All opinions are my own.
I'm linking to…$5 Dinner Challenge, Blog Party, Menu Plan Mondays and Mouthwatering Mondays
Include "Come join the fun at the My Baking Addiction and GoodLife Eats Holiday Recipe Swap sponsored by Holland House." in your blog post.