Pizza Rolls and our Menu Plan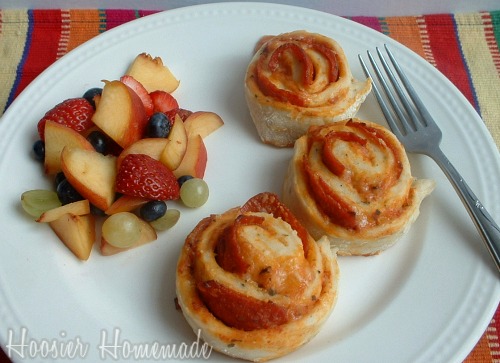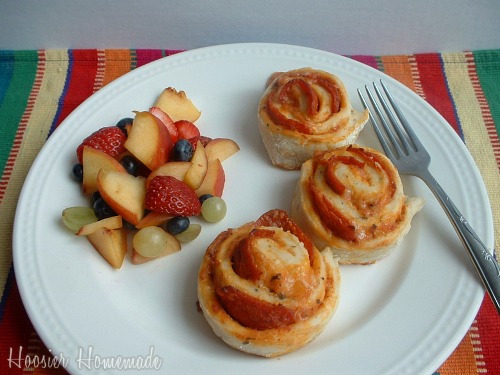 We are really enjoying this time of year, all the yummy baking there is to be done, and the fun decorating too. Doug and I spent the afternoon Sunday finishing the outside decorating, be sure to stop back on Wednesday to see what we made with this pile of sticks…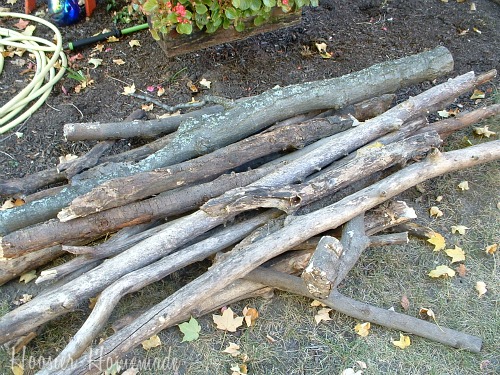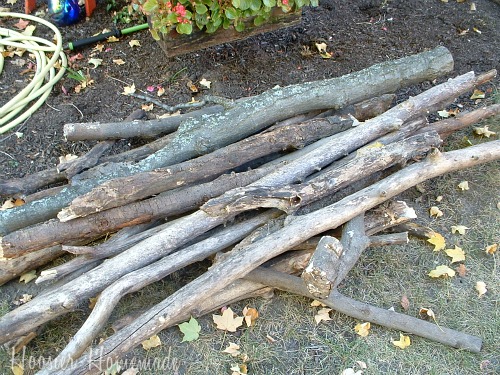 You may JUST be amazed 🙂
The winners of the Family Dish Cookbook have been emailed… Jennifer, Elaine, Tammy, Diane and Beth. I've only heard from 3, please check your email.
Now, back to our recipe…Pizza Rolls are a family favorite, they can be made many different ways. Here is how I make ours…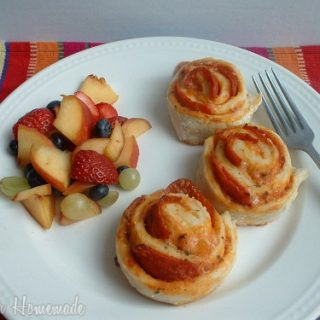 Pizza Rolls
Make pizza rolls for your family tonight! Recipe from HoosierHomemade.com.
Ingredients
Pizza Rolls Recipe:
1 batch of bread machine pizza dough with some Italian seasoning added (recipe below)
1 jar of Ragu Sauce (I used spaghetti, because that's what I had on hand, and it worked fine)
1 package of pepperoni (Aldi's has it for about $2)
Italian or Mozzerella cheese, shredded
Bread Machine Pizza Dough Recipe: (adapted from [All Recipes | http://allrecipes.com/Recipe/Pizza-Crust-I/Detail.aspx])
2 1/2 cups flour (I use all-purpose)
2 teaspoons sugar
2 teaspoons active dry yeast
3/4 teaspoon salt
2 tablespoons oil
7/8 cup warm water
2 tablespoons Italian seasoning (optional)
Instructions
Add ingredients to your bread machine, according to your manufacturer and set to the machine to the dough cycle. This usually takes about 1 1/2 hours (on mine). When the machine beeps, remove the dough.
Roll dough out onto a floured surface,(you may need to kneed it some) into a rectangle. Cover with sauce, then pepperoni and then cheese.
Roll up dough, jelly roll style (long end) and slice into pieces about 1 inch thick. Place onto greased cookie sheet or pizza stone.
Bake at 350 degrees for about 10 minutes or until golden brown.
Our Menu Plan for this week:
Monday ~ Breakfast for Dinner – Homemade McGriddles, Fried Potatoes
Tuesday ~Baked Potato Bar and Sausage Cheese Balls
Wednesday ~ Taco Ring, Rice, Chips and Salsa
Thursday ~ Ravioli, Salad, Garlic Bread
Friday ~ Pizza Rolls, Salad
Saturday – Corn Doggies (What's Cookin' recipe)
Sunday ~ Lasagna, Salad, Garlic Toast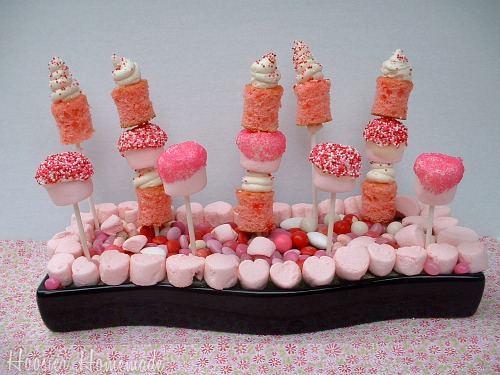 Have you seen my current giveaway? Fun Hanes Breast Cancer Awareness goodies! While you are there…grab the recipe and directions for these cute these cupcakes!
And speaking of cupcakes…tomorrow is Cupcake Tuesday!! Stop on back for some "Spook-tacular" Cupcakes.
For more Halloween ideas, visit the All-Halloween Bash over at Blog Party or the Seasonal Celebrations Community on Blog Frog!!
I'm linking to the Blog Parties in my footer, please visit them! You might just find one or two that are new to you!