Breast Cancer Awareness Cupcakes & Hanes Giveaway
GIVEAWAY CLOSED…THANK YOU TO ALL WHO ENTERED
Breast Cancer touches lives everyday, every minute…finding a cure is vital.
Susan G. Komen for the Cure has played a major role in the fight against Breast Cancer. To see all the great work they do or for more information, please visit their website, they have a wealth of information!
During my recent visit to New York City for The Family Dish, I was sitting next to Liz, one of awesome gals at Weber Shandwick, and she mentioned how Hanes has joined the fight against Breast Cancer and donated $500,000. They have a fun new feature, where you can design and buy your own T-shirt and they will donate 10% of the proceeds to Komen for the Cure!!
Right away, I told her that I would love to create some Breast Cancer Awareness Cupcakes to share with you all! And she graciously offered some Hane's goodies for a Giveaway!
First…let's talk Cupcakes…PINK Cupcakes!!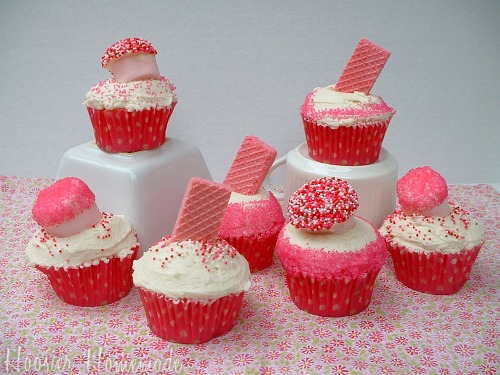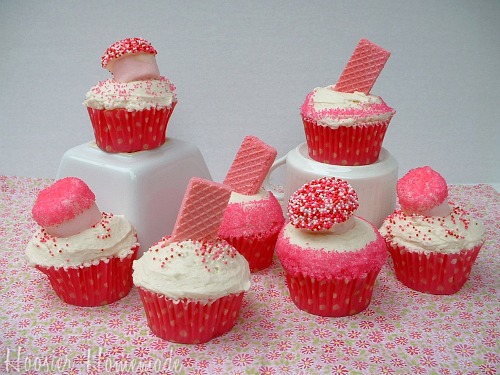 For these very special Breast Cancer Awareness Cupcakes, I started with a strawberry cake mix, baked in cute pink polka-dot liners and frosted with Buttercream Frosting.
On top, I added some pink cookie wafer, pink sugar, pink non-pareils and some fun marshmallows.
It seems like Mini is ALL the rage now in Cupcakes…and even fun Cupcake Skewers! I just couldn't help myself, and created these for you!!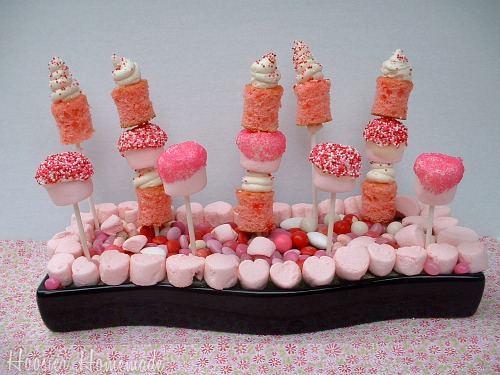 Cuteness!!!
To create the Mini-Cupcakes, I took a regular size cupcake, after it cooled and used a round cookie cutter, the inside part of a round cutter that has the removeable cutter for doughnuts. You could also bake mini cupcakes and remove the wrapper, or bake them without a liner.
Remember the Chocolate Covered Strawberry S'Mores with strawberry marshmallows? I used some of those marshmallows, dipped them in Wilton white candy melts and then added non-pareils on some and pink sugar on others.
Taking a lollipop stick, I just skewered the marshmallows and mini cupcakes. Then with a decorator bag filled with Buttercream frosting and fitted with a round tip, I added a little frosting and a few non-pariels.
My oldest son, who is 19, told me they look "magical!" 🙂
Join Melina and Hanes on Mission Pink! Help support Breast Cancer Awareness at HanesPink.com!!
Hanes has a Breast Cancer Awareness T-shirt, Pink socks and a Pink bra for 1 lucky winner!
Giveaway Guidelines: Please leave a seperate comment for each entry!
Giveaway ends Friday, October 22nd.at 10 p.m. CST.
Required entry:
Leave a comment telling us if Breast Cancer has effected your life or a life of a loved one
Extra entries:
Leave a comment telling us what makes you feel SPECIAL
Leave a comment telling us how you like spending your FREE time
Subscribe to Cupcake Chronicles, my Weekly Newsletter with exclusive cupcakes and how-tos (in the sidebar)
Another quick note before you enter…have you seen the Saving Second Base project? Rachel and Tricia have teamed up to bring you some amazing stories along with recipes. Take a peek!