No-Bake Treats for the 4th of July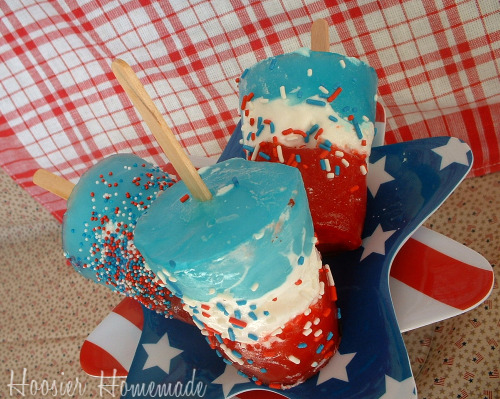 Happy 4th of July!
I hope you all have a wonderful, safe and relaxing weekend! I have one more set of goodies for you. These No-Bake Treats are great for those hot summer days, and of course, perfect for the 4th of July!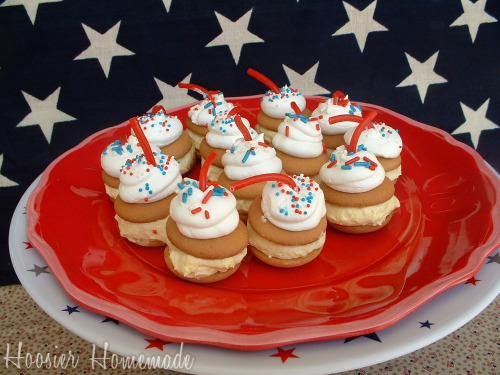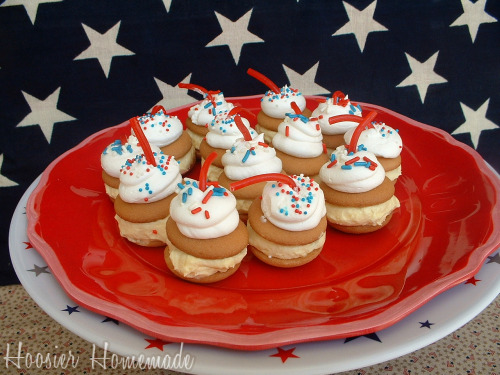 With just a few ingredients, you can whip up these cute little Firecracker Bites!
Firecracker Bites
Prep Time: 10 minutes

Total Time: 10 minutes

A fun no bake treat for 4th of July. Recipe from HoosierHomemade.com
Ingredients
1 pkg (8oz) cream cheese
1 cup cold milk
1 pkg (small) Instant Vanilla pudding
1 1/2 cup thawed whipped topping, divided
1 box Nilla Wafers
Festive Sprinkles
Red Licorice (pull & peel)
Instructions
Beat Cream Cheese in large bowl, until smooth, slowly add the milk.
Add dry pudding mix and beat for 2 minutes.
Whisk in 1 cup Whipped Topping
Spoon a heaping teaspoon of pudding mix onto Vanilla Wafer and top with another wafer to make a sandwich.
Add a small amount of Whipped Topping to the top with a decorator bag (you could even use a Ziploc bag or just spoon it on.
Add sprinkles and a 1 inch piece of licorice.
Nutrition Information:

Amount Per Serving: Calories: 0Total Fat: 0g
Note: A couple notes on these…you could easily leave the cream cheese out, I like the flavor of just pudding and whipped topping mixed just as well. Also, the directions said to put them in the freezer, I didn't because I wanted them fresh and soft, but you could easily do that. These should also be made on the day you are going to serve them, the pudding does make the cookies soft, pretty quickly. I would suggest only 4-5 hrs before serving. (Recipe adapted from Kraft)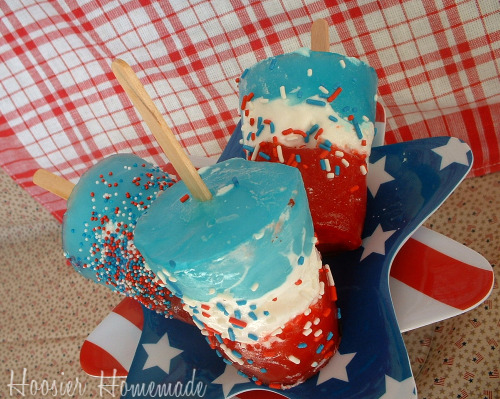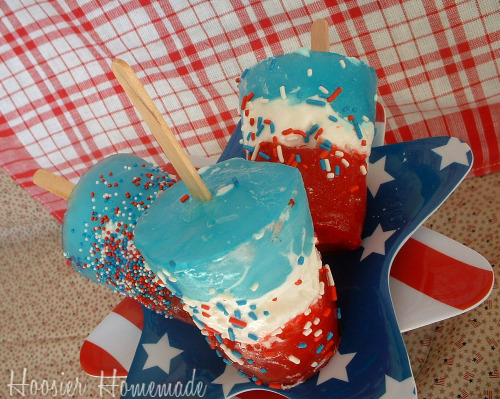 Popsicles are great to have on hand throughout the summer, these Rocket Pops are not only festive for the 4th of July, but taste great too.
Rocket Pops recipe:
1 pkg (small) Cherry Jello

1 pkg (small) Blue Jello

1 cup sugar, divided

2 cups boiling water, divided

Ice cubes

2 cups cold water, divided

1 tub Whipped Topping, thawed
Directions:
Combine the Cherry Jello and 1/2 cup sugar in a medium bowl, stir. Add 1 cup boiling water, stir at least 2 minutes until dissolved. Add enough ice cubes to 1 cup of cold water to make 2 cups. Add to jello and stir until ice is melted. Pour evenly into 16 (5oz) paper or plastic cups. Freeze 1 hour.
Meanwhile, mix blue jello and 1/2 cup sugar, adding water the exact same way you did for the Cherry jello. Refrigerate 1 hour.
Spoon a couple heaping tablespoons of Whipped Topping onto Cherry jello, top evenly with blue jello. Freeze 1 hour or until almost firm, insert popsicle stick, freeze additional 4 hours or overnight.
Run hot water on outside of cup to release Rocket Pop.
Note: These were a little more messy than I expected them to be, the whipped topping floated around a bit, maybe next time I will freeze it for a bit before adding the blue jello. They tasted really good though. To add the sprinkles, I dribbled water on the Rocket Pop, then added the sprinkles. I think I'll try these again, with different flavors too. (Recipe adapted from Kraft)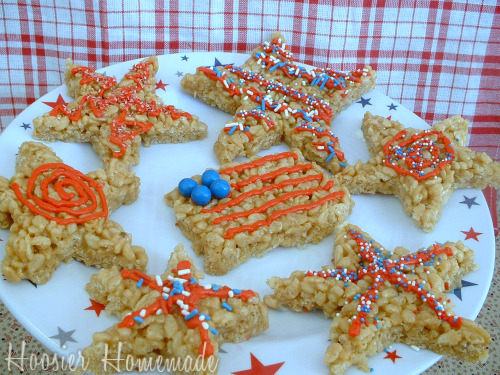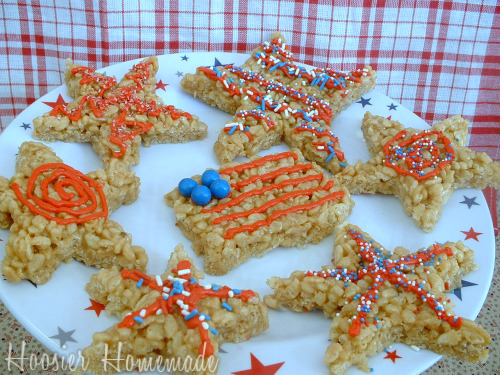 And last, but not least, Rice Krispie Treats! An all time favorite in our house.I make them a little different than most though, I don't use marshmallows.
Rice Krispie Treats recipe:
1 cup Sugar

1 cup White Corn Syrup

1 cup Peanut Butter

6 cups Rice Krispies cereal (I buy mine at Aldis)
Directions:
In a small saucepan, bring sugar and corn syrup to a slight bubble (do not boil) add peanut butter and stir well. Add to Rice Krispies, mix well and press into pan. You can use a cookie sheet or 15x10x2 pan.
To make stars and flags, I lined a cookie sheet with foil and used the Wilton Star Cookie Cutters. For the flag I just cut it out free-hand.
To decorate, I piped on a small amount of frosting and then added the sprinkles. The flag has blue sixlets candy.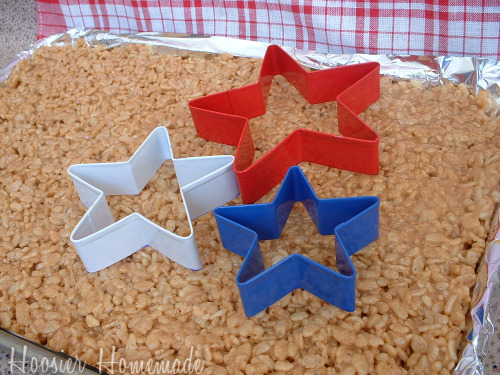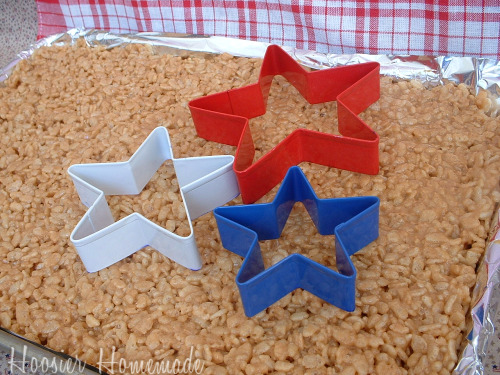 Enjoy! Happy 4th of July!
Here is a little re-cap from the week in case you missed it…
~Front Porch Decorating for the 4th
There is also a 4th of July Linky Party over on my other blog, It's a Blog Party, with over 50 ideas! Lots of great stuff!