Welcome to another great day of  Food for the Fourth! If you missed my other posts, let me catch you up! I began with Main Dishes, then added some Salads, Sides and of course, delicious Desserts. Later on I will be sharing some No Bake Desserts for the Fourth too!
These Cool, Refreshing Drinks are not only great for the 4th of July Holiday, but can be made all summer long.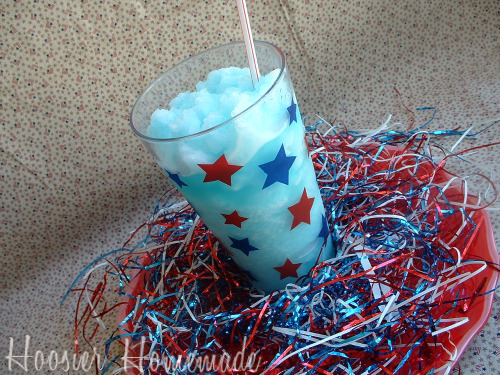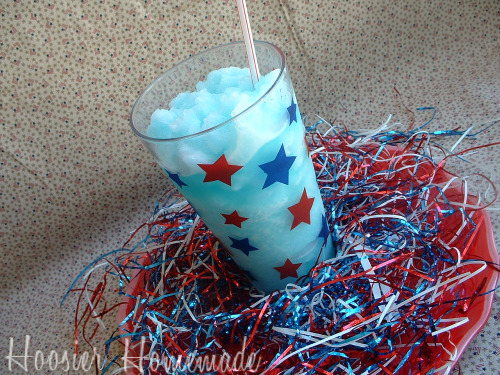 This Frozen Blue Hawaiian can be made with or without alcohol. Either way, it's a sweet, cool refreshing drink.
Frozen Blue Hawaiian with alcohol:
2 cups ice
2 tablespoons orange vodka
2 tablespoons blue curacao
1/3 cup pineapple juice
Frozen Blue Hawaiian without alcohol:
1/2 cup blue fruit punch…I used Hawaiian Punch Berry Blue Typhoon
2 cups ice
1/3 cup pineapple juice
Directions:
Place ice in blender, add liquid and blend until well combined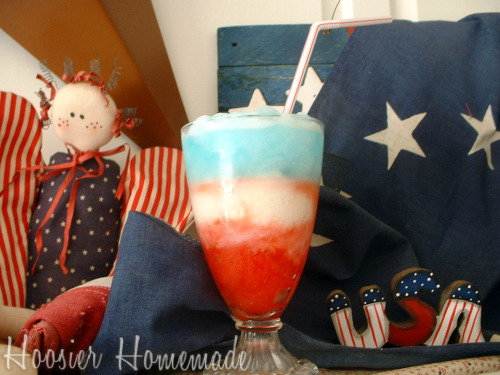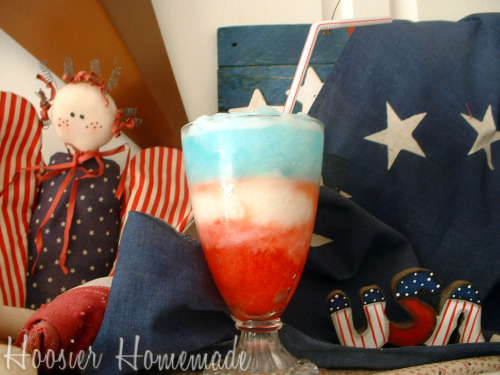 We make these Slushies with Ice Cream alot during the summer. My youngest loves to whip up a batch to enjoy with his friends during their squirtgun fights.
Slushies: (recipe originally from MomAdvice)
2 cups ice water
1 pack drink mix
2/3 cup sugar
4 cups ice
2 big scoops vanilla ice cream…if desired
Directions:
Put a couple hands full of ice in a measuring cup and fill with cold water to measure 2 cups. Add to blender. Add drink mix and sugar. Add 4 cups ice and blend until smooth. Add ice cream if desired.
4th of July Slushies:
I used Cherry (red) and Berry (blue) Kool-Aid, and for the white I used the Invisible Kool-Aid. (my son's suggestion and it worked perfect)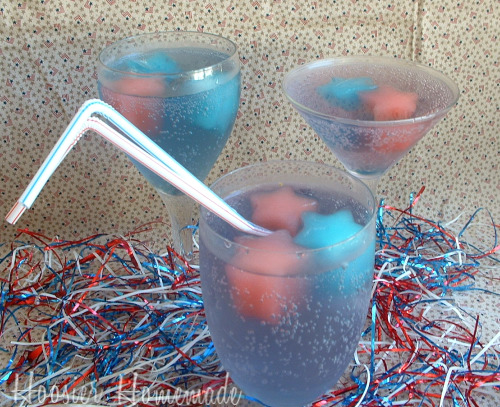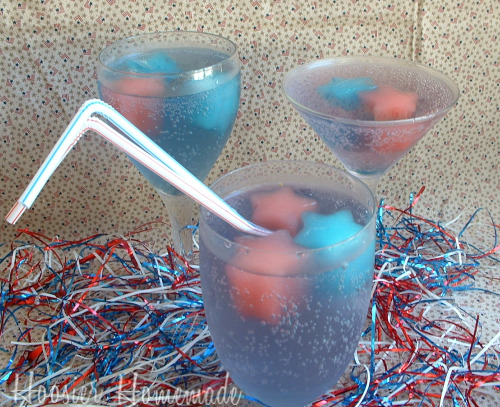 This 4th of July Drink is very easy. I bought star ice cube trays at Walmart, they were only $1 for 2, and filled one with red Kool-Aid and the other with Hawaiian Punch Berry Blue Typhoon. Place a few ice cubes in a glass and slowly add Club Soda or a clear soda, like Sprite or 7-up over.
Do you need some Fourth of July Inspiration? Check out my Fourth of July Mantle and then head on over to the Fourth of July Party over at It's A Blog Party!
Linking to…Ingredient Spotlight