Zucchini Chicken Stir-Fry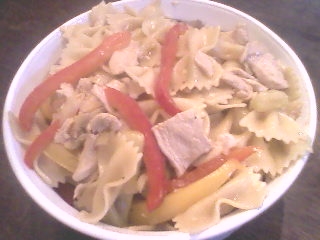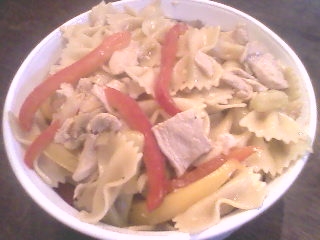 I am a recipe cook, that is, I always use a recipe for anything I cook. I consider myself to be a creative person, but I don't really like experimenting with my cooking.
However, that changed last week. I had alot of zucchini that needed to be used and wanted to try putting it in a stir-fry.
Here is what I used…
1 pkg of chicken breasts
1 box of bow tie pasta
1 medium zucchini
2 stalks of celery
1/2 each of red, orange and yellow pepper
some Italian seasoning and Soy Sauce
a couple cloves of garlic
1 box of mushrooms
First I cut up all the veggies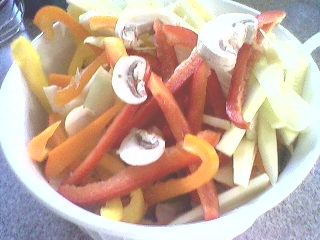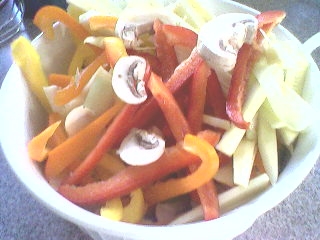 I cut the chicken and marinated it in the dressing and Soy sauce for a little while, cooked the chicken in a little oil, then added the veggies.
While they were cooking I boiled the pasta for about 10 minutes.  After draining the pasta, I added it to the chicken and veggie mixture, added some Soy Sauce and heated it through.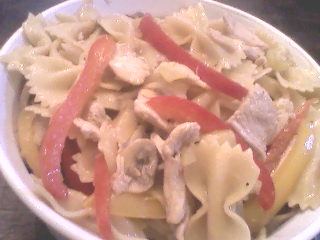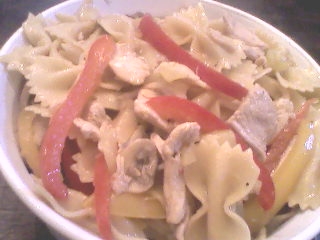 I served it with white rice. It was a real hit, even with the 2 picky eaters that I have in the house. I will be adding it to the monthly meal plan for sure.
You may also enjoy these recipes for using up zucchini:
~Zucchini Raisin Walnut Muffins