Whip up this Healthy Smoothie using Mariani Probiotic Prunes in minutes! It's packed with delicious flavors AND good for you! Learn how to create a Charcuterie Board for an easy snack to go along with the healthy fruit smoothies.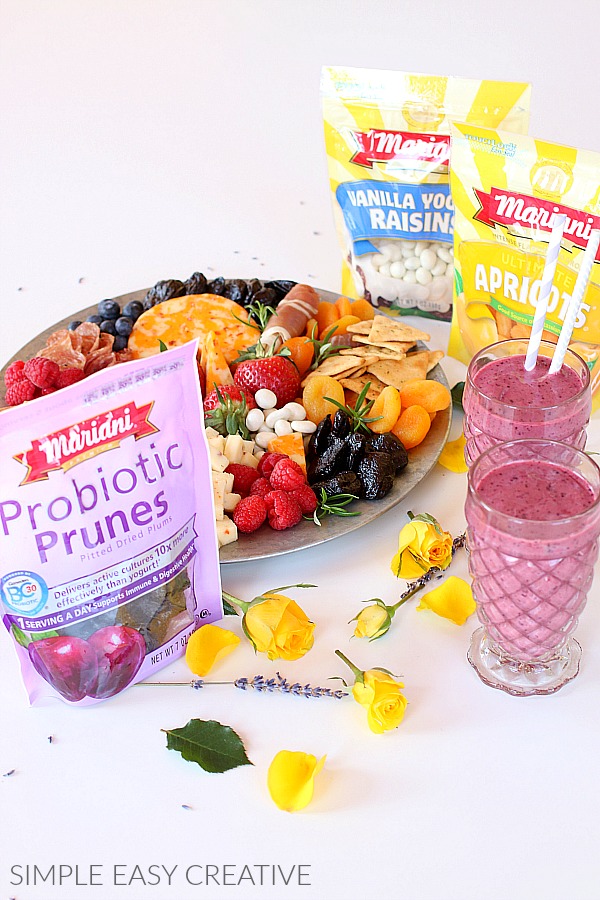 This recipe is brought to you by Mariani. As always, the opinions are my own.
Smoothies are all rage now! And rightfully so – they are good for you, really easy to make, and taste delicious! This Healthy Smoothie is no exception!
About two years ago, I started down the path of taking better care of myself. I think as Moms, we are so focused on taking care of the children, our families and our home, that we often forget that we need to take care of ourselves too. At least that was the case for me. I put myself on the back burner.
So early last year I started swimming 5 or 6 days per week and spend at least an hour on a morning routine. During that time, I like to have a healthy fruit smoothie. They make me feel really good about starting my day out right, and they are super easy to make. They only take a handful of ingredients and a good blender, and you have the perfect start to your day!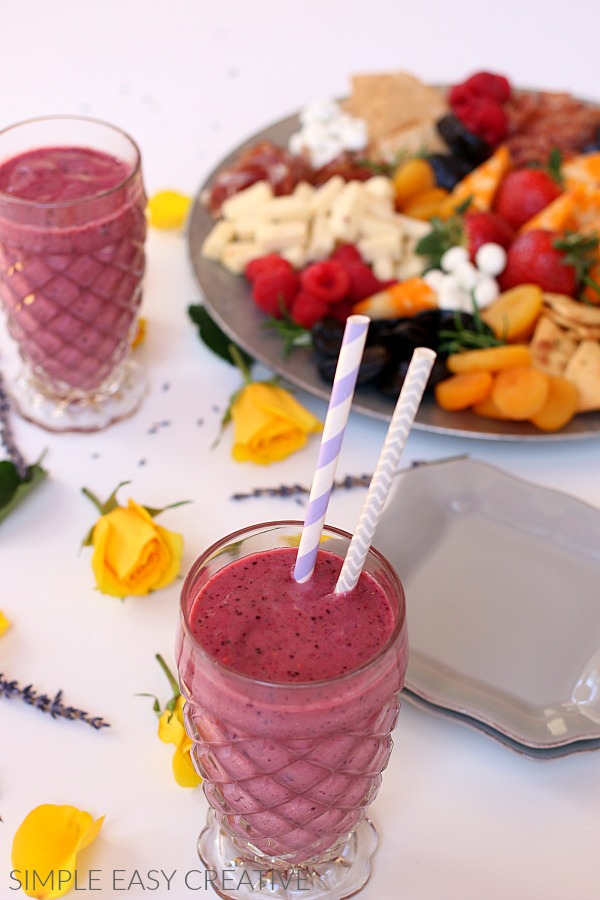 After many, many years of not taking care of myself, I began to read and learn more and more about my health. I knew I needed to take care of myself, but the bottom line was – time. I needed quick and easy ideas that would make a difference, but not take a lot of time that I didn't have.
Enter — the healthy fruit smoothies!
These smoothies are packed with nutrients from the fruit, but more importantly, it also has Mariani Probiotic Prunes made with prunes from California, in it. These prunes have Prebiotic properties that feed the good bacteria already living in your gut and probiotics help keep the good and bad bacteria in balance, supporting your digestive and immune health. Learn more about the benefits of Probiotic Prunes.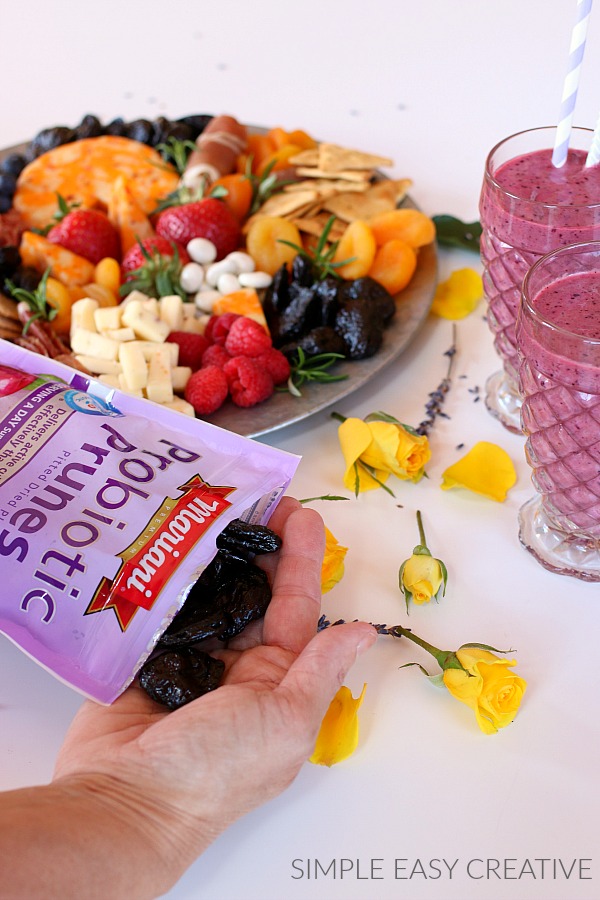 Prunes – it's time to get real honest about prunes! My husband loves – and I mean LOVES prunes! His Mom actually had to hide them from him when he was a kid (true story). Me however – I really had not eaten them very often, so I was a bit skeptical.
But after tasting the healthy smoothie with prunes – I was hooked. My oldest son really liked them too!
So hey Moms – if you need to "sneak" in fruit and prunes for your children's health (and well, yeah, trips to the bathroom), this is THE recipe for you!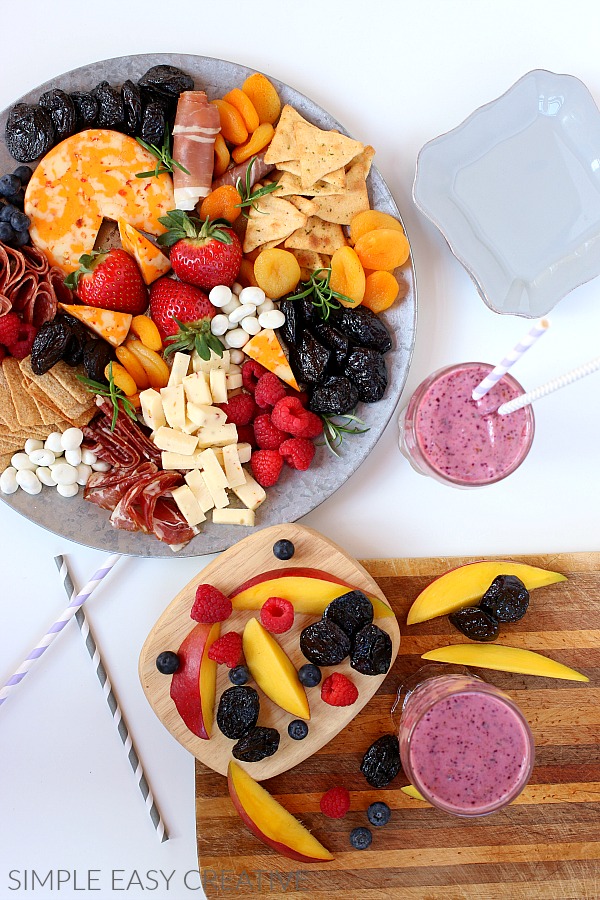 With Mother's Day approaching, it's time to think about ways to celebrate Mom. What would she love?
For me – there is nothing better than spending time with my boys, relaxing and enjoying some good food.
This Charcuterie Board goes perfectly with the smoothies – it is easy to put together (the kids can even do it) yet fancy enough for guests.
I started with two large pieces of cheese, added in crackers, meats and a little fresh fruit.
Then I piled it high with Mariani Probiotic Prunes, Ultimate Apricots and Vanilla Yogurt Raisins. You can find all the Mariani products at your local Walmart store.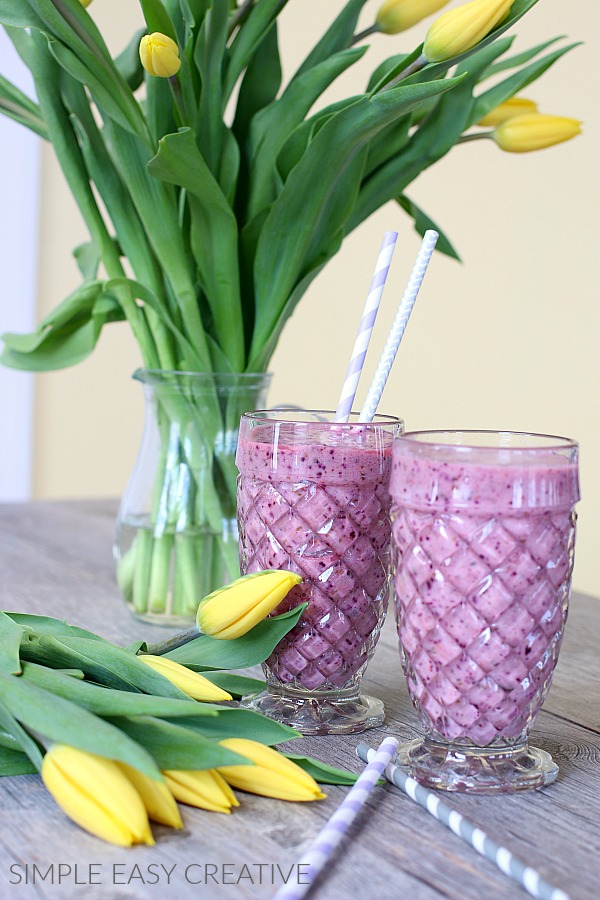 Whether you are hosting a Mother's Day brunch, or taking the family for a quiet day at the lake, these Healthy Smoothies and Charcuterie Board is the answer!
How do you make a smoothie
For these Healthy Smoothies, I used Almond Milk, Greek Yogurt, Frozen Fruit and Mariani Probiotic Prunes.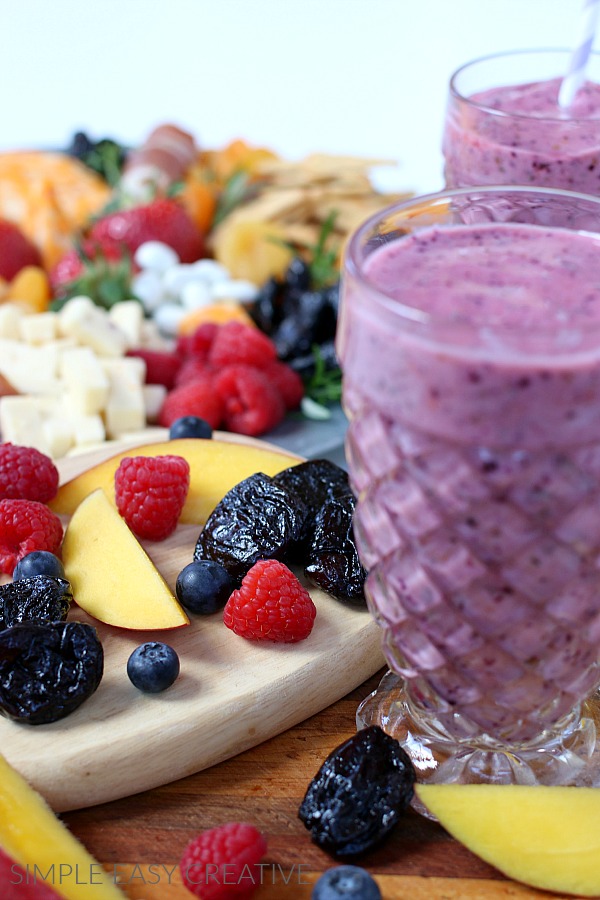 How will you be celebrating Mother's Day?
Follow Mariani on Facebook or Twitter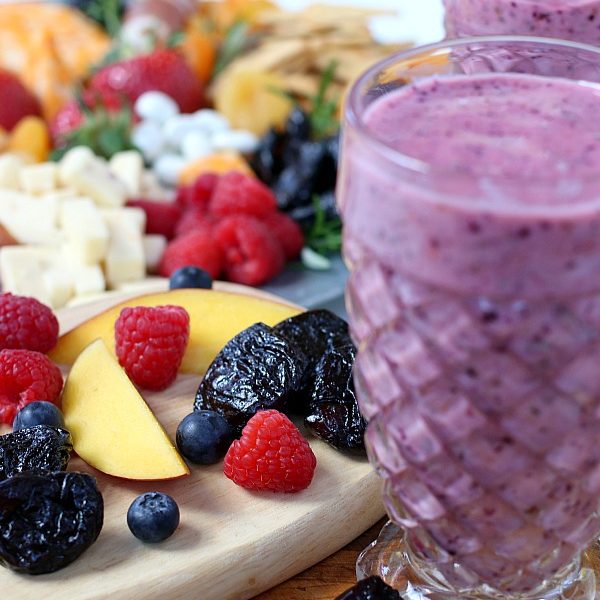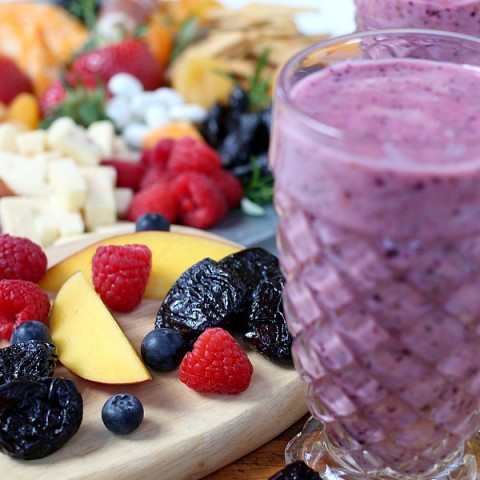 Healthy Smoothie
These healthy smoothies go together in minutes, taste delicious and are good for you!
Ingredients
1 1/2 - 2 cups Almond Milk (depending on how thick you want the smoothie)
1/2 cup Greek Yogurt (I used vanilla)
1/2 cup each - frozen blueberries, red raspberries and mango (you can easily change these)
8 Mariani Probiotic Prunes
Instructions
Add ingredients to blender in order listed
Blend at high speed until smooth
Enjoy immediately
Store in refrigerator