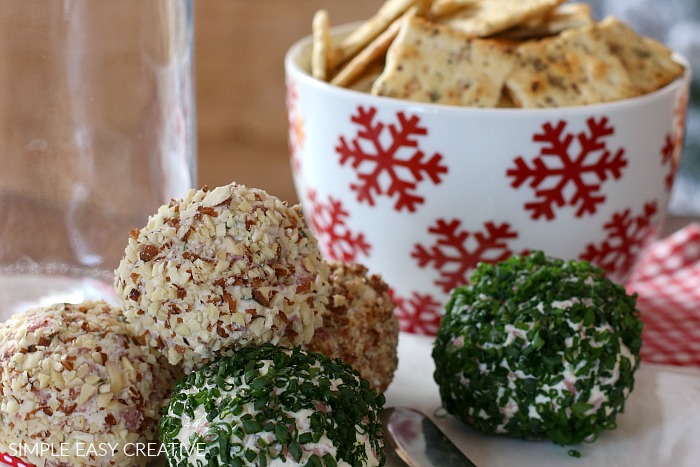 These Mini Cheese Balls are the perfect party appetizer, or add crackers to a jar along with the mini cheese ball bites and give them as a gift!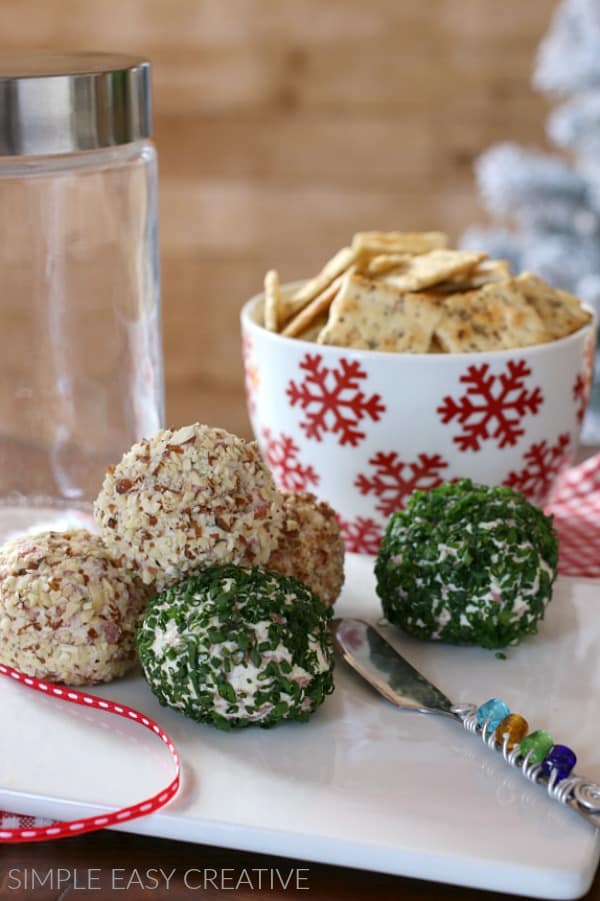 The Dried Beef Cheese Ball Recipe is a traditional recipe that I have been making for many moons. It's super easy to put together, takes just a few ingredients, and tastes delicious!
So taking that recipe and making mini cheese ball bites was the next step, not sure why I haven't thought about it before now.
I mean, what's not to love? Little bite size snacks that taste amazing – perfect for parties or cookouts – can be made ahead of time – they store well – and can be given as a gift.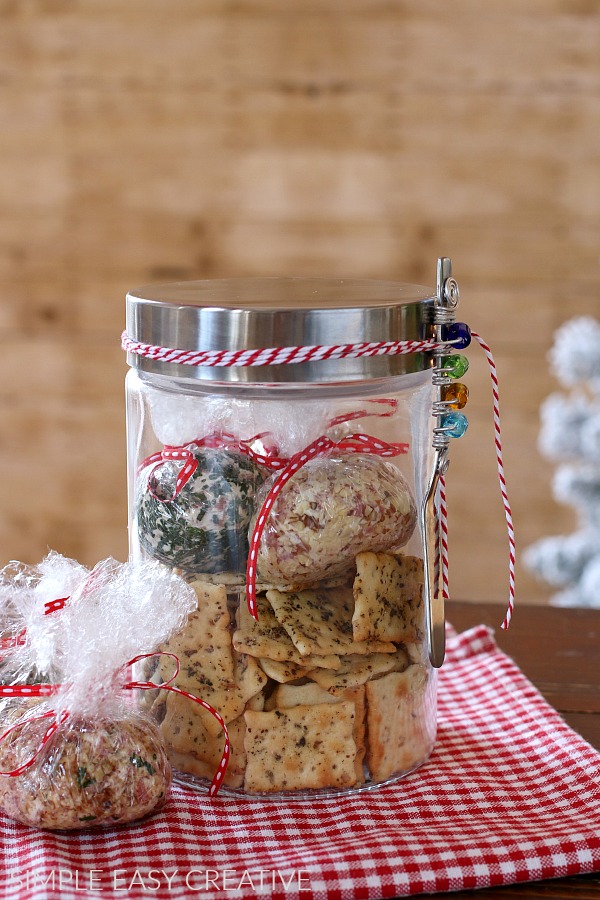 Since the holidays are coming up, we thought you would love this super easy gift from the kitchen! These Mini Cheese Balls are great for a hostess gift, co-worker, neighbor, teachers and more!
And the men on your list will love them too! In our family, the boys always dig into the Cheese Ball before anything else.
Mini Cheese Ball Bites – Gift
Supplies:
Clear jar – any size will work, the straight edge of this jar worked well
Ribbon and/or Twine
Plastic Wrap
Small knife for spreading, optional but a nice addition
Scissors
Mini Cheese Balls
Crackers
Instructions:
Prepare the Cheese Ball Recipe, and divide it into pieces (cutting it like a pie is easy)
Roll each piece into a ball
Crush and chop coatings – chives, nuts, green onions, cranberries – your choice
Roll the mini cheese ball bites in each of the coatings
Cut a piece of plastic wrap and cover the cheese ball. Tie with a ribbon
Place crackers in the bottom of the jar
Add cheese balls
Add ribbon, twine and small knife around the jar, or decorate any way you like.
We tried several different options to fill the jar and ultimately came up with this method as the best option. If you wrap the cheese balls first, then add the crackers on the bottom of the jar, the moistness of the cheese won't get the crackers soggy.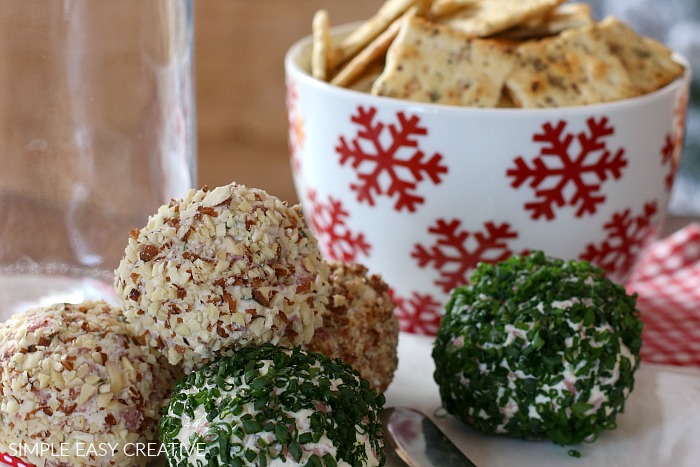 Looking for more Gifts from the Kitchen? Click on the photo for the recipe!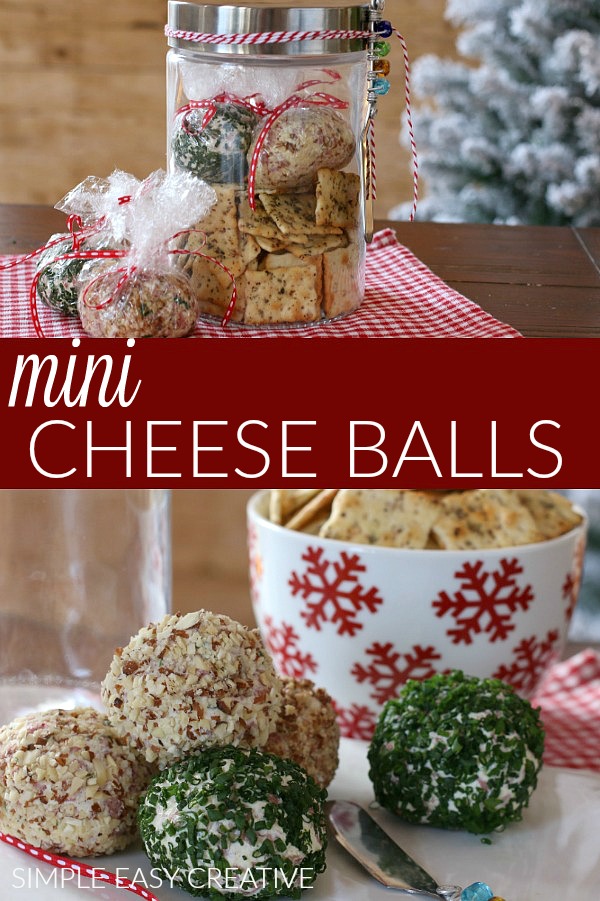 Mini Cheese Balls Recipe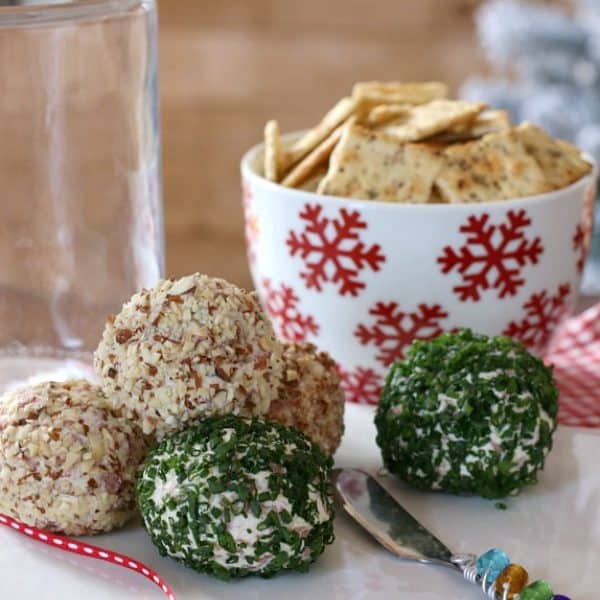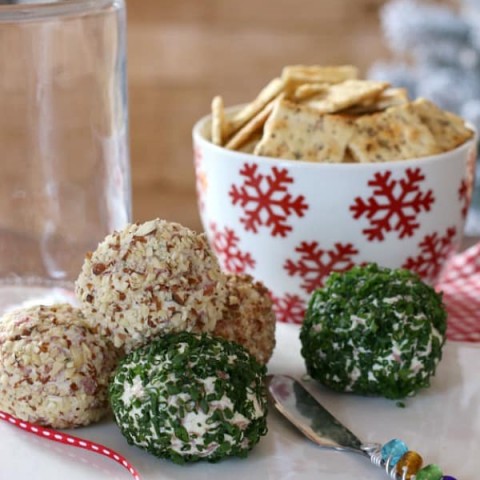 Mini Cheese Balls
These Mini Cheese Balls are super easy to make and are great for gift giving!
Ingredients
2 packages (8 oz. each) Cream Cheese, softened
2 packages of thinly sliced meat, pastrami or beef works best
2 teaspoons Worcestershire Sauce
2 teaspoons Accent Salt (or regular salt) Accent has MSG in it, so if you don't want to use that, regular salt is okay, but use a little less
3-4 green onions, chopped finely
Coatings
Green Onions
Nuts - pecans, walnuts, any kind you like - chopped very finely
Chives - chopped very finely
Dried Cranberries - chopped finely
Instructions
Place cream cheese in a large bowl and gently stir with a wooden spoon or spatula until slightly creamy
Cut meat and green onion into small pieces
Add to cream cheese
Add salt and Worcestershire Sauce
Mix well, chill for ease in forming
Divide cheese ball evenly - cutting like a pie works well
Roll each piece into a small ball
Then roll in coating
Place in plastic wrap and tie with ribbon
Store in refrigerator until serving or giving as gift
Notes
To freeze – wrap cheese ball – uncoated with nuts or chives –  in plastic wrap and then add to resealable freezer bag. Place in freezer for up to 1 month.
For gift jar - add crackers to jar then add wrapped mini cheese balls, tie with ribbon or twine and add decoration