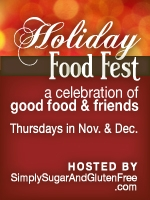 Welcome back to the Holiday Food Fest! We didn't post last week, with the Thanksgiving Holiday. I hope you all enjoyed your holiday, I know we did.
Today's theme ~Cocktails, Mocktails and Appetizers! That's a mouth full! 🙂
Amy from Simply Sugar and Gluten-Free is our hostess for today. She also is offering a great give-away from Honeywell Grains.
I couldn't let this theme go by without filling all three categories for you. First for the Appetizer…my Cheese Ball. This is a very basic Cheese Ball, but very delicious and can be made at least 2 days ahead, making it an easy dish to take with you.
Cheese Ball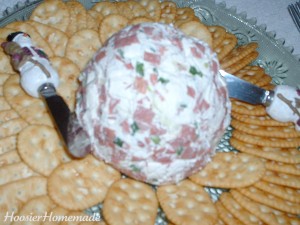 Ingredients:
2 pkgs. 8 oz. each Cream Cheese
2 pkgs. Thin Sliced Pastrami, chopped small (I use the Beef from Aldi's, the kind that comes in a small bag for .45 each)
2 t. Accent Salt  (

this is important, don't use regular salt

) *Note: it's been brought to my attention that Accent Salt has MSG in it, if you can't eat it, substitute regular salt or seasoning of your choice
2 t. Worcestershire Sauce
3-4 chopped Green Onions
Directions:
Mix all ingredients and roll into a ball, using Wax Paper to make it easier. You may also roll the Cheese Ball in chopped pecans or walnuts. Chill until ready to serve. Serve with crackers of your choice.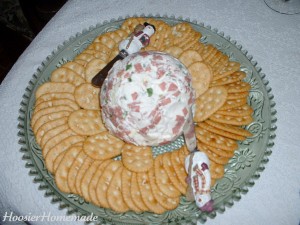 Next for the Cocktails…White Sangria
The Sangria that I make is very light, sweet and flavorful. I made it for a small get together recently, and everyone loved it so much, we had to mix up some more. It looks so pretty served in my Glass Punch Bowl.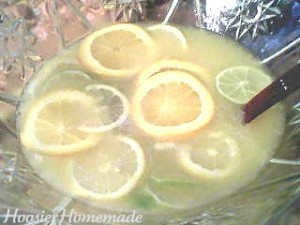 Ingredients:
1 Bottle Dry White Wine or Champagne
1 c. Thawed Orange Juice Concentrate
1/3 c. Thawed Lemonade Concentrate
1/2 c. Thawed Limeade Concentrate
1 Navel Orange, sliced
1 Lemon, sliced
1 Lime, sliced
2 c. Club Soda, chilled
Directions:
Mix together first 4 ingredients. Stir in half of the fruit slices. Cover and chill until ready to serve. Stir in Club Soda just before serving. Serve over ice with remaining fruit slices.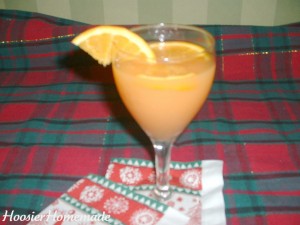 If you don't drink alcohol, would like a fun drink for the children, or simply a refreshing drink for yourself, here's a great Mocktail.  I served these with our Thanksgiving meal, and shared them with you last week.