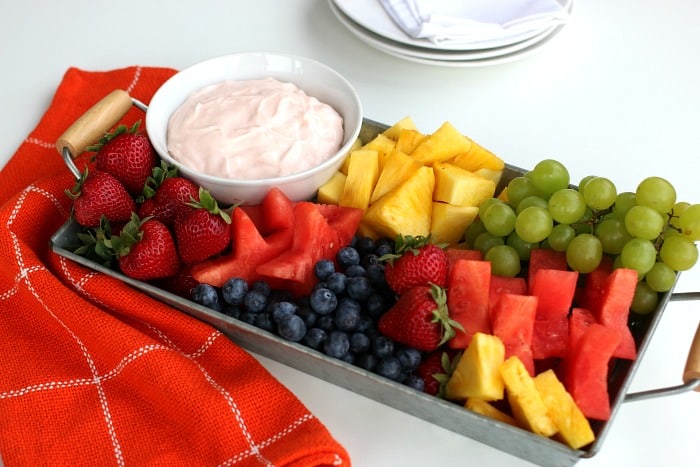 This 3 ingredient Fruit Dip goes together in minutes and can be served any time of year. Serve it with a big tray of fruit at a party, or keep it simple for an afternoon snack.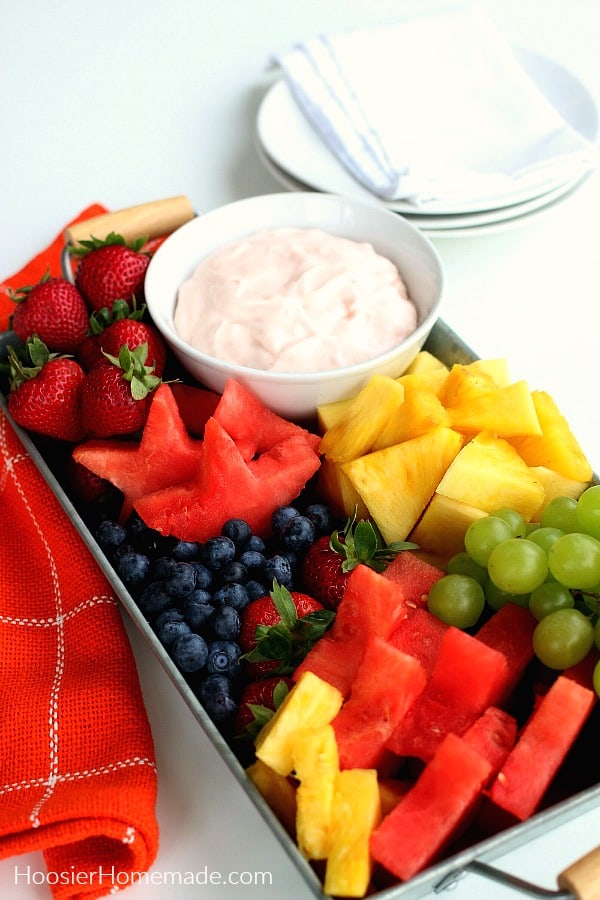 This Fruit Dip recipe with marshmallow fluff is a staple at every family gathering we have. Whether it's a special occasion like a birthday party, during the Christmas holiday or even a backyard cookout, everyone enjoys the light and fluffy combination with fruit.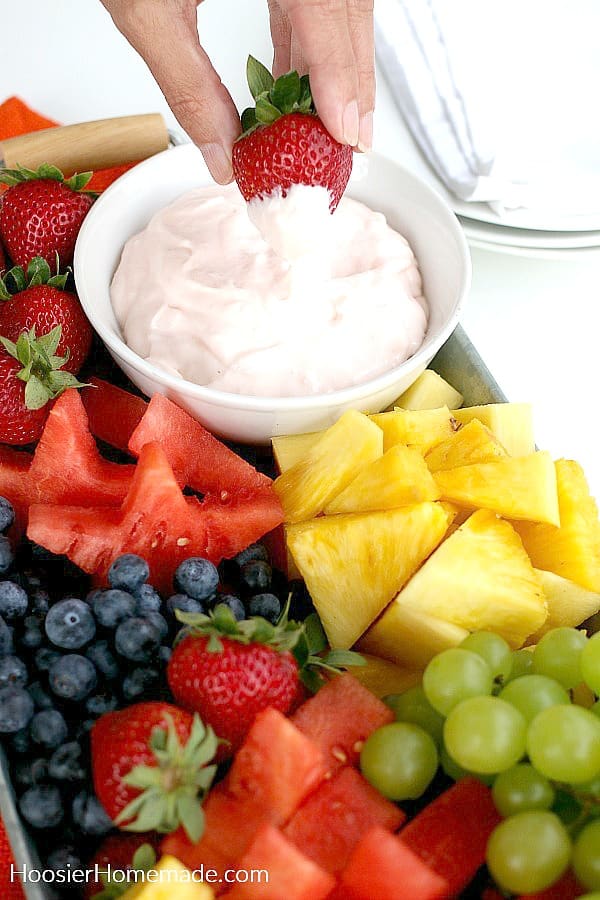 With only 3 ingredients – cream cheese, marshmallow creme and juice – this recipe is super easy to make.
How to make Cream Cheese Fruit Dip
Ingredients
Cream Cheese – be sure the cream cheese is softened, it's best to place it unwrapped in a bowl and let it set on the counter for a couple hours (depending on how warm your kitchen is) Heating it in the microwave to soften it typically doesn't work, in my opinion.
Marshmallow Creme – this ingredient is also called Marshmallow Fluff, and it's actually one of my favorite ingredients to use in recipes. Marshmallow Frosting is so delicious on cupcakes, brownies or cookies, and of course there is S'mores Dip that everyone loves. And this Ice Cream Cake is always a hit!
Juice – you can certainly make this Dip Recipe without juice, however, the addition of it adds just a little more flavor to the dip. You can also use any juice you have on hand – orange, apple, cranberry, fruit – really anything.
You can also substitute the original cream cheese with strawberry cream cheese and then skip the juice.
Kitchen Essentials Needed
Large Mixing Bowl
Hand Mixer – or stand mixer if that's easier
Rubber Spatula
Microwave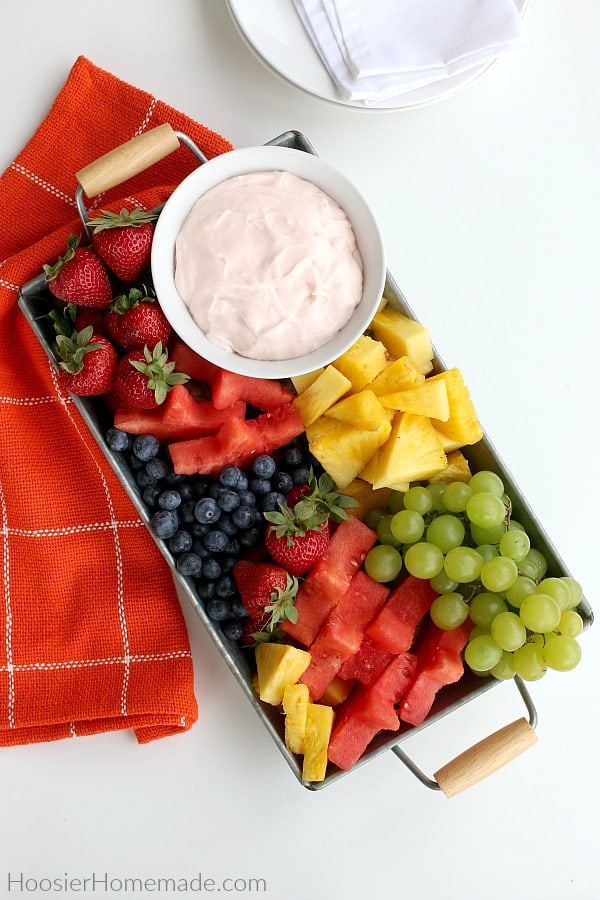 How to serve Fruit Dip
It doesn't get any easier or more spectacular than serving a beautiful tray filled with fruit along with the dip. However, there are several other ideas that you can also try –
Frequently Asked Questions
What type of fruit is best to serve on a fruit tray?
Pretty much any fruit will work, however some fruit hold up better and are easier to handle when dipping.
Strawberries
Blueberries
Pineapple
Watermelon
Grapes
Apples – be sure to add a lemon juice to keep them from turning brown too quickly
Raspberries – red or black
Cherries
How long will the dip last?
You can easily make the fruit dip ahead of time and keep it in the refrigerator for up to one week. When you get ready to serve it, be sure to stir it really well.
Freezing the dip is also a great option to prepare ahead for parties. Place it in an airtight freezer-safe container, and freeze for up to one month.
Can I make my own Marshmallow Fluff?
Purchasing store-bought marshmallow creme is super easy, however, if you would like to make your own, here is a homemade marshmallow creme recipe from Brown Eyed Baker.
Are there other ways to make dip for fruit?
While I love this recipe, how easy and delicious it is, there are many different fruit dip variations.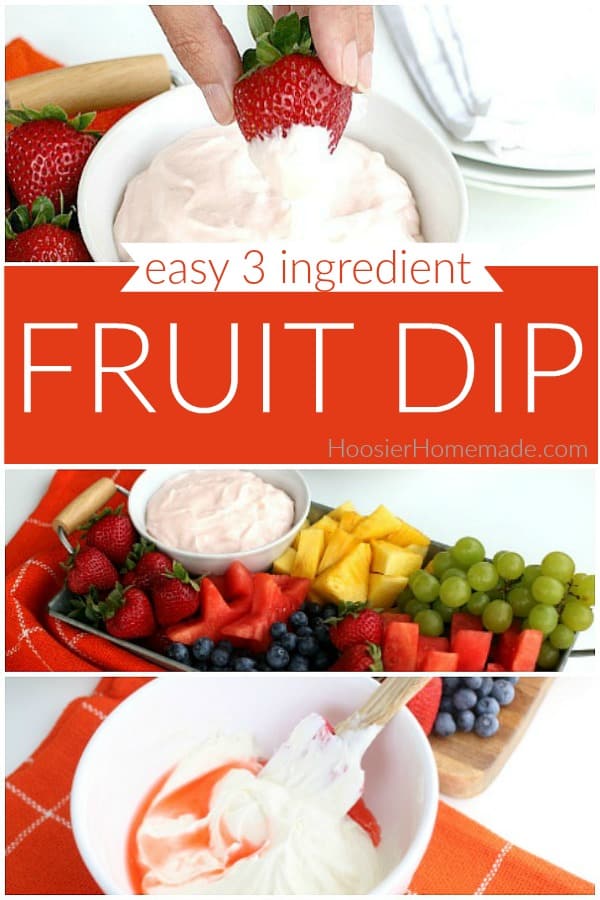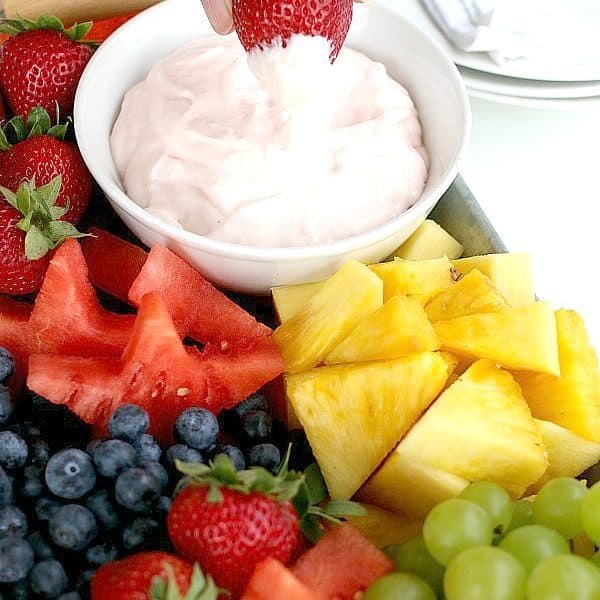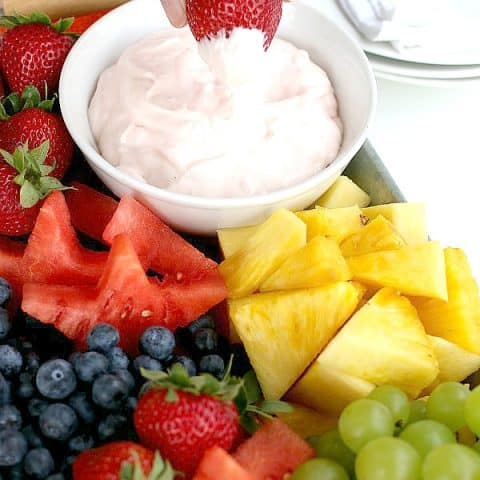 Fruit Dip
Whip up this easy Fruit Dip with only 3 ingredients!
Ingredients
1 (8 oz) block cream cheese, softened
1 (7 oz) container marshmallow creme
2-3 tablespoons juice - orange, pineapple, fruit, any flavor you like
Instructions
In a medium bowl, cream together the cream cheese and marshmallow creme. Note: to easily remove marshmallow creme from container, place in microwave for 10-20 seconds, watching carefully.
Add juice and beat until smooth
Transfer to smaller bowl and cover with plastic wrap or place in airtight container and place in refrigerator
Store leftovers in fridge
Notes
For another variation, use flavored cream cheese like strawberry and skip the juice.
Keep in refrigerator for up to 1 week.
Freeze for up to 1 month.