Easy Farmhouse Shelf Decor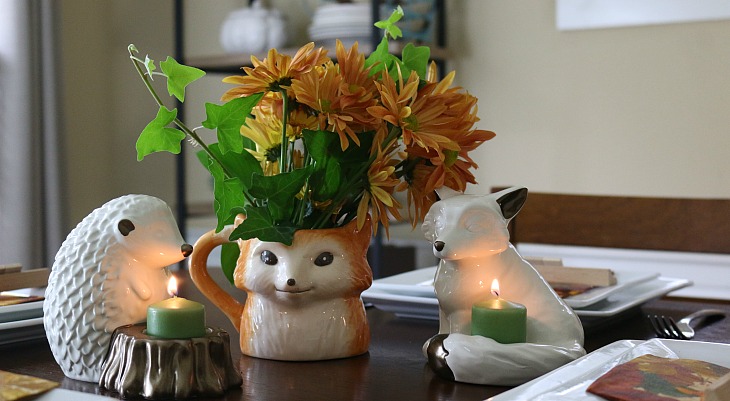 Decorating your home doesn't need to take a lot of time or money. Transform a special space in your home with this Easy Farmhouse Shelf Decor.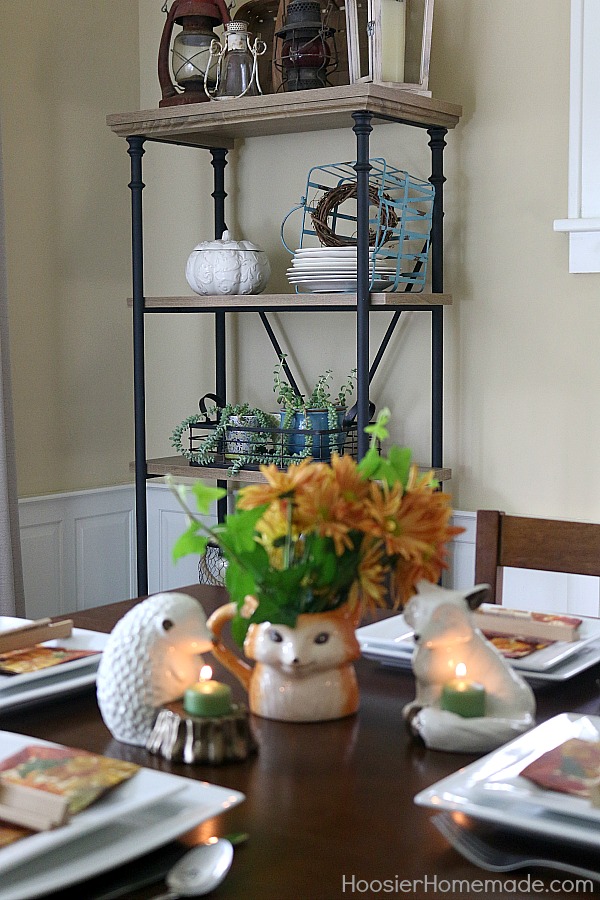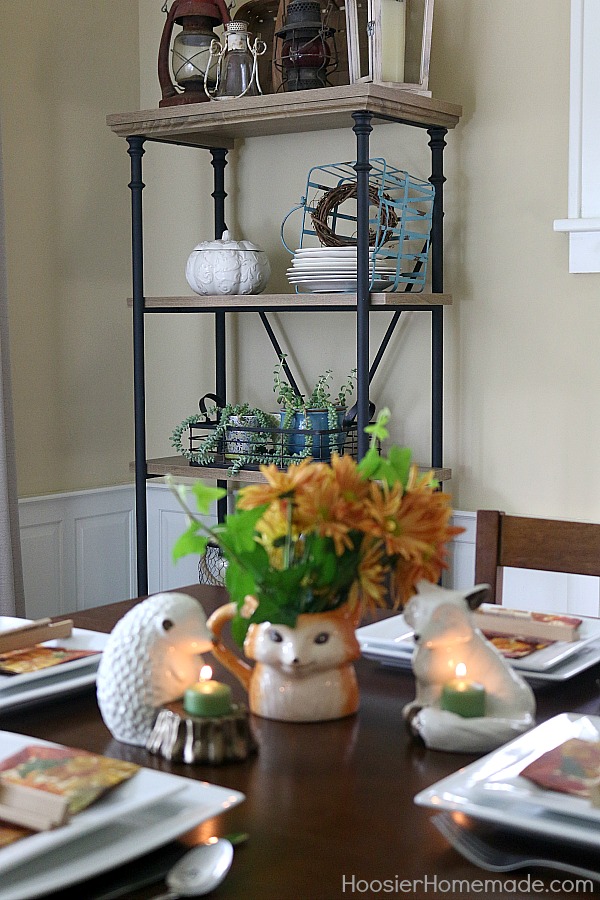 It all started with our Farmhouse Bedroom, and slowly we are making our way around our home adding Farmhouse decor and remodeling rooms. After the total makeover of the bedroom, and all the work on the She Shed (watch for the reveal next week!), I was ready for an easy decorating challenge.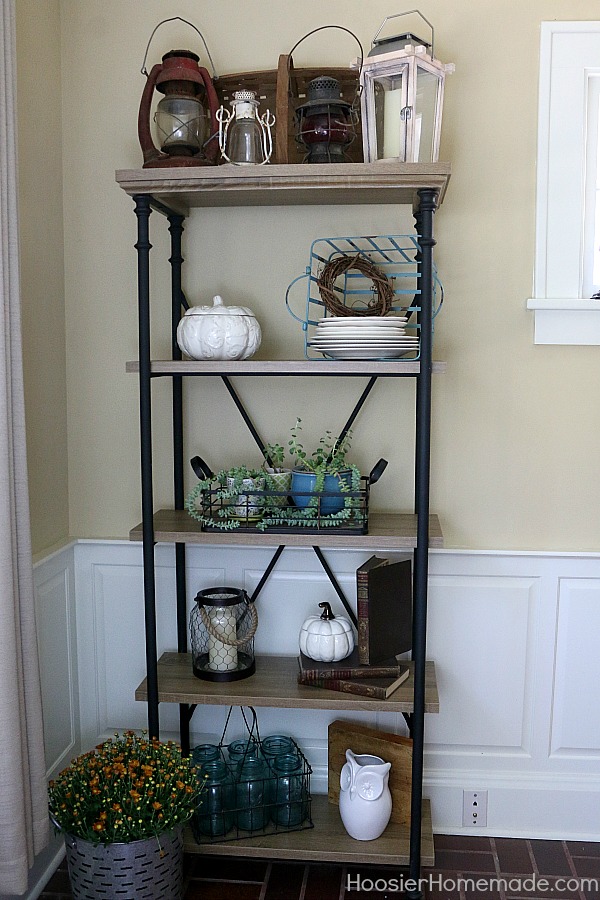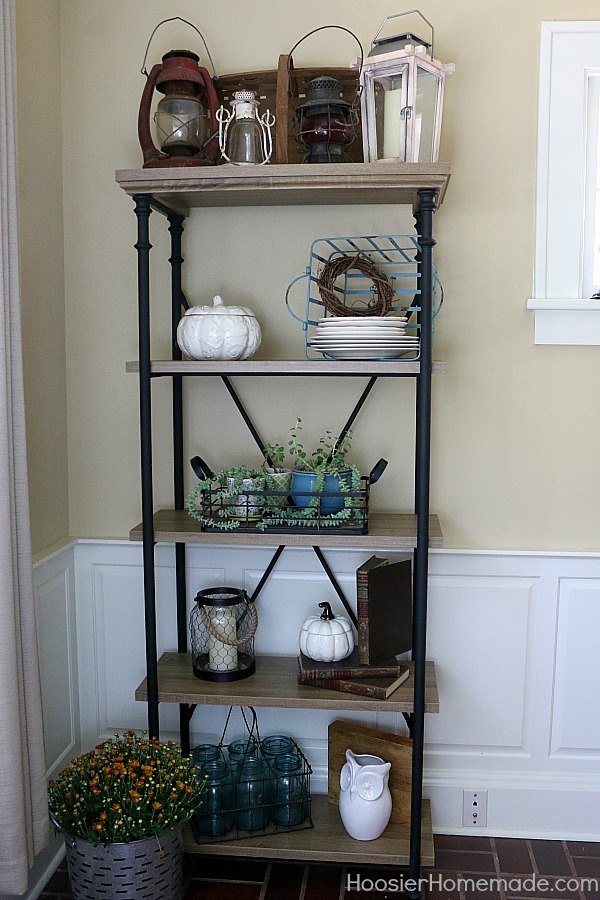 A few years ago, we moved all of the Living Room furniture into the Dining Room, and turned the Living Room into the Studio. While that was great, and I absolutely loved having everything in there, it was also a bit overwhelming. I love my work dearly, but it was always staring me in the face.
So we decided to move a few rooms around again, and get our Dining Room back to where we could spend time with the boys having dinner and hosting parties. We still need to either buy or build a new Farmhouse table and paint the walls, but in the meantime, it's the little updates that we can check off the to-do list.
We started with the 5-shelf Bookcase from Better Homes and Gardens at Walmart. I absolutely love this shelf! And I think you could use it for a wide variety of decorations and even storage. I am planning on purchasing a few more to put in the new studio to hold props.
I kept the decorations mostly neutral, with a few pops of color. Decorating our home for Fall is one of my favorite times. The orange, yellow, green, and even brown colors of Fall are so fun to use.
The top shelf holds some of my antique lanterns, along with a Farmhouse style lantern from Better Homes and Gardens at Walmart. And a large basket for added texture.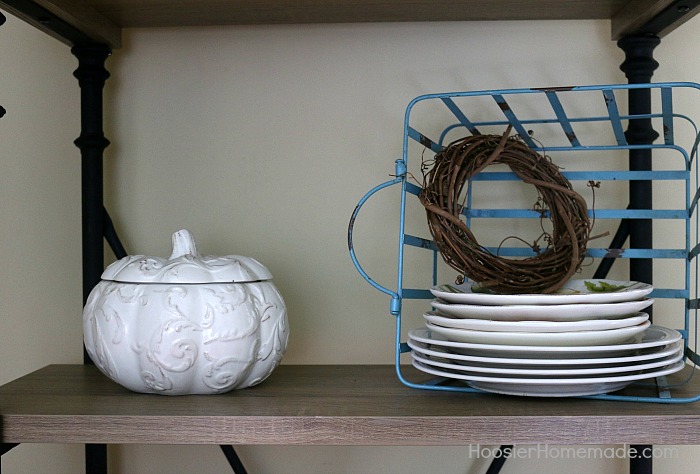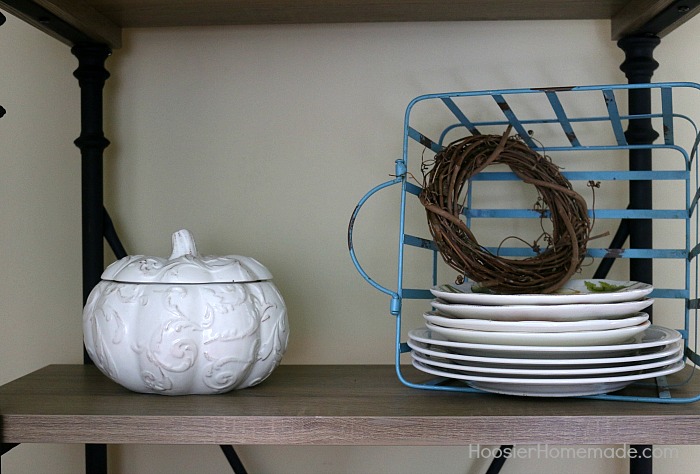 The next shelf has a basket filled with plates, a grapevine wreath, and a large white ceramic pumpkin from last year's fall product line from BHG at Walmart.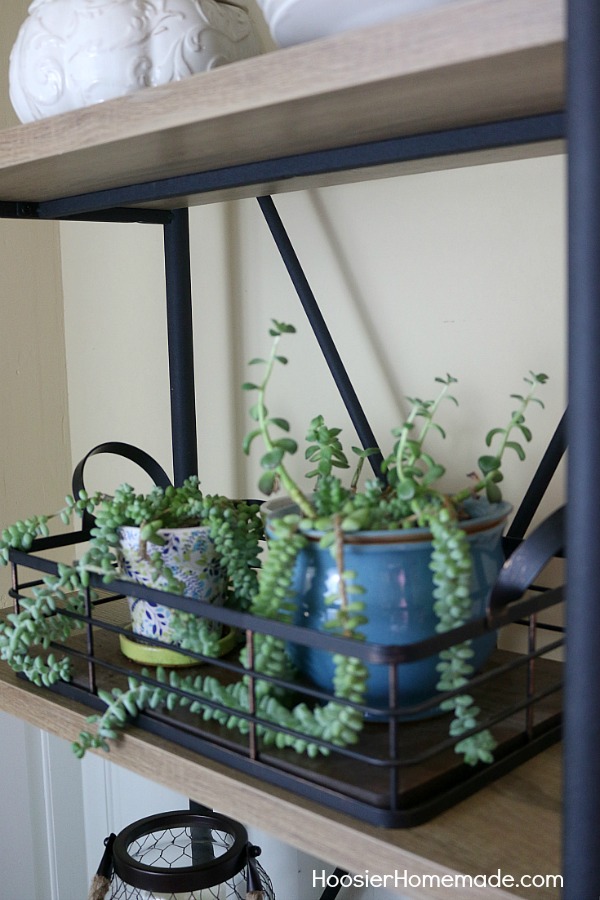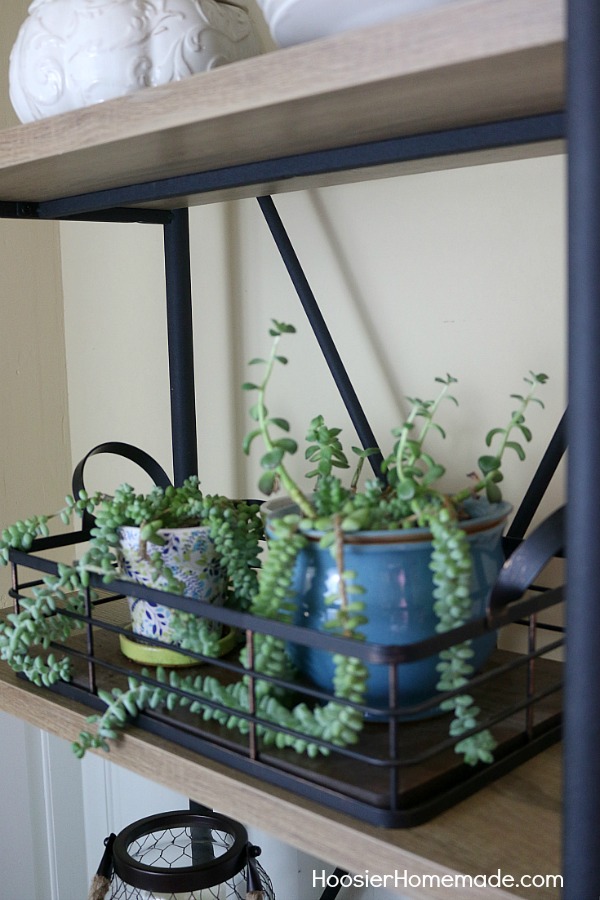 The middle shelf brings a little fresh green into the room with succulents.  The Better Homes and Gardens Rectangular Wire Tray makes a showing again, after using it in the Fall decorating last year– I love this tray!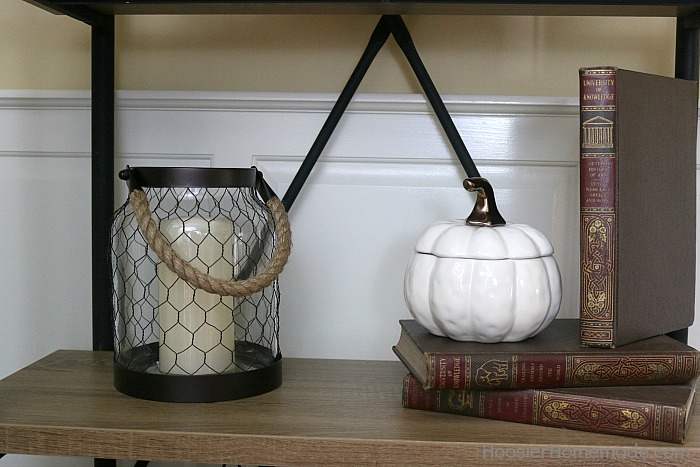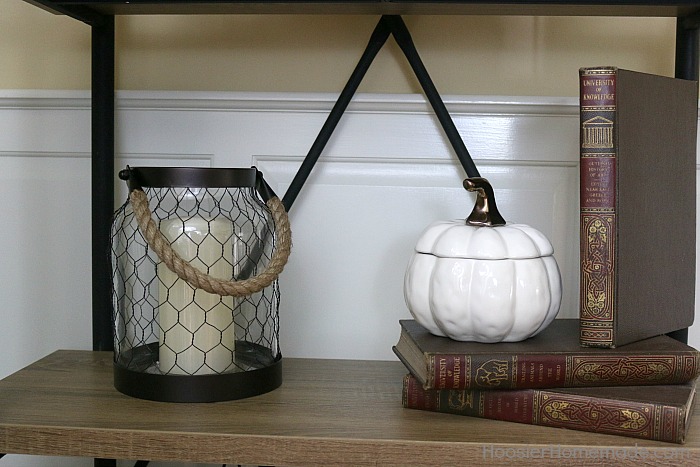 And the next shelf has books and a small white pumpkin which is actually a soup bowl from the new Fall line. And the Nautical Glass Lantern with it's rope handle gives another layer of Farmhouse style.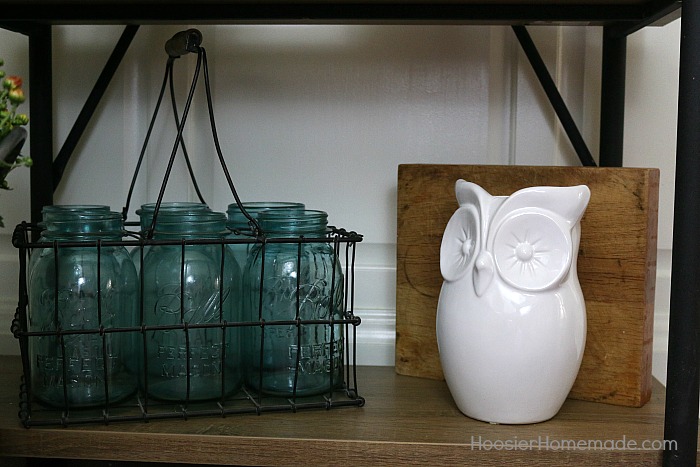 On the bottom shelf, I added a wire basket filled with my treasured Aqua Mason Jars, and a white owl vase.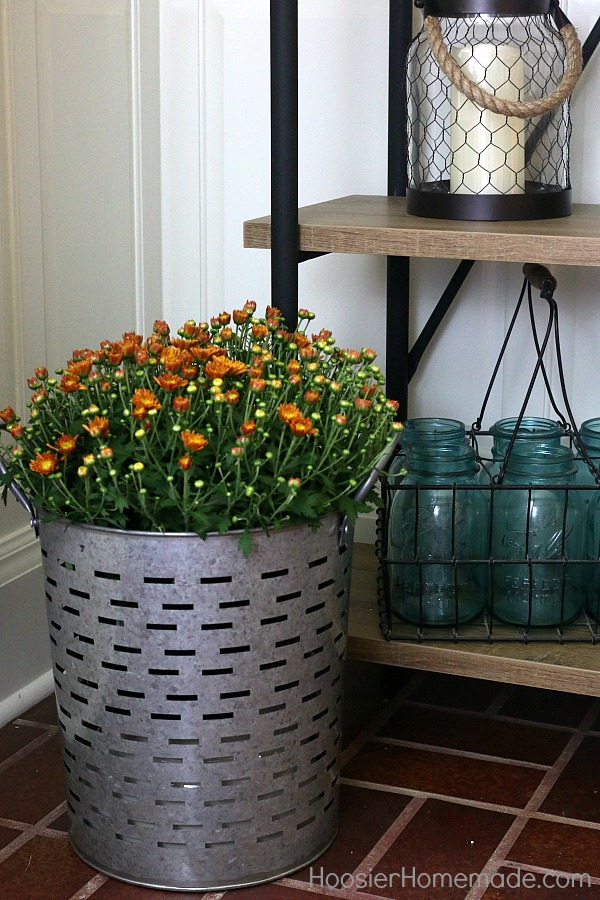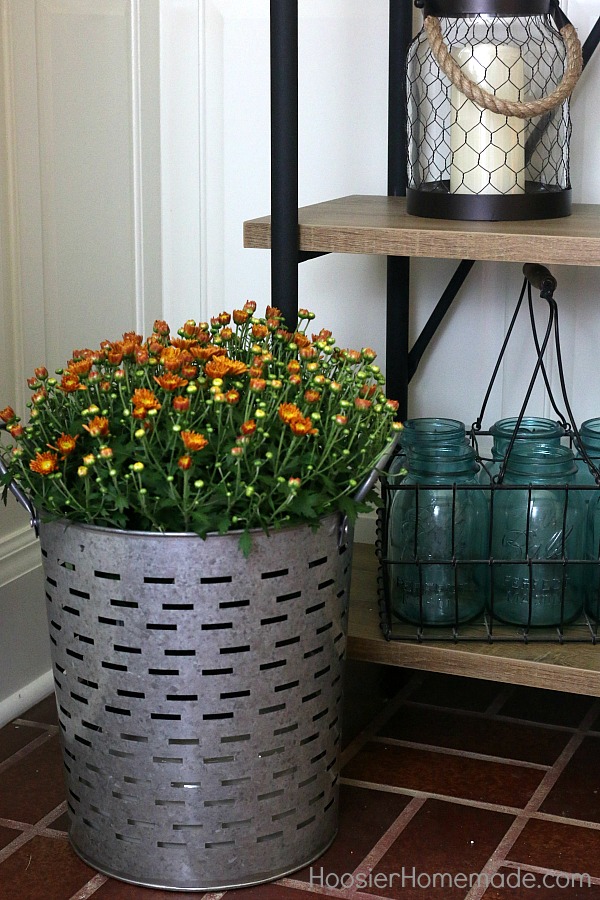 For a little splash of color and to bring more Fall into the room, I added a fresh mum plant to the galvanized round bucket from BHG at Walmart. I have used this bucket over and over again in my decorating, I've definitely gotten great use from it. Last year the front foyer was decorated for Fall, and I filled the bucket with pieces of wood from the yard, some wheat and silk leaves for a splash of color. This year, I used the bucket to hold umbrellas on the front foyer.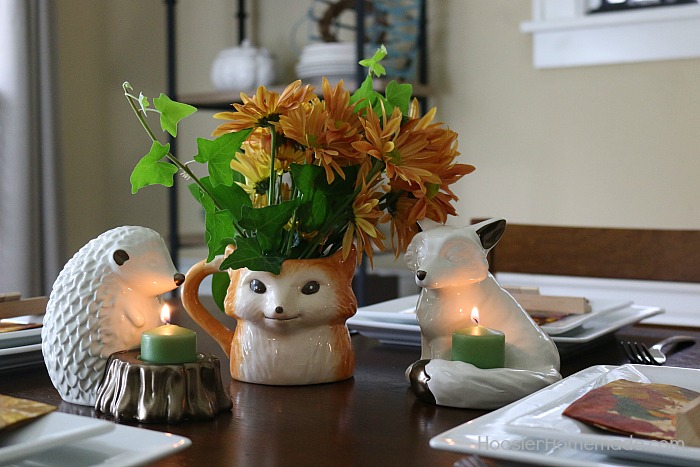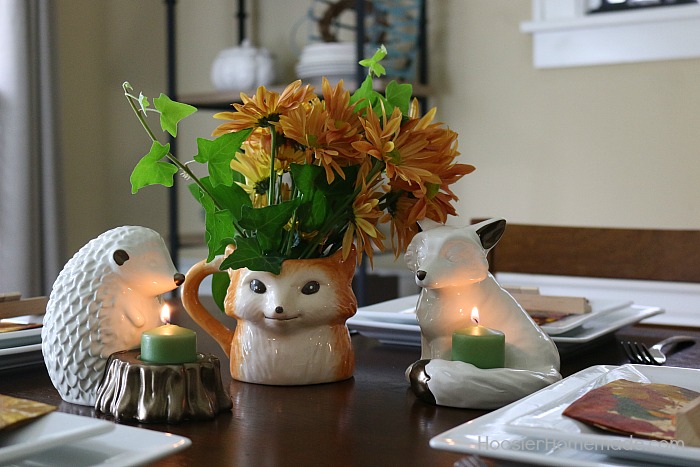 On the table, I used a couple new pieces from this year's seasonal collection available in Walmart stores. The hedgehog and fox are both so darling. And they have a spot to hold a votive candle.
Then I filled the fox mug with fresh flowers.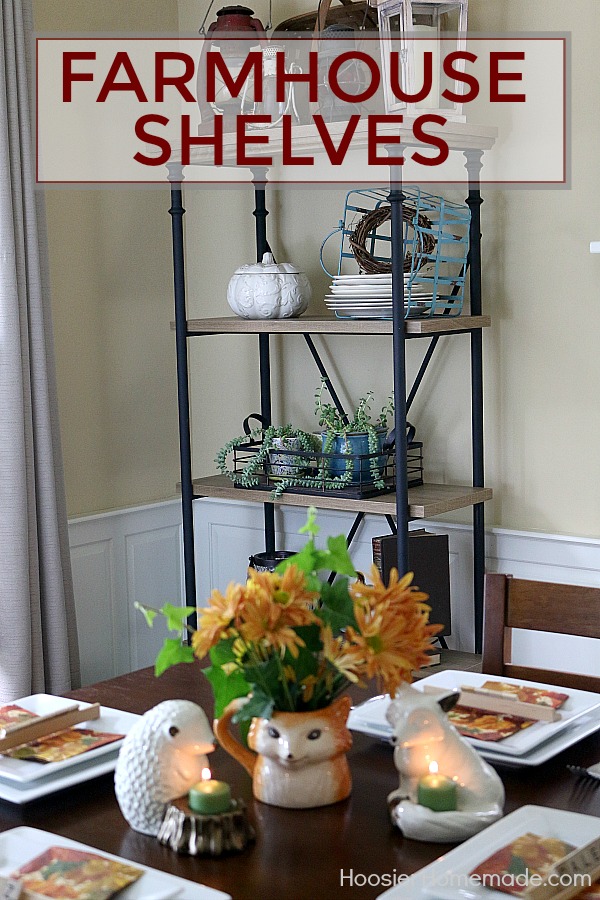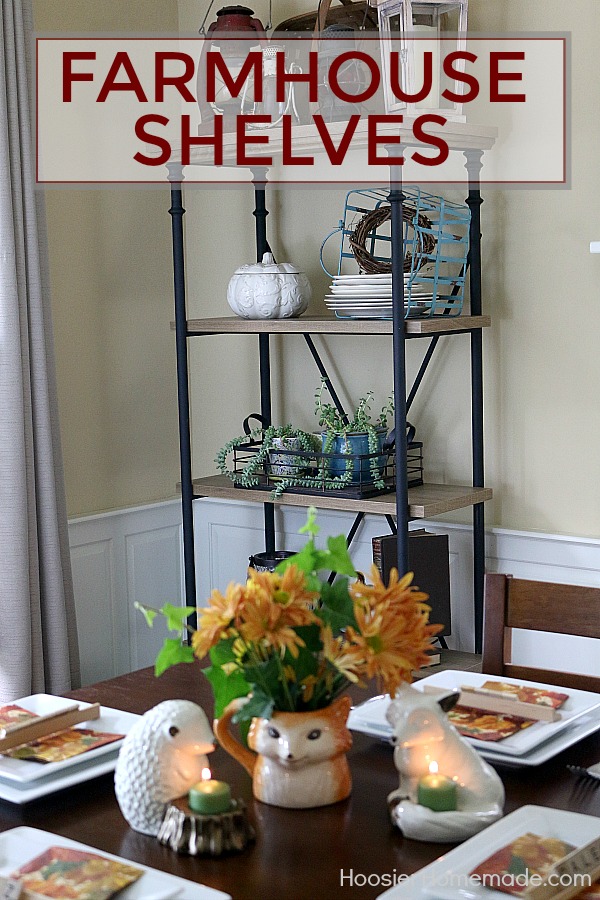 This easy Farmhouse decor makeover is filled with lots of fun elements – see all of the products below to mix and match for yourself!
Check out these other Easy Decorating Ideas —
Easy Bedroom Refresh from The Crafted Sparrow
Entry Way Makeover from Home Made by Carmona
Industrial Bedroom Makeover from Simple Designing


Farmhouse Shelf – 5-shelf Bookcase from Better Homes and Gardens at Walmart
Tray with Succulents – Better Homes and Gardens Rectangular Wire Tray
Glass Lantern with Rope Handle 
Remember while you can always find BHG @ Walmart products in stores, there is an extended and vast assortment of products online at Walmart.com/BetterHomesandGardens as well — more styles, colors and sizes are only a click away!
For more inspiration visit Better Homes and Gardens Live Better on Facebook ,Twitter,Instagram and Pinterest!