Foyer Decorating Ideas for Fall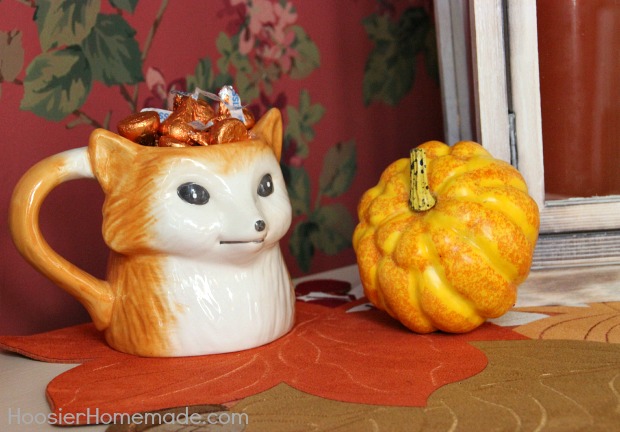 Crisp cool air.  Apples. Indian Corn. Sunflowers. Pumpkins. Leaves…the list goes on and on. It's one of the best times to start fresh, and prepare your home for the upcoming holidays. Welcome friends and family with these Foyer Decorating Ideas for Fall.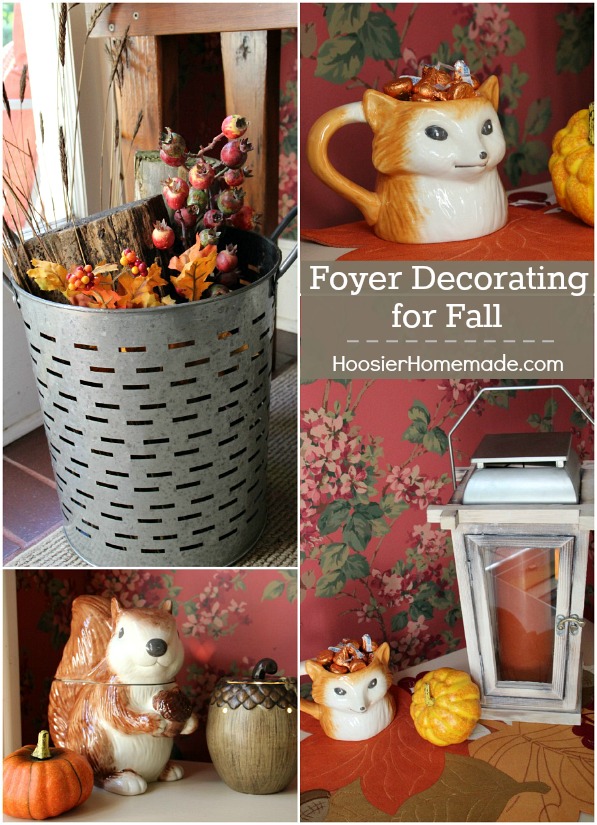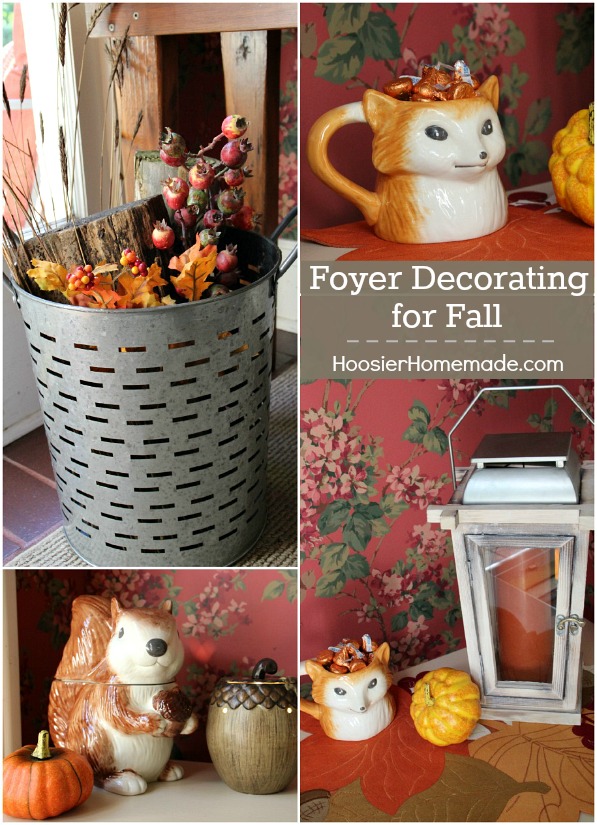 Our front door and foyer area gets used a lot, even by our immediate family. So, creating a warm and inviting area is important, whether you have guests that are stopping by or even your own family going in and out. The home I grew up in, did not have a foyer area, and many of the homes we have lived in over the years did not either, but I really enjoy having a spot to decorate and welcome friends and family.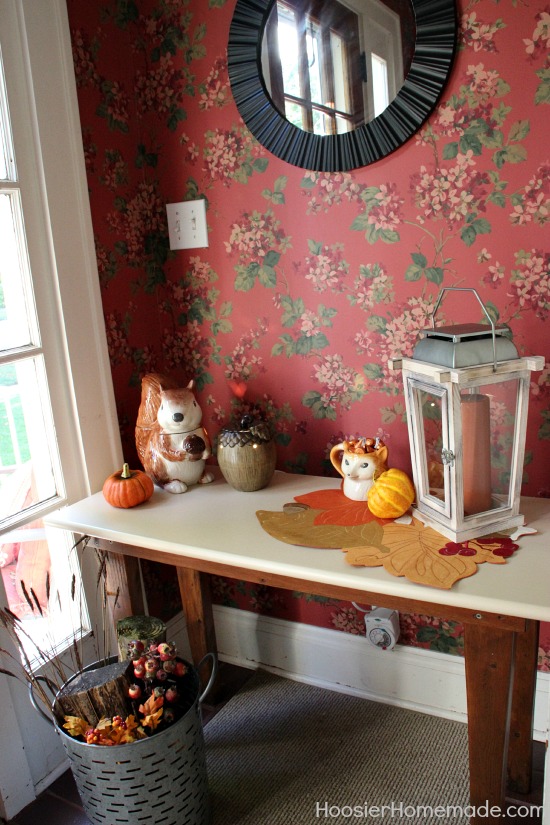 We have been stripping wallpaper and painting throughout the house, like our Dining Room that we recently turned into a Family Room. But for some reason I just can't bring myself to change the wallpaper in the foyer. It is a little difficult to decorate, because of the pattern it has, but I really do love it.
Once the front porch was ready for Fall, it was time to start tackling the inside and the foyer was first. We started with a new table, well it was half new. Years ago, my Dad made a table and painted it with ivy leaves, and although I used that table for many, many years, it was time for a change. The top was a little large to fit on the foyer, so we decided to make a new top but use the legs from the old table.
So Doug cut the top from plywood, added trim around the edges and then painted it a shade of tan. After the table was ready, it was time to pull together the decorations that we found at Walmart.
First we hung a wall mirror, we have never had one by the door, and I found it really nice to have.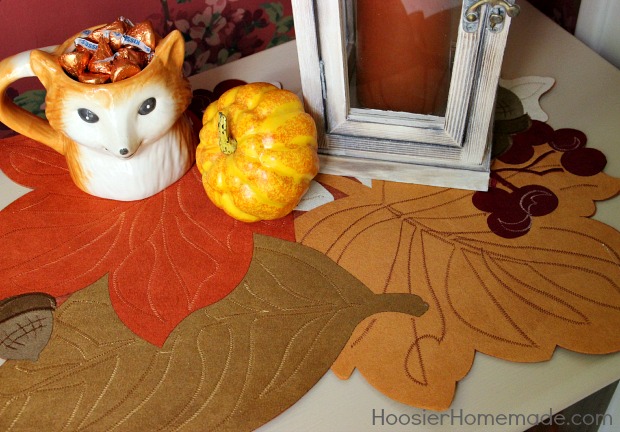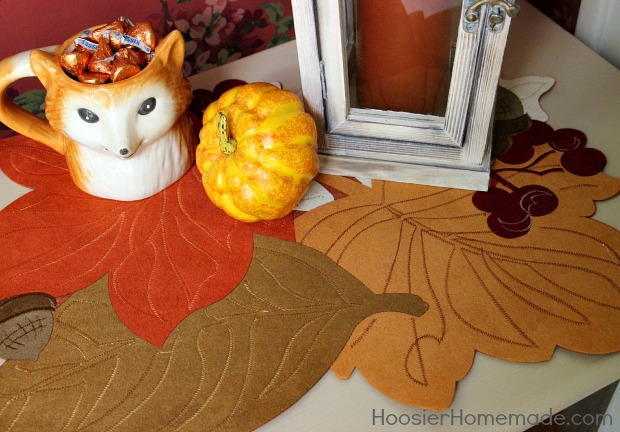 To break up the color of the table, we started with a Fall placemat. I think they would be gorgeous down the center of the table as well. I found it at Walmart, it's from the Better Homes and Gardens line and was less than $3.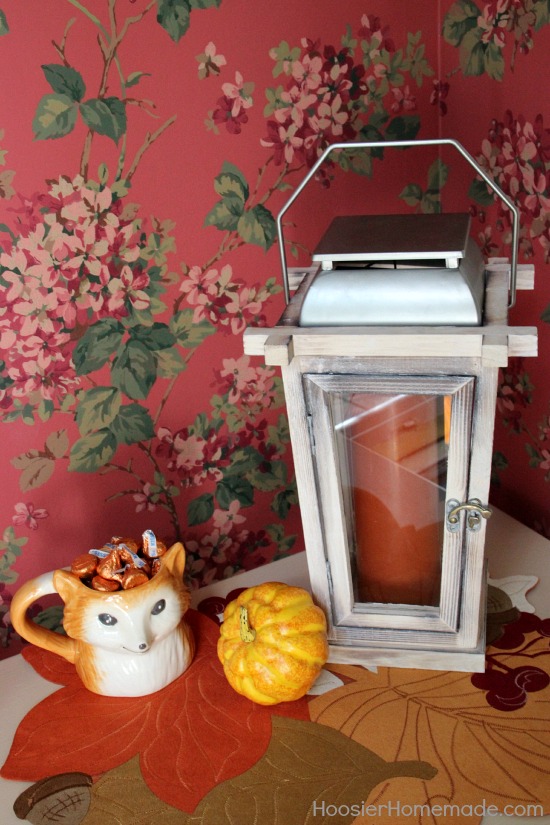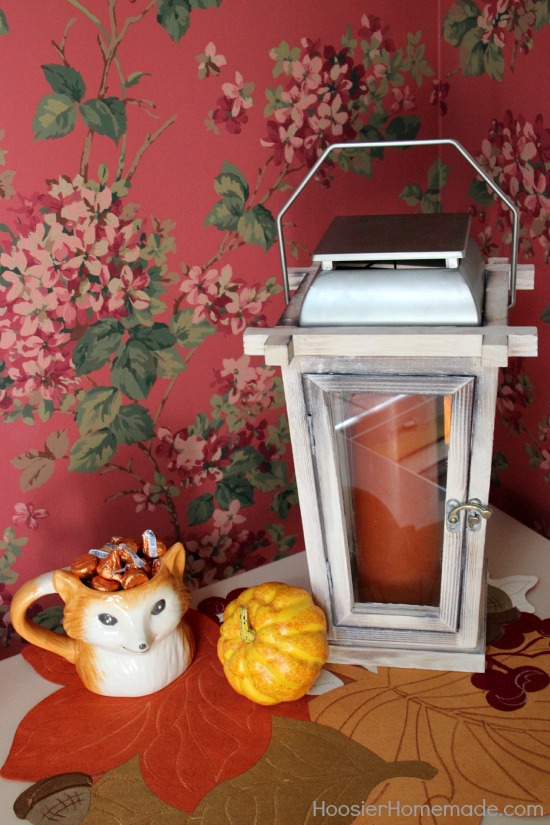 The variety of BHG Live Better lanterns is amazing. I love all the colors and textures. This silver finish weathered wood lantern goes perfect with all the other Fall decorations. We added a tall pumpkin colored candle to the inside of the lantern.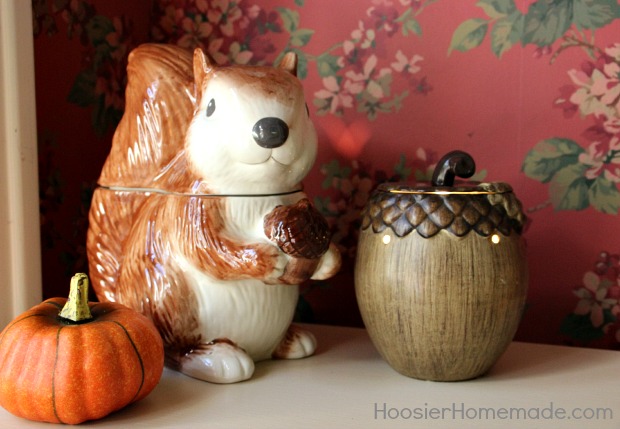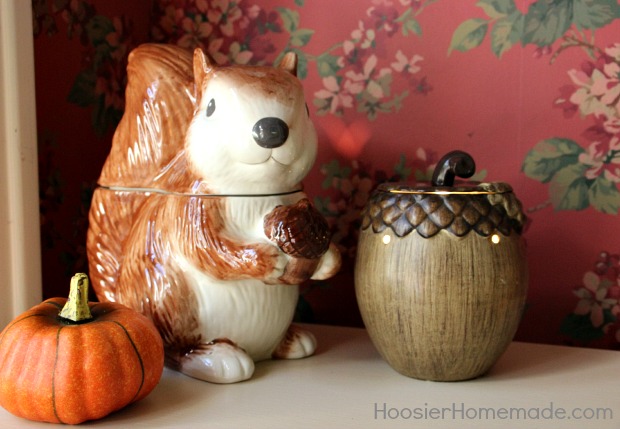 The squirrel is actually a cookie jar. Do you remember when I shared them with you a couple months ago, after seeing them at Better Homes and Gardens headquarters? There is also a fox, a white owl and a brown owl. They are just so cute, I couldn't help but add him. He brings a smile to my face each time I walk by.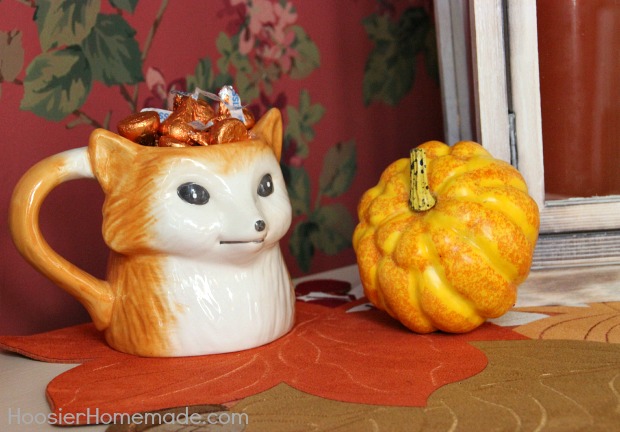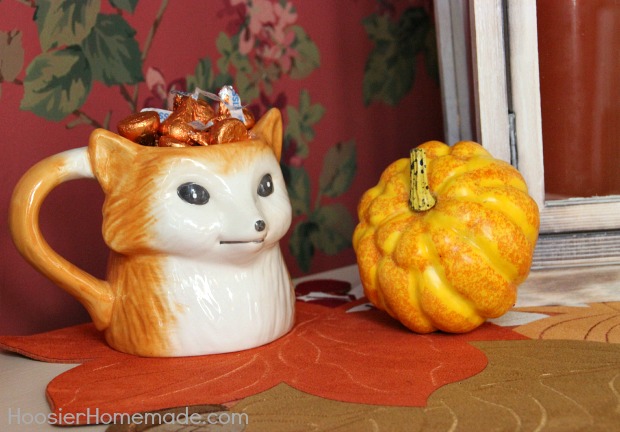 There are also matching mugs and dishes, I filled the fox mug with some candy.
Another little tip for welcoming guests is to have your home smelling fabulous. The acorn wax warmer goes perfectly with the other Fall decorations. I also keep it plugged into a wall timer, that way it's on during the day when we are home, but shuts off at night. It also provides a bit of light in the early evening.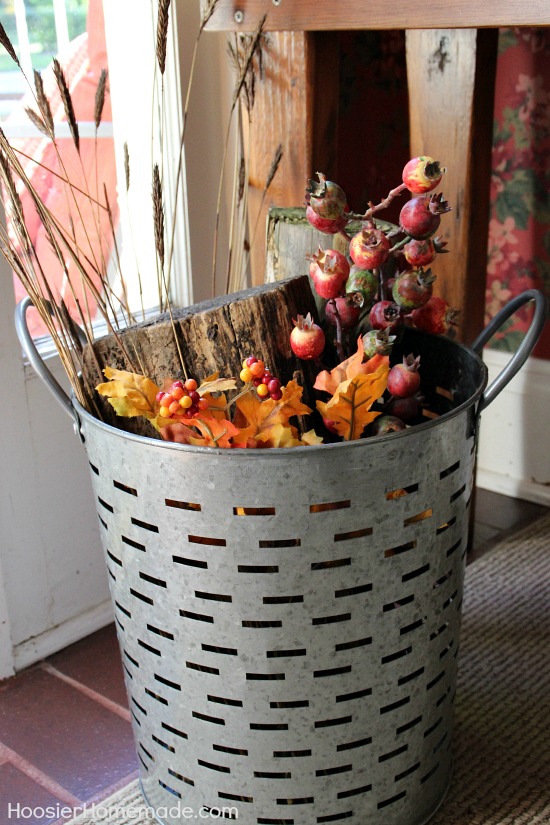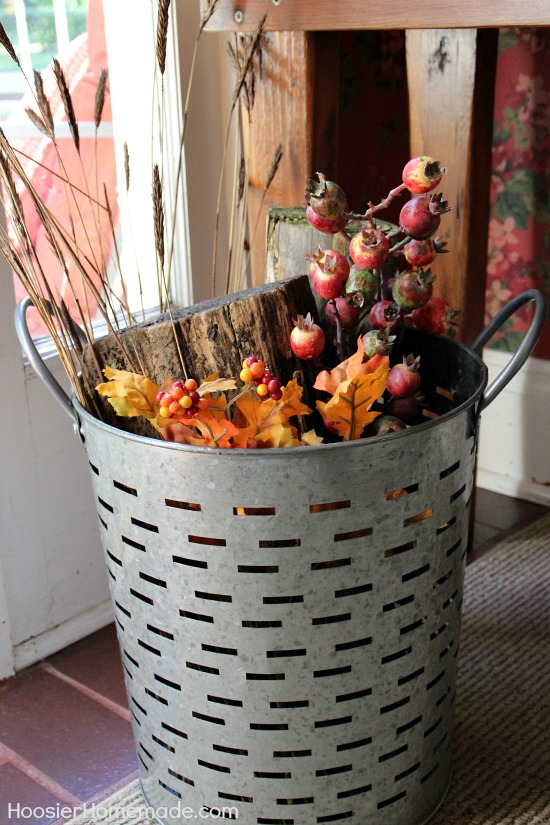 Then one of my favorite new pieces is the galvanized finish metal bucket. There are so many things you can do with it. In the bathroom, it could hold toilet paper. In the living room, it could hold blankets. So to stay with the Fall theme, I added a couple pieces of wood from the yard, some wheat and silk leaves for a splash of color.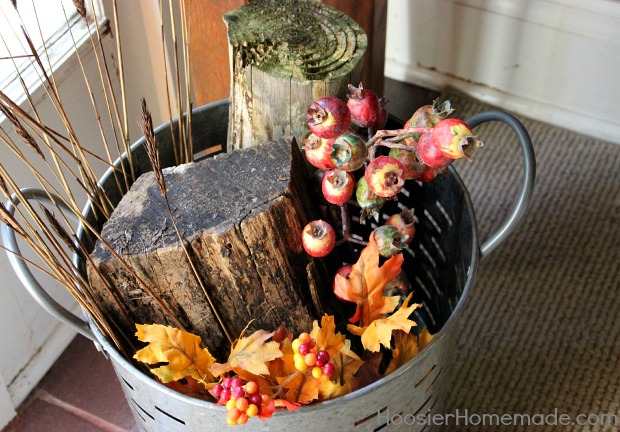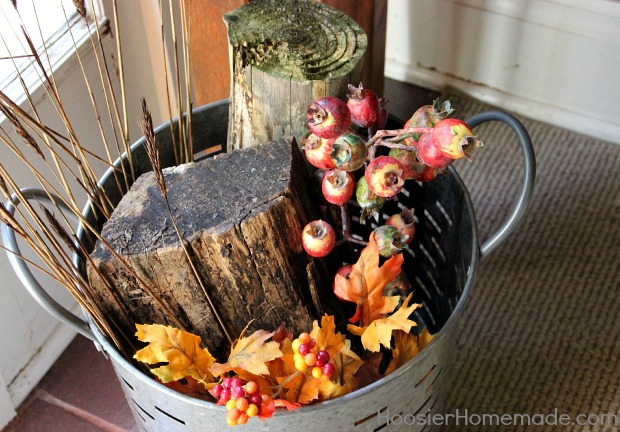 Have you started decorating for Fall?
For more inspiration visit Better Homes and Garden Live Better on Facebook , Twitter, Instagram and Pinterest!