Simple Organizing for your Studio, Home Office and More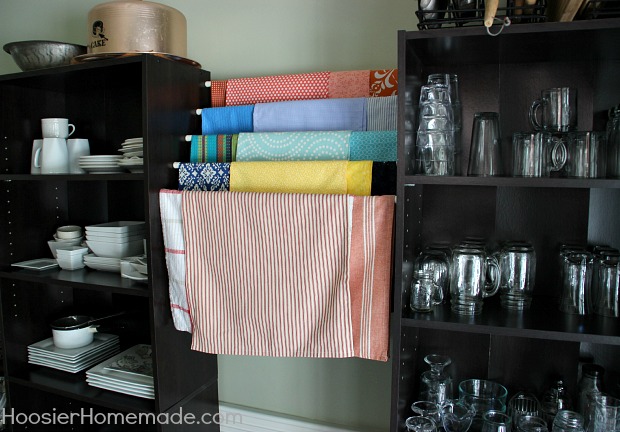 One of my biggest struggles with our home is getting and staying organized. Raising a family, and accumulating things over the many years of marriage, it's difficult to keep things organized. And then we add working at home and running a business from our home on top of it, our home was in desperate need of some Simple Organizing. Join us as we transform our Living Room into our Studio.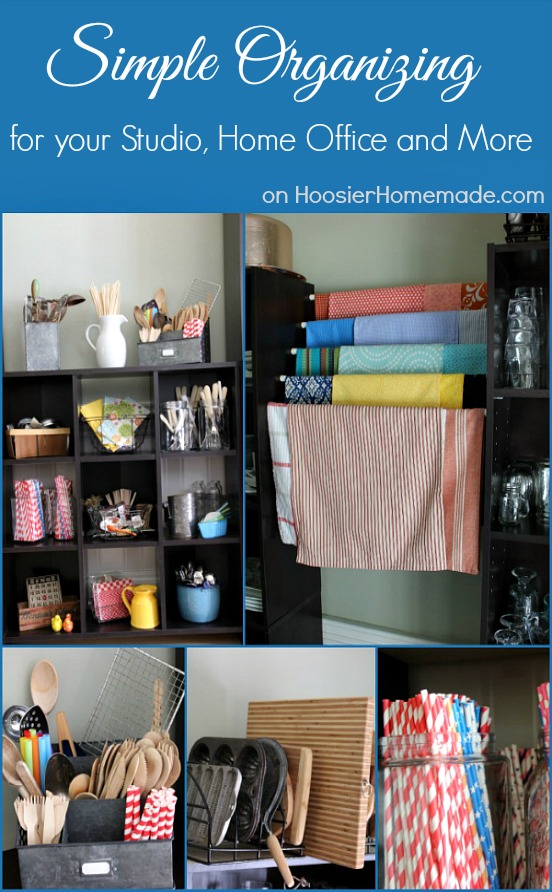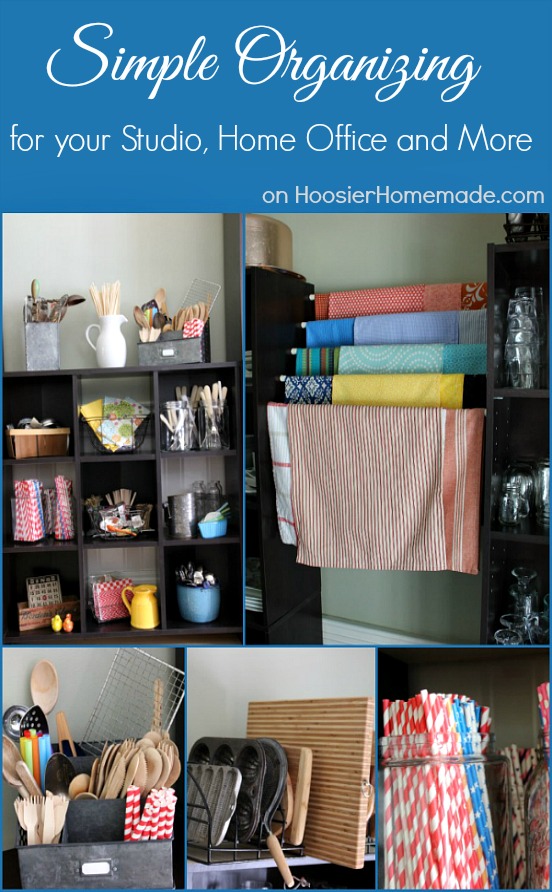 As our business grew, we gradually added more and more dishes, towels, napkins, and supplies to use in the photo shoots. Having a lot of props to choose from is awesome, but it can also be an issue when it's time to find something specific you know you have, but can't find.  And it's also difficult when the props and dishes are in several different areas of the home.
I often drive my husband and boys crazy with wanting to move things around, so when I wanted to move all of the Living Room furniture into the Dining Room, and turn that room into our Family Room, and then turn the Living Room into a Studio, they were not surprised, but also not too thrilled about the moving process.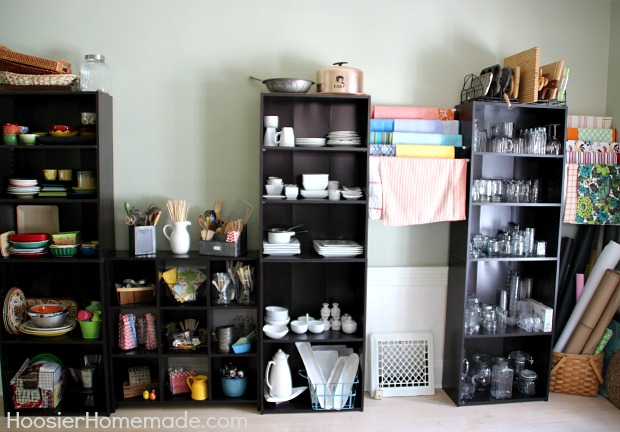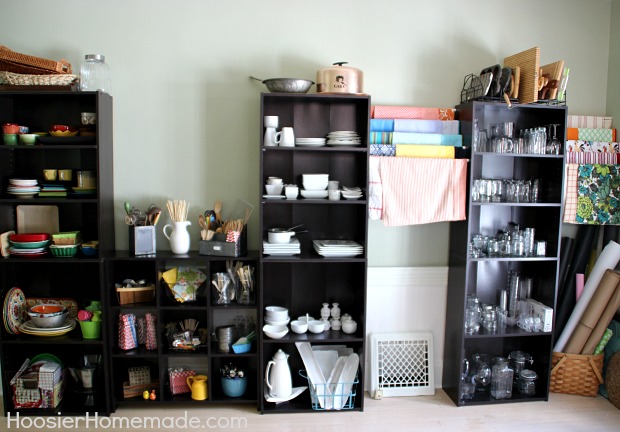 Now, before we go any further, I know what you are thinking – but I don't have all those dishes and props, I'm not a Food Blogger or I don't own a business. The great thing – this system will work for any Home Office, Kitchen, Child's Room or even a Homeschool Room.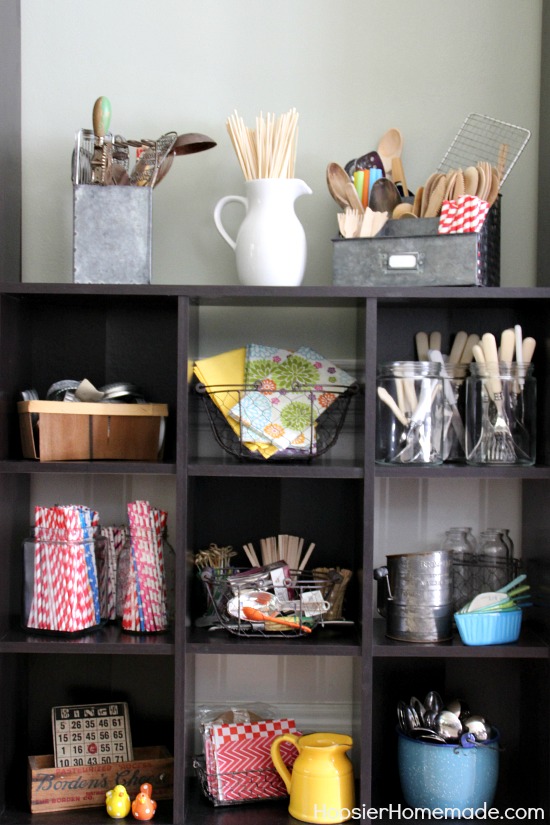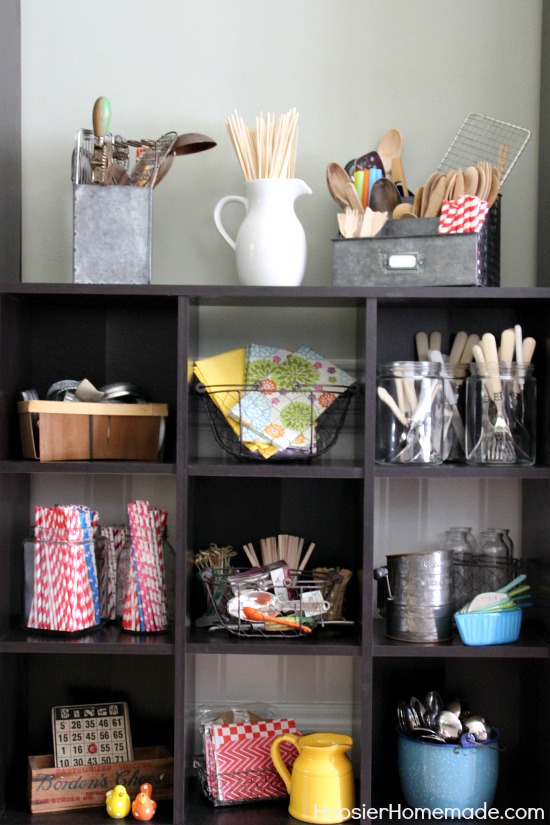 Let me start with where we began…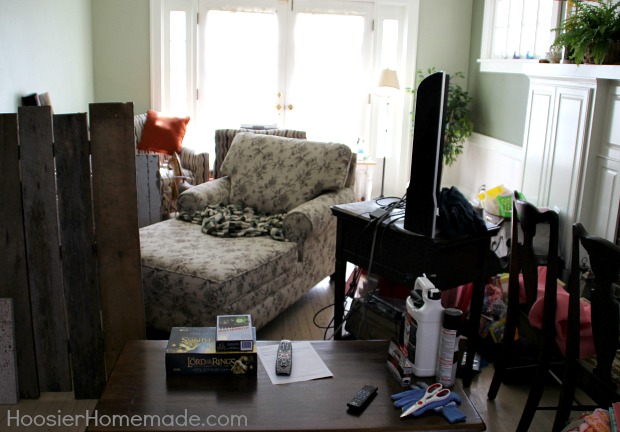 This is the Living Room during the moving process. The room is very long and narrow, and even after living in this house for 6 years and trying every combination of furniture placement I could think of, it was just never comfortable. We were either too far away from each other to chat, or too far away from the television to see it. The only thing the large room was really good for was a party or when we had several friends over, but that only happens a couple times a year.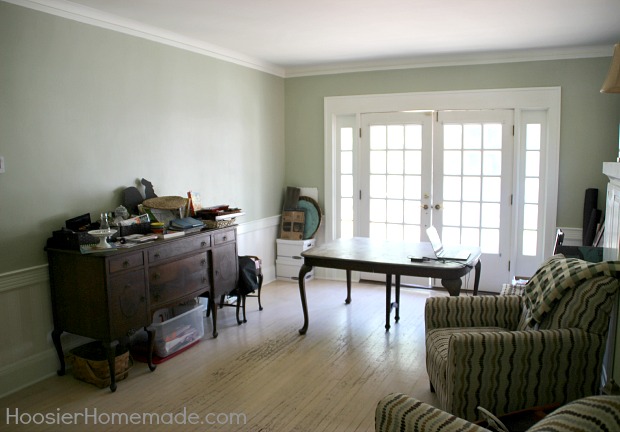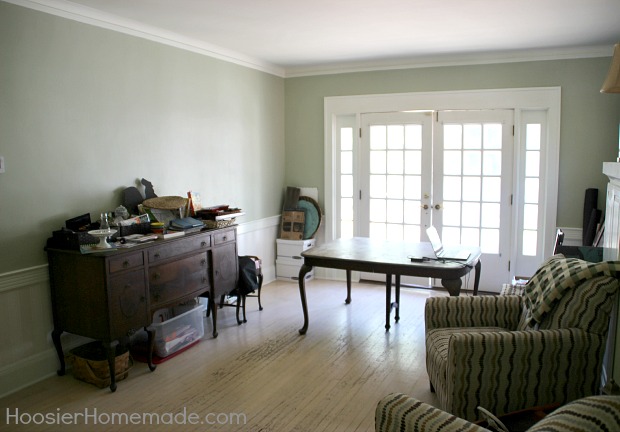 So we moved the Dining Room table into the new Studio because we shot most of our photography on it, left two armchairs positioned in front of the Mantel, and moved the Buffet against the wall for storage. We decided it was best to use the Studio for a little while before adding shelving units, just to be sure we would like being in this room. The great part, it didn't cost us a penny to move the furniture around and see if we liked it first.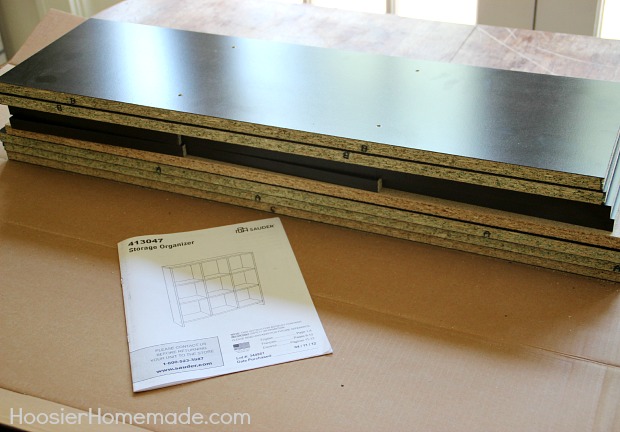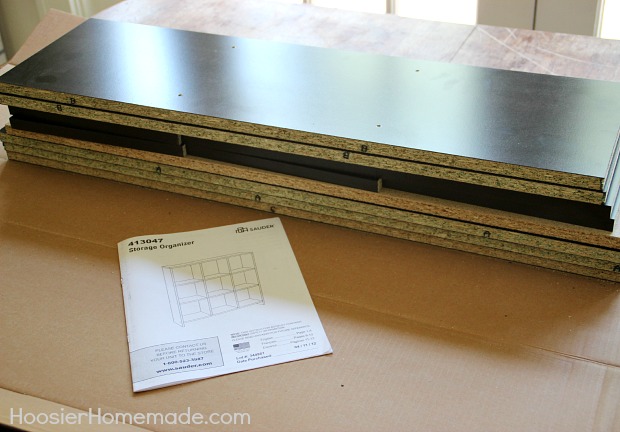 After working in the new Studio for a little while, we decided it would work out great. So we measured and drew out a plan of how we thought it would work best for us. We've used furniture from Sauder before and decided to see what they had available.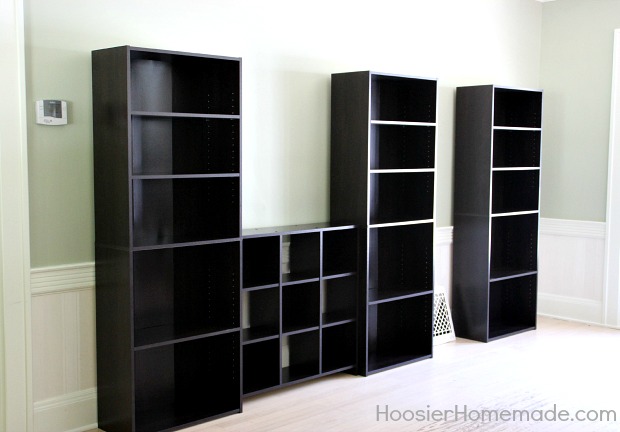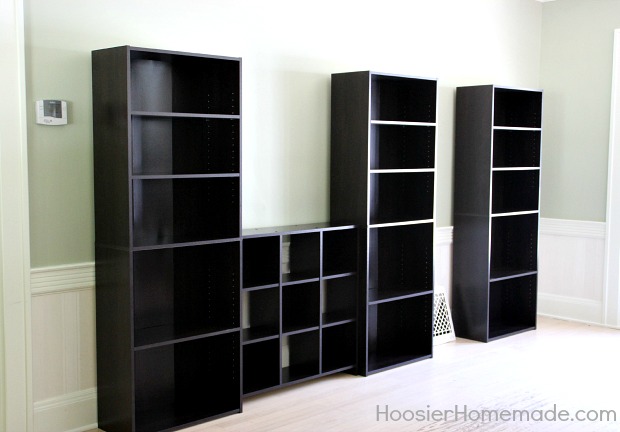 We ordered 3 of the 5-Shelf Bookcases from the Beginnings Collection, and the Storage Organizer also from the Beginnings Collection. Since the shelves were going to hold breakable dishes that were heavy, Doug attached them to the wall with the brackets that came with the shelving units.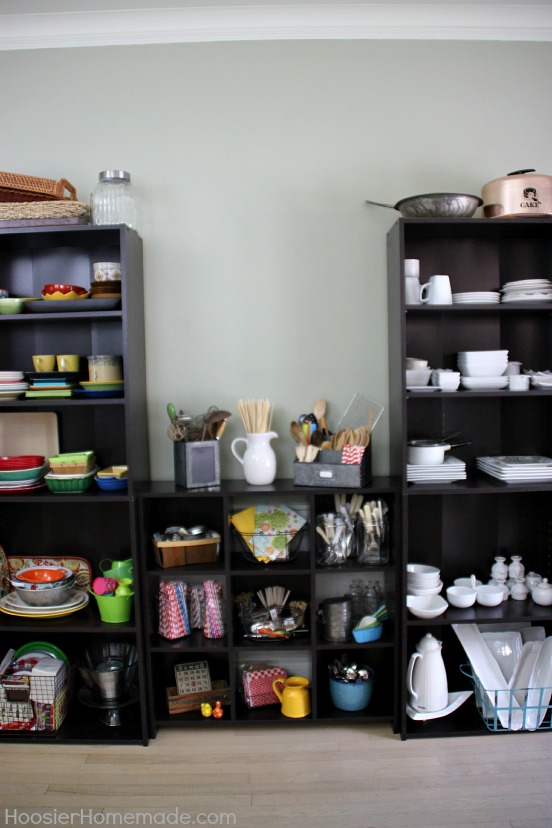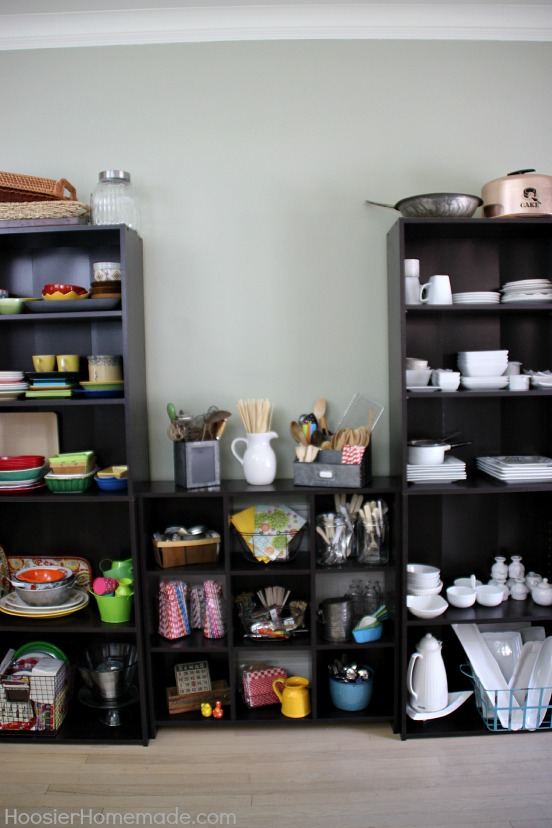 Then we began the process of going through all the dishes and props and deciding which ones we used the most and wanted to have on the shelves. We figured it would work best to keep all the white dishes together, the clear together and all the colored together.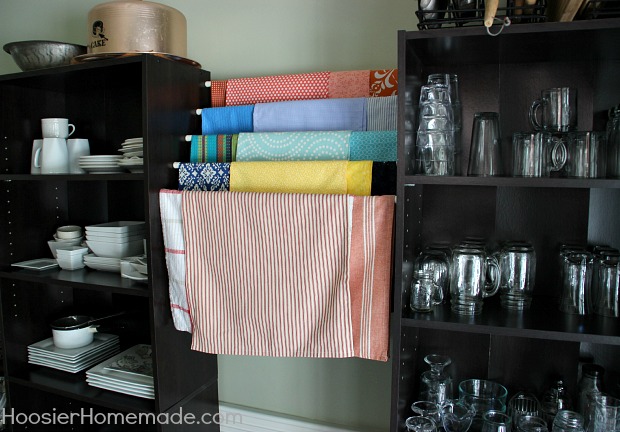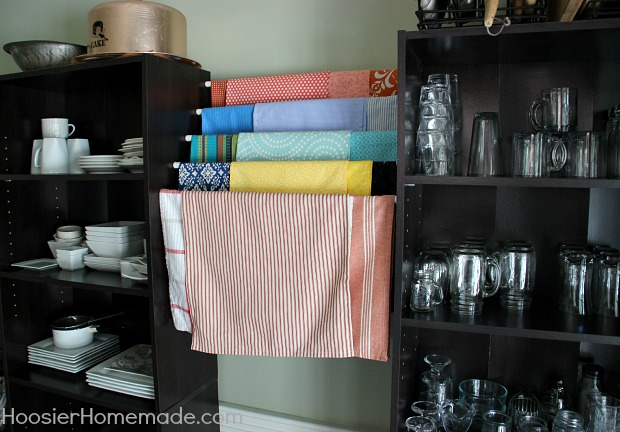 Other problems that we wanted to tackle were the towels and napkins. Honestly, I have tried probably 10 different ways to keep them organized, and this is the first idea I have come up with to keep them from getting wrinkled. When we were planning what shelves to use, we ordered units so we could position them close enough together to run a tension rod for the towels and napkins.
We could have also put a regular curtain rod or a dowel rod in, which we thought about, but ultimately decided on the tension rods so that if we ever want to use the shelves for a different purpose in the future, they won't have holes in them from curtain rods. The tension rods worked out splendidly!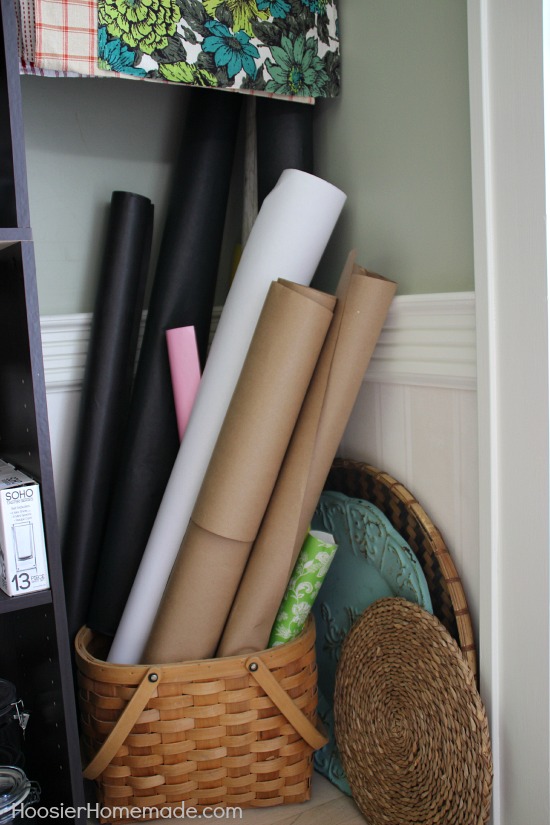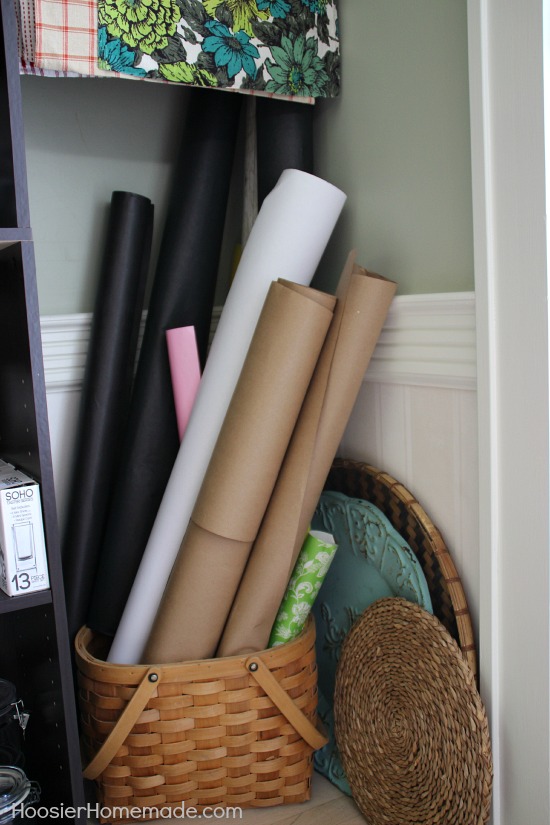 We used 10 tension rods, that were 18 inches. Under the second set of rods, we stored some of the backgrounds we use in a tall basket.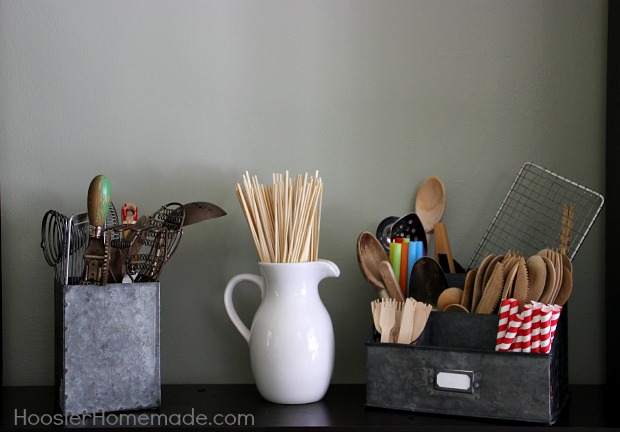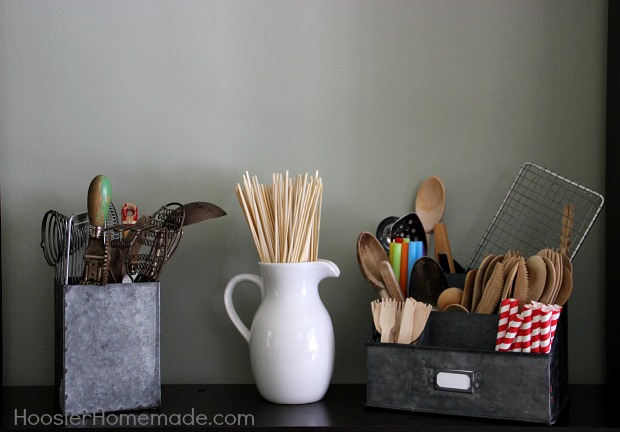 After all the dishes and towels were in place, it was time to have a little more fun with the props. I wanted something that not only would hold the utensils, straws, skewers, etc., but would also flow with our Vintage decorating theme. I found the metal container (left) and the letter organizer (right) at Marshall's. The white pitcher is one I had already.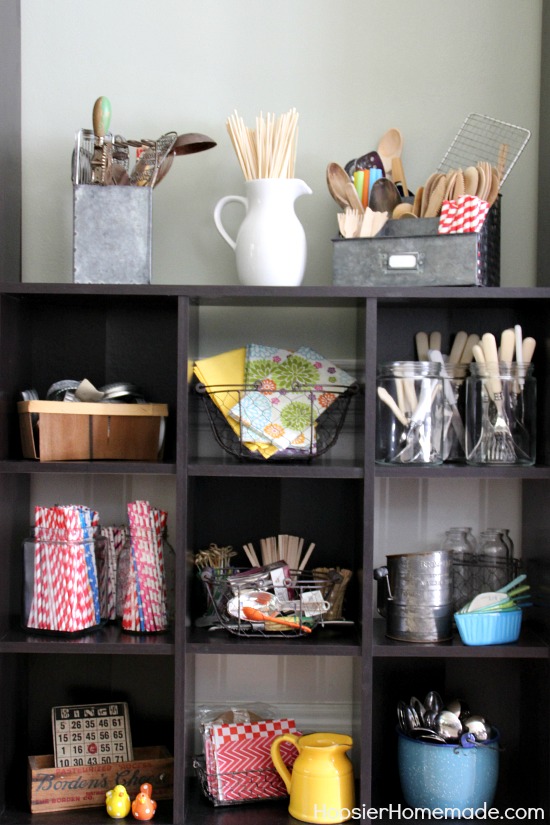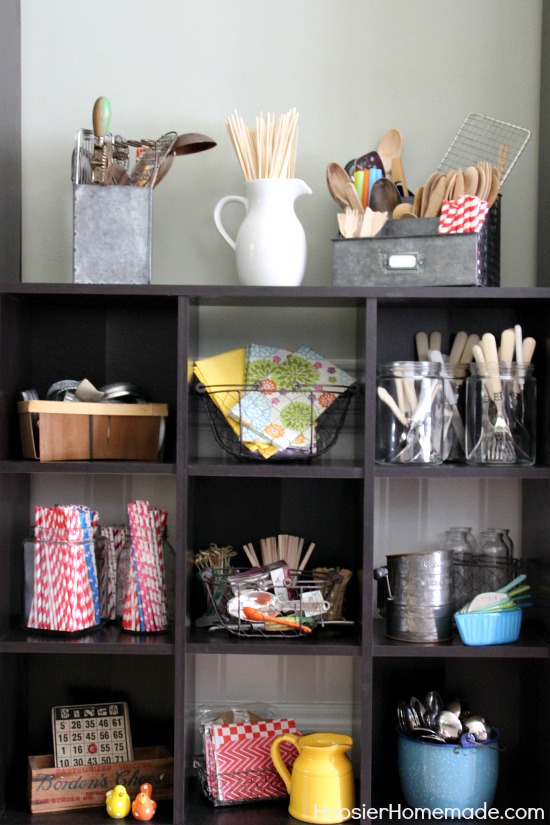 Then I filled the rest of the shelves in with other supplies. The silverware is in jars that I found at Michael's on clearance for $1.20, and all the other items were things I already had.
Stay tuned as we share a new cart we are transforming for more supplies, our video section, the transformed Dining Room and more!