Small Foyer Decorating Ideas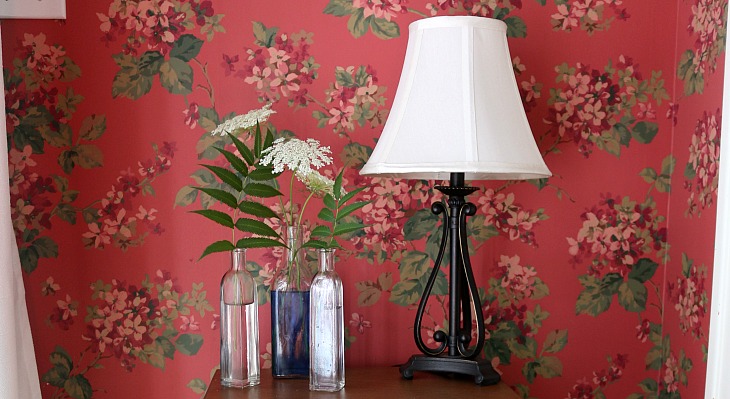 Welcome your guests with these easy Small Foyer Decorating Ideas! Add a little Farmhouse Style with the DIY Coat Rack, Aqua Mason Jars, Galvanized Clock and more!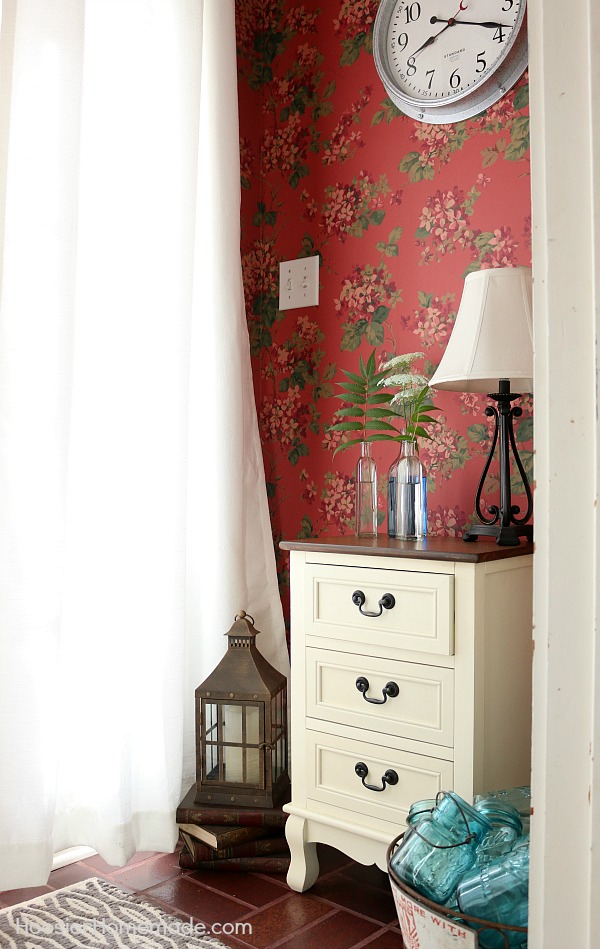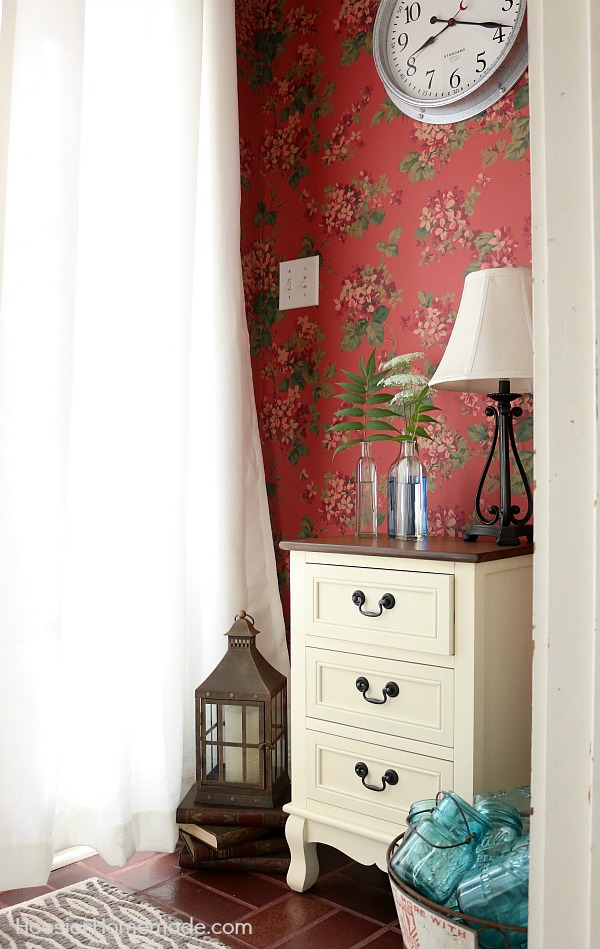 Our foyer is one part of our home that I have always wanted to look extra special. It's the first place that guests see as they enter our home. However, it's also the part of our home that I struggle with the most.
I bet I have changed the decorating in the foyer at least 3 or 4 times every year. Of course, part of that is because I love to decorate for the seasons.
Mostly though, I have struggled getting just the right look because it's a small space. The foyer itself is small, but the ceilings are tall, so it's also difficult to get the decorating to look right.
Well it took a little work, and lots of talking and searching for just the right decorations, but I think I have finally figured out some small foyer decorating ideas. I can hardly wait to share them with you, let's get started…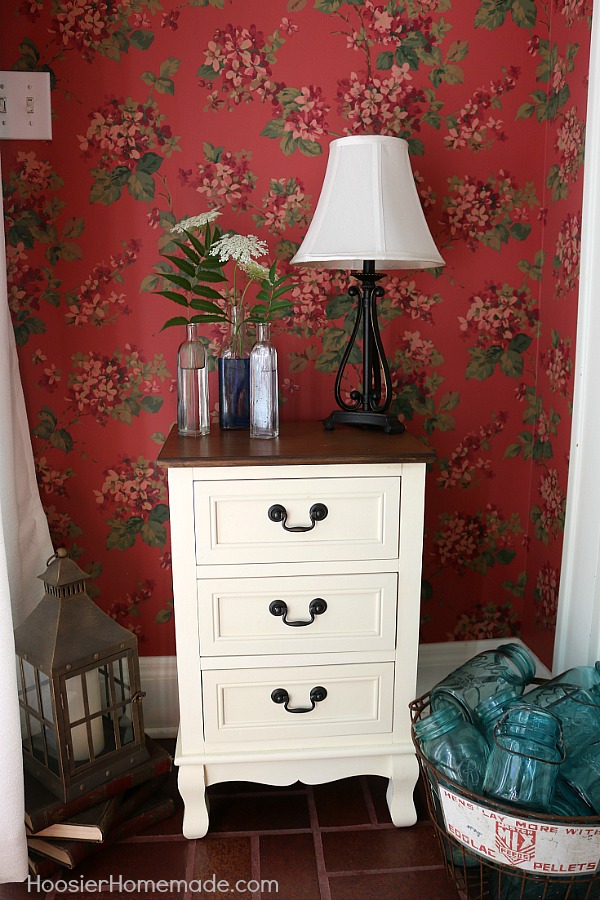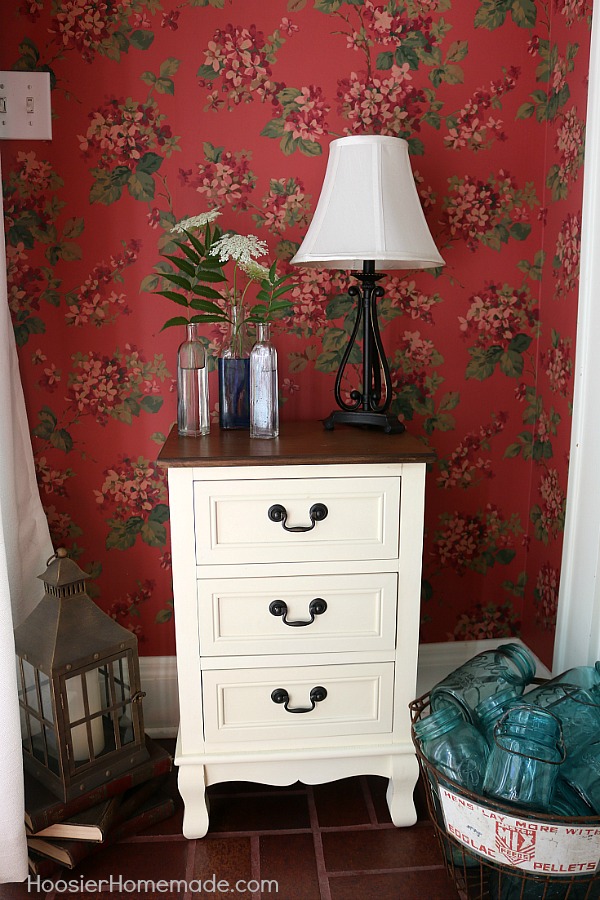 Our Farmhouse Decor Remodeling started with the Farmhouse Bedroom last month. We are slowly making our way around the house and redecorating. I knew I wanted to add the Farmhouse look to the front foyer as well. We debated a lot whether to take down the wallpaper, paint and add some shiplap to the walls.
In the end, we decided to leave the wallpaper, at least for the time being. The rest of the foyer and stairway needs to have wallpaper stripped and new paint, so we thought it would be best to do it all at the same time. And with the construction of the She Shed going on right now, Doug just didn't have time to tear into all that wallpaper.
So even though this wallpaper isn't really typical for Farmhouse, I do think that the hydrangeas and colors work well with the Farmhouse Decorations.
We started with the Better Homes and Gardens at Walmart Two-Tone 3-Drawer Accent Table in Antique White with a Honey Nut Top. It's the perfect little table to hold Tiki's leash and all of our winter gloves and scarves.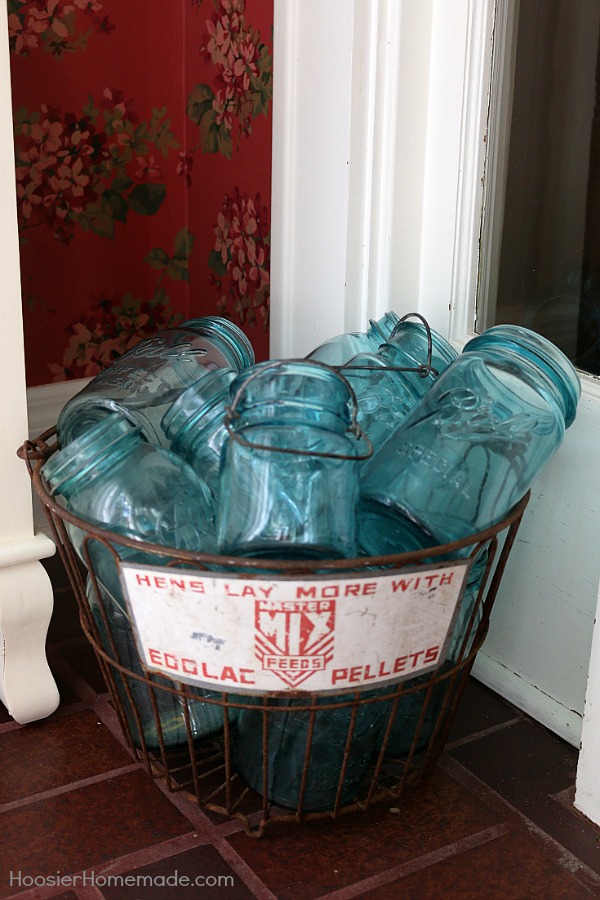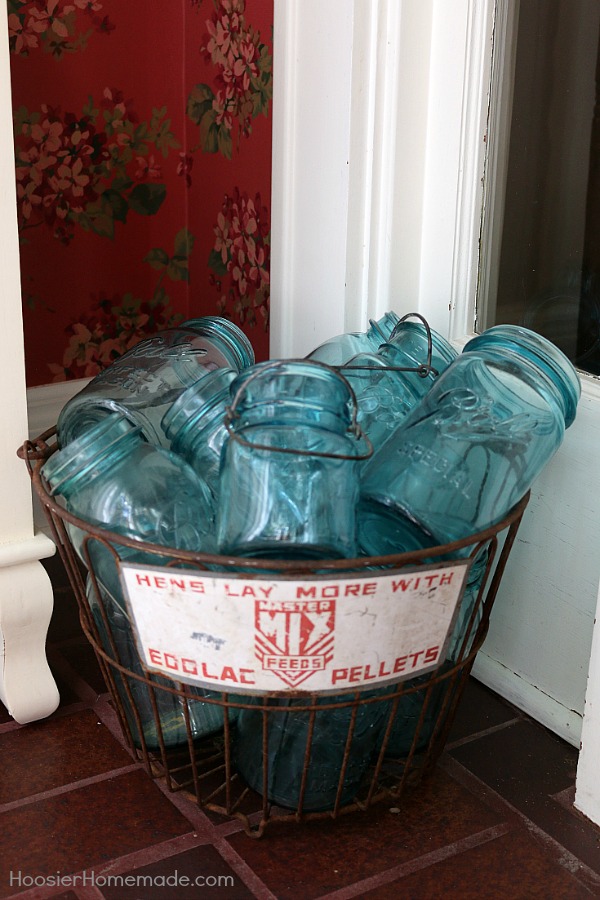 On the floor next to the table, I added a vintage wire basket that holds part of my collection of Aqua Mason Jars. It's simple, but makes a great statement, I think.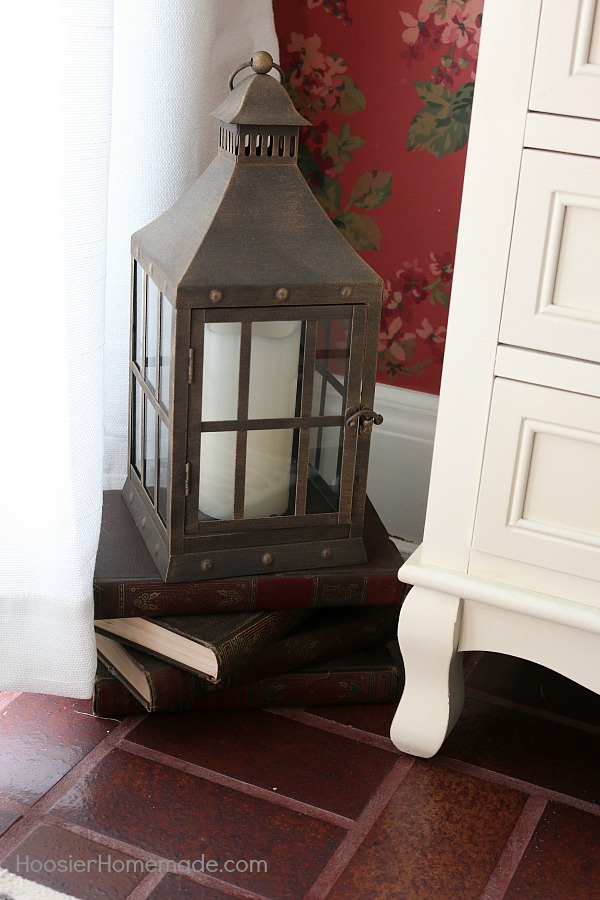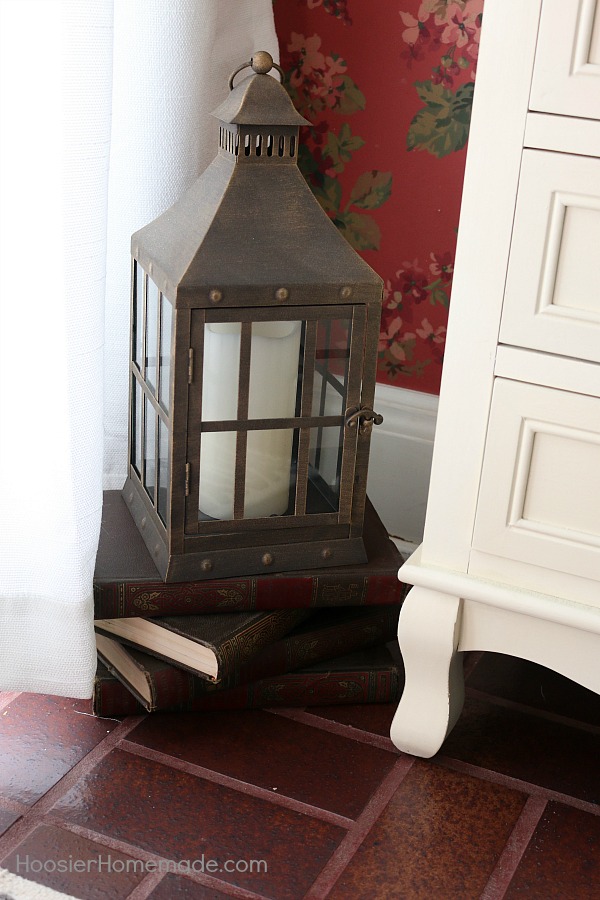 On the opposite side, I added a few books and sat a lantern on top.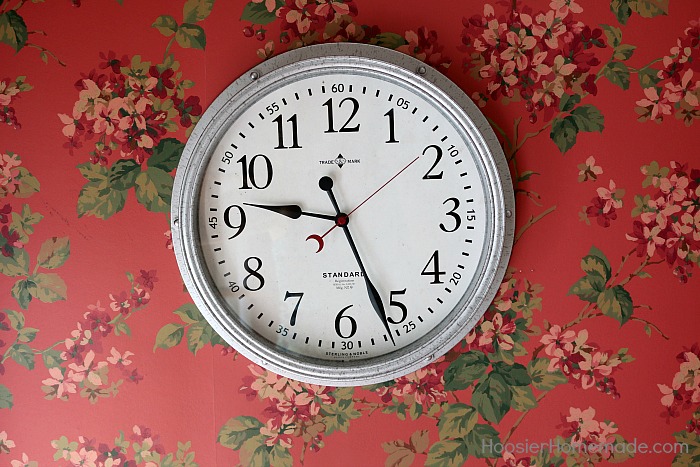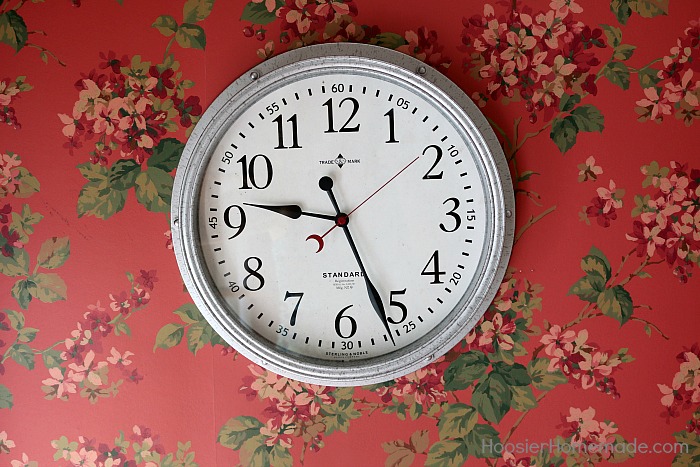 Above the table, we hung a Galvanized Wall Clock from the Better Homes and Gardens line sold exclusively at Walmart and Walmart.com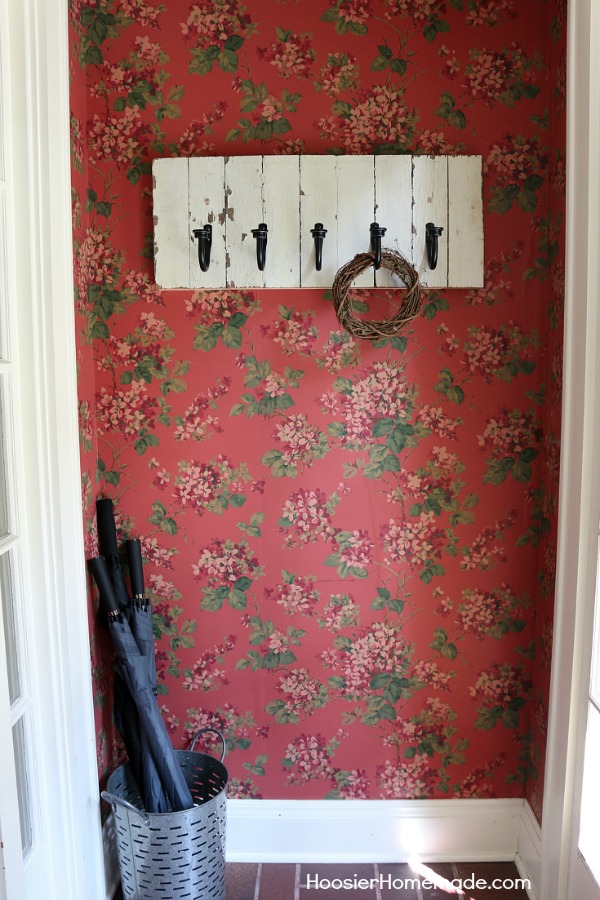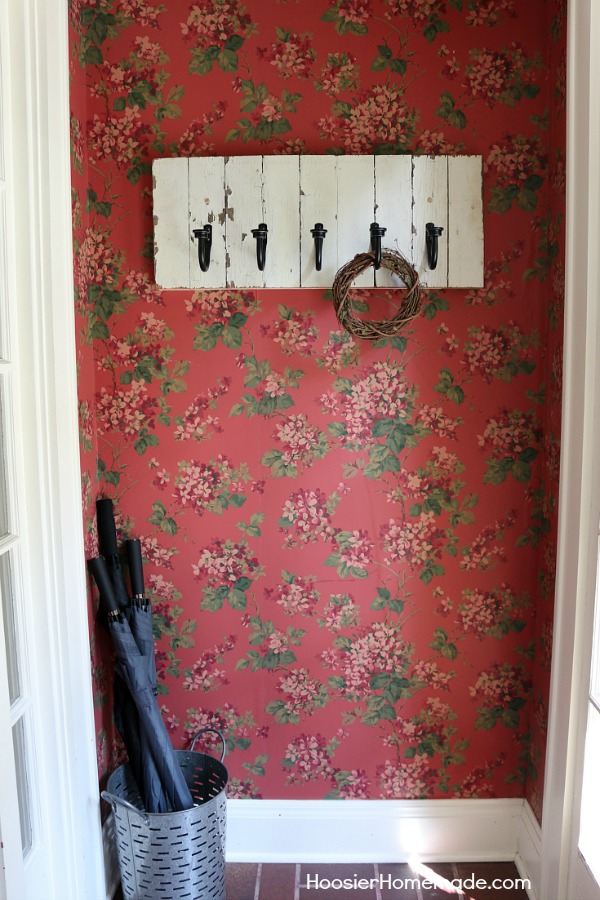 On the opposite wall, Doug hung the Farmhouse Coat Rack that he made using old barn wood and Better Homes and Gardens Drapery Hold Backs. And to hold the umbrellas, I used the Galvanized Finish Metal Bucket from the Fall Foyer Decorations a couple years back, I have used the Metal Bucket for a lot of different things throughout my house.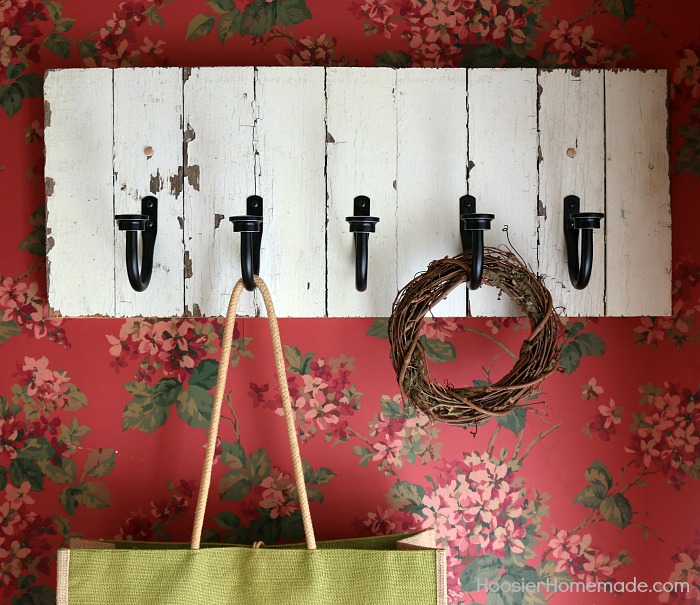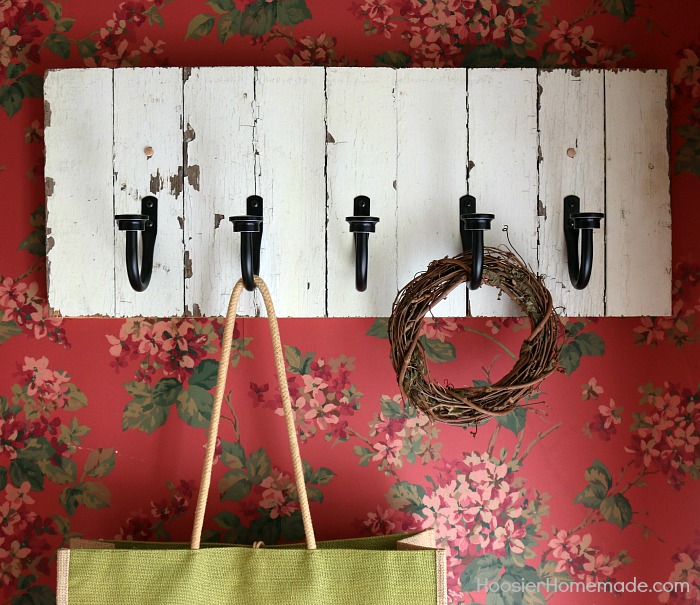 You can learn how to make your own coat rack for under $25.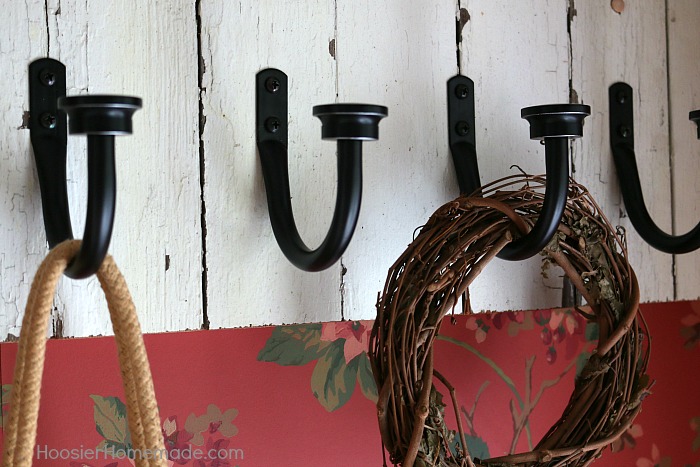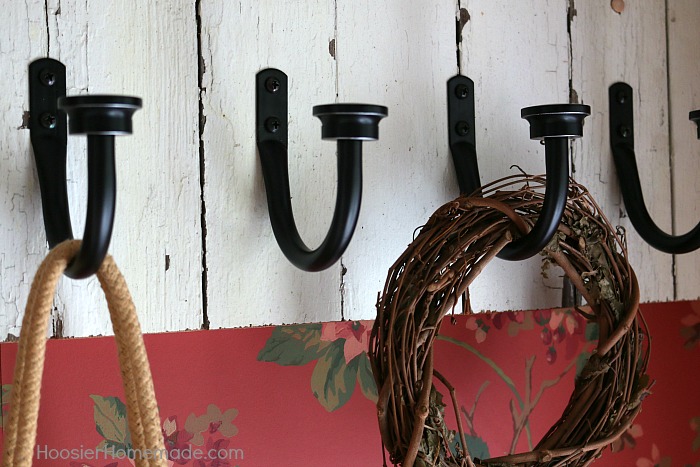 I have been wanting a coat rack with metal hooks for a few years now, but hooks can get really expensive. When we were coming up with the coat rack idea, we happened to see the curtain tie backs and thought they would work out well. You can get 2 in a package for $6.88. We bought 3 packages, but decided to use only 5 of them. I like decorating with odd numbers.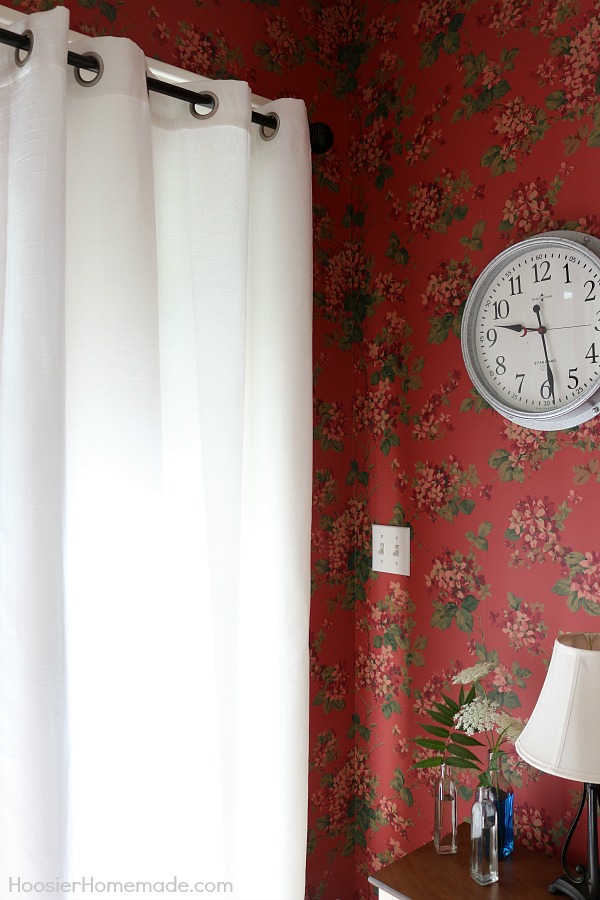 At first we planned on covering just the door with a curtain. However, after doing a little research into what style would go best with the Farmhouse Decor, we decided to put up a Drapery Rod and add long white drapes to the foyer.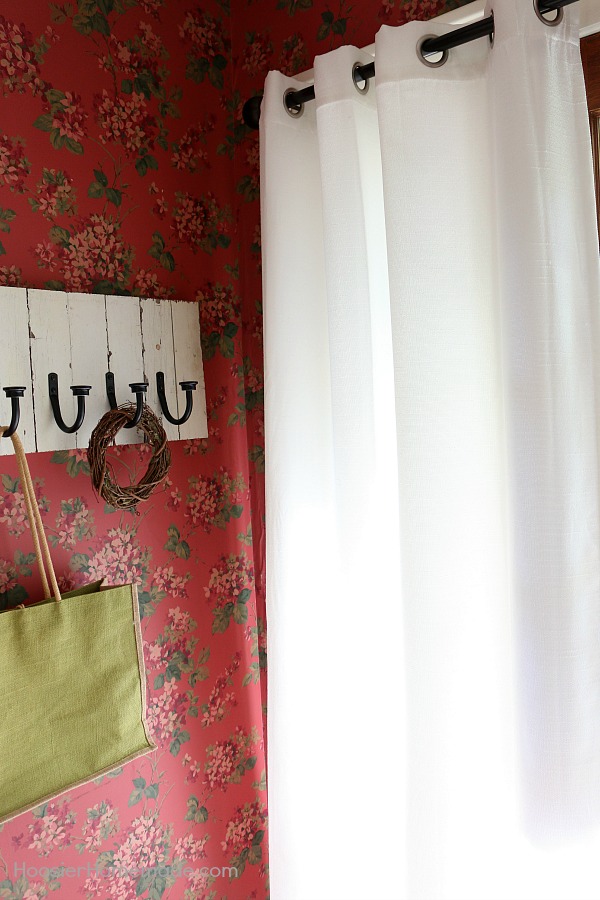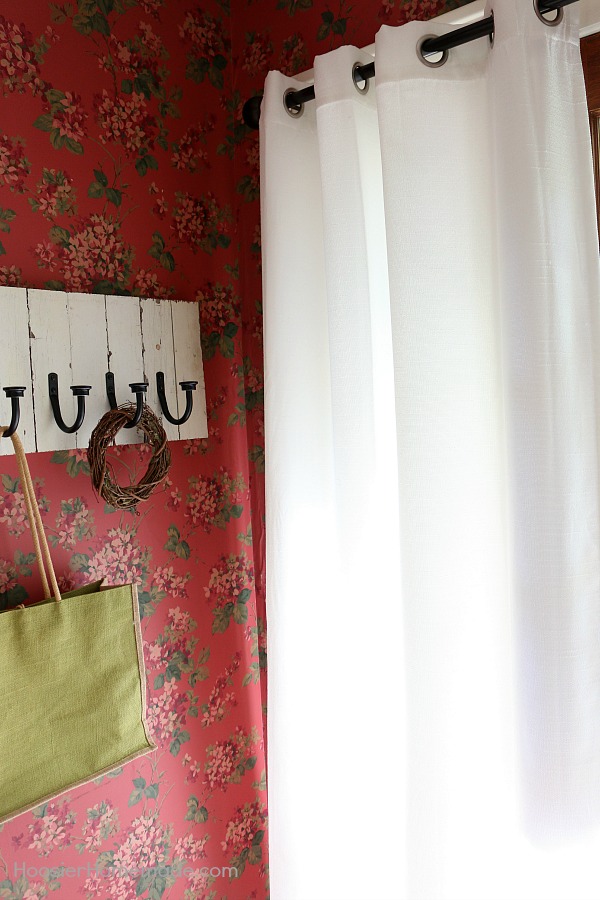 It's nice to pull them closed at night, and still have the sun coming in during the day.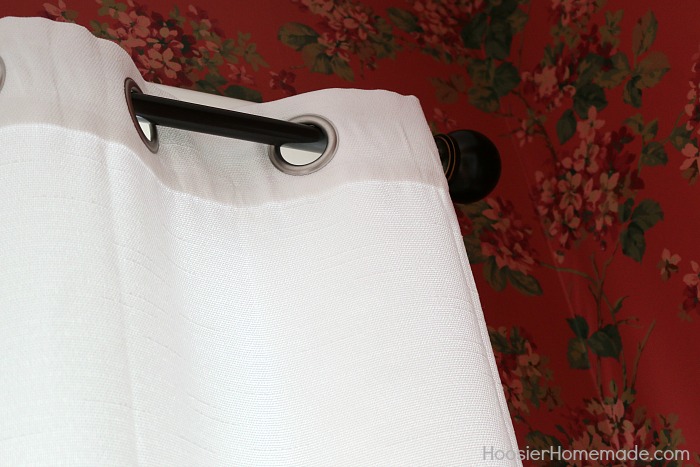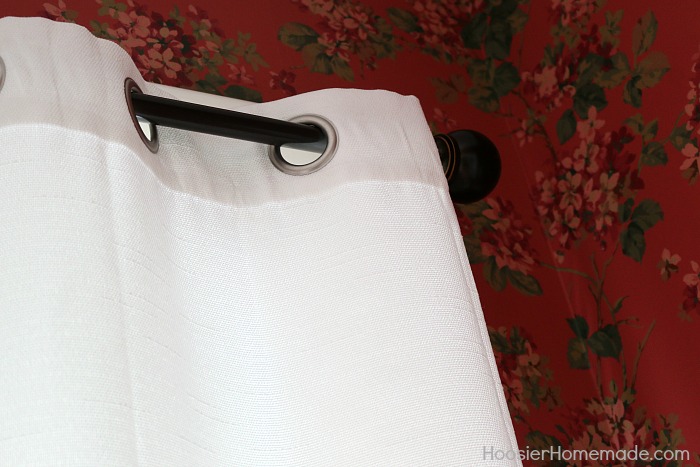 We used the Better Homes and Gardens Oil-Rubbed Bronze Finish Drapery Rod. It's one of my favorites. And the white curtains really brighten up the space.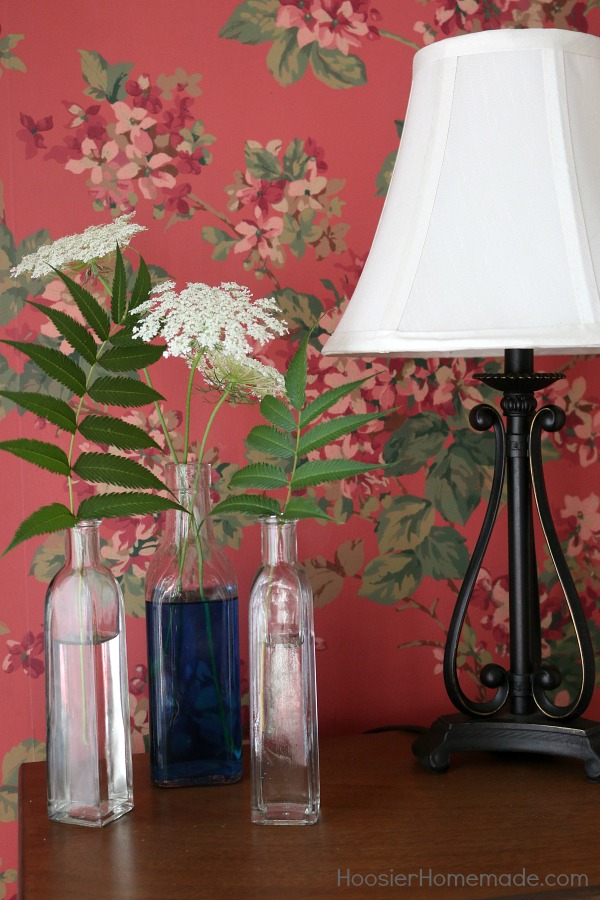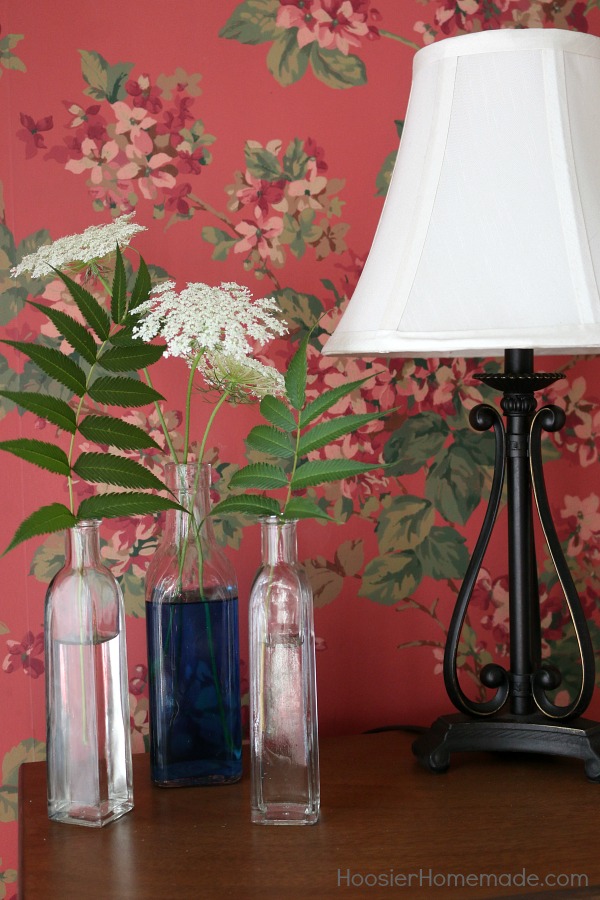 Last week, I had the pleasure of visiting Better Homes and Gardens headquarters in Des Moines, Iowa. One of the decorating ideas that I saw over and over, were 3 vases filled with a simple leaf or flowers. I love bringing the outdoors in when I decorate. This time I cut a few Queen Anne's Lace to add to the vase. They are actually weeds, but I absolutely love how soft and intricate they are.
I added a little blue food coloring to the vase. I remember my Mom used to always do that to color the flowers. Plus it adds a little interest to the vases.
Visit these fellow BH&G Bloggers for more great ideas!
Solutions to Organize a Child's Space from Home Made by Carmona
From Infant to Toddler: Transforming a Girl's Room from Casa Watkins Living
Kid's Bathroom Makeover from Simply Designing
Easy Laundry Room Makeover from Cherished Bliss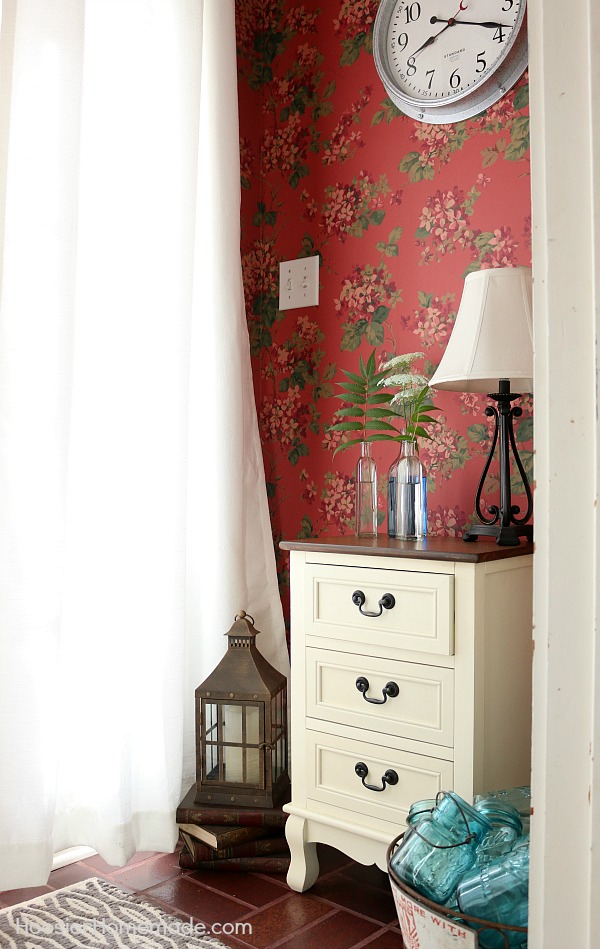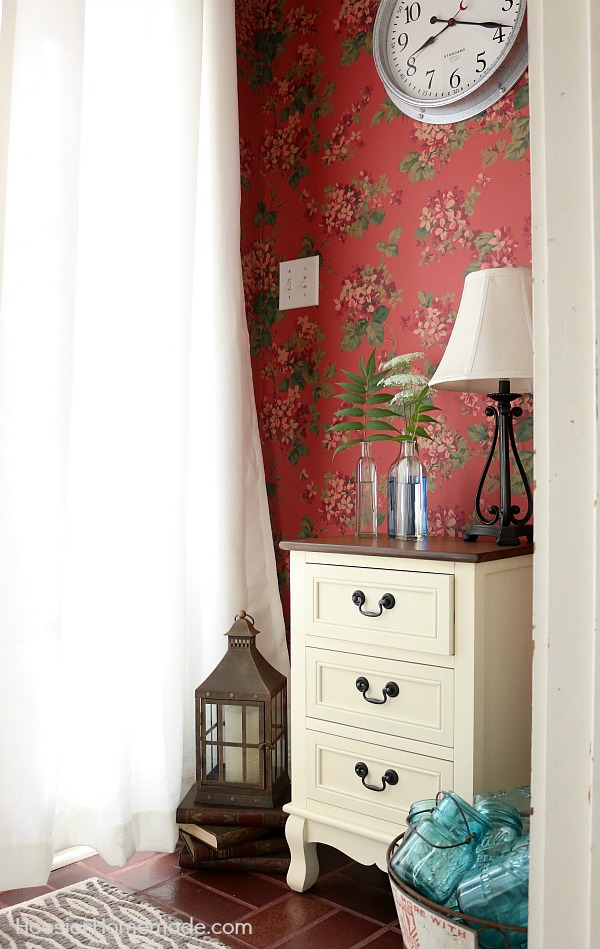 Remember while you can always find BHG @ Walmart products in stores, there is an extended and vast assortment of products online at Walmart.com/BetterHomesandGardens as well — more styles, colors and sizes are only a click away!
For more inspiration visit Better Homes and Gardens Live Better on Facebook ,Twitter,Instagram and Pinterest!