Get the Farmhouse Decor look for a fraction of the cost! Learn how to create the look yourself including a DIY Shiplap Wall for under $40 and a $10 painted brass headboard! Add fun accessories to create the Farmhouse Style Bedroom of your dreams!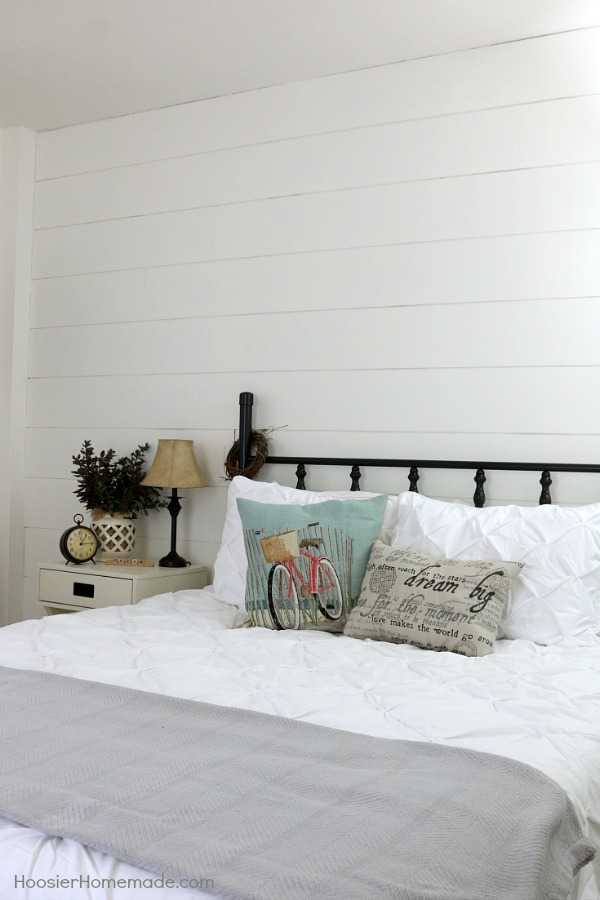 Like many others who love decorating – I am in love with Farmhouse Decor. I always have been. And having shows like Fixer Upper with Chip and Joanna Gaines to watch inspires me even more.
So I began dreaming of the bedroom that I could remodel and work our way through the whole house with Farmhouse Decor.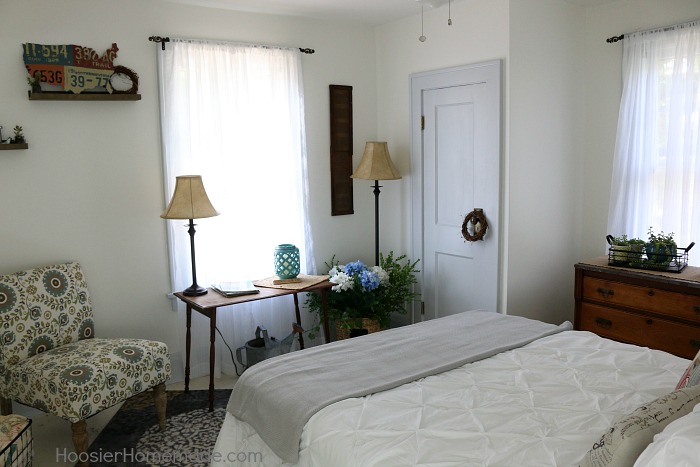 First, let me begin by saying that moving whole rooms around in our home has become quite the event lately. It all began when we moved the Living Room into the Dining Room and turned the Living Room into a Studio. Then several months ago, we moved Doug's office into the basement. However, then our oldest son decided he wanted to have a space in the basement, so Andrew and Doug swapped rooms. And Doug's office ended up in this bedroom.
When Better Homes and Gardens at Walmart asked if we would like to do a room makeover, I was super excited to remodel my office. But then, our middle son who just graduated college, came home for a weekend and he really didn't have a space of his own anymore to come home to, and I really hated that. So we quickly switched gears and decided to give the bedroom a makeover.
This is where we began – the walls were a bright blue, and the trim was tan. And of course, all of Doug's office stuff had to come out.
After watching so many Fixer Upper episodes, we knew we wanted a wall with shiplap boards on it. But "real" shiplap is pretty expensive. So Doug figured out a way to create a Shiplap Wall for under $40. Head on over and learn how to create your own Shiplap Wall!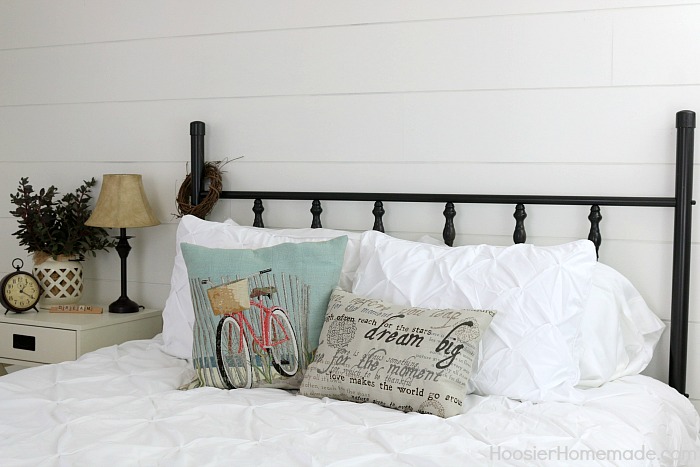 After the wall was up, it was time to prime all the walls, including the shiplap wall, then paint. I had a vision in my head with lots of bits and pieces of how I wanted the Farmhouse Bedroom to look. We decided on an off-white for the walls – popcorn white to be exact, and a soft gray for the trim.
Then while the walls were drying in between coats, we painted the headboard. It started as a brass headboard that I found for $10 at the antique store, and we spray painted it. Watch for the instructions on how we turned that brass headboard into a rustic farmhouse style medal headboard.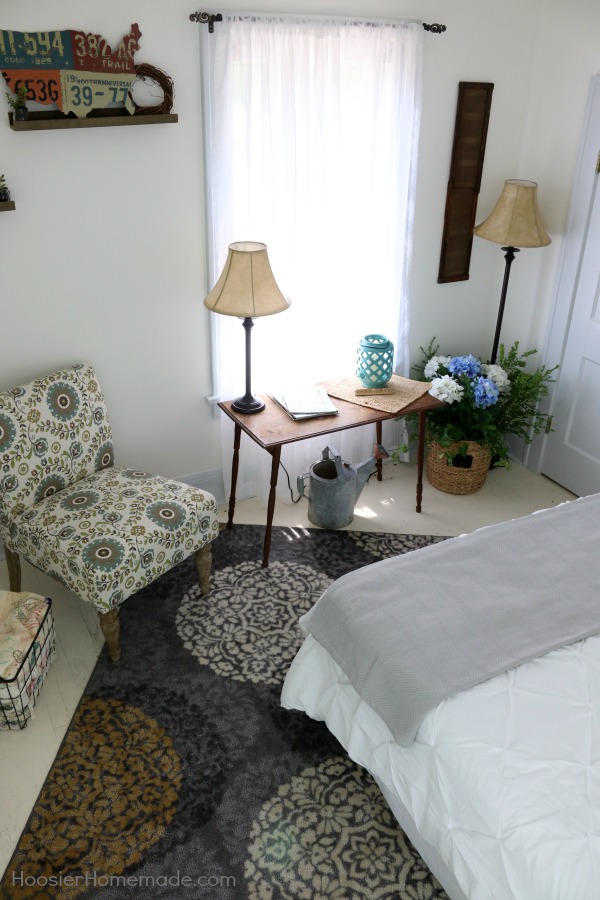 Then after the painting was done, it was time to begin pulling together all the farmhouse decor. Some of the pieces we already had, but a lot came from Better Homes and Gardens line at Walmart. We angled the rug since a lot of the larger pieces had to be straight. (that was Doug's idea)
The white sheer curtains really make the room seem airy. And the new curtain rods are the same color as the headboard.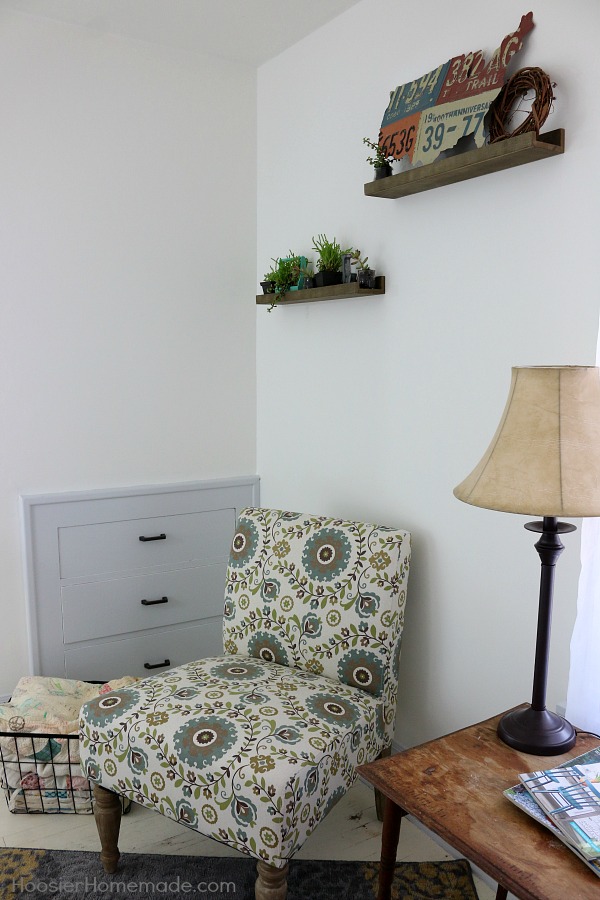 The Medallion Slipper Chair is perfect in the space. And it matches the rug really well too.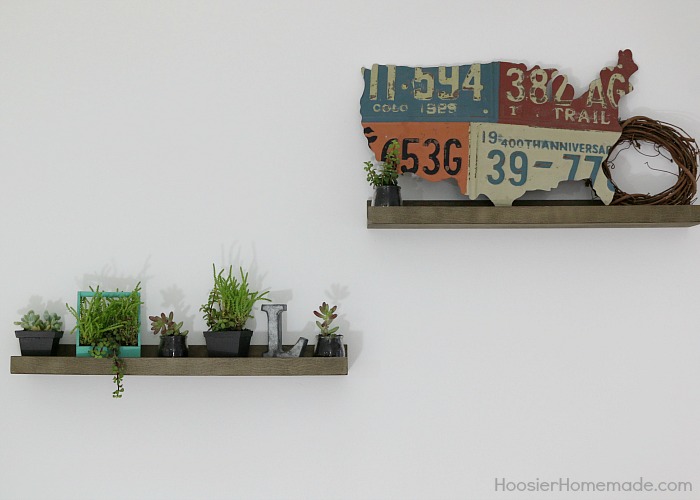 Above the chair, we hung two floating shelves. Instead of adding photos, I wanted to bring in some fresh plants to the bedroom.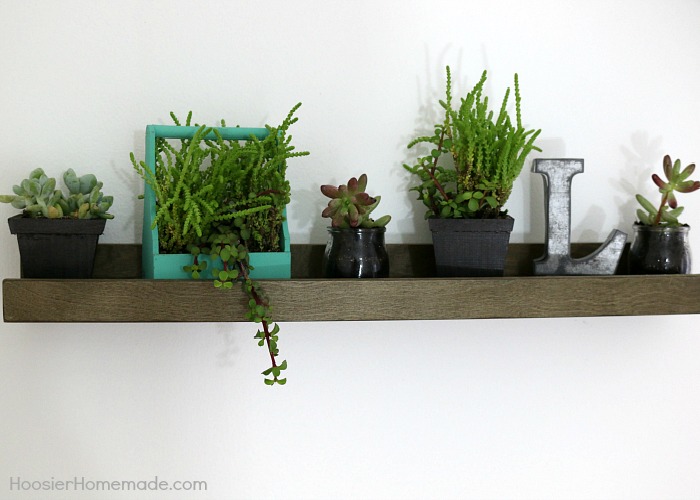 We planted small succulents in wooden and small glass containers. Succulents are great to add a little freshness to any room, they don't need much attention and very little watering.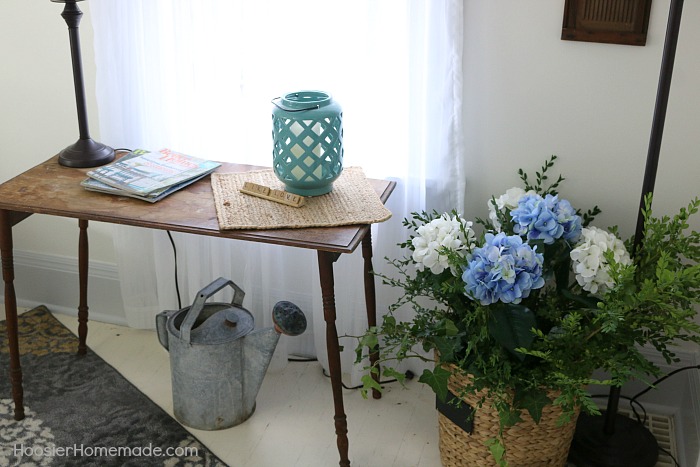 Next to the chair, we added a small wooden table with a woven placemat, some magazines, a ceramic candle holder for a pop of color and one of my favorite galvanized watering cans.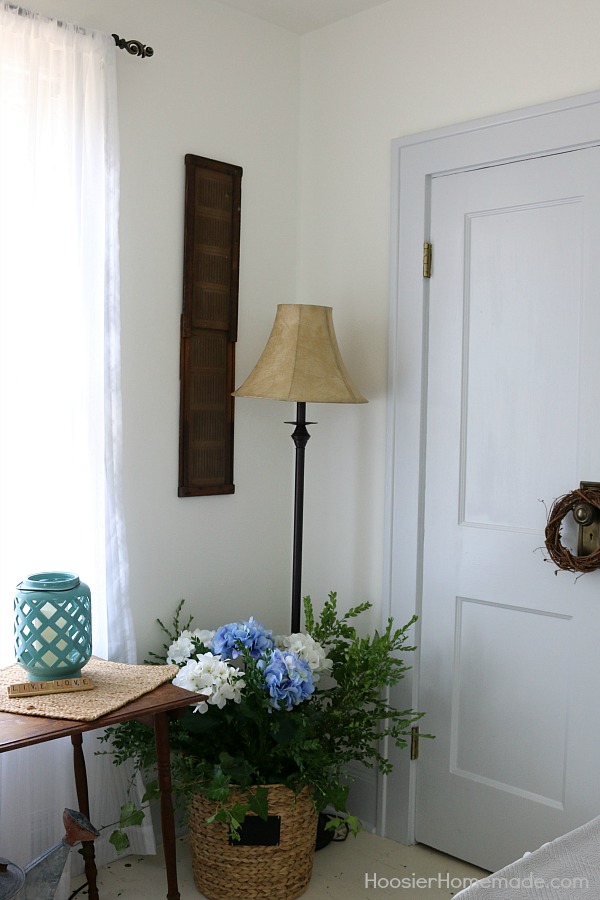 In the opposite corner, we added a tall lamp to fill in the space. The lamps came four in a box with the shades, for only $54. Have you seen the price of lamp shades lately? That was a steal.
And the wicker basket was filled with silk hydrangeas and fresh green that we cut in the yard.
Making our way around the room. We added a dresser that has been in Doug's family for years and years. On top, I added a tray with more succulents and a lantern.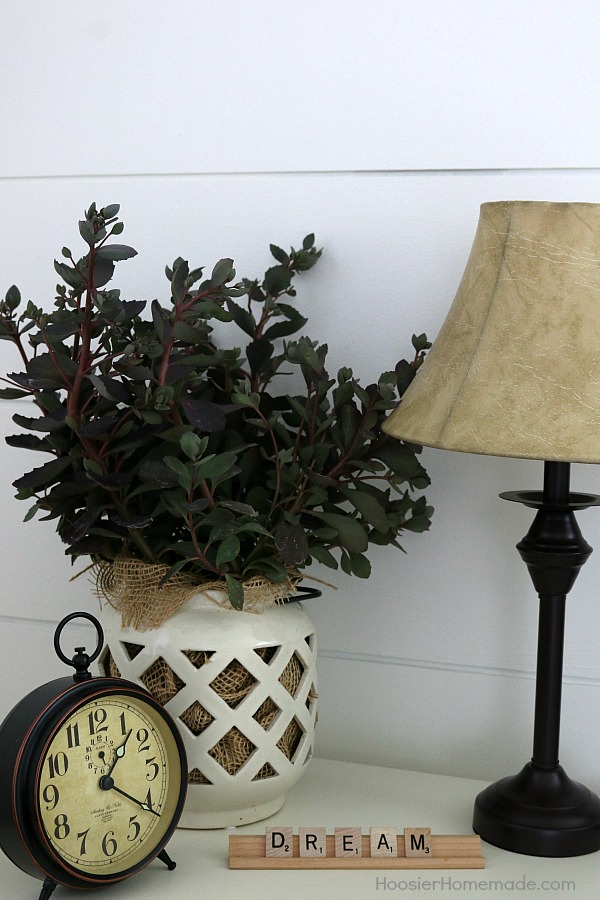 The accent table holds a small lamp from the set, an alarm clock, and the plant added a little pop of color while still staying neutral. The scrabble tile letters are just fun.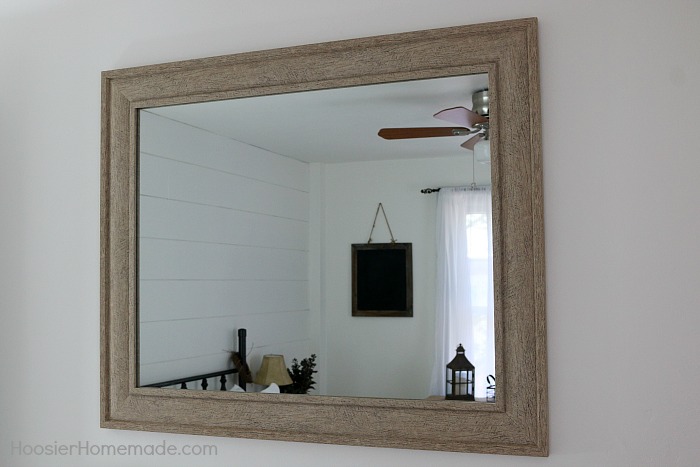 Then on the opposite wall, we hung a large mirror, also from the Better Homes and Gardens line at Walmart.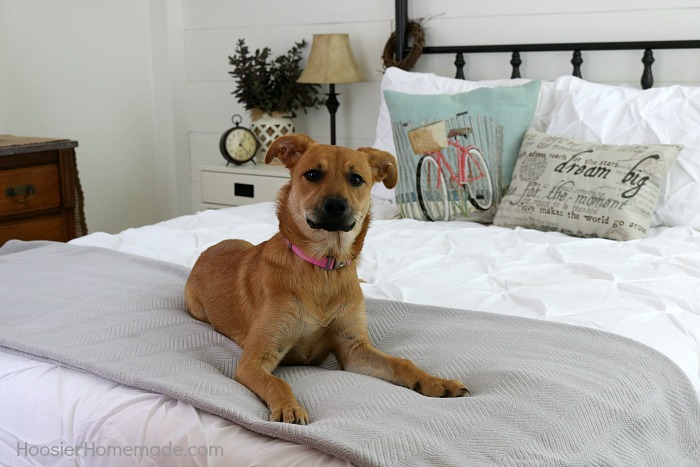 Meet Tiki – she is the newest addition to our family. If you follow along on Instagram, you might have seen her adorable little face. She is a rescue pup and she's 5 months old. We adopted her a couple months ago and fell instantly in love with her.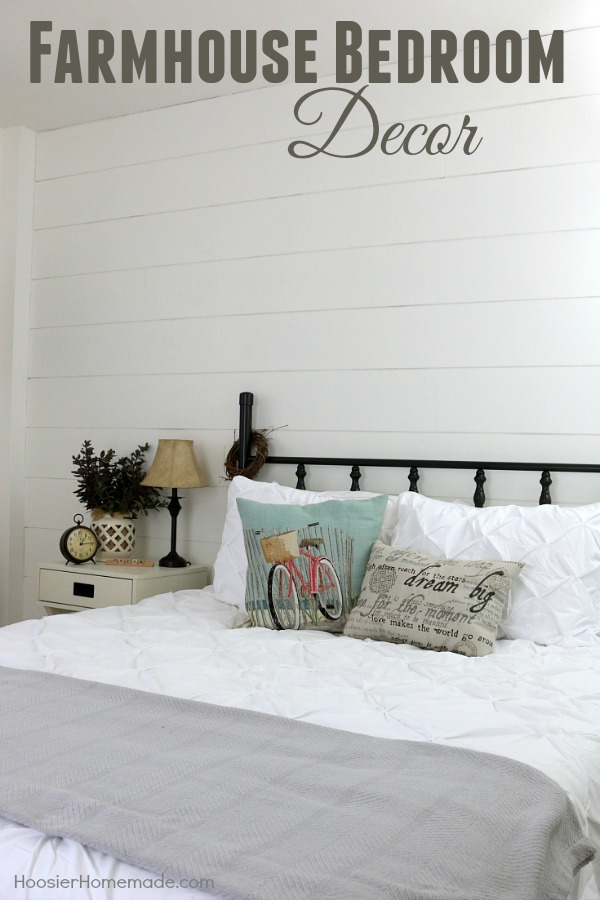 I am totally in LOVE with this bedroom! I love my bedroom, but honestly, I may just have to switch around another room.