Fall Decorating on a Budget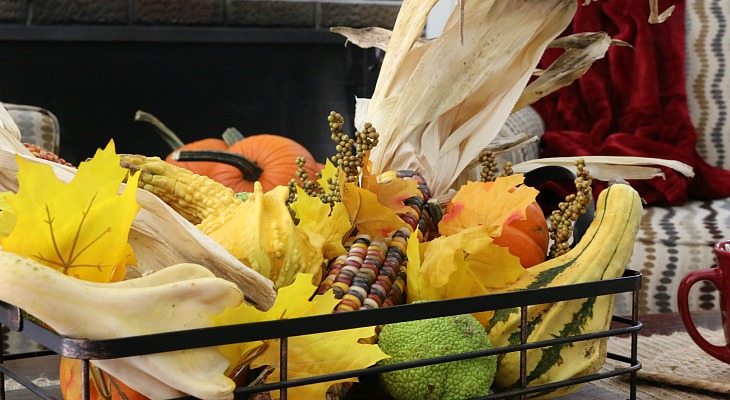 The colors of Fall are some the most beautiful to decorate your home! Orange – Yellow – Red – Green and more! Keeping the cost down is important too! It's time to get your home ready for Fall with these simple, inexpensive Fall Decorating on a Budget ideas!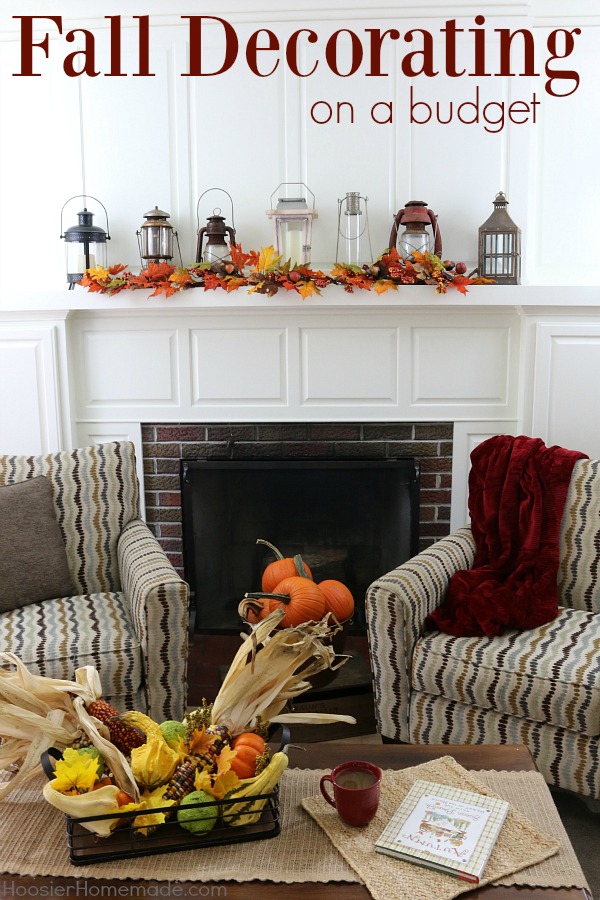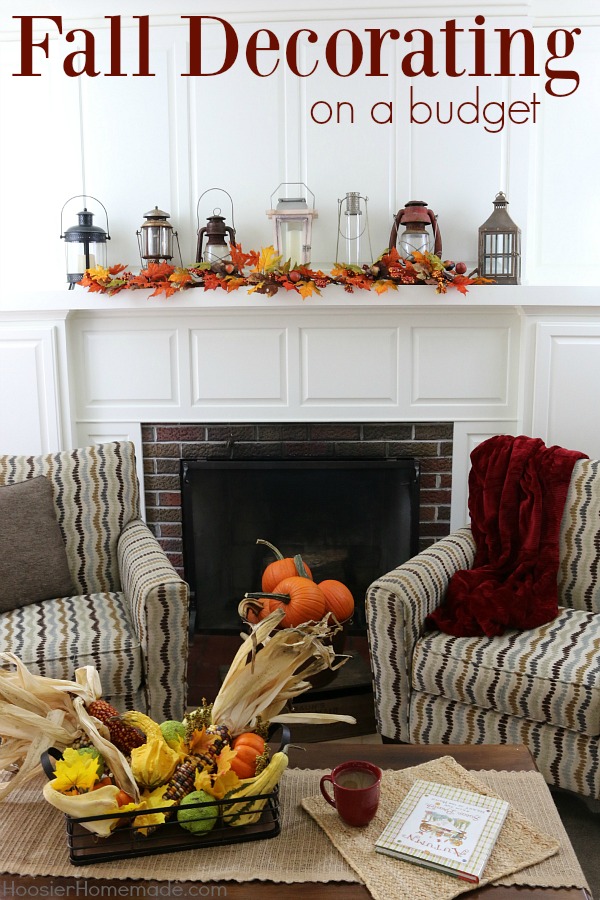 It's been awhile since I shared a decorated Mantel area with you. So what better way to jump right in than with the Fall Decorating.
Each season brings it's own unique colors – in Spring there are pastel colors as we ease out of Winter and into the awakening of Spring, then Summer has fun, joyful colors as we spend a lot of time outdoors, Winter of course has whites and blues, and then there is Fall with it's glorious orange, yellow, dark red, green and more. The changing of leaves is always a gorgeous sight, so why not bring the outdoors in with your Fall Decorating?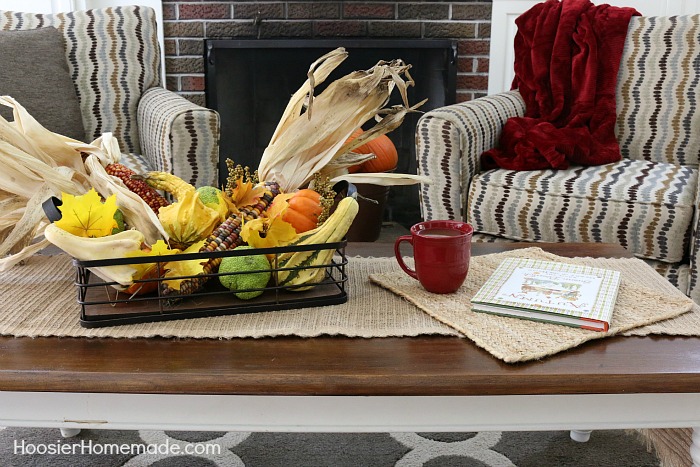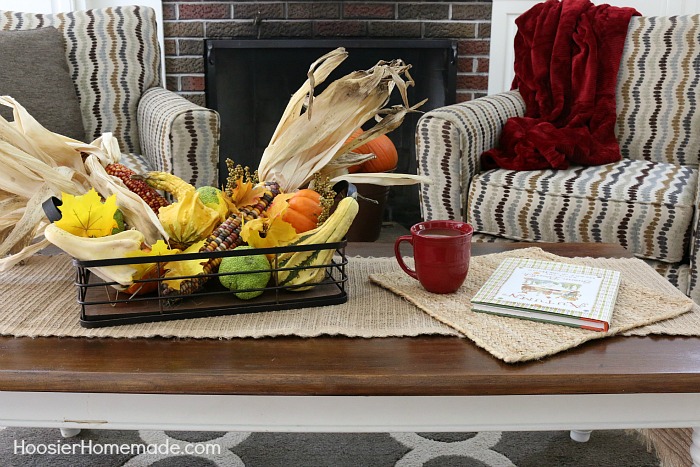 A quick trip to the pumpkin patch and then to grab some Better Homes and Gardens products at Walmart and we were ready to begin our transformation.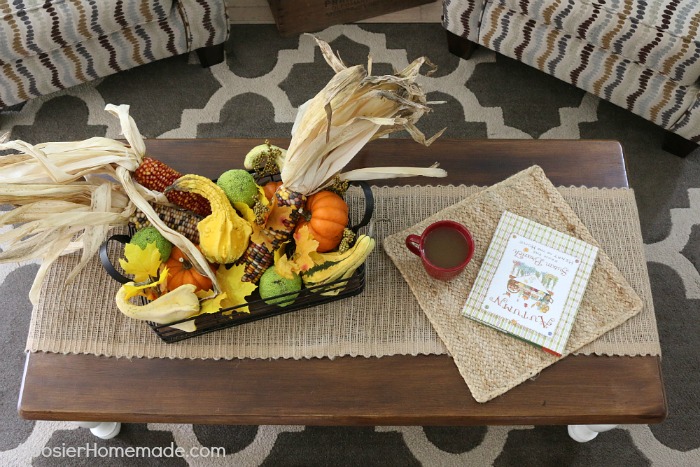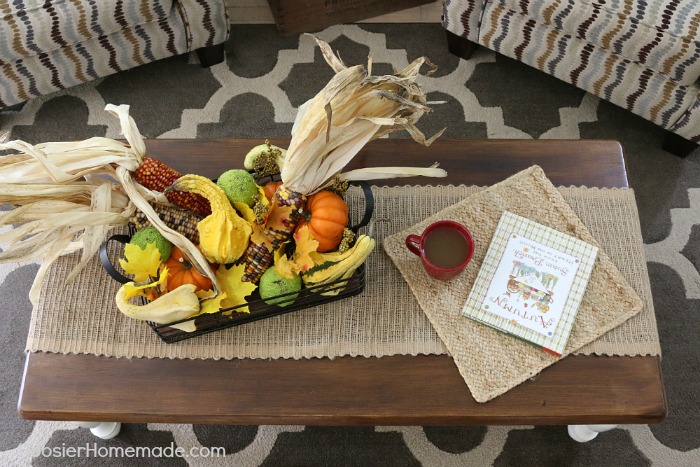 We anchored the area with a Better Homes and Gardens Rug under the coffee table. Then a table runner adds texture and a bit of color, making the Fall centerpiece stand out. We also added a woven natural placemat for extra texture. And then the centerpiece.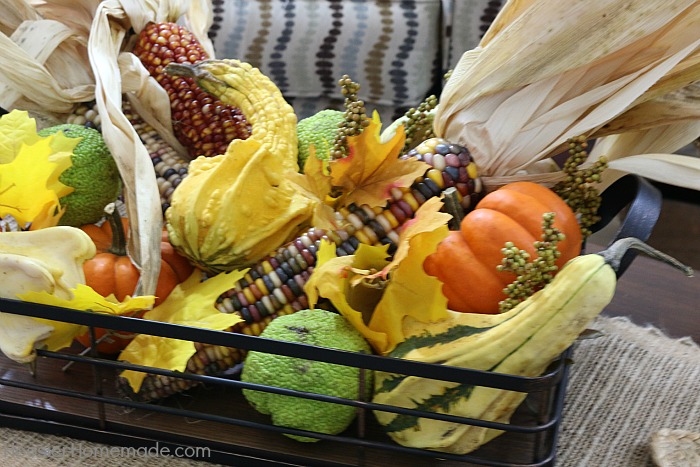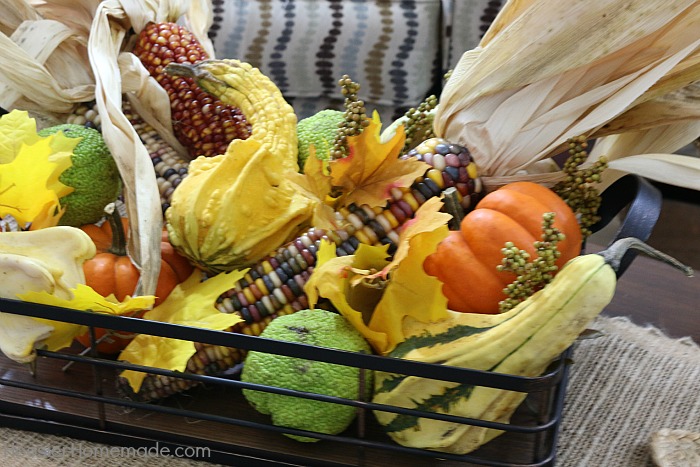 We started with a Better Homes and Gardens Rectangular Wire Tray in Antique Bronze and filled it with Indian Corn, Gourds, Jack-be-Little Pumpkins and Crab Apples all from the pumpkin patch. And a few silk leaves and berries from the floral department.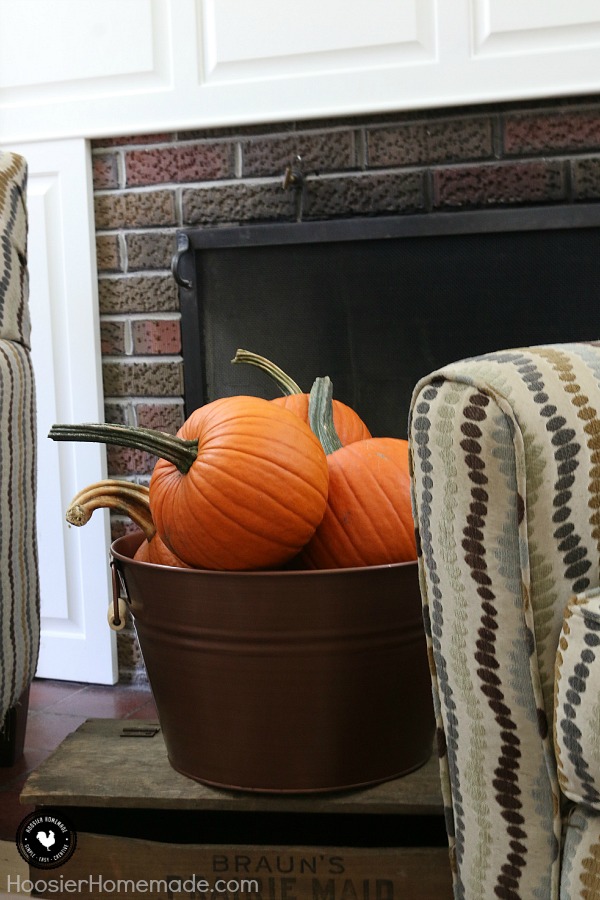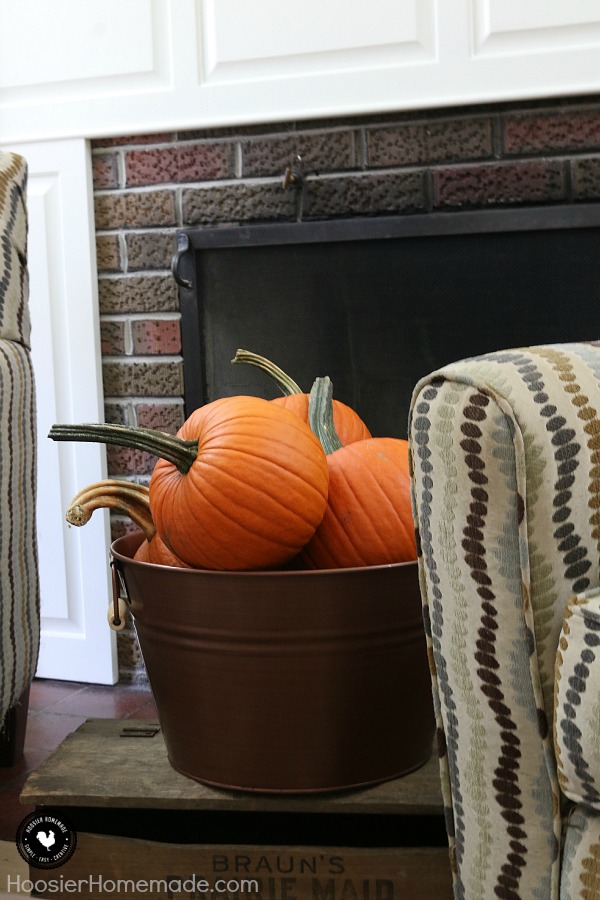 Between the chairs, we filled a Galvanized Copper Bucket with Pie Pumpkins. They are the perfect size pumpkins, and at only $1 each you can have a whole bucket full for only $5. You can find the bucket in the housewares department. I loved it filled with the pumpkins, but you can also fill it with ice and serve drinks in it.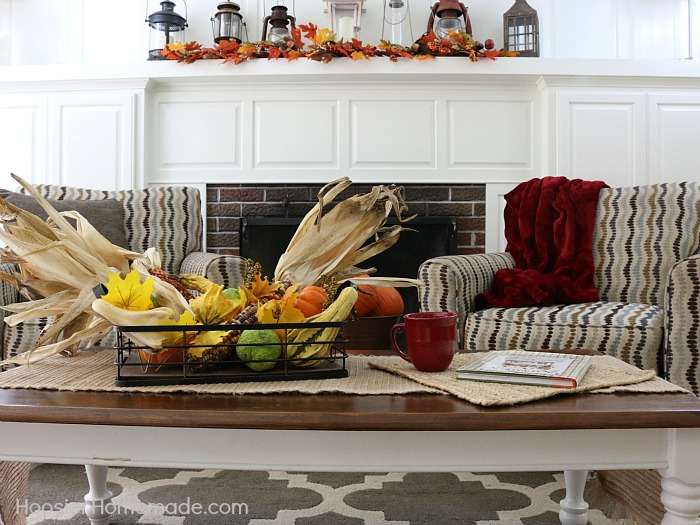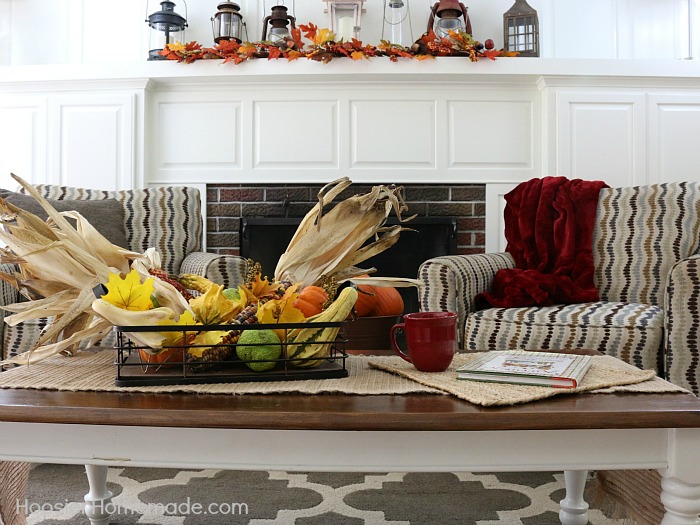 Now it wouldn't be Fall without a warm, cozy throw, so we added a Better Homes and Gardens Velvet Plush Throw in Rose Wine color. I love the pop of color to this space.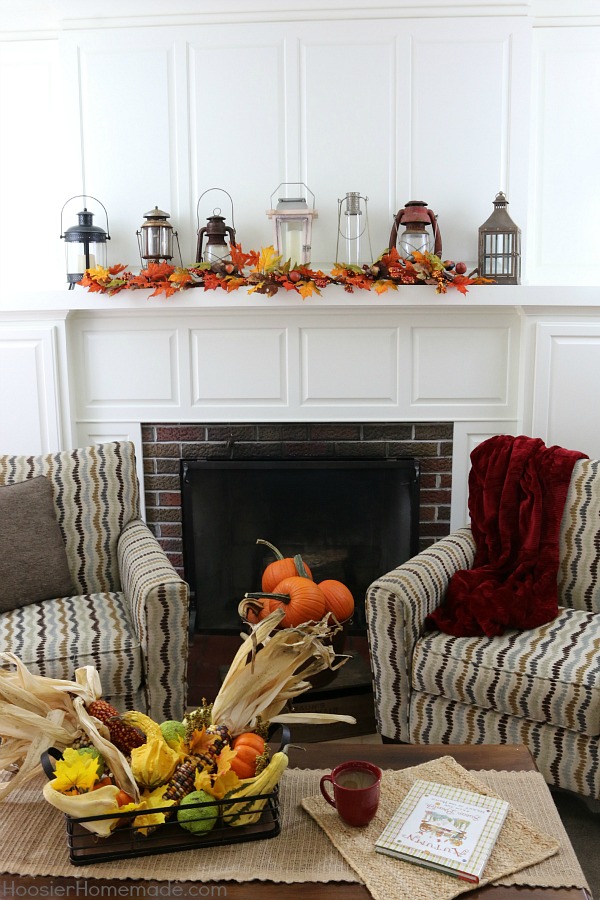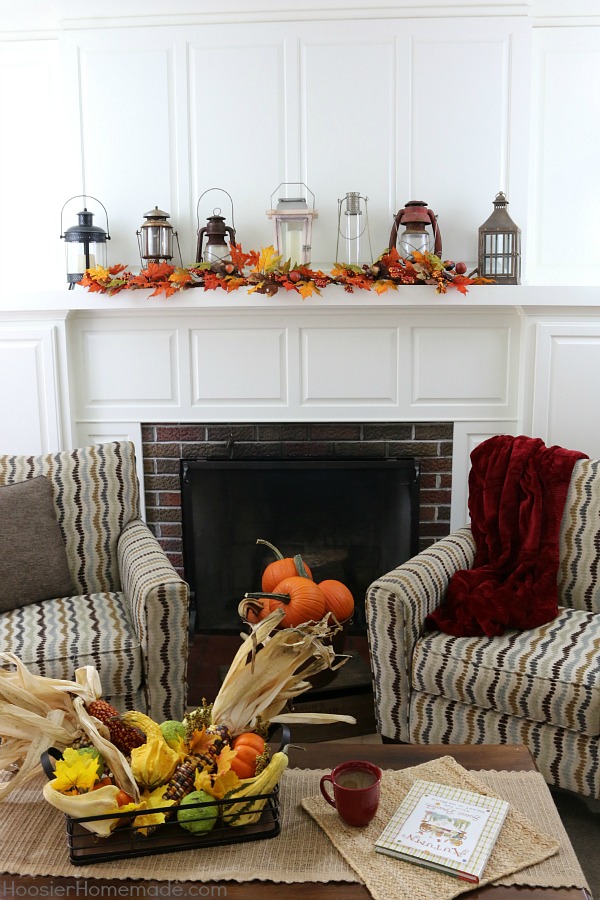 Remember while you can always find BHG @ Walmart products in stores, there is an extended and vast assortment of products online at Walmart.com/BetterHomesandGardens as well — more styles, colors and sizes are only a click away!
For more inspiration visit Better Homes and Gardens Live Better on Facebook ,Twitter,Instagram and Pinterest!