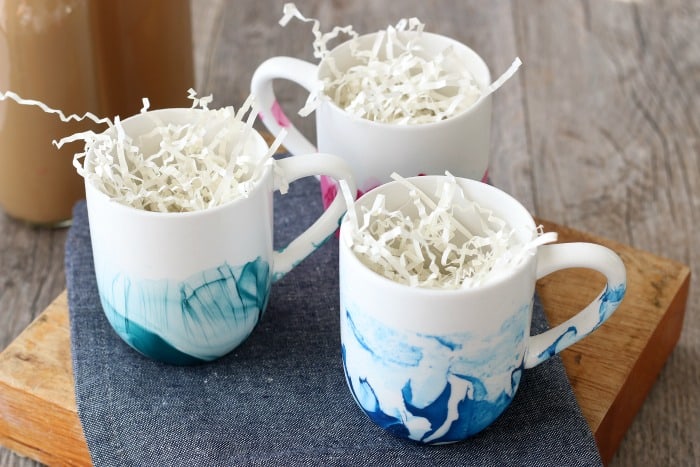 These fun to make DIY Nail Polish Mugs take minutes to make and are a great gift! Add a gift card to a favorite coffee shop, a bottle of coffee or tea and you have a fun gift for teachers, co-workers or neighbors.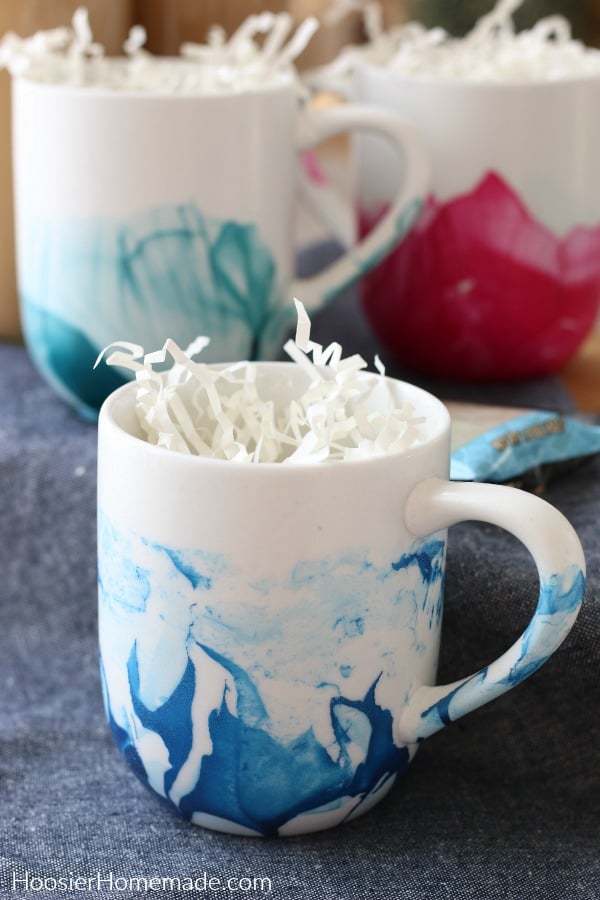 Welcome to Day 45 of the 100 Days of Homemade Holiday Inspiration! Each day we will be inspiring you with recipes, decorating ideas, crafts, homemade gift ideas and much more!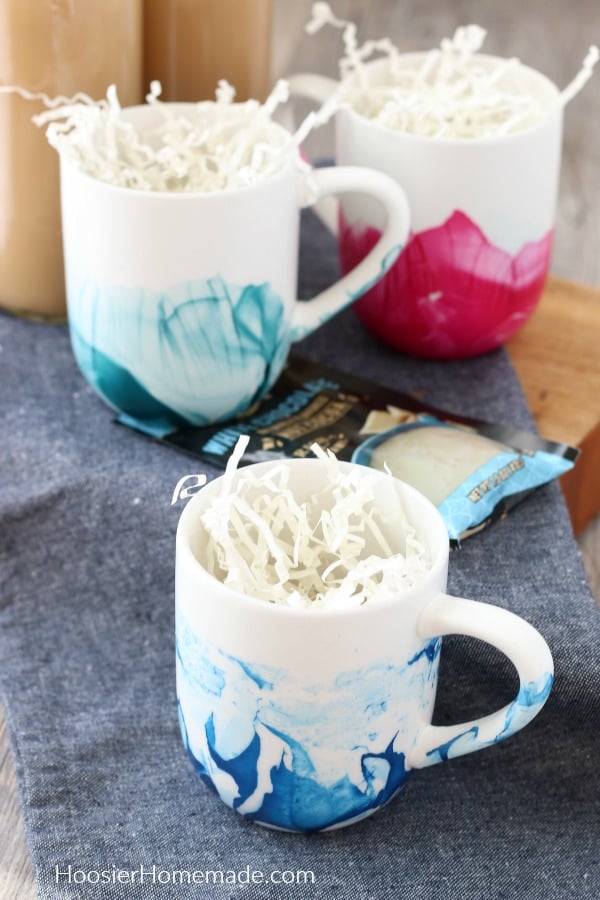 Include the kids in making these fun nail polish mugs and then give them as gifts. Add a bottle of tea, coffee or even hot cocoa mix.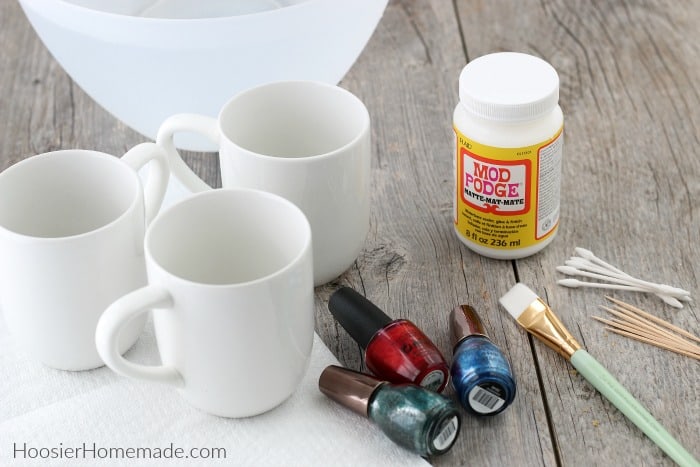 Nail Polish Mugs
Supplies
Mugs – white is best, any shape is fine
Nail Polish – we found that brand new polish worked better than older polish
Large Bowl
Paint Brush
Toothpicks
Q-tips
Paper Towel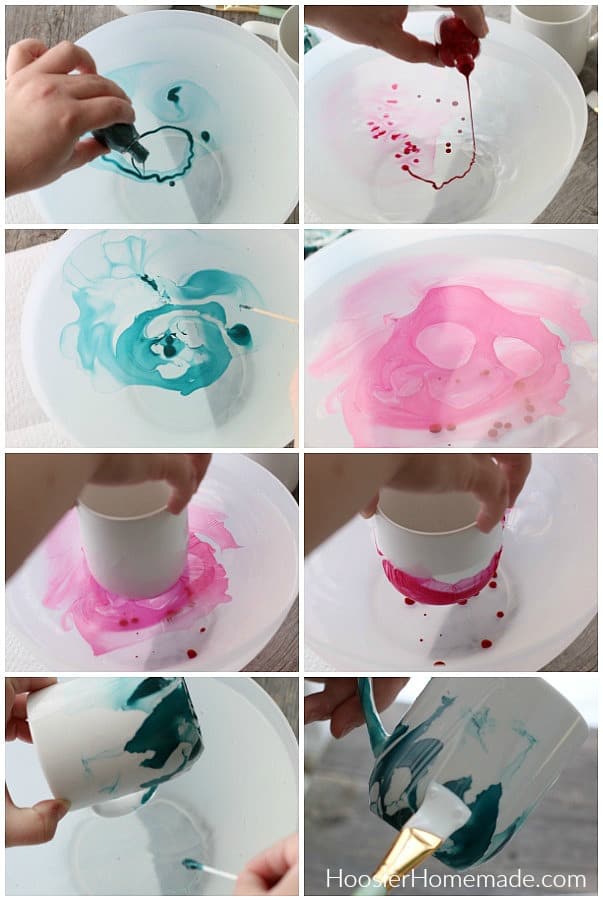 How to make Nail Polish Mugs
These instructions are for any color nail polish
Add slightly warm water to large bowl. Pour nail polish into water.
If you want multiple colors, add them using the nail polish brush and drip it into the water. If a single color, you can simply pour the polish into the water. Add as much or as little as you like.
Using a toothpick swirl the polish
Work quickly to swirl and dip the mug. The nail polish will dry quickly.
Begin dipping the mug. You can dip as much of the mug as you want. We kept ours away from the rim where you would drink from, just to be safe.
Pull mug straight up from the water, the nail polish will collect onto the mug
Use a Q-tip to remove any large pieces of nail polish that collect around the handle
After the nail polish is dry, coat the mug with Mod Podge and set on paper towel to dry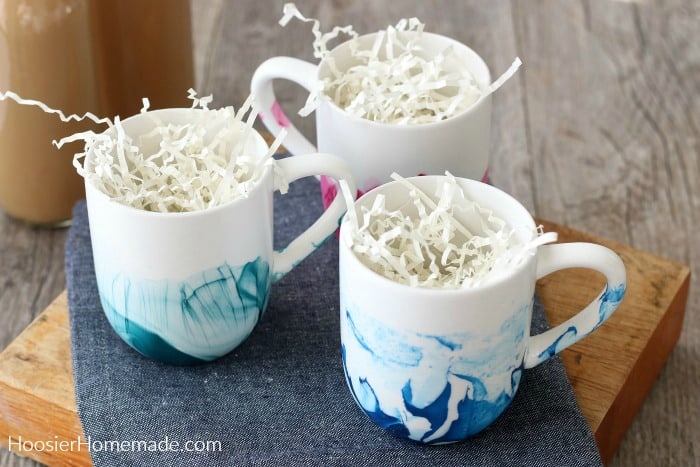 Nail Polish Mugs – Frequently Asked Questions
Are the mugs dishwasher safe?
No, these mugs are not dishwasher safe. You can try Dishwasher Safe Mod Podge to seal them, however it takes a long time to seal and cure.
Can I drink from these mugs?
Yes, but I would suggest keeping the nail polish below the drink line just in case.
What type of mug should I use?
Any kind is fine, you can find inexpensive ones at the dollar store. The ones we used are from Walmart.
Can I put the mug in the microwave?
No, they are not safe in the microwave.
What size bowl is best for dipping?
You will need the bowl to be large enough that the mug will be completely covered in water, although you won't dip it completely under the water. You just don't want it to touch the bottom.
Also be sure this is not a good bowl, you will want to throw it away when you are done, or keep it for crafts only.
Follow along with the 100 Days of Homemade Holiday Inspiration for more simple recipes, easy crafts, homemade gift ideas, decorating tips and much more!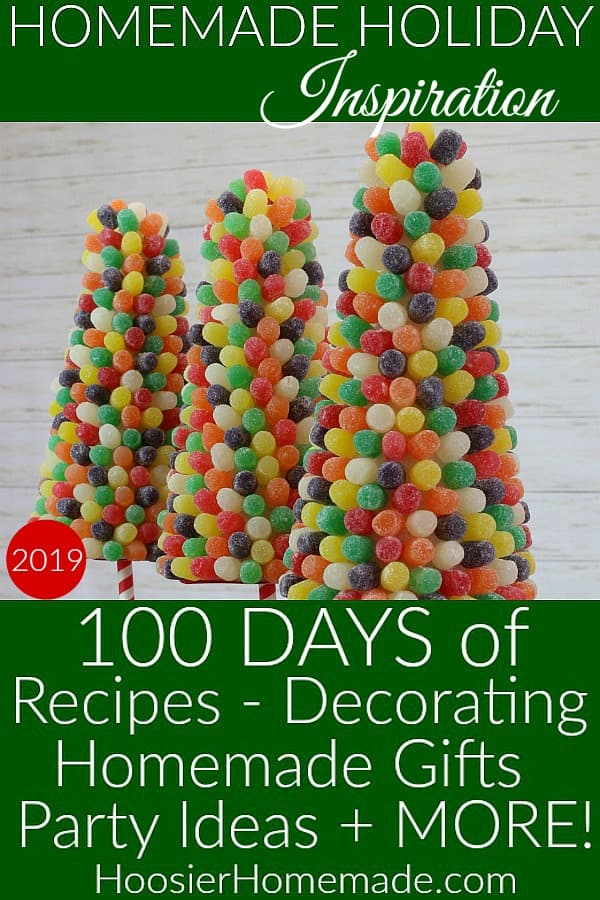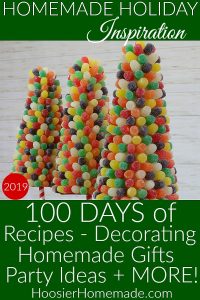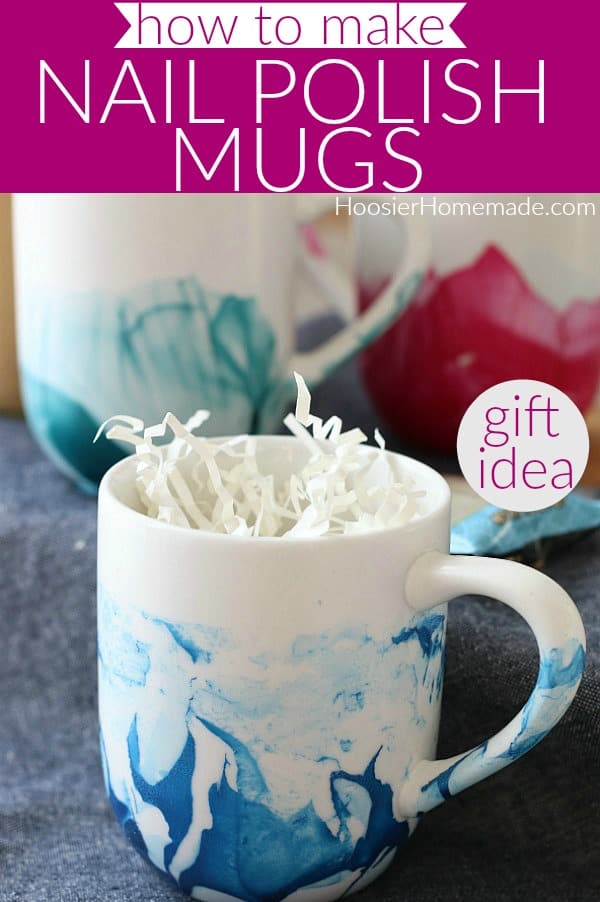 Looking for more easy gift ideas? Click on the photo for the recipe.