Welcome to Day 100 of the 100 Days of Homemade Holiday Inspiration 2018! Each day we will be inspiring you with recipes, decorating ideas, crafts, homemade gift ideas and much more!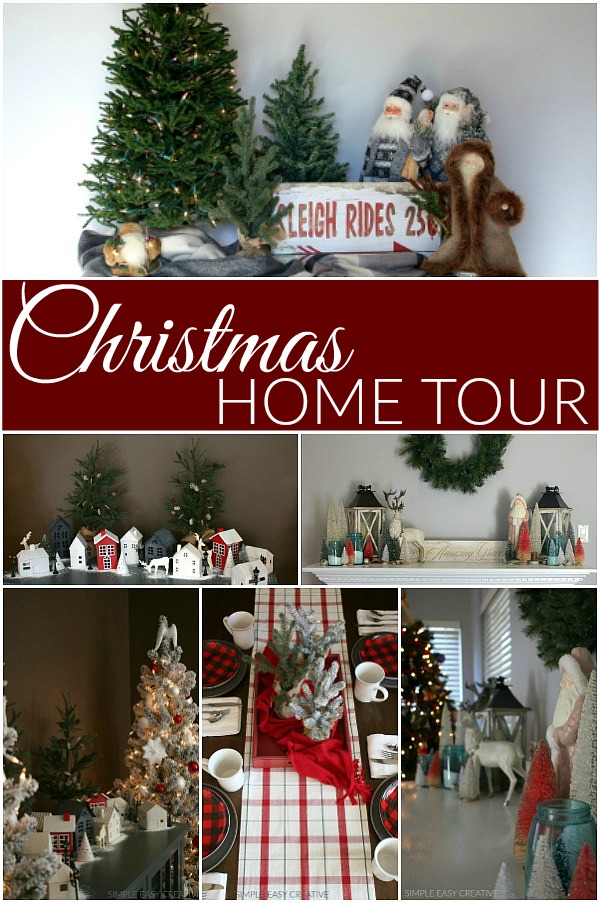 And that's a wrap! We made it to the end of our 100 days! I hope you have enjoyed it! For our very last day, I'm sharing a bit of our new home all dressed up for Christmas.
All of the decorations this year are very simple, all of them took me less than 30 minutes and most were under 15 minutes to complete.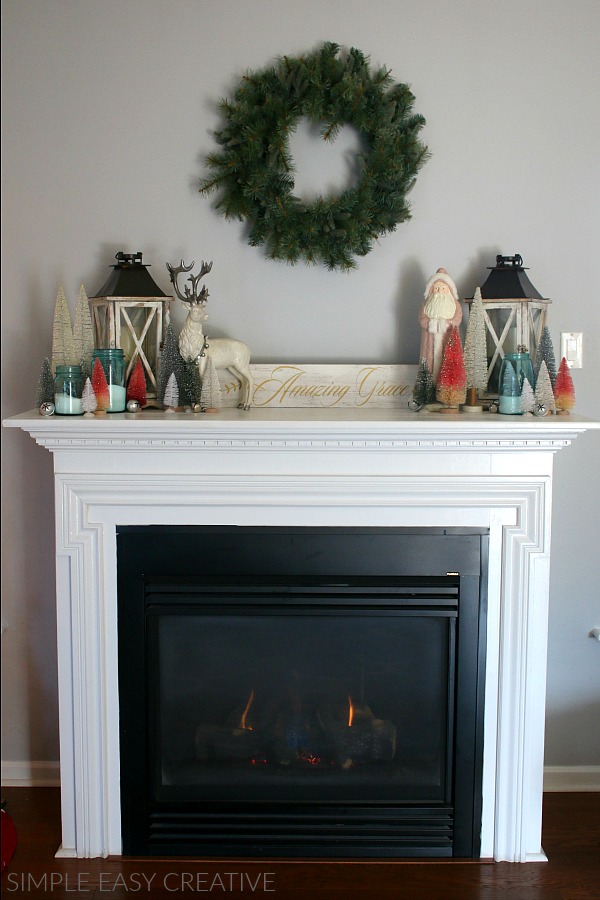 The Mantel has always been a special place that I love to decorate. It's the area that we spend the most time together as a family, and I love having it look really special.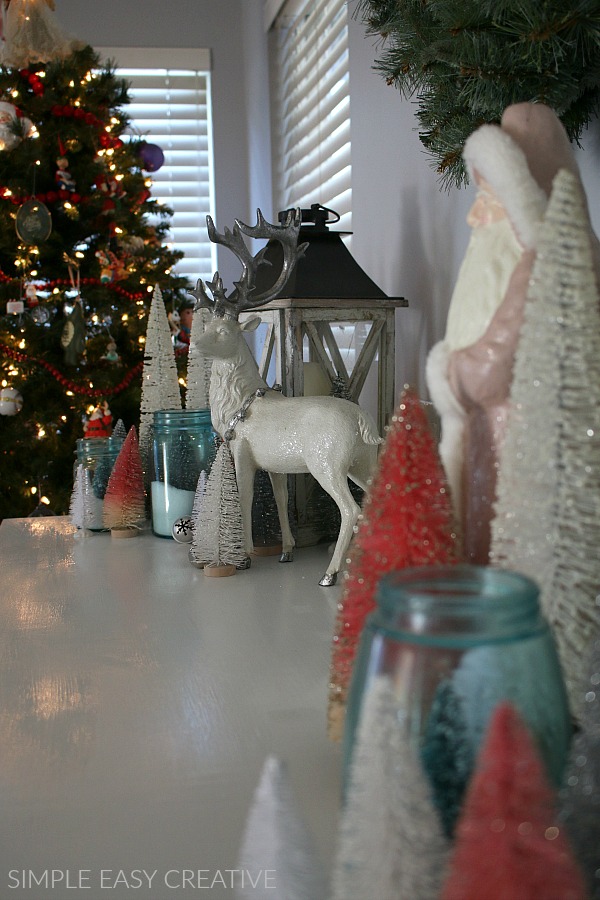 Our family tree is filled with ornaments from over the years, many of them for each of the boys. Each year when it's time to decorate the tree, I take each ornament from the box, add a hook and tell who the ornament is from and which boy it belongs to, then they hang it on the tree. It's fun to look back and remember all of the ornaments from years past.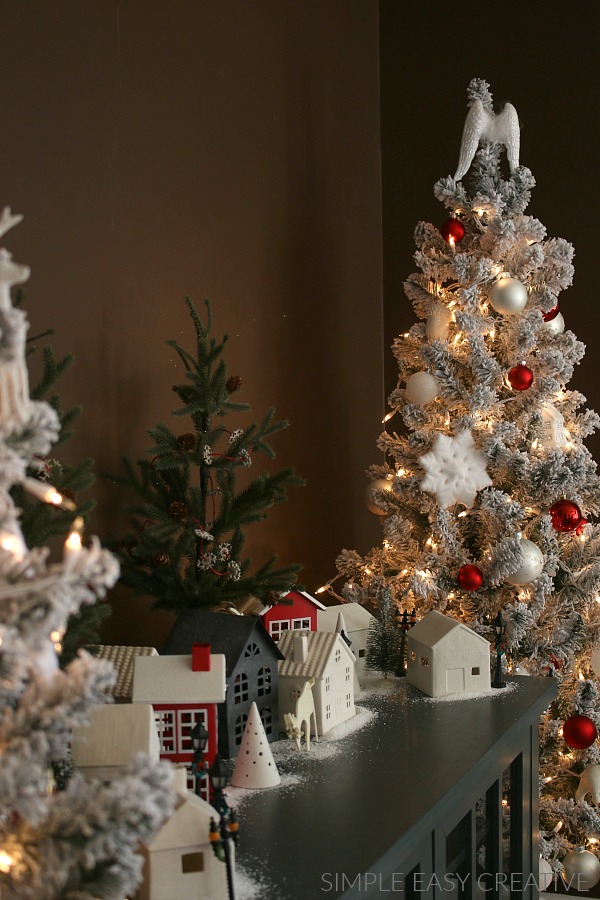 In the Dining Room are the Flocked Trees that we had last year, but this year I added white ornaments with a little pop of red.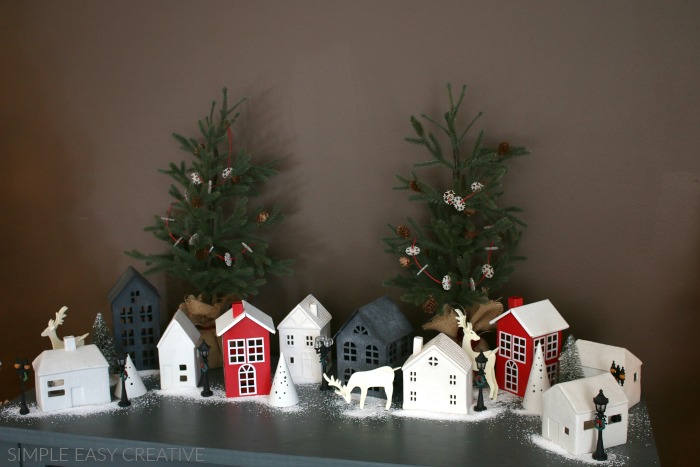 This Christmas Vignette turned out really cute! The white houses I had, then this year I added the red ones from Michaels, and the galvanized ones are from Kroger. The trees, small trees, reindeer and lights are all ones that I had already. The "snow" is Epsom Salt.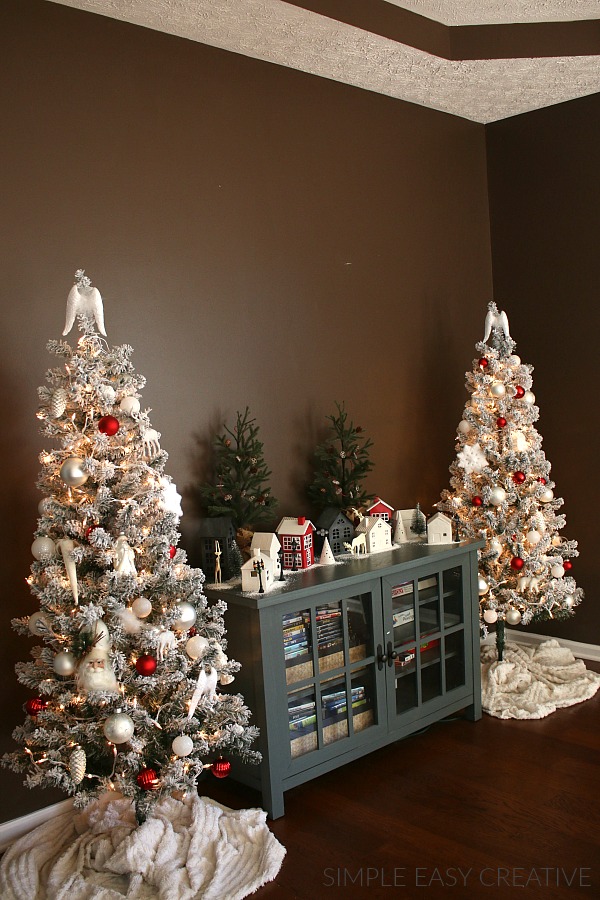 The colors all came together nicely. Next year I need to look for a couple tree collars, but I like how the white blankets look like snow.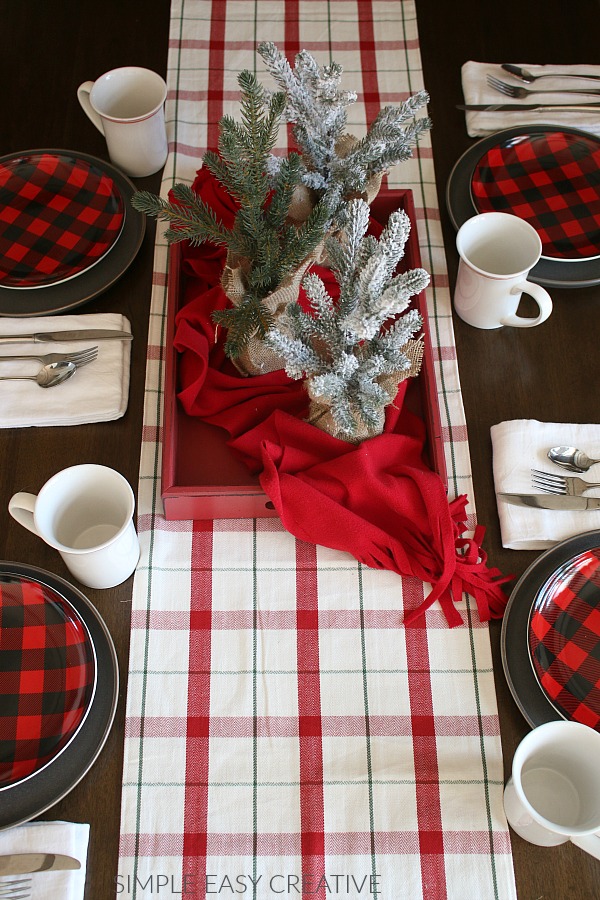 A large majority of what I share here on Simple Easy Creative are ways that you can make something – recipe, project or decoration – look impressive but it didn't take long at all. And a good portion of the 100 Days of Homemade Holiday Inspiration has been very simple ideas as well.
This Christmas Table Setting is exactly that – it took less than 5 minutes to pull together. The table runner is from Target, then I added a red tray, a scarf to give it a cozy feeling, and the small trees from Target (they were only $3 each). And the plates are the same that I used on the Rustic Christmas Tablescape.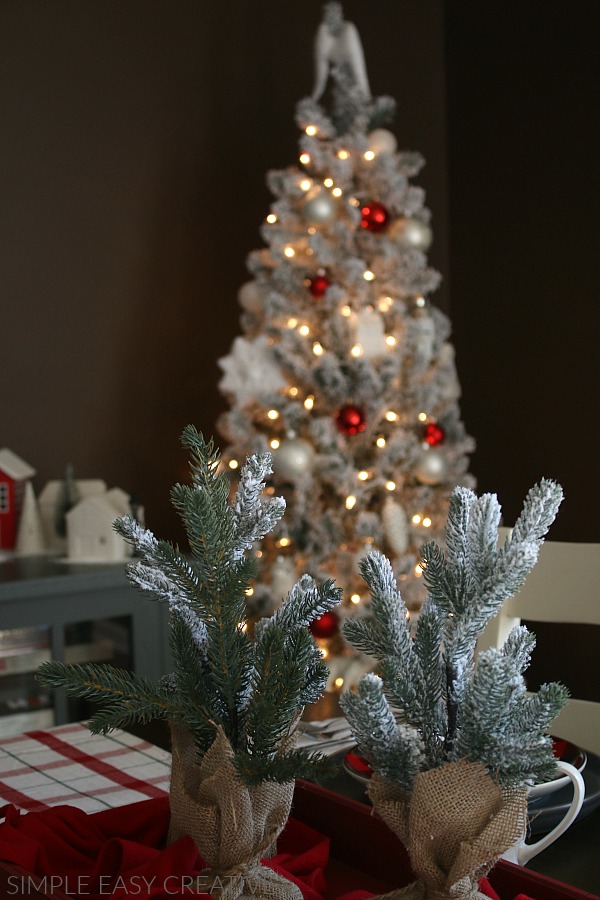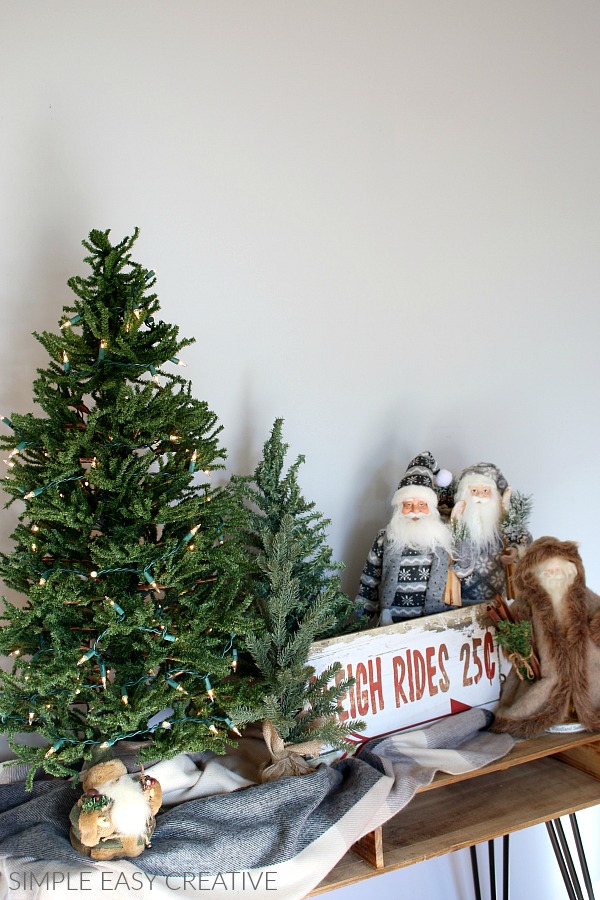 And last is the Christmas Vignette in the Foyer. For a couple months, I had been seeing groupings of trees on Instagram and knew I wanted to have one area in our home with something similar.
The largest tree is one that my Mother-in-Law had her miniatures on for many, many years. It's nice to have a bit of family tradition in each area of the home. The smaller trees and Santas were ones that I had. I used the cozy throw from the Farmhouse Gift Idea to cover the bottoms of the trees. And the sign is from Hobby Lobby.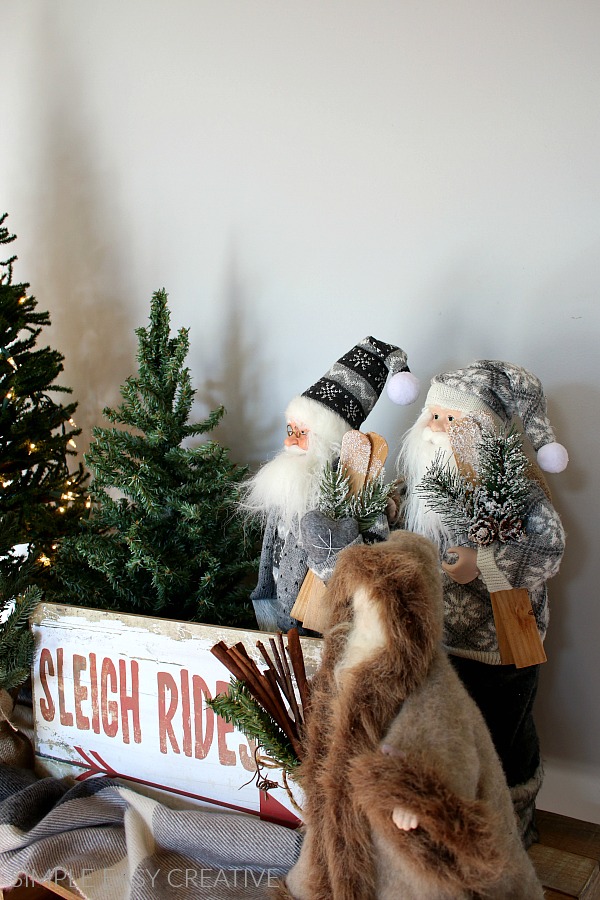 This area also made a great backdrop for the Hot Chocolate Charcuterie Board. I'm on the hunt now for a cool sign to hang above.
We sincerely hope you have enjoyed this special holiday series! You can continue to follow along on Instagram, Pinterest and Facebook!
Wishing you and your family a very Merry Christmas!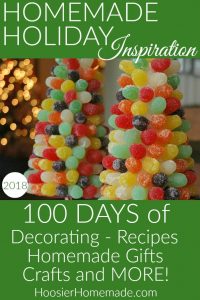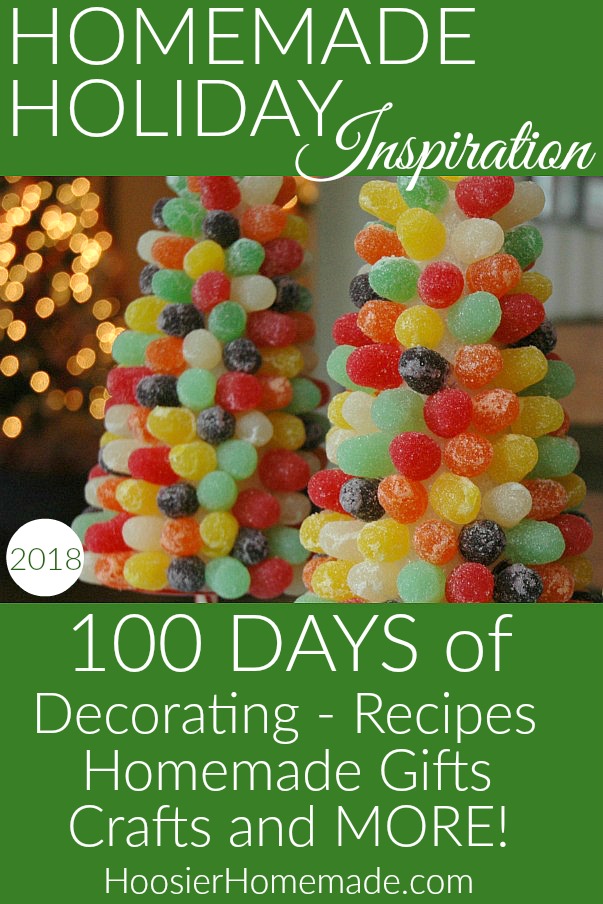 Click on the photos below to see more inspiration from the previous years